Request Online Inquiry
If you require any further information please do not hesitate to ask. Our reservation specialists are well versed on all our villas, however in the unlikely event they cannot answer your question immediately they will endeavor to respond as quickly as possible.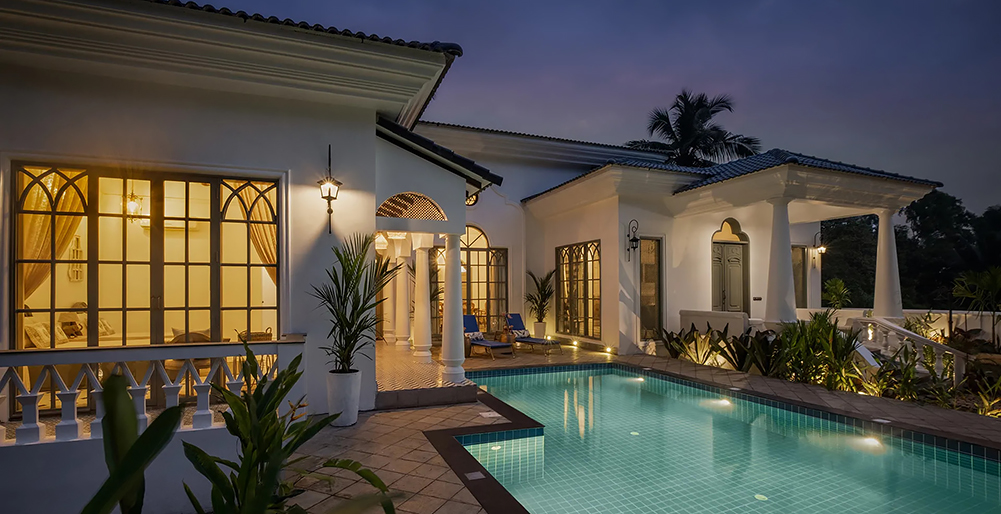 Step into your own private paradise when you enter the magnificent and luxurious Maison 9. Personifying understated elegance, the villa's Portuguese inspired architecture and vintage aesthetics blend harmoniously with Goa's lush surroundings to offer a unique experience. A home built with love, every corner tells a unique story—from antiques collected from all over the world to traditional hand painted wallpaper and striking wooden carvings, it's like living in your own private art gallery.
Bring your family and friends and find space in the four stunning bedrooms done up in pastel shades. The ensuite bathrooms are a thing of beauty, with mosaic tiles and stone walls that belong in palaces rather than a private home. But above all, allow us to wrap our services around you as you unwind and reconnect with yourself and your loved ones.
A charming living room allows the banter to flow freely as you gather each evening, while meals are a delicious affair at the grand dining table that seats ten. Get your camera ready as the villa is full of Instagrammable spots, our favourite being the skylit patio with funky blue walls and the corner with a large brass cow sculpture. Spend endless days by the refreshing pool as our villa staff take care of your every need.
Surrounded by paddy fields and offering breathtaking views, the home makes the perfect getaway, whether you want to simply unwind or host an intimate soiree with loved ones. You are merely 550 metres from Goa's famous Anjuna Beach, where you will find local markets, trendy restaurants and cafés as well as vibrant nightlife and popular beaches. If you'd rather stay in the villa, the in-vila staff can ensure you don't miss out, with restaurant pop-ups, cocktail evenings and a whole lot more!
Read more
Back to top