Request Online Inquiry
If you require any further information please do not hesitate to ask. Our reservation specialists are well versed on all our villas, however in the unlikely event they cannot answer your question immediately they will endeavor to respond as quickly as possible.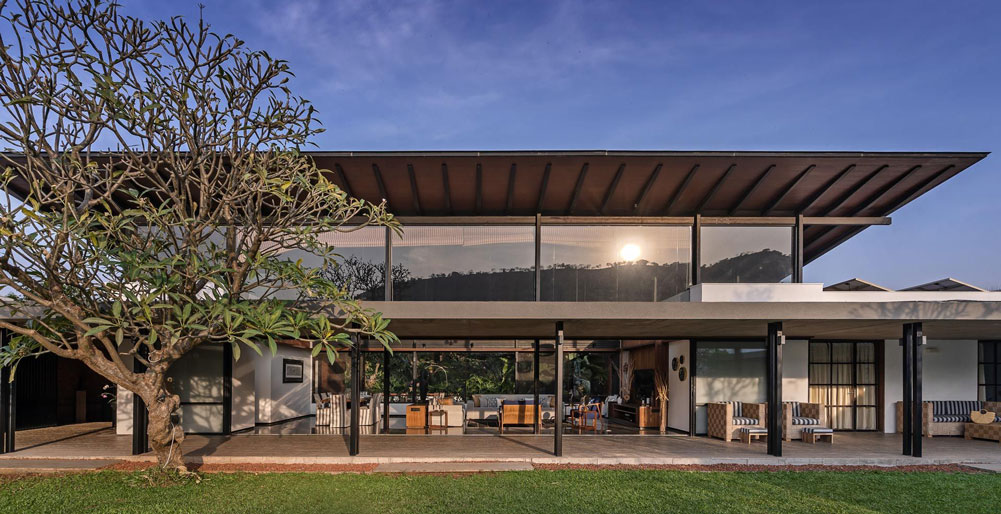 Grand views of the lush ghats, tropical weather and a verdant landscape - discover paradise just a short ferry ride from Mumbai at the luxurious Laterite House. Experience a holiday in this contemporary abode set amidst serenity and tranquillity. Allow yourself to slow down and let the relaxed aura of this magical space wash over you.
The design respects its natural surroundings with clean lines, lavish outdoor spaces and ample use of glass. All four beautiful bedrooms are located on the ground level, making it a favourite with multi-generational families and groups. The rooms feature tropical baths, outdoor bathtubs, glass doors and patios with green views. The chic living room has a retractable glass wall, allowing the outdoors to come in when the weather is good, and closing up for air-conditioned comfort in the heat of the day. The dining room adjoins the pool deck and features an eight-seater table for indoor dining. Breakfast is complimentary and best enjoyed alfresco at the freeform wooden dining table by the pool.
Spend long, languid days by the stunning private pool as the kids play around on the sprawling lawns. As dusk settles, head to the outdoor bar for a sundowner before ending with a lavish meal in the dining room or by the poolside. The variety of social spaces makes this the perfect getaway for you and your loved ones.
If you wish to explore the many beaches, temples and historic sights of Alibaug, a car can be hired for an extra charge. Our intuitive hospitality team is sure to take care of all your needs.
Read more
Back to top