Request Online Inquiry
If you require any further information please do not hesitate to ask. Our reservation specialists are well versed on all our villas, however in the unlikely event they cannot answer your question immediately they will endeavor to respond as quickly as possible.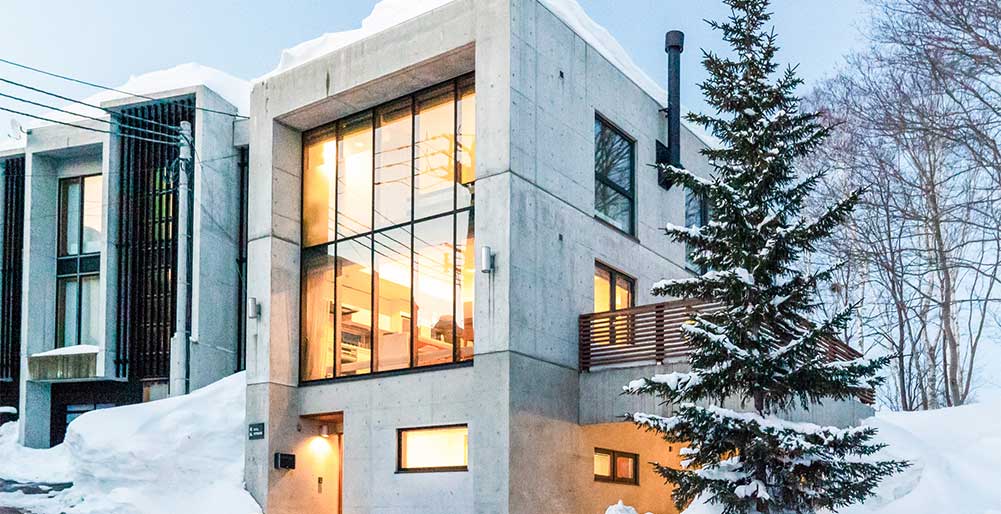 With its spectacular views of Mount Yotei, striking concrete façade and stylish interior design, the four-bedroom luxury Kita Kitsune Chalet is a wonderfully chic home to return to after spending a day in the great outdoors.
Located in the village of Hirafu with its laid-back vibes and flourishing après-ski scene, Kita Kitsune Chalet is only minutes away from some of the world's best 'champagne snow-powder' and numerous hiking trails.
Overlooking a spacious outside terrace – perfect for alfresco dining – Kita Kitsune Chalet's living areas have been beautifully appointed with modern minimalist furniture, a swanky, decorative, hanging fireplace, and splashes of colour adding a lively playfulness to an otherwise sleek and polished interior.
With snowy white mountains in the background – or lush green woods, depending on the time of the year – the chalet's lounge area provides an elegant space for catching up on each other's daily hiking, skiing or golf adventures.
Kita Kitsune Chalet has two comfortable master bedrooms with ensuite bathrooms, as well as two guest bedrooms that share a separate bathroom.
The modern open-plan kitchen with its large worktop offers a welcome invitation to prepare a meal from scratch. You won't need to worry about cooking however, given the chalet's close proximity to some of Hirafu's best eateries.
Thanks to its excellent location, swanky interior, and exceptional amenities, this chalet is an excellent choice for a family or a group of friends looking to explore Hirafu in luxury and style.
Read more
Back to top