Request Online Inquiry
If you require any further information please do not hesitate to ask. Our reservation specialists are well versed on all our villas, however in the unlikely event they cannot answer your question immediately they will endeavor to respond as quickly as possible.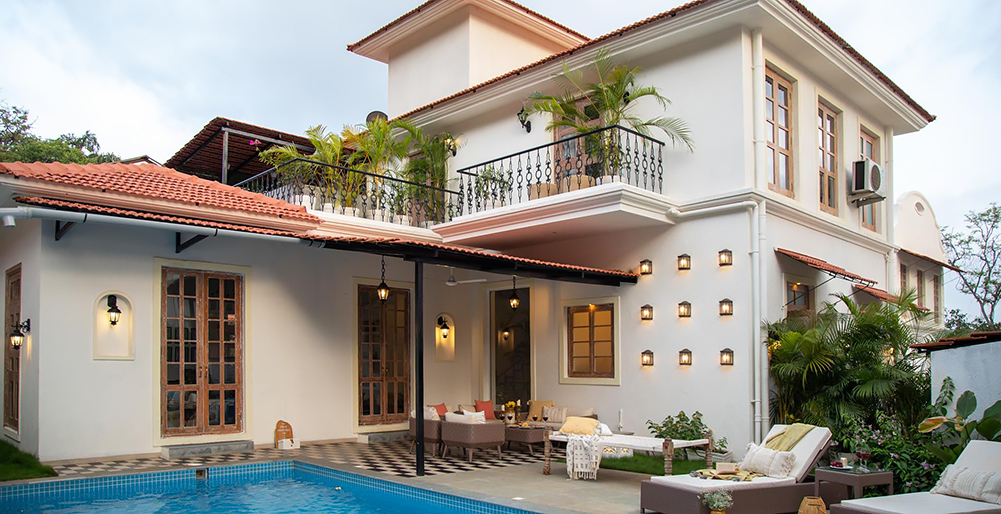 A Goan-Portuguese style home infused with a charming, rustic-chic vibe, welcome to Colina - Villa H in Assagao, Goa. Choose tranquillity by holidaying in a home within this elite gated community which instantly transports you to a relaxed state of mind.
A stunning skylight, a living area that flows onto the pool deck, a terrace lounge with an in-built bar, bedrooms that double as work havens, and soothing colour palettes juxtaposed with patterned tiles - Colina Villa H offers all this and more. Bring the entire family along for there's plenty of room here, with three ensuite bedrooms and myriad living spaces.
Jump into the private pool, sip a cocktail at the terrace or sit-out area, or find your own favourite corner around the home, the Mediterranean-inspired Villa H encourages you to make the most of the balmy Goan weather. The semi-covered bar sets the tone for a revelrous evening with family or unending conversations with your confidants.
You can book multiple villas within the complex if travelling with a larger group or choose your favourite one when just visiting with your own family. Full of vivid experiences, the village of Assagao has it all from peaceful churches and colourful Portuguese mansions to quaint little cafés and busy shops. Whether you want to go sightseeing or beach hopping, rent a car or crave a lavish home-cooked meal, the Villa Manager will provide you with all the assistance you need, and ensure your stay is as carefree as possible.
Read more
Back to top