Request Online Inquiry
If you require any further information please do not hesitate to ask. Our reservation specialists are well versed on all our villas, however in the unlikely event they cannot answer your question immediately they will endeavor to respond as quickly as possible.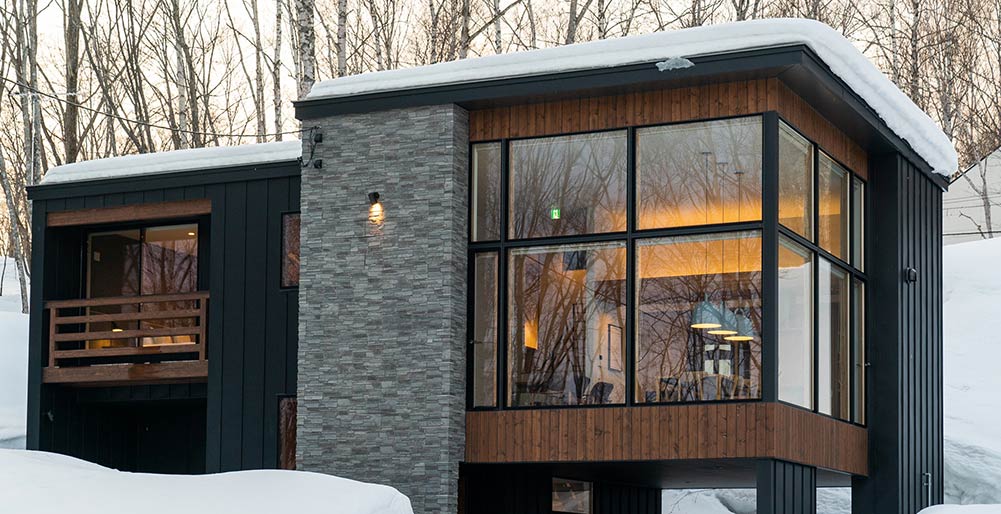 Ukiyo Chalet is located within a peaceful birchwood forest on the foothills of Mt.Annupuri in Niseko. Enjoy privacy and tranquillity while being just five minutes away from both Niseko Village and Annupuri Ski Resorts. The convenient location of the chalet is one of its biggest draws.
Completed in 2019, this swanky chalet presents a modern Japanese design aesthetic with birchwood floors, feature walls and open communal living and dining areas. High ceilings and double-storey windows in the living areas offer stunning views of the surrounding forest and extend as far as Mt. Yotei.
The intelligent layout is very spacious and perfect for families, accommodating up to eight guests within its three bedrooms. Bring along the kids for a ski adventure, and they may refuse to leave once they see the bunk bedroom for four. Though the outdoors beckon, hours can be spent in front of a canvas or with a sketchbook in hand, gazing at the fairy-tale snow-covered forest outside.
The living room is inevitably the social hub of the chalet, with its large windows, high ceilings, sink-in sofas and eight-seater dining table. The open-plan kitchen in the corner allows you to prepare delicious meals using the complimentary breakfast welcome pack, though you may prefer taking advantage of Niseko Gourmet by ordering in gourmet feasts or requesting for private dinners executed by master chefs at a discounted rate.
With both Niseko Village as well as Annupuri Ski Resorts close by, and free shuttle in winter to take you to the slopes, there's no excuse for staying in. We also recommend you try many of the world-class restaurants that may be found in Niseko Village.

Adding villa...
Back to top