The legendary romance of Bali has long seduced celebrities when it comes to staging Gatsby-like nuptials. Thus, the 'island of the gods' is now a celebrated wedding destination. Perhaps you have already received your invitation? But before you head off, do you have your attire selected? What should you wear to a wedding in Bali as a guest?
Bali simmers with wedding fever all year round and being invited to such a joyous celebration is not only an honour and an opportunity for a superb vacation – it's also the ultimate justification to slip into something sensational.
What to Wear to a Destination Wedding in Bali
Footwear
International weddings, Bali style, are often set on luscious green lawns flanked by tropical gardens or jungle – a horror for high heels; or on soft sandy beaches – shocking for stilettos. Selecting the right footwear can be a challenge for Bali wedding guests. While barefoot beach brides are bound to raise a smile, guests are expected to be suitably shod. Pick flats in materials which won't get destroyed in the water or sand. Tie-ups can add a touch of glamour.
Weather-Appropriate Fabric
Choose wedding outfits made of light and breathable fabrics like linen, cotton, or mesh so you can comfortably be in the moment with family and friends. The tropics can get humid so pick natural fabrics which don't turn you into a pile of sweat.
Cuts and Styles
The wedding guest look is free-flowing, not tight. Island looks are cool and light, with neutral colours and floral designs. Be sure that your attire works with wedges, and flats, or low-slung sandals and loafers for men. Super-light silk resort-style dresses are the perfect partners for sexy sandals in the sultry tropics.
Ideas for Him & Her
Whatever the wedding dress code, frocking up for a memorable event in Bali should be fun. We have a couple of ideas on what to wear to a Bali wedding as a guest. For her, think shoestring straps and flowing maxi and chiffon dresses; classic cotton sundresses and open-back halter necks. Floaty dresses in feather-light silk do well with a stretch cotton underdress to guard against humidity. For him, it's seersucker suits of light, pastel, or navy shades; patterned or plain button-down shirts with linen pants, chinos, or smart trousers.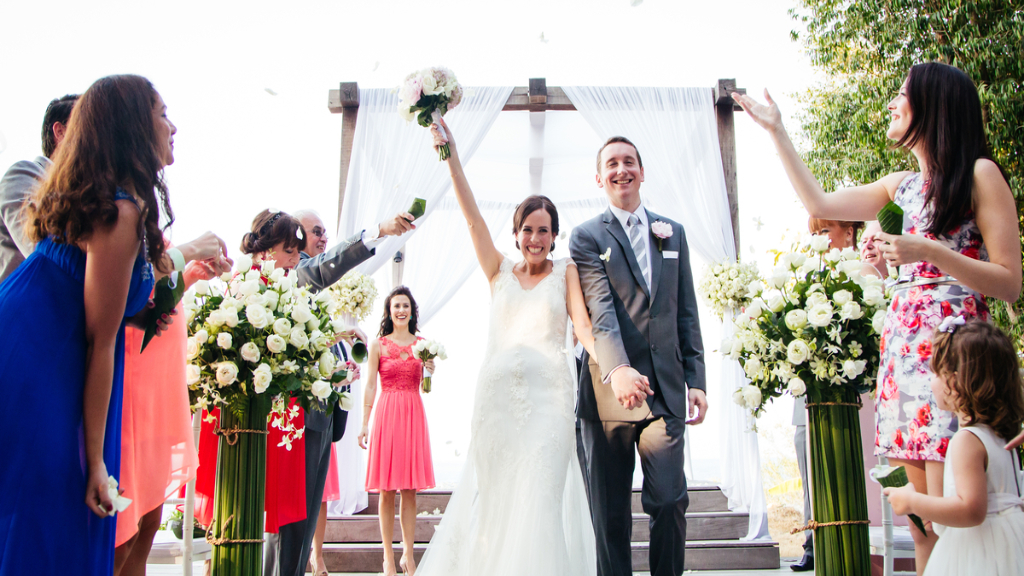 Traditional Balinese Wedding Attire
Wondering what to wear to a traditional Balinese wedding as a guest? Be prepared for some striking surprises and be ready to push out your fashion boundaries. Selamat menempuh hidup baru – is the polite way to say congrats.
Indonesians adore dressing up so choose something spectacular, may it be traditional or formal attire. Given the extraordinary outfit the bride will be wearing – complete with a massive golden crown – it will be impossible to outshine her. And expect to see the groom bedecked in an equally magnificent costume; draped with jewellery; face made up to perfection.
The Kebaya
Female guests at traditional Balinese weddings usually wear a lace kebaya on top, which covers their shoulders and upper arms. They pair it with a colourful and coordinated sarong and sealed with a stunning golden brooch on a waist sash. This combination holds significant religious meaning; so, if you're going traditional, don't mess with the ensemble.
The kebaya is both modern and traditional. It's inspired by current trends with fabrics, colour combinations and cuts that are constantly changing. It's usually made of lace brocade following a floral pattern. However, styles and designs of kebaya have changed over time also because of the influence of other cultures. This iconic clothing can have plain or unique designs in colourful shades that match the embroidery pattern. They can also be intricately detailed and beaded by hand, especially in a traditional Bali wedding dress.
While we're on the subject, the Balinese kebaya code decrees 'the tighter the better'! Women wear a corset undergarment underneath the sheer lace. Sarongs of all styles can be found in Seminyak on Jalan Double Six (which is also known as Jalan Arjuna) or Jalan Sulewesi, the famous street for fabrics in Denpasar.
Indonesian Batik and Sarong
Male guests at a Balinese wedding will be presentable in a collared shirt – Indonesian batik is best – paired with trousers or a muted sarong. The lighter the fabric, the better.
To beat the heat, wedding guests should wear long hair pinned up; note that some salons and barbers are happy to send hair and makeup artists to your Bali wedding villa, this can easily be arranged by the Elite Concierge. Lastly, be sure to leave make-up until the last minute – certainly best after you are dressed.
Stylish and comfortably clad, you're ready to celebrate the big day, Bali-style. Enjoy the wedding!
Cherish every beautiful moment at a destination wedding in Bali. Find the perfect haven for your special day from our wide selection of wedding villas and get ready to create memories that would last a lifetime.