Request Online Inquiry
If you require any further information please do not hesitate to ask. Our reservation specialists are well versed on all our villas, however in the unlikely event they cannot answer your question immediately they will endeavor to respond as quickly as possible.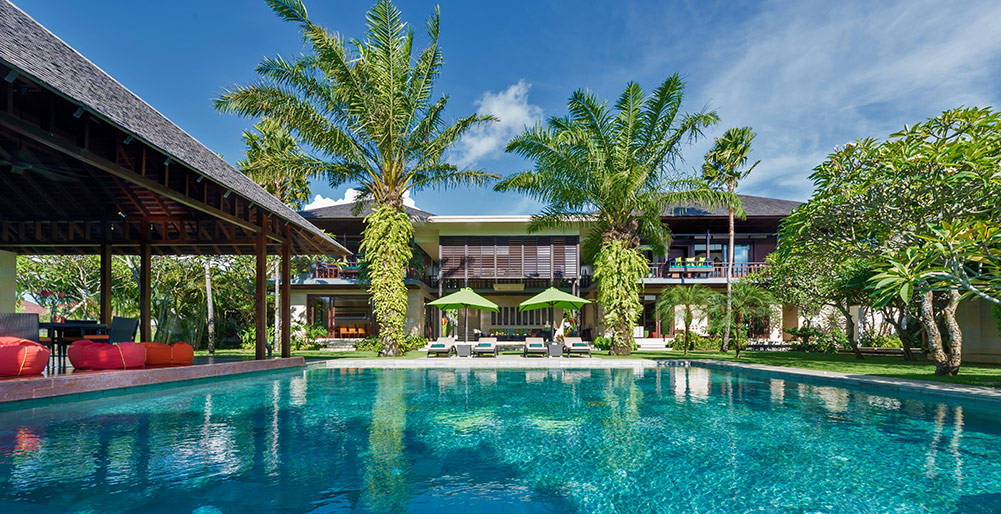 Bendega Nui presides grandly over the luxuriant rice terraces of Canggu, only minutes from a fabulous surf beach and an eclectic choice of restaurants, cafés and local warungs. With five generous bedroom suites spread between a series of pavilions set in tropical gardens of almost an acre, this is a stunning villa for holidaying families and groups of friends who will appreciate the abundant indoor and outdoor spaces and the many entertainment options.
Acclaimed international architect Glenn Parker was consulted on the villa's design, which is a modern take on traditional Balinese architecture and spells luxury in every detail. Indonesian hardwood floors, Indian sandstone and Italian travertine provide the canvas for stunning antiques, artefacts and textiles from across the archipelago, such as the glass-topped canoe serving as a statement buffet table that references the villa's name ('bendega' means fisherman in Balinese). Everything is sized for sociability and comfort, from the huge sofas in the living room and the dining table that seats 20, to the alfresco river-rock bathtub adjoining the fifth bedroom where two can soak with room to spare. The proportions of the double-height living room find a match in the generously sized bedroom suites – all with supremely comfortable beds, unique colour-coordinated decor and rice-field or private garden views.
Villa Bendega Nui's extensive facilities offer plenty to keep guests as busy as they wish to be. In addition to the large swimming pool, there's a games room with a pool table and a library with a 50-inch TV. With an exceptional chef among the polished team of staff (shared with Bendega Rato) and an extensive suggestion menu to choose from, dining in is an enticing option despite the many excellent restaurants within walking distance.
If additional space is required, two more guests can be accommodated in an optional, luxuriously private master suite, which is linked to Bendega Nui via a garden gateway, and has its own private plunge pool and garden balé. For even larger groups, the neighbouring Bendega Rato can be added in its entirety, offering a total of nine bedrooms, making it a great venue for weddings and reunions. See Bendega Villas' website for details.
Read more
Back to top