Picture this: you're hidden away in a breathtaking haven away from the rest of the world, sitting atop a plush cushion beside a monumental door opening onto a lush garden. A flute of champagne in hand and a gastronomic spread before you, you hear only birds and your four-year-old singing a soft rhythm. Your partner is floating in the pool in this hushed oasis, under the outlined shade of a large palm leaf fluttering with the breeze. Sounds like the perfect luxury weekend, doesn't it?
Settle In
Welcome to Thailand's quintessential experience of relaxation and rest. At our luxury villas, you can cocoon yourself within sumptuous lines of coconut wood and padauk. The furniture is simple and sleek amidst the high ceilings and glass walls. The master bath contains a stone bathtub, the perfect complement to your luxe room. You're surrounded by space, space everywhere, and there's nothing to distract you from this heaven. You came to relax and enjoy a long weekend break, but also for discovery and local culture. Nestled in an idyllic retreat between ivory sands and jungled gardens, this villa feels like the home you've imagined in musings of grandeur. Yet, there's a calm, tranquil atmosphere.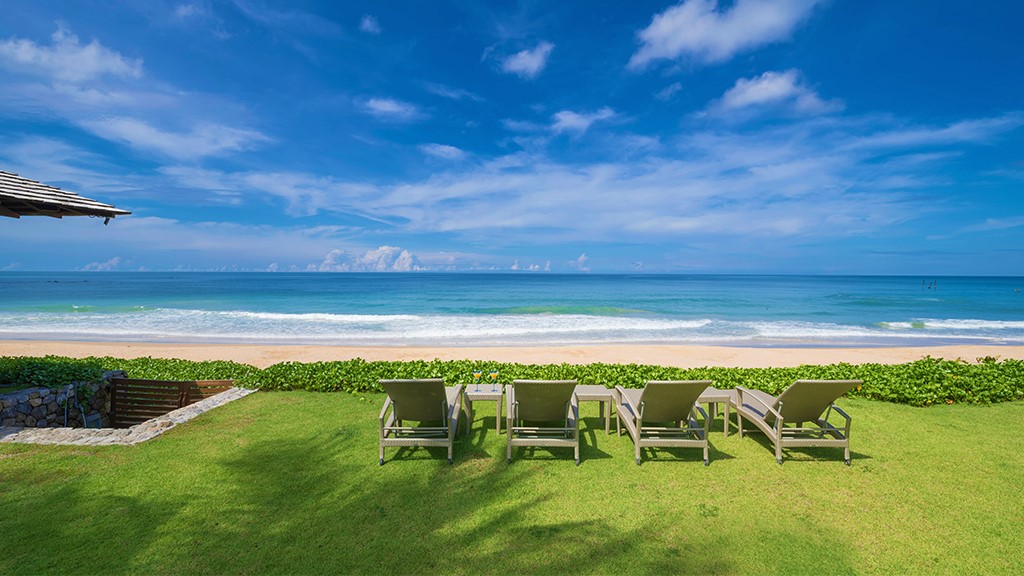 Phuket
Phuket and its magnificent white-sand beaches were discovered by travellers in the hippie-trail halcyon days. Since then, the Thai island has emerged as a preferred holiday haven for the delights of yacht cruising, diving, surfing and eco adventures. Add to that, the pleasures of world-class spas, beach clubs, fine dining and romantic sunsets. Come, stay at our Phuket luxury villas and invite friends and family to enjoy all this and more. Including exquisite hospitality from a team of personal staff in the stylish comfort of a luxury Phuket holiday villa.
What to Do
Ethical Elephant Tours
Gone are the days of the elephants treated like slaves, having to carry hordes of tourists on their backs and paint pictures for entertainment. Unfortunately, the last sentence is not 100% true YET, but the change is happening, and the first ethical elephant sanctuary in Phuket is pioneering the change.
Located in the lush tropical jungles of Phuket's east coast, bordering the Khao Phra Thaeo National Park, the 30-acre Phuket Elephant Sanctuary, offers the most idyllic retirement for sick, injured and old elephants, all who have had exhausting lives, either in the logging trade or working in the many elephant trekking companies around Thailand. I went on this tour and you can read my full experience here. It changed my view of these majestic beasts and taught me so much. I highly recommend this experience.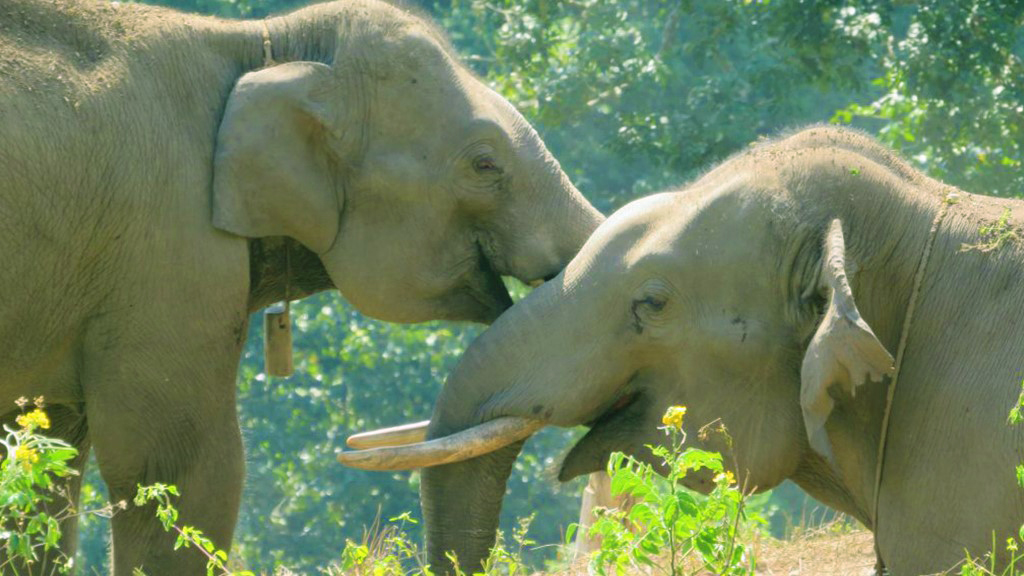 Sun and Games
The sand stretches for miles and miles in Phuket. Thus, you could spend weeks just frolicking on the beach.
First, head out to Kata Beach, which is popular with families and couples alike. It also has a great selection of dining options, from budget street food to fine dining restaurants. After, check out Surf House on the beachfront with its neverending man-made wave for nonstop flow boarding. For some snorkelling and boogie boarding, go to Nai Thon, where you can also go on bike tours and ride through large rice fields. Then, hop on a traditional Thai Longtail boat and have lunch on a secluded palm-fringed beach. Stand Up Paddle Boarding has boomed in recent years; book on a tour to the east coast and paddle through mangroves and a host of natural wildlife.
If a relaxing game of golf is more your thing, there are 7 golf courses on the island to discover. After, unwind with a massage and spa scrub. Have your private chef cook up an exquisite meal and sleep blissfully.
Where to Stay
The Pines villa
Enjoy barefoot living at The Pines, a charming villa set on pristine Natai Beach, to the north of Phuket island, easily accessible via the main bridge. The spacious modern rustic villa is homely and earthy, designed using Burmese teak. Five sea view bedrooms offer privacy, while the elegant living area features a modern kitchen with a breakfast bar and a long wooden dining table. Your luxury weekend will boast views of the aquamarine swimming pool and the sea beyond. Managed by a competent team of staff, including a brilliant chef, the villa is great for groups of families looking for a beachfront luxury villa in Phuket.
Villa Borimas
Villa Borimas sits high above the gorgeous Surin Beach in Phuket, with inspirational views of the Andaman Sea. This four-bedroom boutique villa offers a peaceful setting yet is just minutes away from the shops and restaurants of Surin. You will be enchanted by its contemporary open-plan living spaces, chic interiors, gorgeous tropical gardens and modern facilities. The large terrace frames a 10-metre infinity pool, and a moon deck designed for viewing and entertainment offers everything a family or group of friends might look for in a tropical holiday home. Dedicated staff including a manager and chef attend to your every need.
How to Get There
A number of airlines such as Singapore Airlines, Jetstar, AirAsia, Malaysia Airlines, Bangkok Airlines and others fly to Phuket. Travel to Phuket for a luxury weekend from Bangkok, Hong Kong, Singapore, Kuala Lumpur, Phuket, Chongqing, Guangzhou, Xi'an and other cities.
Koh Samui
Koh Samui is a lovely island surrounded by crystal clear waters. It's about 230 square kilometres, and much of that is forest-covered hillside. But there are many splendid sights you shouldn't miss.
What to Do
Start your luxury weekend with a relaxing breakfast and leisurely morning swim. Then, venture out to the petting zoo at Paradise Park Farm Samui in Lipa Noi, where you'll also encounter exotic birds. When you're done, you can visit Dusit Deva Cultural Centre, a garden filled with creatures from Buddhist and Hindu myths. There is gorgeous and calming scenery everywhere you look. You can also play golf at Santiburi Samui Country Club's 18-hole golf course. The more adventurous should go zip lining atop Khao Pom mountain. End the day with a private charter to nearby islands.
Where to Stay
Villa Waimarie
Right next to the powdery white sand of Samui island's serene Lipa Noi beach, Waimarie is the ultimate absolute beach getaway, with dreamy views across the island-dotted sea to the sunset. The six spacious bedrooms, surrounded by brilliant tropical gardens, can sleep up to 14 people in comfort, making this the ideal family retreat, friends reunion venue or corporate getaway. With its 15-metre pool, spacious open dining room and lounge, and its huge shady sala, this Samui villa has it all: a super-efficient staff, five-star cuisine, a private tennis court, kayaks and paddle-boards and all the luxury you can eat.
Element of 8 at Cape Leam Sor Estate
Element of 8 is a sea view pool villa with six ensuite king bedrooms in a spectacular hillside location on Koh Samui's unspoilt south-west coast. Breathtaking views of emerald seas and mesmerising golden sunsets define this luxurious, staffed villa which will appeal to large groups of families, as well as wedding and event planners seeking the extraordinary. Contemporary design complemented by Southeast Asian art and antiques, the look is an elegant beach house with wide terraces and white louvred doors which open up to sea views and cool breeze.
The vast living space has beamed ceilings and top-notch entertainment systems. Relax leisurely by the pool, take a stroll along the five-kilometre-long beach or seek tropical island adventures. You write the story for your luxury weekend.
How to Get There
Getting to Koh Samui is easy, with direct daily flights from Singapore. Bangkok Airways, Singapore Airlines, Malaysia Airlines and Cathay Pacific offer flights. Travel from Bangkok, Hong Kong, Singapore, Kuala Lumpur, Phuket, Chongqing, Guangzhou, Xi'an and other cities.