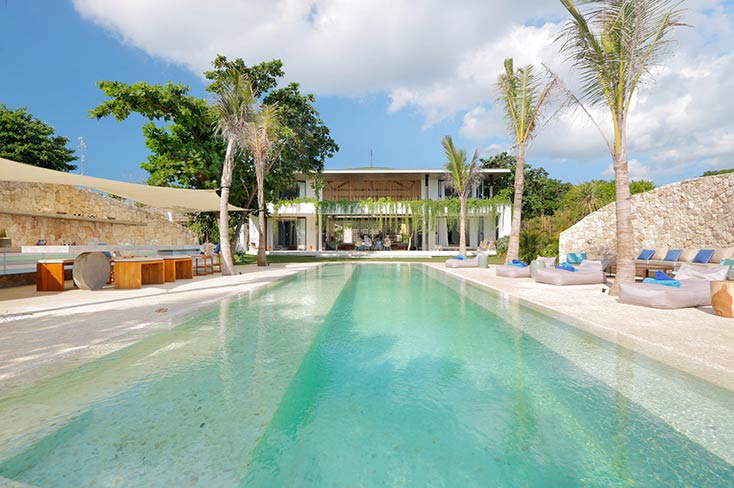 Tyson M, Canada
,
23-May-2023
-
28-May-2023
Thank you for the most beautiful day. The property is truly magical. The pool with the ocean in the background is amazing. We were here to celebrate Bree and Tyson's 25th wedding anniversary and this was the most special please to do that. Special thank you for the wonderful service from Sura and the whole team. All the staff (Sura & Jeri in particular) have a wonderful sense of humour which make things so enjoyable.
Peter B, Australia
,
10-May-2023
-
14-May-2023
This home and staff have provide our family with the most precious memories,a place to rest our bodies and minds, we are so very grateful for. Truly amazing stay we got best experience , thank you Sura and the team.
Kim G, Sweden
,
23-Feb-2023
-
27-Feb-2023
Thank you, the best team ever. We couldn't wish for a more amazing stay and it's all because of the fabulous staff of Villa Seascape. You made it absolutely fantastic. From the bottom of our hearts, you are the best team we met. you made the whole stay very special for us with special attention around my 40th birthday, from performance, to gifts excellent service, great food and giving us your all. With a sense of humor that also made us laugh through the whole stay. You were also so lovely to Aston, he is very happy to met you.
Jodie-Lea C, Australia
,
16-Feb-2023
-
21-Feb-2023
The amazing at Seascape have made our stay an incredible experience. They have gone beyond to fulfill any and every request we have had. Our group has had a very memorable holiday and we cherish the memories that we have made at Seascape. Number one villa in all of Bali, no doubts about that! Jeri is the jack-of-all-trades and both him and Sura are incredible humans, we love you both and cannot thank you enough.
JING L, United States
,
26-Jan-2023
-
30-Jan-2023
One of the best villa in Bali. We have stayed in all kind of villas around the world but villa seascape is the only one with a unique home design. We love the seashells in the villa. The staffs were providing their best service everyday and Sura was doing his best to fulfill our request. We want to come back again during the day season and hopefully we can see the sunset.
Debbie R, Australia
,
09-Dec-2022
-
12-Dec-2022
OMG this place is incredible! We were a group of 2 families with kids ranging from 10-16 and everyone agreed it was their favourite place in Bali. If you want to relax this is the place to stay. The property is immaculate and every detail is taken care of. Our stay was made even more amazing by the hospitality of Sura and the staff at Villa Seascape. Nothing was too difficult and all the staff were polite and so much fun! On the days we wanted to venture out of the villa the staff were more than happy to take us or arrange whatever activity we were doing. I'm not sure how to explain how good this place was. If you are planning on staying on Nusa Lembongan stay at Villa Seascape- you will not be disappointed!!!
Thomas W, United States
,
25-Nov-2022
-
30-Nov-2022
We all had an absolute blast at Seascape for the week. The staff went beyond in every aspect of our stay. We will definitely be recommending this place. We also be back one day soon to enjoy this special place again.
William G, United States
,
29-Oct-2022
-
02-Nov-2022
Thank you so much for having us! We have had the most incredible time and we feel so spoilt. You have looked after us well.
Sarah B, United Kingdom
,
11-Aug-2022
-
16-Aug-2022
Thank you so much to Sura and the team for making sure we had best time. Hope fully we will come back another year.
Steven J, Belgium
,
10-Jul-2022
-
19-Jul-2022
On behalf of our whole family would like to express our gratitude and love for sura and his team, and this beautiful plan. Surely, we will come back someday and we will meet again.
Daniela S, Germany
,
30-Jun-2022
-
04-Jul-2022
Thank you so much for an extraordinary stay. We loved the Villa Seascape and more the team. Such a great and harmonic environment with the best breakfast,lunch and dinner. And we loved the the plan sura shared us on the island, snorkeling and explore lembongan.
Chanelle P, Australia
,
17-Jun-2022
-
21-Jun-2022
This stunning villa absolutely blew our mind: it is the most incredible accommodation we had ever seen. It is beautifully designed and laid out; every relaxation need is catered for. We especially loved all the uniquely breath taking bathrooms that were works of art within themselves. The staff led by Sura were delightful and attentive and the food was worthy of a fancy restaurant. The pool and entertaining are made for hours of fun while the gorgeous view constantly captivated us. We will definitely be back! Thank you.
Sebastian M, Germany
,
09-Jun-2022
-
14-Jun-2022
A wonderful location! Modern, clean, perfect view. Villa Management and staff were excellent and fulfilled all our wishes in no time! Good Chef as well with a non-price menu. We loved it so much that we extended our stay.
Eunice Danielle W, Australia
,
01-Jun-2022
-
03-Jun-2022
I have been around the world and rented many various places. This is one of the best bnb's I've rented! Amazing view, great design, and the chef was terrific with his cooking, I loved the entire team they are such friendly, helpful and wonderful bunch of people! They also have helicopter right next to the villa! I'm already planning my next trip with them and I haven't even checked out for more than a day.
Jason W, United States
,
20-May-2022
-
22-May-2022
Quite simply one of the nicest properties I have ever stayed at. This elegantly designed ocean front property was spacious, clean, and located perfectly at secluded Sandy Beach. The staff arranged transportation from port and took excellent care of the us and the property. The chef cooked us breakfast every day and even a delicious BBQ dinner at night. Overall, this was a very professionally managed property and they were very responsive to all of our needs.The property itself was spectacular and well furnished. I personally enjoyed lying on the net upstairs to cool off during the afternoons. The beach felt completely private to us and it was an easy hike to Devil's Tears as well. The excellent Sandy Beach restaurant is located 1-minute walk away.
Natasha D, Indonesia
,
28-Apr-2022
-
01-May-2022
Villa Seascape Team, many thanks for all. We had such an amazing stay at Seascape. The service is superb. You have great staff. Please thanks each one of them for making our stay unforgettable. We hope to come back again soon. Again thank you very much on behalf of My Family.
Marino S, Indonesia
,
24-Mar-2022
-
27-Mar-2022
Amazing villa, we celebrated a birthday party here and it was very well prepared. We had an unforgettable experience here, amazing view, friendly staff and yummy food. Looking forward to stay here again.
YULIANA R, Indonesia
,
18-Dec-2021
-
21-Dec-2021
Thank you Seascape for the service. The service was amazing , food so delicious, and the staff very helpful and nice. We are celebrate birthday party here and the staff prepared all like pro. We are so happy staying here. Definitely will be back here soon.
Ibu Christine H, Indonesia
,
12-Dec-2021
-
17-Dec-2021
Thanks Villa Seascape for letting us stay, the food is fantastic, the service is superior and high quality. The staff is very helpful, pleasant. The view is very prepossessing. I will recommend this villa to all my friends and will come to stay again. High recommended villa.
Shai T, Indonesia
,
14-Nov-2021
-
18-Nov-2021
The villa is amazing. There is nothing more we can ask for from a beach holiday destination. The beach, the pool, just everything. We are going to miss this place and we will surely be coming back here in a few years time. The staff is helpful and they have a good cook too.
Belinda S, Indonesia
,
09-Nov-2021
-
12-Nov-2021
We enjoy our stay at Villa Seascape. Amazing view. The villa is very accommodating and the staff are helpful. We definitely coming back.
Jonny M, United Kingdom
,
29-Oct-2021
-
31-Oct-2021
Amazing welcoming staff an arrival,who have been taking all of our needs,beautiful,clean place and amazing food everyday. We so happy with every stay and wish to back again very soon.
Angeline M, South Africa
,
04-Oct-2021
-
10-Oct-2021
Seven days spent in perfect tranquillity. A beautiful villa made perfect by its amazing team. No request was too much to ask. The Seascape team helped us feel right at home.
Jimmy G, Indonesia
,
24-Sep-2021
-
26-Sep-2021
The food was spectacular. Thank you to the team that was also very helpful and attentive.
Sandra P, Indonesia
,
07-Jul-2021
-
08-Jul-2021
Spectacular villa! Food is surprisingly delicious. Yami and team are super helpful.
Satya P, Indonesia
,
27-Jun-2021
-
29-Jun-2021
I had an amazing stay. Nice view and friendly staff. Looking forward to staying here again!
Ryan F, United States
,
18-Jun-2021
-
23-Jun-2021
Thank you Seascape team! We had such a wonderful time staying at this beautiful villa. The staff has been excellent, especially with the BBQ dinner. Thank you for sharing this piece of heaven with us!
Alex C, South Africa
,
10-Apr-2021
-
17-Apr-2021
Amazing! We loved every minute of our super special stay. We will be back very often. Thank you to the amazing team and Sura.
Timy T, Indonesia
,
27-Mar-2021
-
03-Apr-2021
Thank you Seascape Villa for this amazing experience. Beautiful villa, perfect environment, great staff and scenery. Really enjoy our stay in this villa. Surely someday will come back here. Once again, thank you Yami, Sano and other staff members for your hospitality during our stay. Super love the food here, by the way. VERY good food and good price. Best of luck to all of you during this pandemic and see you soon.
Merry K, Indonesia
,
16-Mar-2021
-
19-Mar-2021
Thank you so much Seascape team, You guys are awesome. We had so much fun. We will be back for sure, hopefully soon. Thank you once again for everything. Keep up the good job.
Rene S, Switzerland
,
04-Mar-2021
-
08-Mar-2021
Thanks folks, that was a wonderful stay. Magnificent location, wonderful staff and a superb Chef. I will be back. See you soon and stay healthy.
Bernard V, Indonesia
,
12-Feb-2021
-
14-Feb-2021
I absolutely loved staying here. I hope I can come back soon. Thank you.
Swan B, Australia
,
24-Sep-2020
-
27-Sep-2020
Thank you so much for the wonderful and incredible service. We had so much fun. The Chef is super talented and humble.
Kimberley J, Philippines
,
13-Mar-2020
-
16-Mar-2020
We loved our stay here ! The staff have done such a great job at making this stay fun, comfortable and friendly. All the special touches to make my birthday fun with cake, fireworks, and the banner made this experience once in a lifetime. Breakfast everyday all was so yummy. Loved the noodles!
Adrian L, Canada
,
08-Mar-2020
-
11-Mar-2020
Fantastic villa with a great view and impeccable service. Breakfast was filling and the calamari was so tasty. Loved the personal attention to detail. Like the Nespresso machine and music speakers. I would recommended to all my friends.
Clay M, Canada
,
17-Feb-2020
-
18-Feb-2020
Simply glorious stay here at Seascape. Staff led by Sura were fantastic. Great memories ,great food, great company thank you.
Jade T, Australia
,
05-Jan-2020
-
09-Jan-2020
What an AMAZING villa! We have had a magical stay, great food, and very attentive staff - they were excellent. Ocean front and gorgeous pool, stunning sunsets which were spectacular. Thank you for making our stay truly special and memorable.
Keelie F, Philippines
,
05-Dec-2019
-
07-Dec-2019
We had the absolute, most amazing time at Villa Seascape. The staff was amazing, the rooms were beautifully decorated, the food was delicious, I wish that we were able to stay here forever. Thank you.
Will N, Australia
,
06-May-2019
-
08-May-2019
This villa experience was beyond our expectation - the view, the sound of ocean as we woke up, the amazing staff. We had the best time. I will definitely be coming back and telling all our friends and family.
Richard M, Australia
,
19-Apr-2019
-
26-Apr-2019
All meraviglioso staff di Villa Seascape, um gramde grazie.
Thor D, Singapore
,
08-Apr-2019
-
12-Apr-2019
Thank you for all these things. Pool, floats, turn down service, cargo nets, awesome, fun, nice staff. Overall even though it was only three days, we will all remember. We loved it here, thank you all.
Chao W, China
,
23-Mar-2019
-
25-Mar-2019
The food is good, room is clean. Thank you so much Yami and see you next time.
Shuang L, China
,
27-Jan-2019
-
30-Jan-2019
The food is good. Cleaning good - swimming pool is clean. The barbecue dinner is very good.
Artur K, Canada
,
08-Jan-2019
-
10-Jan-2019
Amazing food, amazing staff, amazing time. Love you all.
Paul H, Australia
,
28-Dec-2018
-
04-Jan-2019
Thanks so much to Yami and the team, we had the most amazing time. This house is beautiful. We have loved all activities, especially daily walks to Devils tear drop. Also loved our New years eve feast - so delicious.
Meg B, Australia
,
06-Dec-2018
-
13-Dec-2018
Thank you for the most wonderful week. Yami (butler) and the team looked after us so well, everything was absolutely perfect. The house is so beautiful but it was the team that made it so special. Extra thanks for organizing Nathan's 30th Birthday party - it was beyond what we imagined! We will miss the beautiful breakfast too.
Mitchell B, Australia
,
09-Sep-2018
-
14-Sep-2018
Thank you for our incredible stay at Villa Seascape. Everything about this place is perfect. Every room is beautiful, the location is perfect and the swimming pool and outdoor area is stunning. Special thanks to Yami (butler) and Sura (VM) and all the staff members. They made us feel extremely welcome and comfortable. All staff were very friendly and greeted us with big smiles. Yami organized excellent activities for us and all the other staff were amazing. The Chef prepared amazing 5 star food which we thoroughly enjoyed.
Julian M, Colombia
,
24-Jun-2018
-
28-Jun-2018
Coming all the way from Colombia paid off. Seascape villa is a top destination with great staff, great food, great comfort and great taste in decor. We will call it great Seascape villa.