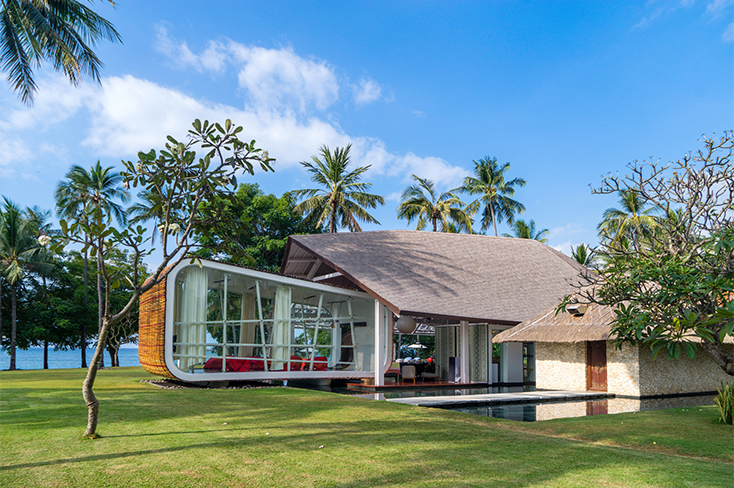 David N, Australia
,
23-Sep-2023
-
30-Sep-2023
Thank you so so much to all team villa Sapi for making our stay absolutely amazing. Everything from the moment we arrived was easy and we always felt like we were welcomed with open arm. The service is world class, the food is same of the best we have eaten anywhere in the world and the facilities make staying here so wonderfully comfortable. The Kids and Adults able can not wait to come for our next holiday . Villa Sapi is truly special place and we are so fortunate to have been able to holiday here again . Thank you !!!! Nemeth and Hird Family Australian
Dae I, Indonesia
,
16-Sep-2023
-
23-Sep-2023
Perfect !!!!! Food ,everything was amazing good choice of dishes , taste full of flavour international dishes , excellent and always flexible to adaptation . Service ,big thank you to Wayan and Nana who were always smiley and friendly providing excellent customer service, and also all staff in the kitchen. Villa , is beautiful ,comfortable and clean with amazing location and wonderful beach. Kantun and his staff made sure our special day was unforgettable everything was possible for them to adapt for our need We will back ! 5* to the staff. Magdalena and Dae UK
Joshua M, Australia
,
08-Sep-2023
-
11-Sep-2023
Excellent Clean and very well done The team are amazing and caring Thank you for and having this sensational home. Josh Mantello ,Australian
Koby L, Australia
,
04-Aug-2023
-
05-Aug-2023
The most holiday we had. The best food Thank you so much Koby Lee Australian
Cathy C, Belgium
,
27-Jul-2023
-
03-Aug-2023
Villa Sapi is a wonderful getaway. The staff is really nice ,coming and smiling. The cleaners was and is perfect,everything was always clean! The house and bedding are really comfortable. The chef, everyday the food was really good, we always enjoy what he cooked. Thank you very much! See you Courtois Family Belgium
James C, Australia
,
02-Jul-2023
-
16-Jul-2023
Villa Sapi is the most beautiful place we have were stayed in.The architecture is stunnary and the location on the beach among it the beautiful garden. We were so impressed with the food and the etensive menu so much choice and every dish was so deleciuos and pefecttly presented . But the most impressive thing about villa sapi is the staff, so kind helpful,frendly,and willing to made sure were happy ,always smiling and cheerful.Everyone was amazing and should be recomended on their hosfitality skills. We realy hope to come back again to Villa Sapi . A brilliant holyday !! Camerons Family Australian
Matthew B, United States
,
24-Jun-2023
-
28-Jun-2023
We really enjoyed our stay at Villa Sapi this summer. The Villa is beautiful and so unique. We love the pool and beach with paddle boards and snorkeling . The tennis so much fun and the whole property was so nice. There was so much room to spread out. We enjoyed the food the chef prepared. It all had so much flavor and care put into each dish. The BBQ with live music was a wonderful way to end our stay here. The band so nice to listen to and we had a nice time singing along Also thank you to all the staff for caring for our sick kids by cleaning up after them and offering medicine. We think this the best Villa we have stayed at. Thank you Matthew Bentley United States
Ed C, Indonesia
,
17-Jun-2023
-
19-Jun-2023
Best Villas, I will back on December
Russell V, United States
,
11-Jun-2023
-
17-Jun-2023
This the most amazing villa on the planet. The architecture and layout are both stunning and perfectly done . Every need you car concieve of is taken care of for you that being said. The shining star is the staff. The food is incredible ,Every person is friendly and makes you feel as it you are part of their family . My family and I can not wait to come and visit again . Thank you Villa Sapi
Andrzej Jacek S, Poland
,
02-May-2023
-
06-May-2023
Thank you very much for heaving us , everything was perfect , beautiful villa, amazing view, beach very clean Food was particularly excellent , amazing service not only in the villa , but also trip to Gili Island Thank you again , We will back Andrzej Jacek family
Shannon J, Switzerland
,
14-Apr-2023
-
21-Apr-2023
We really enjoyed our stay , the smile and food were particularly excellent . I appreciated the attention to detail soaps,scents in the room tun down smile. And thank you to Kantun team for making a special honeymoon for us . We will back! Shannon , David , Roy , Nicolas Kwan . Australian / Swiss
Farizah F, Singapore
,
17-Mar-2023
-
19-Mar-2023
So serene, just the kind of break we needed. Staff service is impeccable. Thank you, Villa Sapi and Team for creating an unforgettable memory for all of us.
Nicolas E, France
,
11-Feb-2023
-
15-Feb-2023
Beautiful villa, excellent staff we really enjoyed this place, we will come back again. Great, great staff.
Kelly K, United States
,
07-Jan-2023
-
12-Jan-2023
It was like having our own private five-star hotel for 5 days. The service attention and kindness of all the staff was exceptional, Villa Sapi will be one of the most memorable places I have stayed. Thank you for everything, you made our stay really special with the beach barbecue, the singing, all the cosmopolitan cocktails and food is better than any meal. The room was so comfortable and always wonderfully clean and refreshed. we will be coming back again.
Pablo D, Belgium
,
25-Dec-2022
-
06-Jan-2023
Second stay here. We all feel like it was a dream to come back. The place is magical . Perfect location and beautiful architecture. But the best part was the staff. They are really great people. Smiles, service, kindness, availability whenever, and always GREAT FOOD. REALLY SUPER PLACE, SUPER EXPERIENCE.
Oleksii Z, Ukraine
,
12-Nov-2022
-
15-Nov-2022
These were the most wonderfull 3 days of our trip I have ever been on. Staff is the most friendly and attentive I have ever encountered. This is the best vacation experience i have ever had. Thank you for making the days for my birthday party it was amazing - we will never forget and we will return next year. Thank you. Alex and Kristine
Helen P, Australia
,
14-Sep-2022
-
18-Sep-2022
The villa is exquisite,the food is all outstanding delicious and so much of it. The pools always so clean . The staff are all amazing ,so friendly and attentive always approaching to help carry paddle board . The room always so clean and every day had fresh towels. A huge thank you to all of the staff for the parts you played in making our stay one to remember. Next time we need to take part in a cooking class and give you all a break . I FOUND PARADISE ! THE STAFF ARE ANGELS ! I THINK I AM IN HEAVEN ! BEST PLACE ON EARTH ! Parker family , Kate ,Dylan and Papa John Australian
Pit S, Germany
,
21-Aug-2022
-
25-Aug-2022
We would like to thank the entire Villa Sapi Team for making our stay unforgettable .We were deeply impressed by the passion,commitment and quality of service we received. The quality of food is outstanding. The unique architecture and surrounding garden allow for beach views. The climax of our stay was an evening grill party in the beach accompanied by the legendary Villa Sapi band. This experience was emotional and unique. We will certainly return to Villa Sapi again . Thank you from we bottom of our hearts.
Ed C, Singapore
,
30-Jul-2022
-
01-Aug-2022
An amazing villa, we really enjoyed this place, we will come back
Bridget M, Indonesia
,
29-Jun-2022
-
06-Jul-2022
Service, food and facilities are excellent. A beautiful location, we had a wonderful time and we will back again.
Wenny S, Indonesia
,
05-May-2022
-
09-May-2022
Villa Sapi is one of the most comfortable villas I ever stayed in. We enjoyed our days here with all the luxurious facilities, served by friendly and wonderful staff. And the food is delicious! We will back.
Wenny A, Indonesia
,
19-Mar-2022
-
21-Mar-2022
Good view and Facilities , Staff are Amazing and Friendly , We will back .
Martinus S, Indonesia
,
06-Jan-2022
-
09-Jan-2022
While staying at Villa Sapi we are very satisfied with the service. We hope that everything can be maintained like this. We all want to vacation at the Villa Sapi again!
Stefanie H, Germany
,
11-Nov-2021
-
11-Dec-2021
It has been a very nice experience for us.We received very kind service ,everything was clean We are very happy thank you so much, We wish all the best for everybody have in Villa Sapi
Anggia I, Indonesia
,
21-Oct-2021
-
23-Oct-2021
Amazing stay!!! The staff was excellent too. Will be back.
Rachel H, Australia
,
09-Feb-2020
-
14-Feb-2020
Amazing staff for the most unbelievable stay. Every day expectation exceeded just so thanks for your impeccable service and beautiful smiles. You all made our trip with the beach BBQ party. We had the best time and it was perfect. We are already planing to return. Lots of love to every one of you for making us feel so welcome. Cannot wait to see you again hopefully very soon.
Monique S, Australia
,
17-Jan-2020
-
24-Jan-2020
I could not have experienced a more wonderful holiday stay in Indonesia at Villa Sapi. The highlights have been many particularly noticeable is the exceptional staff service. The food was exceptional, every meal was considered and 5 star.
Andrea P, Australia
,
03-Jan-2020
-
11-Jan-2020
Thank you again to all staff, for the fourth time we are here, everything was perfect. We had a fabulous time as always. We love Villa Sapi food.
Pablo D, Belgium
,
23-Dec-2019
-
02-Jan-2020
Thank you for our stay in Villa Sapi, it was a wonderful place. The food was amazing I will miss those flavours. We will come back next year.
Raelene S, Australia
,
15-Nov-2019
-
18-Nov-2019
Thank you so much to all staff, this the best 50th birthday, we will return next time.
Kevin F, United States
,
04-Nov-2019
-
07-Nov-2019
These were the most magical 3 days of any trip I have ever been on. Staff is the most friendly and attentive I have ever encountered. This is the best vacation experience i have ever had. Thank you for making the days after my wedding - we will never forget and we will return one day. Thank you.
Paul D, Singapore
,
05-Jul-2019
-
17-Jul-2019
A very memorable twelve days of being well looked after. Every small detail immaculately presented - fantastic team. Food was amazing, it was like living with our own private kitchen everyday.
Grave T, Singapore
,
09-Jun-2019
-
12-Jun-2019
Thank you so much to all staff - friendly and helpful. Excellent food. We will be back.
Kevin L, Singapore
,
22-Jun-2018
-
25-Jun-2018
Thank you so much the whole team, we really had a fabulous weekend and can't wait until next time we can come to Villa Sapi.
Justyna O, Poland
,
07-May-2018
-
16-May-2018
Thank you for our stay in Villa Sapi, it was a great pleasure for us to spend a few days in this wonderful place. It was too short for us, we hope we will come back next year. Your kitchen was great, I'll miss those flavors!
Adrian G, Switzerland
,
25-Apr-2018
-
07-May-2018
Thank you and the entire Villa Sapi team again for absolutely the most amazing holiday we have had. As we briefly discussed, we will be back to Villa Sapi next year. We have just booked Villa Sapi for two weeks starting April, thank you.
Marcus L, United Kingdom
,
13-Apr-2018
-
20-Apr-2018
Thank you for making our stay so enjoyable. Your team at Villa Sapi are the best in the world. We have made incredible memories here and it's all thanks to your hard work and dedication. Everything has been perfect, we can't wait to come back someday.
julie W, Australia
,
17-Oct-2015
-
31-Oct-2015
Villa Sapi is like going to heaven the staff the food the location is just amazing we cannot fault one thing. Can I also mention the linen is just devine. Kantun the Villa Manager is the most professional, accommodating person nothing is too much trouble. We have been going to Villa Sapi every year for 4 years now and will continue for many more. Thank you to Kantun and all the staff for once again making our family holiday so enjoyable.
Farish K, Singapore
,
14-Jun-2015
-
18-Jun-2015
Excellent villa for a large group of up to 13 comfortably. Excellent facilities and views. The staff who attended to us are beyond belief and are very friendly. The Chef is the best there is! Cooks everything fresh and ever willing to teach.
Tien-Hsiang Wen, Taiwan
,
16-Jan-2015
-
19-Jan-2015
Great view and excellent design. The staff are nice and helpful. The Chef is amazing, every lunch and dinner always surprise us. Great Value!!
Sophie M, Australia
,
04-Jan-2015
-
12-Jan-2015
From the second we arrived till the minute we left, the team at Villa Sapi were amazing. We had the most memorable time with our children and friends, staying in the gorgeous architecturally designed Villa and relaxing around the expansive grounds. The food by Chef and his team was incredible. I would recommend Villa Sapi to anyone who wants to feel like a rock star!!!
Frank R, China
,
24-Dec-2014
-
04-Jan-2015
A hidden gem. Great staff. The food is outstanding. We stayed 11 days and only left the property for a visit to Gili Islands.
Helen T, Singapore
,
12-Aug-2014
-
19-Aug-2014
We had an amazing holiday at Villa Sapi, can't rate it highly enough. We will definitely go back.
Catherine H, Australia
,
06-Jun-2014
-
10-Jun-2014
The villa was a perfect location for our family gathering that included 3 small children. Cots and high chairs were provided as well as car seats for transfers. The weather was beautiful and the beach much cleaner than Bali. The fact that you can take a fast ferry from Lombok means that you can avoid long drives through congested traffic from Denpasar. The architecture and grounds are really special and the staff wonderful.
Miki M, Singapore
,
29-Apr-2014
-
13-May-2014
Wonderful villa with amazing staff - highly recommended
Helen Bramley ., Hong Kong
,
27-Jan-2014
-
04-Feb-2014
Beautiful villa in a lovely beachfront setting. The staff were amazing and the food was fantastic. Our kids had a great time. Not much to do in the surrounding area. But if your happy with beach, pool, sea and being well looked after - perfect.
Mark T, Singapore
,
11-Dec-2013
-
13-Dec-2013
We were highly impressed by the overall quality of service during our stay. The members of staff were good humoured and friendly from the welcome to the farewell. They were obliging and did their best to accommodate every request without being obsequious. Housekeeping activities were unobtrusive and went virtually unnoticed, something which never failed to amaze. We managed to enjoy a peaceful and relaxing getaway without a single hiccup or annoyance as a result. On top of that, the food was consistently excellent across all meals, and dietary requirements were effortlessly met and delivered. The staff, especially the chef, should be highly commended as they exceeded all expectations and made our stay at Villa Sapi a truly memorable one.
Julie W, Australia
,
19-Oct-2013
-
02-Nov-2013
This Villa is true Paradise I have been to many beautiful places in the world but Villa Sapi is on the top of my list. The staff are just wonderful and so accommodating the food is to die for and the atmosphere just so peaceful. The many staff keep the Villa in perfect order and nothing you ask is too much trouble. Thank you Villa Sapi for making our family holiday an amazing one that we will remember for a long time. See you next year.
Angela R, Singapore
,
31-Aug-2013
-
05-Sep-2013
Villa Sapi was Amazing - absolutely lovely location and a huge property. It was rather too big for just the 4 of us! I was a little nervous at first as the place seems so open and bathrooms have no doors - it is very unique, but we soon got used to the openness and the fabulous space and the location is beautiful! The staff are friendly, discreet and I have to say the food was absolutely amazing!!! We had a dinner out at the Oberoi that did not come close and was so much more expensive!!! I would say the food was the highlight. A fabulous place to relax and recharge. Snorkelling was amazing! This is the ideal place for a large family gathering and would not hesitate to recommend this to friends and family.
Rebecca D, Australia
,
01-Jul-2013
-
06-Jul-2013
We had the absolute BEST time at Villa Sapi. The staff were incredible and we are missing them and everything else about Villa Sapi now that we are home. Can't wait to go back.
Matt Jones ., Australia
,
09-Jun-2013
-
16-Jun-2013
Villa Sapi is perfection. The architecture, the spaces, the art, the pools, the staff, and the food. It's all beyond fabulous. There's not much more to say than that...!
Tricia H, Singapore
,
02-Jun-2013
-
06-Jun-2013
We had a wonderful stay at Villa Sapi ! The food and service was so good that except for a bike ride outside the premises and a half-day snorkelling trip to the Gili islands, we did not leave the Villa during our 5-day stay. The beach BBQ dinner which the villa staff organised was fantastic, and we especially enjoyed the live band which the staff invited to entertain us. We also brought our own alcohol from Singapore, as advised by the villa staff to avoid the high prices in Indonesia. All in, a wonderfully relaxing holiday and great value for money! We can't wait to go back ! Special thanks to the chef, Wayan and all the staff!
MS, Australia
,
29-Mar-2013
-
05-Apr-2013
absolutely brilliant. didn't want to leave. the staff were so generous and accommodating. the food was the best we have ever had anywhere in the world. thank you for a very special time.
LK, Malaysia
,
24-Mar-2013
-
27-Mar-2013
Hard to find fault with this villa - the staff, the ambience, the surroudings...the whole package really. There are many beautiful villas but not many comes with as amazing a chef as Chef Kantun; even the kids enjoyed his salads.
Kevin Leach-Smith, Singapore
,
08-Dec-2012
-
13-Dec-2012
Stunning villa, beautiful location and fabulous staff. We loved every minute of our stay.
AL, Malaysia
,
27-Nov-2012
-
30-Nov-2012
Villa Sapi is such a charming and gorgeous estate. The staff and management obviously take wonderful care and maintenance of the place. We went to Villa Sapi with 9 adults, 2 kids and 1 infant. We felt right at home from the minute we entered the driveway. The villa manager and staff were friendly and extremely helpful and tending to our every need. We also very much agree on the set pricing for food and drinks (USD40 for adults and USD25 for kids per day). I have stayed in other villas before where we pay for groceries - but half the time I think the prices of the groceries are waaay overpriced and that we might have been "conned". Villa Sapi's approach is far better and appreciated. All the rooms at the villa are spacious, the food was amazing, the staff pampers you ... and in the end, we really felt that our stay was too short. We will definitely plan to come back.
SN, Singapore
,
22-Nov-2012
-
26-Nov-2012
The architecture and facilities of the villa exceeded our expectations. It was a more than pleasant stay with the friendly staff, who even helped our in our annual dinner and dance decoration with handmade decor and helped set up our dining table by the beach. All in all, we really did enjoy our stay and would recommend to anyone who is keen on a getaway with everything taken care of.
RC, Australia
,
05-Nov-2012
-
11-Nov-2012
Amazing location incredible service and totally relaxing, the best holiday my family and friends have had. Hats off to all the staff who really made our stay most enjoyable. We will be back!
DR
,
12-Jul-2012
-
21-Jul-2012
We stayed in this villa 9 days and everything was great. The location overlooked a beautiful white sand beach right in front of Gili island and snorkelling was very convenient. The staff was great and very profitable deals available at our request, everything was spotlessly clean, the Villa is that the outdoor spaces as the pool and the beach. The chef was superb cooks for us every day wonderful menu. So for 9 days made ??us feel out of this world without any worries. I highly recommend Villa Sapi for a relaxing holiday. And I thank all the staff of the villa.
Irena Hutchings, Australia
,
27-May-2012
-
01-Jun-2012
We are in high end tourism industry ourselves and appreciate the extraordinary staff at Villa Sapi, for how they looked after our entire family, grandparents down to 5 children under 5 years. The food exceptional under Kantun, who is even prepared to share his recipes with us. Gede has certainly put together a great team, we loved EVERTHING, and regret having to share it with the rest of the world. We are all planning to come back, Lombok and the Gillies exceptional compared to Bali. Also loved the golf course, although a litle under utilised.
MJ
,
08-Apr-2012
-
14-Apr-2012
We had a FABULOUS stay, pampered all the way, to the point we didn't want to leave!
Alison Chester, Indonesia
,
07-Jan-2012
-
14-Jan-2012
We had a fabulous holiday and would definitely go back there again.The food and staff are fabulous.
Rachael Bewsey, Singapore
,
29-Dec-2011
-
06-Jan-2012
Pak Gede and his staff could not have been any more helpful, attentive and wonderful. Chef had the greatest patience putting up with all our varied food allergies and demands and still the food was always delicious and without fault. We would go back there again based on the staff alone. The villa itself was great although you do not note on the site that it's barefoot luxury ie open air bathrooms which, although private, were not really appropriate for my parents in law who are in their late 70s.