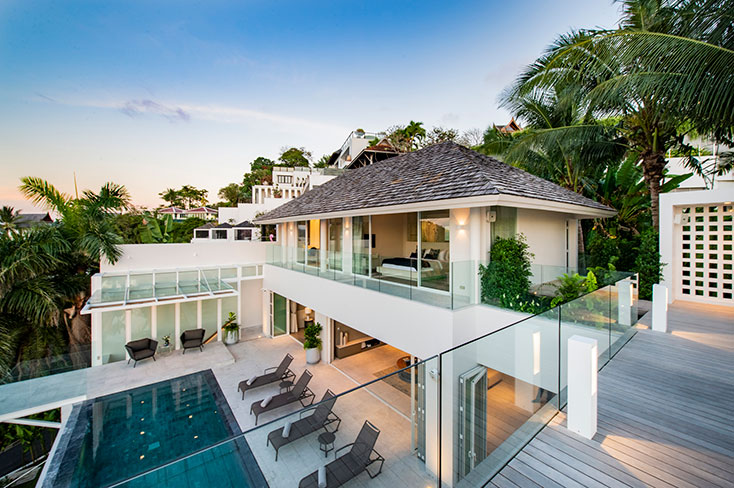 BRYAN L, Singapore
,
15-Jun-2022
-
18-Jun-2022
Hello! Our 4days 3nights vacation here at Villa Borimas was very well spent! We had a lovely view every day and night and scrumptious food served at the table every morning. The staff were all very helpful and kind and we truly enjoyed our stay!!
Abrar A, United Arab Emirates
,
05-Jun-2022
-
10-Jun-2022
Great place, and everything is great. Love the design of the villa, the pool and the great view to the sea. Myself and everyone in the group enjoyed the stay. We are planning to come again. Thank you to everyone made our stay very enjoyable. The welcoming was nice, the food, the service. Loved to sit by the pool and watch sunset, the sky, the trees, the sound of the waves. See you soon. Al-Moosawi Family.
Hector C, Spain
,
01-Apr-2022
-
09-Apr-2022
We had a great time at Borimas, was fantastic to call it our home away from home for a week. We have been awaiting see you soon.
Stefano M, United Kingdom
,
18-Mar-2022
-
21-Mar-2022
Ciao! Thank you so much guys! Everything was amazing and we are looking forward for next time!
Veronique D, Canada
,
06-Feb-2022
-
27-Feb-2022
What a magical place with the most wonderful service! Stunning sunset views, delicious food and friendly staff made this vacation one to remember and cherish forever. Thank you for making our honeymoon so special.
Jonathan O, United Kingdom
,
30-Dec-2021
-
06-Jan-2022
What a stunning trip. Perfect weathers, the best sunsets and the view of the Aman NYE fireworks incredible. But all of this pales into insignificance, when compared to the service, food and company of TAK+Aey. Worldclass cooking with a constant smile. Every dish perfect. We also highly recommend Sally_Supansa on instagram for those wishing to work all that food off. She was an exceptional personal trainer who came to the house. Thailand and its people have treated us very well.
Belinda E, Sweden
,
22-Dec-2021
-
30-Dec-2021
We arrived at the beautiful Villa Borimas from our dark and cold homeland, Finland. The stay here have been all that we ever wanted from a special vacation. The villa is light and airy, very nice and fresh interior. The sun treated us very well, the scenery is breathtaking. Villa Borimas staff was more than excellent. Treated us very well. We probably gained weight with all the fantastic food they made for us. Thank you manager Pum, housekeeper Tak, chef Ae you gave us lifelong memories of our stay Love! Khun Belinda, Isabel, Nicole and Edwin.
Rafael B, Germany
,
23-Nov-2021
-
30-Nov-2021
We had a wonderful vacation. The villa team was very nice to us and a big help. Looking forward to coming back. The food was excellent. We enjoyed every breakfast and BBQ. Rafael and Friends.
Jariya S, Thailand
,
28-Oct-2021
-
30-Oct-2021
We had a lovely stay. Thank you very much for your service and care during our vacation. The staff was very nice and helpful. We are looking forward to coming back soon. Stay safe! Naam & The Family:)
Lauren P, Philippines
,
14-Oct-2021
-
17-Oct-2021
We had a wonderful stay at Villa Borimas. The service from Tak, Ae and the team was faultless and the food was delicious! Beautiful villa and we leave with wonderful memories and will especially miss the sunsets! Lauren Paton, October 2021.
Khun Benz B, Thailand
,
01-Oct-2021
-
04-Oct-2021
Excellent service, especially by P'Tak. Nice view, amazing sunsets. A real holiday home away from home. Don't miss out the 3rd floor balcony area for panoramic sea views. The villa is clean, well maintained and overall great value. We were a group of friends from Bangkok, Taiwan, Singapore and USA.
Rebecca C, Thailand
,
20-Jun-2021
-
22-Jun-2021
It was such a memorable experience here at Villa Borimas. Excellent service and great food. The staff members were very friendly and sweet. Manager was also very helpful and sweet. Beautiful villa and location. I'm very glad I spent my birthday here with my partner. Thank you so much.
Ting A, Taiwan
,
02-Jun-2021
-
05-Jun-2021
The vibe and view of the villa are excellent. The Villa Manager pays attention to every detail. The chef (lady cook) cooked very delicious food. We stayed in the villa for 3 days, mostly eating our meals in the villa itself. When we go back to our country, we will miss the delicious food that she cooks. Next time we come to Phuket, we will surely come back and stay here.