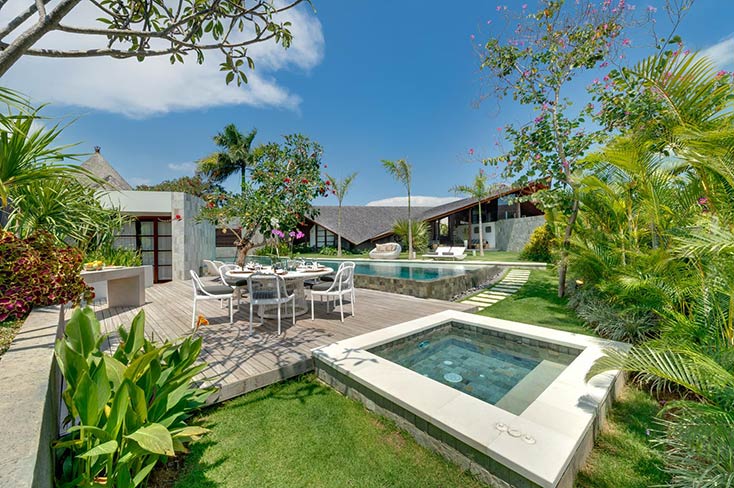 Hamish M, Australia
,
05-Jul-2016
-
08-Jul-2016
Gorgeous villa and grounds, ideal place to relax in the centre of town.
Krystal L, Taiwan
,
05-May-2016
-
07-May-2016
Awesome!
Devyn D, Australia
,
19-Apr-2016
-
26-Apr-2016
Great stay - location was a little further out than we were expecting however the buggy down to Seminyak Square was a great way to travel. Villas were super quiet - with only staff coming in to clean or deliver food. Breakfasts were absolutely fabulous.
Metteline P, Singapore
,
19-Feb-2016
-
23-Feb-2016
Lovely villa suitable for group of friends or family. We enjoyed the large space and had a wonderful and relaxing holiday.
Krystal A,
,
16-Jan-2016
-
18-Jan-2016
We enjoyed a relaxing and tranquil stay in the 4 bedroom villa. Beautifully appointed with stylish indoor and outdoor living areas - the Villa was well equipped and afforded our family fun times to enjoy around the private pool. The location is ideal and central to some terrific restaurants and bars and boutique shops. We would definitely recommend the Layar to our friends and family.
Paul H, Indonesia
,
30-May-2015
-
09-Jun-2015
WOW We booked a 3 and 4 bedroom villa, staying with 14 family and friends, the villas met all expectations and then some, villas were beautifully presented, cleaned everyday, the pool was stunning and thankfully refreshing, and the staff at the Layar were great, location was perfect, you are far away from the madness out on the street, but only a short walk to all the bars and restaurants, would certainly recommend the Layar to anyone. Paul hogarth.
Linda W, Australia
,
11-Apr-2015
-
21-Apr-2015
I felt like I was in heaven from the minute I stepped into Villa 5 (4 Bed Villa) at The Layer. My husband & I were in the Master Bedroom, that is seperate to the Main Villa, which meant we had our own little private hideaway.Apart from the 3 bedrooms & ensuites in the Main Villa, there was a magnificent TV room, with wrap around lounge. The kitchen was well equiped, the dining table very comfortably accommodated our large family. Also has it's own massage room with shower & toilet, that was handy for when we were out by the pool. Most of our entertaining was out by the Pool & Spa.The Garden/ Pool area set in a lush garden setting, can only be described as Paradise. The staff were absolutely amazing, if ever we needed anything, they were at the Villa within seconds to accomodate our request.They serviced the Villa, Pool & Gardens daily & all staff were always happy & friendly. The breakfast provided was amazing with the staff coming in at the requested time & setting everything up & then coming back to clear away. Also would like to mention we utilised room service for lunch & sometimes afternoon snacks, prices were very reasonable & again meals magnificent. I thoroughly recommend staying at The Layar especially at Villa 5.A very memorable experience.
Kris H, Australia
,
18-Mar-2015
-
22-Mar-2015
Given the relatively higher price of these villas, we had very high expectations of the accommodations, amenities and staff. Pleasingly, these expectations were not only met, but significantly exceeded. I am not prone to exaggeration either!! Outstanding villas, with truly helpful staff. There are a multitude of villas in Bali and it is often difficult to discern which offers the best value. We have stayed at some others, and researched many more. Let me save you the time and risk. Layar Villas are the only way to go (on the proviso you are pitching in that upper price range) Kris
Luke C, Australia
,
06-Mar-2015
-
12-Mar-2015
Absolute 5 star facilities. Great location in Seminyak, and very friendly staff. Our villa handled two families and five children with ease.
Luisa Yustina Halim, Malaysia
,
04-Mar-2015
-
06-Mar-2015
Me and bunch of friends went there for a short break and The Layar has it all. The rooms are perfect and let me not start with the bathroom. It was so spacious that you can dance around and have your bath with peace. The swimming pool itself is also a big temptation for everyone to jump in right after check in. We couldn't handle the aqua color pool. As for the butler service is very helpful since we were travelling with little kid,so there are some menu that needs to be adjusted to suit little kid taste bud. I can't say anymore but perfection.
Anne Suttie , Indonesia
,
12-Nov-2014
-
22-Nov-2014
Fantastic architecture - modern but classic Balinese style. Friendly and helpful staff. Beautiful gardens. Can't wait to return!