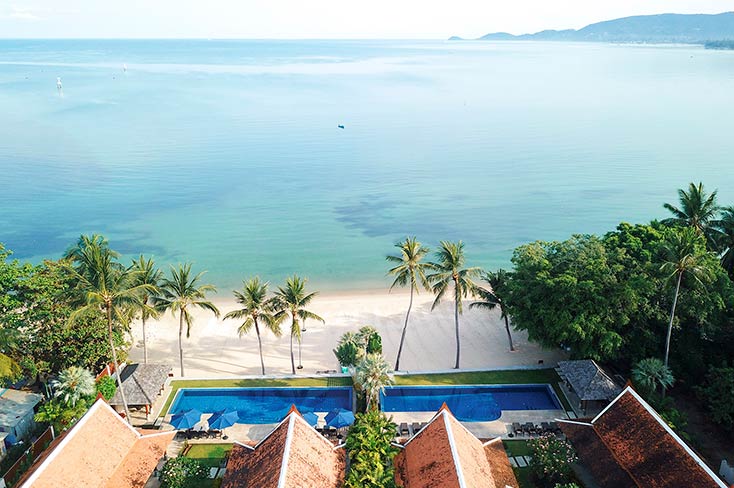 Will B, Australia
checked out on
31-May-2019
Fabulous! Our group of 8 had an incredible time. Nothing was too much trouble for the team, all of the staff were friendly and super helpful. Special thanks to Luck for all her help. We will be back again one day.
Neryn B, Singapore
checked out on
27-May-2019
Tennis team from Singapore had a fabulous time bonding, playing tennis, and enjoying a birthday celebration one evening. Each night we had a game night which we all participated. We ate, drank and danced the night away. The food was absolutely amazing. The view was amazing, even as we watched the storm coming through. Definitely a trip we will never forget.
Yanjun F, Thailand
checked out on
20-May-2019
17-20 May 2019 A great stay! Kids enjoyed themselves thoroughly with the toys and facilities, and adults had a relaxing time. Food was great and we felt taken care of by the crew. The Apple TV was a great touch! We appreciate that the villa is clean and well maintained. Hardly any mosquitoes and flies! Thanks to Khun Luck for coordinating our stay. The Furtado family
Marks Family, Australia
checked out on
21-Apr-2019
Thank you so much Luck and your Team for looking after our family so superbly. Your attention to detail was amazing and we appreciated everything you all did to make our anniversary so very special. Tawantok Beach Villas are amazing in a beautiful location and we will all have very special memories to last a lifetime.
Polina P, Indonesia
checked out on
31-Mar-2019
This was wonderful, it is the best place out of all the places I've visited in Thailand. Thank you to the team.
Hun-Li W, Hong Kong
checked out on
18-Jan-2019
Thank you to the whole team for making our stay such an enjoyable one. The villa is lovely and is always so well taken care of, the food is fantastic - the Tom Yum was a favourite. The staff are all friendly, hospitality and professional and made us feel at home. Special Thanks to Luck for helping us arrange transport and being a fantastic leader to the team. Thanks to Ning for taking care of us and Khun Porn for making our room up so nice everyday. Thank you to the chefs and security and a big thank you to the man who caught that snake.
Nicholas E, Singapore
checked out on
24-Jan-2019
We stayed here and we had an amazing stay. Luck and the team looked after us extremely well. All of the staff were really attentive without being intrusive, a real pleasure to be here. We hope to visit again when we can get some additional family to join us. The day trip organized to the Eco Marine Park was really special also. Thank you Luck and team for all you had work and for taking care of us all.
Fahad K, Thailand
checked out on
01-Jan-2019
Thank you for an amazing stay at this villa. The staff were extremely friendly and helpful - we couldn't have asked for a better team. What really impressed us was the tidiness and cleanliness of the villa - which made our stay that much more comfortable. The food was fantastic and the chef had no issue with any dietary restrictions. Overall, the service and villa is amazing and exceeded our expectations. Thank you for making our trip to Koh Samui a special one.
Annick N, France
checked out on
07-Dec-2018
It was just a unique experience - great service, great people and great smiles. We sure will be back. all was perfect. Thanks again to the team.
Kin C, Hong Kong
checked out on
14-Oct-2018
Second time staying at this villa - good weather, good place, good people, good food. Excellent services. See you next time.
Alan R, Hong Kong
checked out on
29-Oct-2018
Upon our arrival at the villa the team made it special from the minute we arrived till the minute we left. Nothing was too much trouble and everything was done with smile, seamlessly organized - from the menu choices and in house spa. The whole villa is designed to provide enough space for everyone to chill out and has a large edge pool that is really enjoying and also super attentive staff like Luck seems to know what you want before we do - allowing me to have a cooking from their good chef at the villa. Nice experience and must stay again.
Knita M, India
checked out on
24-Sep-2018
Thank you Baan Tawantok. Luck and her team made this celebrations absolutely brilliant and memorable. You are fantastic. It will always stay very special for us.
Paul and Carol, Canada
checked out on
14-Jul-2018
Absolutely outstanding! We have been treated like royalty with such kindness and attention to every detail. It was such a good experience that we would like to return as soon as possible with the WHOLE family. Everything was an experience, the food, the table settings and the service. We were a mixed group of people from grandparents to young children, we enjoyed all the amenities, pool (especially), kayak, tennis court.