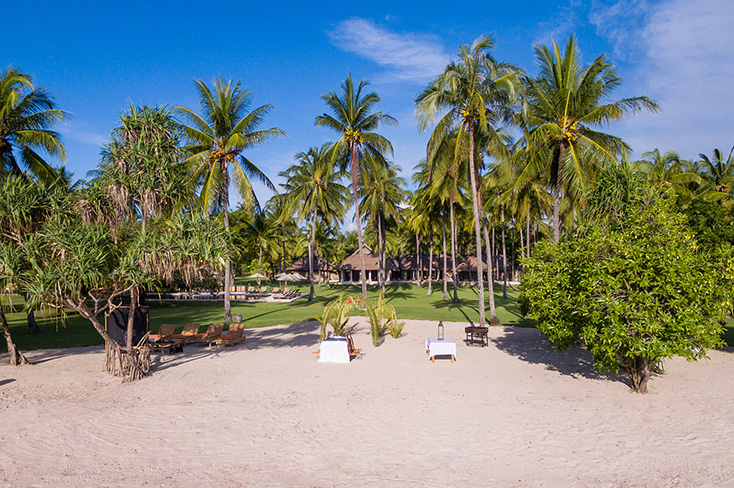 Ivan T, New Zealand
,
29-Aug-2022
-
04-Sep-2022
Here to celebrate a special Birthday and GANI'S team made sure it was special, the whole team looked after us so well all week. We have all had a wonderful week, sad to leave but so pleased to have an opportunity to experiment Sira Beach House
Andrew B, United Kingdom
,
21-Aug-2022
-
28-Aug-2022
Fantastic - Staff - Food - Beach A wonderful work, Thanks to All
Daniel B, Switzerland
,
25-Jul-2022
-
29-Jul-2022
Thank you so much for taking care and spoiling in on this wonderful travel experience. The villa facilities and sunset were amazing and the food outstanding. We are happy to have chosen Lombok for the second time in far year and very lucky to have the opportunity to stay at the Sira Beach House, We can't wait to get back!!! Thank You.
Bernardo S, Portugal
,
05-Jul-2022
-
15-Jul-2022
This 10 days Were fantastic and on amazing experience. Thank you to everyone for making our stay as peaceful and enjoyable as it was. GANI & KOMANG, your help and availability was settled down . SUR your cooking was amazing and thank you Salman and team for everything. it was all truly settled down but the last thing was the staff. We hope to return with more friends and family. We wish you all the best,
Sofia K, Singapore
,
04-Jun-2022
-
14-Jun-2022
Thank you to everyone at Sira Beach House for such a wonderful stay, The food has been incredible, dinner set impeccable & everyone has been so kind & efficient at organize boat, ZOO visits & ensure Cleo was kept happy. So thank you for such a seat 10 days. We will definitely be back.
Al Hakim H, Indonesia
,
03-May-2022
-
06-May-2022
Everything was great ! Pak Gani and Team have been amazing and instrumental to our stay. The facilities are great but beit onfall, the location and view. We surely wish to come back for more, much love from us.
Tim A, Singapore
,
19-Mar-2022
-
26-Mar-2022
Thank you, Wonderful team at Sira Beach House, We had a fantastic holiday. We loved all the different dinners and change of tables the team organized for us. We booked this holiday pre-Covid 19 and waited for it for 2 years, it was worth it! We all felt taken cared of and we are able to chill and relax. Thank you for accommodating our preferences we will be back.
Faris A, United Kingdom
,
26-Mar-2021
-
03-Apr-2021
Thank you Sira Beach House for an amazing stay at this beautiful place! It was the perfect setting for our time here. Much love to Komang, Gani and the Sira Beach House team for their utmost care and warm hospitality! Thank you!
Josie M, Canada
,
02-Jan-2020
-
05-Jan-2020
Such a beautiful and welcoming place to spent the new year! Everything is suited to supreme relaxation and the food was exceptional - authentic and delicious. We will definitely be raving about this oasis to friends back home. Thank you for the hospitality.
The Owens, China
,
23-Dec-2019
-
02-Jan-2020
We had wonderful staff at the Sira Beach House!. The house is beautiful and was perfect for our family of 10. We enjoyed the pool and walks along the beach. Thank you for everything, Gani, Komang, and all the staff. Happy New Year.
Michael G, United Kingdom
,
09-Oct-2019
-
12-Oct-2019
Thank you to everyone at Sira Beach. What a beautiful place and a peaceful time for everyone. You have been so kind and made us feel welcome and very well looked after. This villa is an absolute paradise. We love the house garden, pool, and relaxing atmosphere. It's been a very special family time for us.
Jonathan G, Australia
,
27-Sep-2019
-
07-Oct-2019
We had a very pleasant stay at the beach house, the pool is great and so are the dining area and lounge. The villa's biggest asset are the staff that work here.We had two very memorable nights with beach BBQ's. Exceptional. Also had movie on the beach under the stars.All in all a fantastic stay.
Lionel N, Australia
,
07-Sep-2019
-
14-Sep-2019
Thank you so much to you ALL for your kind attention and for working so hard to make our week so special for our family. We have lots of happy memories to take from Lombok back to Australia .
Stephanie H, United Kingdom
,
12-Aug-2019
-
15-Aug-2019
A wonderful welcome by all staff on the beach after our transfer from Gili Meno. A beautiful property with a team by hard working staff. Our last evening our daughters 19th Birthday was celebrated with a wonderful party with a BBQ on the beach.
Lionel N, Australia
,
03-Aug-2019
-
10-Aug-2019
We had a wonderful time at Sira beach house. Paradise on earth, real magical place! All staff are nice and helpful all of the time. We really enjoyed our time at Sira beach house from morning to evening. We go back home with lovely memories thank you.
Lionel N, Australia
,
19-May-2019
-
22-May-2019
We have never seen a beautiful place like this - so huge and the view was breathtaking. Staff are so helpful and the manager is also so kind and ready to assist our needs. We really enjoyed and are very happy with the property and services. Thank you to all of you.