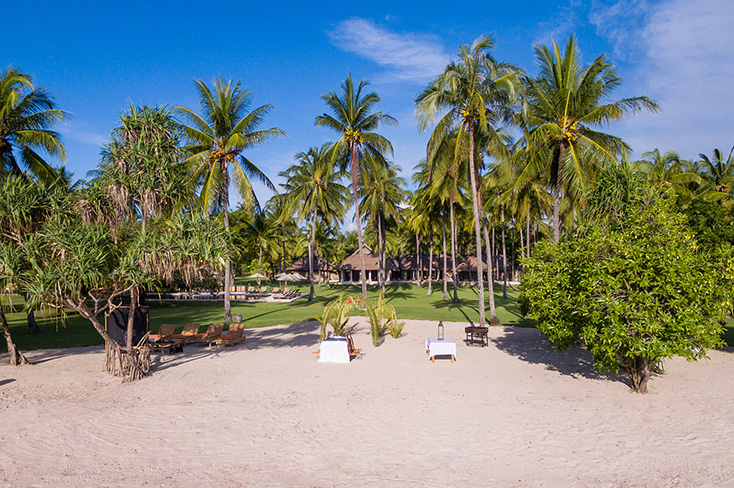 Rona C, Spain
,
05-Mar-2023
-
15-Mar-2023
We had the most magical time in Sira Beach House. All of the staff were really friendly and so helpful, food was the best !! We were here celebrating birthday and couldn't have found the more ideal place to remember our celebrations and family time Thank you all so much, From : Rona & Ricky Casey, Sarah & Jacob and the De Kocks Becky, Jean, Sophia and George
Arpad K, Switzerland
,
30-Jan-2023
-
06-Feb-2023
Thank you very much for your kind attention to our needs. the location was romantic and We truly enjoyed ourselves. Tammy & Arpad The location was beautiful and the rooms cleaned and managed very well, the food delicious. We had lovely time. Ferro & Eva
Nicholas T, United Kingdom
,
20-Jan-2023
-
23-Jan-2023
such an amazing luxury villa, perfectly authentic island feel my wife and i had the most amazing weekend gateway here! if the beachfront sunsets, the amazing living spaces weren't already enough the staff were unbelievable and the food was fantastic! it really paradise
Enrique P, Brazil
,
08-Jan-2023
-
15-Jan-2023
We could not have a better place to celebrate such an important we went in our live our wedding. In the beginning, this was not planned, when we booked our vacation in Indonesia, we simply decided to travel together, 3 family, I believe that was in may 2022. After sometime, Luciano and Carla decide to get married during the trip and more recently, Tina and Gilson, Bethania and Enrique decide to join these magical plans. We thank everyone especially Komang and Gani, but all the people who keep us cozy and welcomed all the time thank for the warmth for the food for cleaning and tidying up our room at any moment for being so kind and helpful. The house is amazing but it would be nothing if you, the people, did not give it a soul, We wish you a great 2023 and to your families to. We love Indonesia and you are part of that. thank and keep safe Carla & Luciano Bruno Tina & Gilson & Liz Ana & Felipe & Nina Enrique & Becca & Joao
Hamidah O, Australia
,
22-Sep-2022
-
27-Sep-2022
We had really good time at Sira Beach House, Our group is very large but we were comfortable accommodated and we all had a good time, The staff were pleasant and did what they could with what they had. thank Mr. Gani and Mr. Komang and all the staff for making our stay comfortable
Nurhusniah A, Malaysia
,
07-Sep-2022
-
11-Sep-2022
Salam, Semua staff ghani, Komang dan seluruh karyawan di Sira Beach House sangat mesra dan membantu selama saya dan keluarga disini, satu per atian yang sangat mengenbiraka keluarga saya. Saya ucapkan terima kasih berbanyak banyak sampai kita ketemui lagi. Wassallam DR. Azhar
Ivan T, New Zealand
,
29-Aug-2022
-
04-Sep-2022
Here to celebrate a special Birthday and GANI'S team made sure it was special, the whole team looked after us so well all week. We have all had a wonderful week, sad to leave but so pleased to have an opportunity to experiment Sira Beach House
Andrew B, United Kingdom
,
21-Aug-2022
-
28-Aug-2022
Fantastic - Staff - Food - Beach A wonderful work, Thanks to All
Daniel B, Switzerland
,
25-Jul-2022
-
29-Jul-2022
Thank you so much for taking care and spoiling in on this wonderful travel experience. The villa facilities and sunset were amazing and the food outstanding. We are happy to have chosen Lombok for the second time in far year and very lucky to have the opportunity to stay at the Sira Beach House, We can't wait to get back!!! Thank You.
Bernardo S, Portugal
,
05-Jul-2022
-
15-Jul-2022
This 10 days Were fantastic and on amazing experience. Thank you to everyone for making our stay as peaceful and enjoyable as it was. GANI & KOMANG, your help and availability was settled down . SUR your cooking was amazing and thank you Salman and team for everything. it was all truly settled down but the last thing was the staff. We hope to return with more friends and family. We wish you all the best,
Sofia K, Singapore
,
04-Jun-2022
-
14-Jun-2022
Thank you to everyone at Sira Beach House for such a wonderful stay, The food has been incredible, dinner set impeccable & everyone has been so kind & efficient at organize boat, ZOO visits & ensure Cleo was kept happy. So thank you for such a seat 10 days. We will definitely be back.
Al Hakim H, Indonesia
,
03-May-2022
-
06-May-2022
Everything was great ! Pak Gani and Team have been amazing and instrumental to our stay. The facilities are great but beit onfall, the location and view. We surely wish to come back for more, much love from us.
Tim A, Singapore
,
19-Mar-2022
-
26-Mar-2022
Thank you, Wonderful team at Sira Beach House, We had a fantastic holiday. We loved all the different dinners and change of tables the team organized for us. We booked this holiday pre-Covid 19 and waited for it for 2 years, it was worth it! We all felt taken cared of and we are able to chill and relax. Thank you for accommodating our preferences we will be back.
Faris A, United Kingdom
,
26-Mar-2021
-
03-Apr-2021
Thank you Sira Beach House for an amazing stay at this beautiful place! It was the perfect setting for our time here. Much love to Komang, Gani and the Sira Beach House team for their utmost care and warm hospitality! Thank you!
Josie M, Canada
,
02-Jan-2020
-
05-Jan-2020
Such a beautiful and welcoming place to spent the new year! Everything is suited to supreme relaxation and the food was exceptional - authentic and delicious. We will definitely be raving about this oasis to friends back home. Thank you for the hospitality.
The Owens, China
,
23-Dec-2019
-
02-Jan-2020
We had wonderful staff at the Sira Beach House!. The house is beautiful and was perfect for our family of 10. We enjoyed the pool and walks along the beach. Thank you for everything, Gani, Komang, and all the staff. Happy New Year.
Michael G, United Kingdom
,
09-Oct-2019
-
12-Oct-2019
Thank you to everyone at Sira Beach. What a beautiful place and a peaceful time for everyone. You have been so kind and made us feel welcome and very well looked after. This villa is an absolute paradise. We love the house garden, pool, and relaxing atmosphere. It's been a very special family time for us.
Jonathan G, Australia
,
27-Sep-2019
-
07-Oct-2019
We had a very pleasant stay at the beach house, the pool is great and so are the dining area and lounge. The villa's biggest asset are the staff that work here.We had two very memorable nights with beach BBQ's. Exceptional. Also had movie on the beach under the stars.All in all a fantastic stay.
Lionel N, Australia
,
07-Sep-2019
-
14-Sep-2019
Thank you so much to you ALL for your kind attention and for working so hard to make our week so special for our family. We have lots of happy memories to take from Lombok back to Australia .
Stephanie H, United Kingdom
,
12-Aug-2019
-
15-Aug-2019
A wonderful welcome by all staff on the beach after our transfer from Gili Meno. A beautiful property with a team by hard working staff. Our last evening our daughters 19th Birthday was celebrated with a wonderful party with a BBQ on the beach.
Lionel N, Australia
,
03-Aug-2019
-
10-Aug-2019
We had a wonderful time at Sira beach house. Paradise on earth, real magical place! All staff are nice and helpful all of the time. We really enjoyed our time at Sira beach house from morning to evening. We go back home with lovely memories thank you.
Lionel N, Australia
,
19-May-2019
-
22-May-2019
We have never seen a beautiful place like this - so huge and the view was breathtaking. Staff are so helpful and the manager is also so kind and ready to assist our needs. We really enjoyed and are very happy with the property and services. Thank you to all of you.