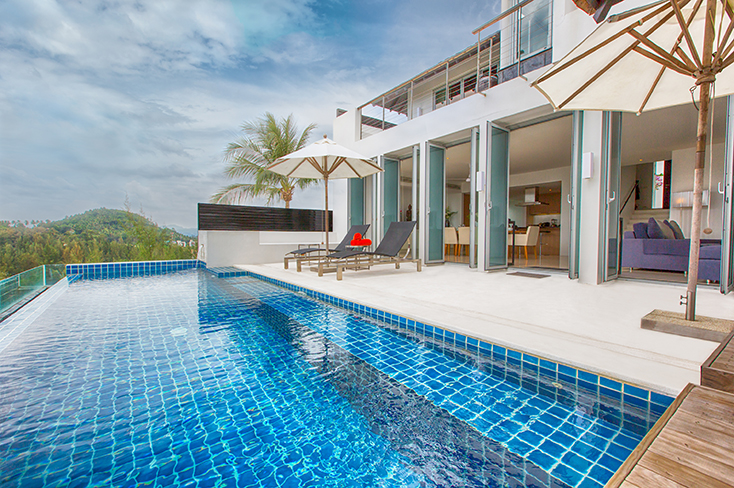 Chor T, Singapore
,
05-Jun-2022
-
07-Jun-2022
Thank you Rose and all the team taking care of us you were amazing. The friendliness and care; you took of villa cleanliness; the tasty food, we loved it and will be back.
Peachaya M, Thailand
,
29-Apr-2022
-
02-May-2022
Thanks for the hospitality and services. All staff gave great service and warm smiles. Made our stay pleasurable and wonderful. Thanks, Kim.
Peter M, United Arab Emirates
,
19-Mar-2022
-
25-Mar-2022
Thank you so much for a fabulous stay at Villa Napalai. Rose and her team made our stay very enjoyable, relaxing and easy. The food provided by the chef was excellent (Diet start when we get home). Housekeeping did a great job keeping the villa clean and tidy all times. Thank you for all your attention ladies.
Werapong G, Thailand
,
05-Mar-2021
-
08-Mar-2021
Thank you so much for your hospitality. We had a wonderful time here and will definitely come back soon.
Shaun S, Thailand
,
05-Sep-2020
-
07-Sep-2020
Love the villa .Great at sunset with the ambience of the area. Recommend the chef's spaghetti and beef, can't find it anywhere better on the Island!
Anita B, Ukraine
,
02-Mar-2020
-
22-Mar-2020
Thank you so much for being nice. We enjoy to stay here. God bless you! We'll come back again. We miss you guys. Thanks.
Wei W, China
,
18-Feb-2020
-
22-Feb-2020
We staying here for 4 days, the villa team are very sweet and hospitable and we love chef's cooking. We have staying Phuket over one month and this is the 8th villa for us! Thanks all.
MARINE F, France
,
16-Jan-2020
-
14-Feb-2020
We were invited to this magnificent house and our stay was wonderful with a sumptuous view and quality staff. Thank you very much for the excellent Thai hospitality. We will keep a very fond memory of the kindness and professionalism of Jessy
Jane K, Australia
,
06-Jan-2020
-
13-Jan-2020
Thank you so much for looking after us so beautifully. Your staff Jessy ,Chef Tas, Sal have been wonderful Best food ever.. We will never forget our time here. Great food, fantastic views. Thank you, Thank you, Thank you. We will miss you guys so much.
Mark C, Spain
,
13-Dec-2019
-
03-Jan-2020
I would like to say thanks to Julie and the staff at Napalai for a wonderful stay the villa. The villa is perfect and a family holiday but only brick at the end of today! Thank you once again, Mark.
Pierre E, Singapore
,
04-Dec-2019
-
08-Dec-2019
Food was really great. Thank you very much! Thanks for everything. Much appreciated.
Vikarna C, Singapore
,
07-Oct-2019
-
13-Oct-2019
A wonderful family holiday! This villa was fantastic, stunning views, superb service by Pook, Da, Laila, Pree. Da is an amazing chef who kept us in good spirits with outstanding food. It was so good that we did not want to eat out. Pook went out at her way to make us comfortable, happy and very enjoyable. The fruit carving by Pree was beautiful, it made every meal a pleasure. The holiday was thanks to them absolutely a FAIRY TALE. The setting was MAGICAL and the girls ( Pook, Da, Laila, Pree) made it PARADISE ON EARTH! THANKS AGAIN
Gao Fan W, China
,
03-Oct-2019
-
07-Oct-2019
Nice sea view villa and delicious food. All staff are sweet and offered great hospitality. We had perfect six days vacation here.
Thomas D, Singapore
,
29-Sep-2019
-
01-Oct-2019
Thanks for the excellent service and the great recommendation. Hope to see you all again in the future.
Robin F, France
,
20-Sep-2019
-
22-Sep-2019
Our time at villa Napalai always amazing! We were here last year and back again as villa and staff are wonderful. Our chef was so good and everyone enjoyed truly the food. A big thank you to all the staff especially to Mym our villa manager for a great service. We will be back again!
Hayley M, Australia
,
29-Jul-2019
-
10-Aug-2019
Wonderful feeling holiday. Natty very accommodation and food amazing. Big thank you
Kevin C, Hong Kong
,
25-Jul-2019
-
29-Jul-2019
We are the big family from Hong Kong and so happy and enjoy to stay in Napalai. The staff are awesome. The cook is amazing. He cooks very well. Jom likes to play with our kids and always asks our advise. We appreciate all. Thank so much to giving me the enjoyable vacation.
Spencer K, Singapore
,
24-Mar-2019
-
29-Mar-2019
We are a group of eight people traveling for spring break. The staff made our stay very easy by cooking meals, booking us vans and cleaning up after us. We loved our trip so much and would like to thank the staff for their help.
Anthony Y, Hong Kong
,
22-Feb-2019
-
25-Feb-2019
We are a group of friends from Hong Kong. We all grew up in Toronto Canada and now working in Hong Kong. This was a trip was to celebrate a couple of our newly weds as a bachelors trip. This villa fit our needs in many ways. The site is super spacious and the view to the sunset is amazing but most importantly the staff from Knight Frank made us super comfortable and made us feel welcome and feel like home. In this wonderful city of Phuket, everything was perfect except the hike we have to take daily from the gym/entertainment room to the living room (laughing icon). Thanks to all the staff for this lovely experience.
Dingchang X, China
,
06-Feb-2019
-
10-Feb-2019
We came from Nanjing china, we have eight adults and two kids. We really like this villa and stay and the staff is very attentive and the chef is very good. Food very tasty and the environment is also good. If we come back again, we would love to stay here again next time.
Peter J, Australia
,
11-Jan-2019
-
16-Jan-2019
We had an enjoyable time in this beautiful and spacious villa. The pool and gym were both used to good effect and the food was amazing. The mango sticky rice and lemon grass chicken were the big crowd pleasers. Thanks to the staff for such a great holiday .
Michelle C, Philippines
,
31-Dec-2018
-
05-Jan-2019
The villa was absolutely gorgeous and a wonderful place for family to stay. The kid's particularly loved the play area and enjoyed the pool. The chef made the most delicious meals and we loved to eat outside. I'd definitely recommend this villa to family and friends coming to Phuket. Everyone here was a warm and helpful.
Lucinda G, United Arab Emirates
,
20-Dec-2018
-
30-Dec-2018
Our group had the most wonderful and amazing holiday at the villa. The whole experience was made very special because of our incredible team of ladies … Lucky, Giipzy, Bulan and Jeab. Every meal was absolutely super and delicious. The ladies went over and beyond our expectations in making sure we were well cared for and comfortable.
The Jenkins family, Thailand
,
08-Dec-2018
-
10-Dec-2018
Lovely weekend break from Bangkok 1st class hospitality from our hosts, great service. Had a fantastic time, guys really enjoyed all like pool.
Gilbert L, Singapore
,
06-Sep-2018
-
10-Sep-2018
Thank you for your kind service, we feel very happy and excited in here. The dinner is tasty and service is wonderful. If we come back this place, we will come here again.
Xia C, China
,
05-Aug-2018
-
10-Aug-2018
Villa is good and the sight is beautiful, the food is delicious and not expensive, the service is good.
Chunkai Z, China
,
15-Apr-2018
-
19-Apr-2018
Thank you for your kind service, we feel very happy and exited in here. The dinners were tasty and service wonderful. If we come back to this place, we will come here again.
Vivien P, Singapore
,
25-Mar-2018
-
29-Mar-2018
Thank you for an amazing family holiday. We really appreciate the thoughtfulness of the staff. Everyone went out of their way to make our trip so wonderful. The food was delicious and we looked forward to every meal. Sunny was always helpful and informative. We loved our stay. I would recommend it to all our friends.
Winnie F, Singapore
,
10-Mar-2018
-
13-Mar-2018
Awesome villa with a great view. Staff always so polite and accommodating to our requests - especially villa manager, Woody and chef Lin. Kids and adults love all the food prepared by chef Lin! Will definitely be back again, thanks so much to everyone.
Tony B, United Arab Emirates
,
01-Mar-2018
-
10-Mar-2018
Just a quick note on behalf of myself and my friends to say a big thank you to everyone that made our stay and experience at the Villa-Surin Heights last week an absolutely fantastic experience. The girls that came to assist in the villa and chef & co were first class. Also a special thank you to Giipzy who managed & arranged everything superbly for us. Nothing short of a perfect experience. We'll most certainly be in contact for next year, thanks again for all your help.
Zhang Y, China
,
13-Feb-2018
-
16-Feb-2018
Villa was very clean. Chef made very delicious food for us. If we will be back we will stay here and will recommend friends to come here.
James L, Australia
,
16-Apr-2015
-
24-Apr-2015
We had a terrific time in the villa. We were well looked after by the staff, and the food was fantastic. The location, an easy walk to a very nice (and quiet - this is not a party area which suited us just fine)beach, was excellent.
Avis Ho, Hong Kong
,
08-Sep-2014
-
12-Sep-2014
good services with nice housekeepers . The hotel manager is helpful .We will come Again!
Philip K, Thailand
,
06-Sep-2014
-
07-Sep-2014
Great location to be walking distance to the beach. The entertainment facilities are a nice touch as well.