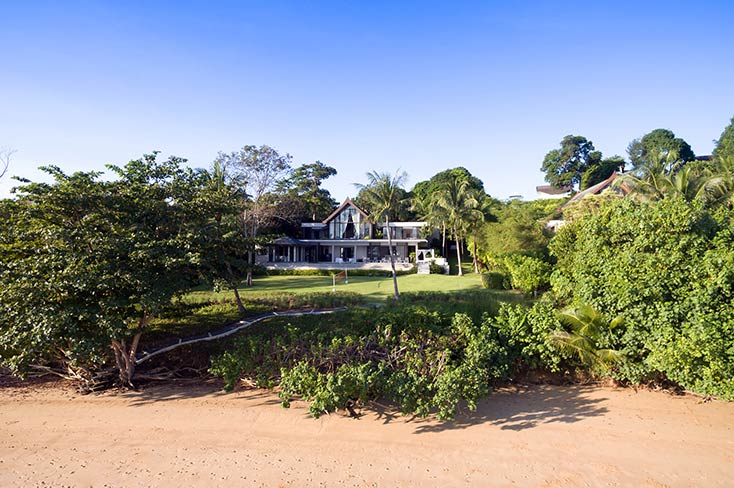 Mr Xu Y, China
checked out on
09-Jun-2019
The wind wafting the cloud, the light shining the trees, the rain petting Naam Sawan. We did not hold in sunshine, we did not swim in the pool but just melt in the views, wallow in the food. Thanks chef for teaching us how to make Tom yam soup. We are very happy here. Happy Chinese Dragon boat Festival .
Graham W, Singapore
checked out on
15-Apr-2019
What a delightful place and a lovely location. Many thanks to Wawa and her staff for looking after us so well, we all feel really pampered. A family get together to celebrate a "significant " birthday was made very special by this setting, thank you.
Peter S, Philippines
checked out on
04-Apr-2019
Thank you so much for our amazing stay. We had a great holiday and the staff went an extra mile to make it for us unforgettable. We wouldn't ask for more welcoming people to look after us. Thank you so much and we are very sad to leave.
Sofia P, United Kingdom
checked out on
10-Mar-2019
The most amazing holiday experience .The views, the villa and Wawa and her team created the most wonderful 2 weeks. We hope to be back next year. Thank you for taking such good care of us all.
Sarinrath K, Thailand
checked out on
21-Feb-2019
Thank you Naam Sawan, our family had such a fantastic holiday. The villa was greatly managed by a local team and food was just so fresh and delicious everyday. Will surely recommend to our friends and family. Our family will surely come back soon.
Remy M, France
checked out on
16-Feb-2019
Splendid villa, excellent staff. We have spent a marvelous holiday, a real time of happiness. We will be delighted to come back. Thank you Wawa, Jazz, Sai, Paula, top notch villa.
Qingshuang W, China
checked out on
28-Jan-2019
Nice Views and comfortable climates. Sweet service and luxury experience. Expecting to come back here again, it's definitely value travel.
Corey M, Hong Kong
checked out on
06-Dec-2018
Thank you very much for making our holiday so complete. Your attentiveness, generosity and kindness made our time here very relaxing and memorable - would not have been possible without you. It is only once in a lifetime we have the opportunity to indulge in a vacation like this. Thank you for making our dream come true. Wawa - thank you for your heartfelt service . Jazz - thank you for your contagious smile. Paula - thank you for sharing the art of cooking every bit was as delicious as the trip. Eternally thankful.
Emile V, Hong Kong
checked out on
18-Oct-2018
Thank you so much for being such lovely hostS. The villa is perfect and in beautiful condition. All this is easy to forget when you serve us three times per day the most wonderful food and keep listening to us and especially the children for how to improve the next meal. You have been excellent in organizing the boat trip to Phang Nga as well as the day trip to Phuket town and Surin Beach. We have stayed in quite some villa in Thailand and Indonesia but can easily say that Naam Sawan is the best one yet. That is really because of you all Wawa and staff . We will recommend this villa to others and we may will come back ourselves some time. Thank you once again.
Li Y, China
checked out on
02-Oct-2018
Thank you for your villa to let us to spend 3 amazing days in here and also thank you for everything for us. We will be back next year and suggest my friends to come here. Best wishes to you and Elite Havens staff.
Sam T, Taiwan
checked out on
27-Sep-2018
I had a happy 68th birthday with my three generations family here. We are completely immersed in this gorgeous, romantic place and full of golden sunshine. We feel the invaluable happiness and enjoy life with our heart and experiences.
Mr. Rayaan S, Thailand
checked out on
03-Jan-2019
Wishing you a very happy New Year . We have had the most incredible time and 10 days. Thank you so much for taking such good care us and for all your hospitality and attention to detail . You have made this an extremely memorable trip filled with memories for us.
William M, United Kingdom
checked out on
22-Dec-2018
We have had a glorious week, under your special care every minute was attention to detail . A glorious location with all the amenities views and Happy staff . May 2019 be a year filled with much love , life and laughter.
Graham S, United States
checked out on
02-Jul-2018
A breath taking villa, beautiful and exceptional Staff. An unforgettable holiday with great friends. Photos do not do this place justice. We are traveling from Singapore, Ireland, Scotland, England and France.
Christina C, Singapore
checked out on
29-Jun-2018
Thank you for the most wonderful time. Beautiful villa, amazing pool, gorgeous view and exceptional food. We will most certainly be back and I am sure many of our friends will come too after all the photos we have sent.
Wendy and Dale, Thailand
checked out on
15-Jun-2018
My husband, daughter, niece, nephew and I were guest at your home for 10 days. We were here visiting my brother and his family to celebrate our birthdays in June 2018. This was probably the nicest place with the most attentive, professional and friendly staff that we have ever stayed. Just topnotch! Thank you all for making this trip super spectacular.
Mercedes H, Hong Kong
checked out on
04-Jun-2018
Thank you so much for making this trip so smooth. My friends and I felt so at home, thanks to you. This was such an amazing trip as we celebrated our high school graduation much love and my best wishes to everyone who dedicated their time to helping us.
Alia G, China
checked out on
18-Oct-2017
Wawa was great - the chefs' food was mind blowing. We never had one meal outside the villa and the rest of the staff were so kindhearted and wonderful. Can't thank you enough. We have enjoyed our stay in this slice of paradise. What a wonderful home - beautifully decorated with a true balance of great tastes.
Myra M, United Kingdom
checked out on
21-Jan-2018
We have had an excellent "time out " holiday at your beautiful Villa. Your villa is very fantastic and the food and staff were awesome. We wanted and pack them in our bags and take them home. Sad to be leaving.
Jay M, United States
checked out on
28-May-2018
All the way from the US for our honey moon and we have chosen to stay at Villa Naam Sawan because it was on our wish list! The villa with its amazing, friendly and helpful staff exceeded all of our expectations and did not disappoint one bit. Thank you so much for opening your doors to us, we are forever grateful. We leave our first visit to Thailand with big smiles and memories to last a life time.
Julie Ching Yee Lim, Hong Kong
checked out on
26-Dec-2017
We had a lovely Christmas vacation with our extended family. It was our baby's first Christmas holiday and grandma and auntie came along too. Everyone was pampered and very well take care of by super Wawa and great team of Jazz, Nui and Dam. The house is lovely, and we made good use of the pool. One highlight of this trip - delicious food. We had a wonderful time at Naam Sawan.
Xiaoling Y, China
checked out on
14-Feb-2018
We had a wonderful holiday here. Enjoyed not only your professional service but also your friendship. Your smiles, Yamu's sunrise and delicious foods etc. Will be the comfortable memory for us. Thanks a lot.
He Y, China
checked out on
04-Mar-2018
Very nice villa with good maintenance. We spent wonderful 5 days here. We will recommend this villa to our friends and we may come back again.
Allan & Charles, United Kingdom
checked out on
13-Jan-2018
We have had a very special time at Villa Naam Sawan. The villa team Wa, Jazz and Dum have given us exemplary attention throughout our stay, we are very grateful for that. The villa is the perfect getaway from frantic city life, a tranquil ideal. We wish you all good health and happiness here is Cape Yamu.