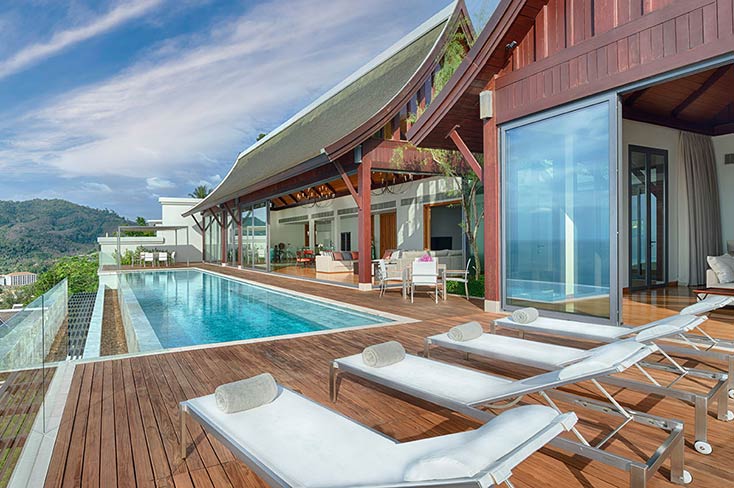 Asif Z, Bangladesh
,
27-Apr-2023
-
01-May-2023
Dear Villa H team, We had such a wonderful time driving our stay here. We felt at home and the service of the staff chef and the villa manager Ex was just phenomenal. We were so well taken care of everything that we wanted to eat, drink and do (birthday-wise) was taken care of with great detail and attention. We hope to come back soon one day and enjoy this hospitality again soon. Take care, Thanks again.!
Afzal N, Canada
,
18-Feb-2023
-
04-Mar-2023
This is our second visit to Malaiwana and must say it was as good if not better than our first trip a couple of years ago. The entire team, Hana, Lucky, Ae and Tiya were amazing. They accommodated our every request and made sure we had the most amazing two weeks and a very relaxed time. Thank you
Bryce E, Australia
,
12-Feb-2023
-
15-Feb-2023
A first time in Thailand and first AirBNB Luxe, villa Haleana and the staff have been amazing. We have been pampered by Ex, Tia, and A. The meals by Lucky, our chef, have been some of the best we have had anywhere in Thailand. Thank you all for the wonderful few days and the chance to have a special Valentine's Day experience.
JIA CHENG S, China
,
24-Jan-2023
-
28-Jan-2023
After the longest lockdown, we finally can travel abroad in 2023! This is our first time we travel abroad since 2020. We cherish this moment. It turned out villa H is our best choice. 5 days have gone so fast. We will remember this stunning view. Thanks for Pekky's warm service and the food was so good. Feel sad to come back home, but we will definitely come back soon. And Happy Chinese New Year!
Mr. Oleg D, Thailand
,
12-Dec-2022
-
13-Dec-2022
We are so thankful to EX, Laila, Tiya and Gung. Our vacation was so good. These people made our rest so wonderful. Thanks to everybody. We love Thailand. We love this place. We definitely will come back.
Silo M, Australia
,
23-Nov-2022
-
28-Nov-2022
Thank you Villa H. We had such an amazing time. The staff was so kind and helpful. Very friendly too. Thank to the chef too, the food was amazing. We will be definitely be putting some good reviews + recommending the villa.
Natalie D, United States
,
08-Nov-2022
-
13-Nov-2022
We had a magical stay at Villa Haleana! From the gorgeous view to the delicious food and accommodating staff, This was a wonderful experience! We could not have imagined a more perfect wedding venue. Thank you to Hana especially, who made our experience so delightful! We are leaving as better, happier versions of ourselves!
Jean N, Hong Kong
,
04-Nov-2022
-
06-Nov-2022
Dear Pekky and the Villa H team. You've made our stay incredibly unforgettable. Everyone thinks it'll be too hard to stay anywhere else after this. Amazing all around and thanks for taking care of us so well
Hamad A, United Arab Emirates
,
13-Jul-2022
-
28-Jul-2022
Our stay here was exceptional and all because of you (the staff). You made it lovely ,home and we never felt we are even traveling. The food was amazing, The service is unmatched. Its our first time in Thailand and will surely come back, We had fun and The kids enjoyed every minute of it.
Husain A, United Arab Emirates
,
30-Jun-2022
-
05-Jul-2022
Thank you for the best experience you made this trip unforgettable. Thank you the amazing service and for providing everything needed. It was the best trip I have ever been on and I would like to thank the amazing crew that were kind and helpful.
Soichiro W, Japan
,
01-May-2022
-
03-May-2022
Mr. Ex and everyone, Thank you so much for your hospitality! It was a short stay this time but very memorable. We will be back again soon. We had an amazing time and will come back for sure. Ex and staff were amazing! Thank you so much!!!
Nick H, United States
,
23-Apr-2022
-
30-Apr-2022
We now know where angels go to vacation - here at Malaiwana Villa H, a true heaven on earth! From the time we stepped foot into the villa to the very last breakfast, we were true Kings and Queens. The service from Ex, Chef Joy and the staff was impeccable - far above anything I've experienced at other villas around the world. Ex went out of his way to ensure we had everything we wanted and more. Our stay at villa H is certainly a life highlight. We will never forget. Thank you, Ex and staff, for making our vacation phenomenal! - With Love, Your Texas Friends
Khun S, Thailand
,
23-Oct-2021
-
25-Oct-2021
The staff is very welcoming and friendly. Very professional and good service mind,we would love to come back here again in the next future.
Ketpreeya K, Thailand
,
10-Oct-2021
-
12-Oct-2021
Thank you for taking care of us. We really enjoyed.
Nardo G, Canada
,
25-Feb-2021
-
02-Apr-2021
Our Covid escape turned into a heavenly experience. Without the team of staff who have been dedicated to our happiness, the stay would have been incomplete. We are sad to leave the beautiful villa,but worst of all, the fabulous team who worked five weekly throughout our 2-month stay. Thank you from my heart.
Narit V, Thailand
,
05-Nov-2020
-
08-Nov-2020
We had a great time here. Thank you very much for your good hospitality. This has been one of the most amazing stays of our life. Very impressed with the service here and the nice atmosphere. We are full of happiness from the first day they arrived until the last minute. We were taken care of almost every minute. Thank you so much.
Kittipong P, Thailand
,
15-Oct-2020
-
18-Oct-2020
Very happy, convenient and comfortable. All staff make us to find happy life. We are 12 person stay here no any complaints, everything is perfect. We are don't want to go back to Bangkok. We will miss here all the time. Chef make very delicious food all meals. Many thanks everybody for take care all of us.
Florence H, United Kingdom
,
30-Jun-2020
-
30-Sep-2020
3 months at Malaiwana! We feel so fortunate to have ridden are COVID in the most beautiful house. The view speaks for itself, but what made our time so special was the team who looked of us so well especially our children (2.5 years) who love to swim, scoot, find animals, chase geckos and make houses with all the cushions from the sofa. Thank you for keeping us all so well. Malaiwana Villa will always have a special place in our hearts,and we are sad to leave, but it is time to go home and get back to reality after the good done in paradise ! Thank you again.
Sam S, Hong Kong
,
05-Mar-2020
-
09-Mar-2020
What an incredible experience this has been. This villa has worked out so well for our 2 families . It is beautifully appointed, extremely comfortable and located just minutes away from stunning beach. We couldn't have found a better place for families. Vicky and her team have been exceptional and attentive in every way. We've been spoiled with amazing food from our first breakfast to our last meal. We really recommend Villa Haleana. We will return again.
Anne R, United Kingdom
,
22-Feb-2020
-
24-Feb-2020
Such a beautiful villa. Amazing view and facility. Absolutely gorgeous. Incredible food too. A wonderful cook. Pekky and all the ladies looked after us so well. Sad to go back. Thank you.
Shihui C, China
,
19-Feb-2020
-
22-Feb-2020
The team has very good service. We will come back again
Villa Finder C, Portugal
,
13-Jan-2020
-
18-Jan-2020
Thank you for the hospitality, amazing house, wonderful staff! Loved every minute. Villa Haleana is a 5 Star Rating. Congratulations
Oleg D, Russia
,
29-Nov-2019
-
12-Dec-2019
What an incredible experience. The team was exceptional, the food delicious. You surprised us with so many memories that once again shall remind us. Thank you for this journey of Thai flavors, culture, news. This is a place we want to return again.
Karissa L, United States
,
03-Nov-2019
-
10-Nov-2019
Villa Haleana is heaven on Earth. Gail is truly an angel, and the another girl handles everything so you do not have to worry about a thing. This was such a wonderful and relaxing vacation. The Villa is breathtaking. Thank you so much for this wonderful experience.
SF, United Kingdom
,
22-Oct-2019
-
01-Nov-2019
The villa,location food,blue tree
Kok Siong T, Philippines
,
10-Oct-2019
-
13-Oct-2019
Nice cooking and service. Relaxed trip. Look forward to be back.
Sanjay S, United States
,
30-Sep-2019
-
05-Oct-2019
Thank you for the good response of the villa team.
Jennifer Y, Hong Kong
,
05-Sep-2019
-
08-Sep-2019
Very friendly and polite staff, great service. They are very attentive to our needs and are always available while they are in the Villa .
LT, Hong Kong
,
16-Aug-2019
-
19-Aug-2019
The villa is absolutely awesome, service is great and you will not be able to find anything to complain. This villa is located at a beautiful location with gorgeous views at the infinity pool. Great place for family vacation with "ahrroy" (delicious) food!
Dr. Jean H, Singapore
,
08-Aug-2019
-
11-Aug-2019
The food was great, thank u for letting us have Khun Lucky to cook for us. Villa Haleana has a lot of open space and areas for an extended family with young children and is the perfect place for a family holiday.
Paul S, Singapore
,
14-Jul-2019
-
27-Jul-2019
These two weeks have been very enjoyable. The food and service has been amazing. I am looking forward to coming back next year. Thank you
Vikram D, Singapore
,
17-May-2019
-
20-May-2019
Had a fantastic time at the villa! Picture perfect views of the sea (including the sunset), lovely swimming pool, excellent rooms, great Thai food and excellent service by the team! Had a great time and will visit again. Niranjan (and Group)
Amp A, Australia
,
03-May-2019
-
06-May-2019
Thank you for the very good service and also very good food. We did enjoy every moment at this villa. Thanks all team at Villa Haleana. Nantakarn T.
Deborah Lorraine Lee & K, Hong Kong
,
05-Apr-2019
-
08-Apr-2019
Amazingly Super Great! Thank you so much Carol and all ladies! We will come back hopefully soon. God Bless!! J.Lee
Sarah W, Philippines
,
27-Feb-2019
-
08-Mar-2019
The villa is amazing! Our stay has been perfect. The staff have looked after us really well. Thanks again for a great holiday. Sarah, Andrew, Simon Thank you for an incredible stay at the villa. Everything from the sea view location to the staff has been great! Everybody should make a stop at Malaiwana :) Many thanks, Lucy & San
Karan and David, Australia
,
25-Oct-2018
-
28-Oct-2018
We have had the best stay at Villa H, Malaiwana. The villa is SPECTACULAR, the staff are INCREDIBLE. Our whole family cannot stop laughing about how this has been the best holiday destination ever.
Aadel A, United Arab Emirates
,
09-Aug-2018
-
14-Aug-2018
Thank you very much. It was a great holiday with you.
Ah F, Hong Kong
,
01-Aug-2018
-
07-Aug-2018
We spend 6 days here. There is nice view, nice villa, nice food and nice staff. This is also a good place for family. The kids like the pool very much. We have a relaxing and enjoyable holiday here!
Muqassirsha M, United States
,
29-Jul-2018
-
01-Aug-2018
Thanks for such an amazing experience. Hospitality was excellent especially Kaew and Chef, housekeeper and the entire team were very nice and made our stay a memorable one. The villa has a great view, luxury and it is like once in a life time experience! Thanks again to the entire team. Until we meet again next time.
Joy and Yod, Thailand
,
26-May-2018
-
29-May-2018
We are very happy and enjoyed it here. This home is very nice with a beautiful view. If we have a chance we will come back again.
Mengke C, China
,
06-May-2018
-
08-May-2018
Thanks for your care these days. It's a perfect experience and I can't wait to come back here on my next trip. Love you all.
Cheng Y, China
,
30-Apr-2018
-
04-May-2018
Very nice staff, friendly and welcoming towards the guests. This place is impeccable, thanks.
Pik Y, Hong Kong
,
27-Apr-2018
-
30-Apr-2018
We had a wonderful stay here in the villa. Their service was great and food was simply amazing. Highly recommended.
Justin J, France
,
30-Mar-2018
-
04-Apr-2018
We had a wonderful stay. Great food and service. Was a great experience enjoyed by all of us.
David S, Singapore
,
19-Dec-2017
-
26-Dec-2017
We had the pleasure of staying for a week prior to Christmas and the service, level of hospitality, food and organization was first class. A memorable stay with wonderful staff.
Andrew G, Australia
,
04-Nov-2017
-
11-Nov-2017
Our stay has been amazing. The facilities are incredible, as are the wonderful staff. Sunny and her team were always available to go above and beyond to meet our every our need. We will certainly be recommending the villas to our friends in Australia and look forward to coming back again soon!