It's that time of the year again – contemplating where to spend the year-end holidays, what gifts to buy for your family and friends, wondering what activities you'll do during the festive season, thinking of where to have Christmas dinner.. wouldn't you rather be in a place where all these errands could be taken care of, leaving you free to enjoy quality time with those close to you? Fret not, as we have handpicked selections for you to choose from on where to stay and what to do when in Indonesia during the merriest time of the year.
Spending the holidays with family and friends? With personal plunge pools, excellent play areas for the children, world-class entertainment systems, private chefs to set up a delicious Christmas barbecue and staff to mix exotic cocktails, your own drivers to take you around the island and private chefs to take care of your festive dinner. This is what worry-free family vacations really look like.
When in Bali
Sohamsa Ocean Estate
Sohamsa Ocean Estate's expansive design and outrageous sea views make it the perfect villa to ring in the New Year. It comprises the five-bedroom Villa Soham and four-bedroom Villa Hamsa. At its heart lies a large pavilion, half of which is enclosed and air-conditioned, with the other half left open-sided for alfresco living. Under the teakwood vaulted roof, hangs a statement pendant lamp with a massive marble-topped table directly beneath. The decor is designed to inspire and amaze. There's a stunning wall of Bengkirai-wood pivot doors, which hide the air-conditioned media room with astounding views of the ocean. This is a grand holiday party villa, which has a gym that can be converted into even more party space facing the ocean. And did we mention the 22-metre infinity pool on a cliff's edge for Villa Soham and the delightful 14-metre pool for Villa Hamsa? Enough said.
The Arsana Estate
The Arsana Estate is a four-bedroom complex, spread across two hectares of terraced gardens bordering a river. Generous space, lots of privacy, and a 19-metre pool define this sprawling holiday home. There's never a dull moment here, as the villa boasts of a home cinema, games room, gym, yoga studio, massage area, children's playground and even a tennis court. Whether you're with family or friends, this villa is perfect for enjoying the Christmas holidays – what with the extensive menu featuring Balinese favourites. But if you seek something more familiar and comforting, your chef will be happy to make anything you want, from vegetarian to international dishes. The villa can hold a maximum of 25 people for a sit-down dinner and double that number for a standing-only event.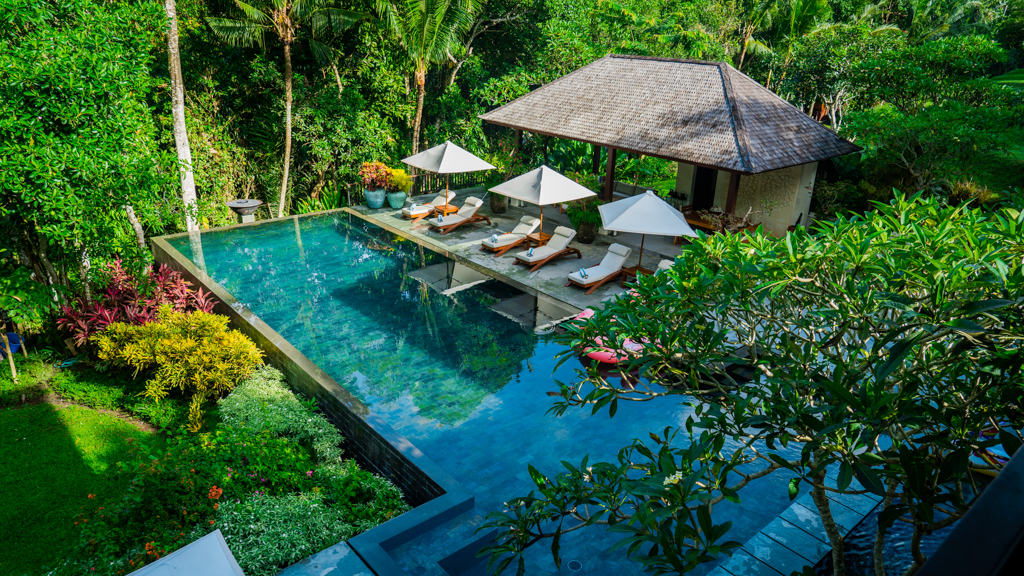 When in Lombok
Villa Sapi
Villa Sapi is situated away from the crowds. A designer haven on the peaceful island of Lombok, this six-bedroom hideaway is bordered by the unspoilt white sands of Sira Beach against a backdrop of calm seas, soaring peaks and dramatic sunsets. With contemporary architecture, three swimming pools plus a children's pool, a stand-alone two-bedroom guesthouse, a tennis court, exemplary service and gourmet cuisine – dip your toes in barefoot luxury at its finest.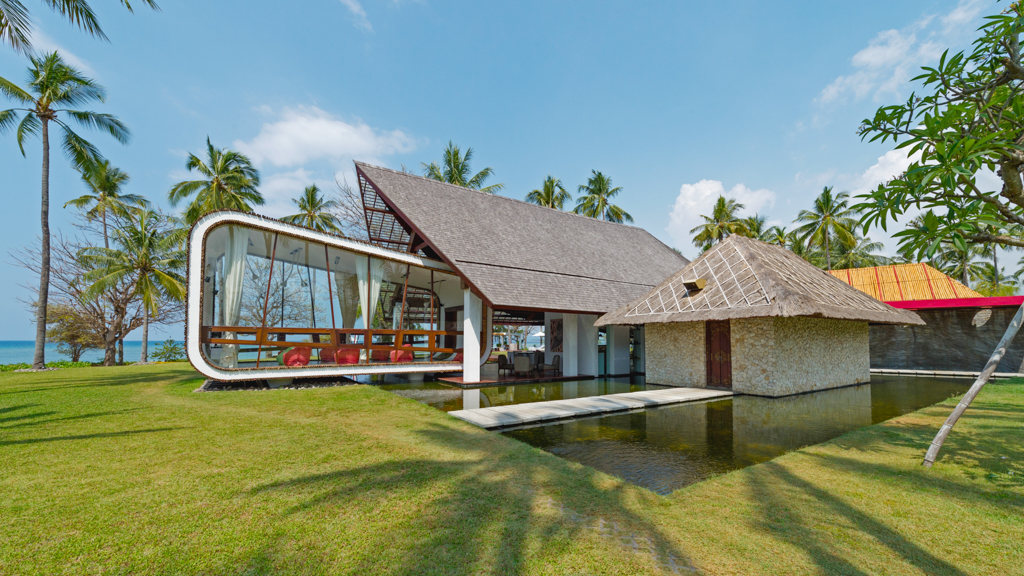 Villa Sepoi Sepoi
Villa Sepoi Sepoi welcomes you into luxurious island living and is where beachfront dreams are made of. A six-bedroom villa set on a white sand beach overlooking the glittering sea of the Lombok Straits. With six vast acres of manicured gardens ensuring a secluded and private retreat on the idyllic island. Designed as a family home, there is something for everyone – from a safe environment for children to play to the stunning 18-hole Sire Beach Golf Club right next door, and a myriad of diving and snorkelling opportunities on the nearby Gili islands. Best of all, Western, Asian and vegetarian dishes as well as kids' meals are available throughout your stay. Ask your personal chef to create a Christmas feast like none other, and he will be only too happy to oblige.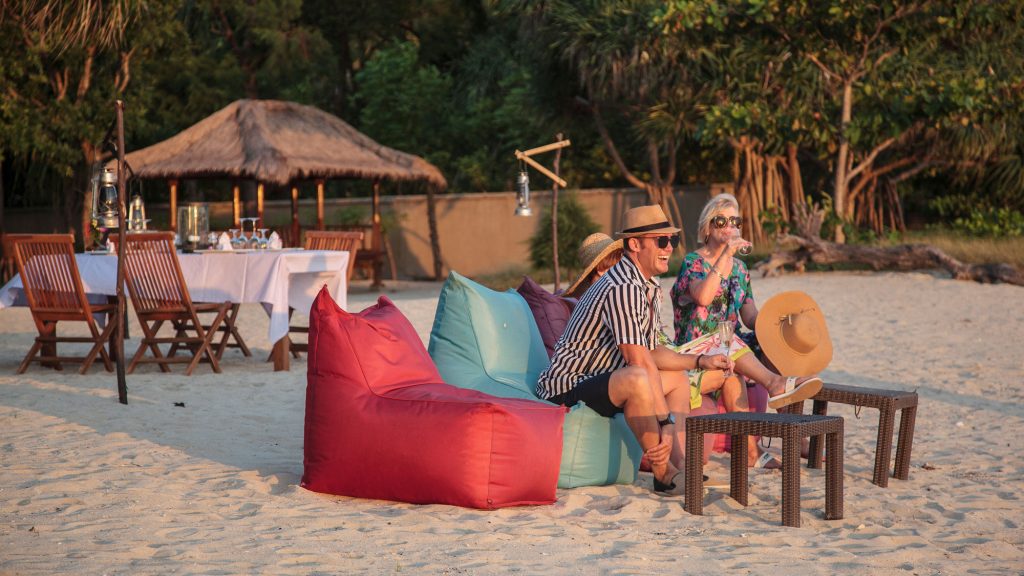 When in Nusa Lembongan
Villa Seascape
Villa Seascape is the quintessential villa for families who want to relax in a private villa. It offers an extraordinary variety of living areas, orbiting a double-height living room that spills onto a poolside entertainment terrace with access onto the beach. The interiors are thoroughly contemporary, with chic minimalist furniture in cool aqua colours resting on polished pebble floors, warmed by the creative use of bamboo, teakwood, terrazzo and shell. With the exception of the master bedroom pavilion, privately tucked away in the garden behind, every room in the villa enjoys spectacular ocean views.
Villa Voyage
Experience barefoot luxury at its best when staying at Villa Voyage. An absolute beachfront property on the idyllic tropical island of Nusa Lembongan, this five-bedroom villa boasts gorgeous ocean vistas and glamorous themed interiors. This beautifully designed villa is set on the crescent of Sandy Bay in Nusa Lembongan, a 30-minutes' boat ride off the east coast of Bali and was created as a luxury beach home for couples, groups of friends and extended families.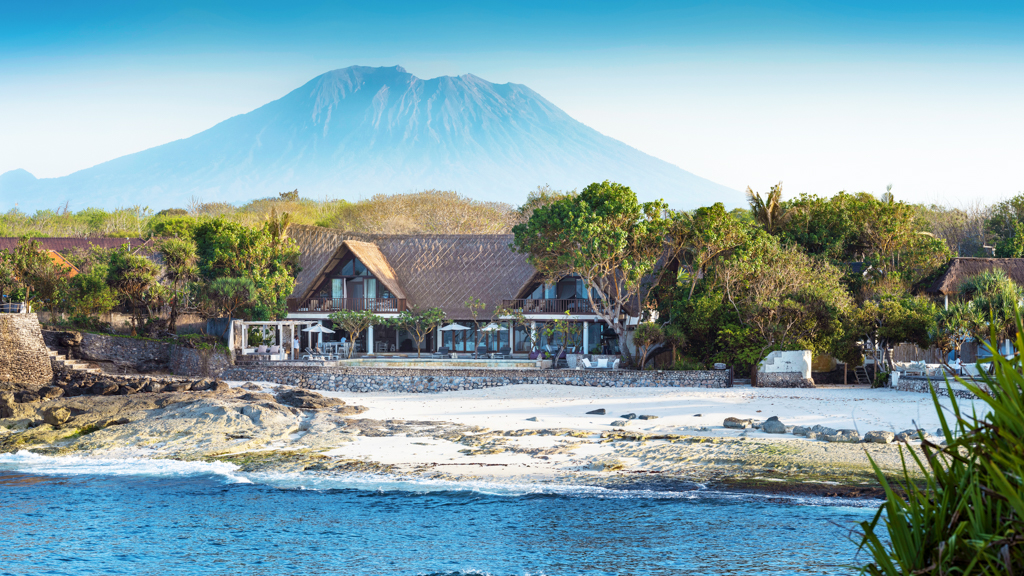 Where to go and what to do?
This iconic establishment is known the world over and it continues to serve sensational food and cocktails in an outstanding beachfront location, walking distance from many of our Seminyak villas. The music is always peppy, and it has an unmistakable vibe of people having a good time. Ku De Ta's legendary events and parties never fail to disappoint.
If partying, dining, live DJ sets and sensational sunsets are your thing then say no more, Finns Beach Club has got you covered. They offer it all across 170 metres of absolute oceanfront at the famous Berawa surf break whilst being only 10 minutes from Seminyak.
Set absolute beachfront on Batu Belig Beach, laying claim to one of the best locations in Bali for sunset watching. Clean Mediterranean lines in white-on-white with touches of blue creates a quintessential luxe beach club vibe.
Sandy Bay is located on the west coast of Nusa Lembongan next to Devil's Tear, one of the most noteworthy spots on the island. Stumble upon Sandy Bay Beach Club, a restaurant oozing with rustic beach-chic elegance, set against the backdrop of nature's unfiltered beauty.
The festive season comes but once a year, why not leave everything behind and bring those dear to you to these otherworldly and breathtaking destinations? When you get back, you'll have had the most restful holiday vacation – we guarantee it.