Celebrate the festive season with Elite Havens Luxury Villas in Thailand, on the stunning islands of Phuket and Koh Samui. Spoil yourself, and your loved ones, this Christmas and New Year with a decadent holiday in a luxury villa while exploring all the seasonal activities that Phuket and Koh Samui have to offer.
Holiday Happenings in Phuket
Phuket, known as the Pearl of the Andaman Sea, is the cream of the crop when it comes to tropical island getaways. Eclectic and diverse, the island truly has something for everyone. The festive season in Phuket is sure to please those looking for a bit of fun outside of their holiday rest and relaxation.
Celebrations on the Beach
Phuket boasts a great variety of beach clubs that truly up the ante during the festive season. The iconic Catch Beach Club, located on Bang Tao Beach, was the island's first beach club. Over the years, Catch has gained a reputation for hosting some of the most notorious parties Phuket has ever seen. Make sure to check their events calendar to see what surprises the beach club is planning for Christmas and New Year's Eve.
Kamala Beach's Cafe Del Mar brings the vibes of Ibiza to Phuket. Located on the absolute beachfront, Cafe Del Mar Phuket is a popular place for sundowners. When the day turns to night, Cafe Del Mar hosts a variety of live entertainment and international DJs. If you are looking for the ultimate beach party in Phuket, Cafe Del Mar is sure to deliver. Visit their events page to book a table at a festive season party in advance.
Nestled amongst the coconut groves on Natai Beach, Baba Beach Club is ultra chic and glamorous. Designed in the local Sino-Portuguese style, Baba Beach Club is an ideal spot for music lovers. It's the best place on Natai Beach to check out local musical talents as well as world-class DJs. Baba Beach Club is sure to have a stellar schedule of events during the festive season. Stay in the loop by visiting their events page.
Phuket Christmas Market
Guests of Elite Havens looking for a more local experience will need to head over to Phuket Boat Lagoon for their annual Christmas Market. This year's Christmas Market takes place on Friday 18 December 2020 on the Boardwalk at Lagoon Quay. The Christmas Market is open from 6:00pm until 10:00pm.
Expect to find a large variety of local arts & crafts for sale as well as delicious light bites from a variety of Phuket's top dining venues. Additionally, there will be live music from the Phuket Academy of Performing Arts as well as a 'Toys for Orphans' donation.
The Christmas Market at Phuket Boat Lagoon brings the feel of a traditional holiday season market to Phuket. If you are staying with us at Elite Havens Luxury Villas in Phuket during the month of December, we cannot recommend this activity enough.
Festive Season Feasts
In addition to the menu offerings at Catch Beach Club, Cafe Del Mar and Baba Beach Club, for Elite Havens guests who are looking to venture out from the villa for a festive season feast, we have a few places to recommend.
Overlooking the Andaman Sea, the luxurious Kata Rocks, on Phuket's west coast, is sure to put on a splendid holiday spread. With one of the most breathtaking views in all of Phuket, it is worth visiting the luxury resort to indulge in a drink at their open-air lounge and bar.
DAY & NIGHT of Phuket is a hip new restaurant in the heart of Phuket Old Town. The interior design has turned the restaurant into an Instagram dream. Expect a large variety of events happening here during the festive season. For our Elite Havens guests who find themselves wandering the scenic streets of Phuket Old Town, we recommend you drop into DAY & NIGHT for a locally brewed coffee or a craft cocktail.
Elite Havens guests who prefer to celebrate the festive season in their luxury rental villa also have a fantastic option for a holiday feast. Enjoy a delicious meal catered by Thailand's famous Chef Noi and his highly talented team from SUAY. Notably one of Phuket's most famous restaurants, SUAY is featured in the revered Michelin Guide. Elite Havens guests will have the chance to sample a delightful array of decadent treats that blend traditional Thai ingredients into modern fusion dishes in the comfort of your villa.
Seasonal Soiree in Samui
Koh Samui with its lush coconut groves and dense mountainous interiors is a cosmopolitan island that retains a local feel. The island is a favourite destination for families, couples and solo travellers. The festive season in Samui is sure to please with a large variety of options to suit all tastes.
Beach Club Celebrations
Samui is home to a variety of upscale beach clubs in idyllic locations across the island. These beach clubs combine the best of the festive season and a tropical island holiday.
Nikki Beach Club is a luxurious oasis and the perfect playground to celebrate Christmas or ring in the new year. With a full daily schedule of events throughout the year, Nikki Beach Club is the place to catch one of Samui's sensational sunsets. Elite Havens guests interested in attending a festive season event at the beach club can checkout their events page for more information.
The retro chic design of SEEN Beach Club offers up beachside bliss in Samui. The beach club's 1950s-inspired design only complements its two large swimming pools, three bars and retro-chic restaurant serving up a variety of delectable cuisine. SEEN Beach Club will host an enticing festive season lineup of outstanding food as well as live entertainment and quality DJs. Follow their events page to learn more about the beach club's plans for Christmas and New Year's Eve.
Chi is Samui's premier beach bar and restaurant. Popular for its swim-up bar and 25m salt water infinity pool, Chi is an incredible venue to relax for the day. Chi is sure to offer up a sumptuous spread as well as an engaging atmosphere during the Christmas and New Year period.
In-Villa Festivities
Elite Havens guests settled into their luxury villa rentals in Samui hoping for a more intimate festive celebration with family and friends can take advantage of the outstanding catering services provided by Go Samui Catering. Whether you choose a traditional Christmas dinner or an unconventional holiday meal featuring authentic Thai cuisine, Go Samui Catering is able to come to your Elite Havens Luxury Villa and tend to your every need.
For Elite Havens guests interesting in joining one of the events in Phuket or Koh Samui, or would like to bring in a chef for catering in your own private villa, please contact our guest service teams.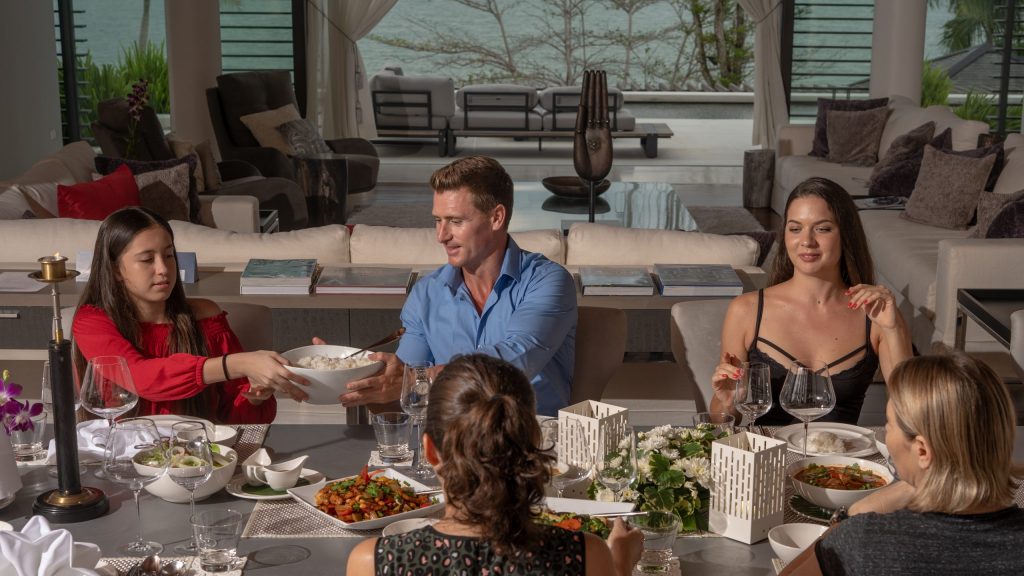 Phuket – gsm-phuket@elitehavens.com / +66 81 893 2442
Samui – gsm-samui@elitehavens.com / +66 65 979 9676
Isn't that a handful of reasons to celebrate the festive season in Thailand? Cap off your holiday experience by booking one of our magnificent Phuket or Koh Samui villas.