For sure we all love the buzz of 'new-age Bali', the trendy beachclubs, cool cafes and classy cocktail bars of Canggu and Seminyak. But where do you go when you are looking for a more immersive Bali experience?
Those in the know head just a few kilometres west of Canggu, to the neighbouring regions of Seseh, Cemagi and Tanah Lot. Here you will find quiet country lanes fringed in banana groves, ornate Hindu temples framed by towering mango trees, and glimmering rice fields stretching as far as the eye can see. Stay at a villa in this beautiful, unspoilt region on your next Bali trip. Get rewarded with a unique chance to explore traditional villages and landscapes, discover deserted beaches and immerse yourself in the laid-back rhythms of island life.
Our villa staff usually comes from local villages. They will be happy to share insight into the rich culture and customs of the area. You may even find yourselves invited to one of the numerous colourful ceremonies and processions that punctuate the Hindu calendar.
Things to do in Tanah Lot
Sunsets at Pura Tanah Lot are legendary, with a festival-like atmosphere created by crowds of visitors arriving in the late afternoon. The iconic temple, perched on a rocky island just offshore, makes a dramatic silhouette against a flaming crimson sky. Watch all the action from the clifftops, where you will find casual warungs and restaurants. Or head down to the black sand beach – you can even walk out to the island at low tide. Make sure you stroll over to the neighbouring temple of Pura Batu Bolong as well. It's smaller than Pura Tanah Lot but has an equally evocative setting on a natural rock bridge.
Staying in a nearby villa in Seseh or Cemagi makes it easy to visit this beautiful temple in the soft light of early morning, minus the crowds.
Things to do in Cemagi
Just 10 kilometres from Canggu, Cemagi Beach has long been one of Bali's best-kept secrets. While it is slowly being discovered, it has lost none of its traditional charm, and the smattering of luxurious villas along the cliffs make idyllic seaside escapes.
Surrounded by rice fields, Cemagi is perfect for exploring on foot, bicycle or motorbike. Get a feel for traditional life as you head out early in the morning to see the island's chain of magnificent volcanos looming in the distance. Spot farmers working the fields. Keep an eye out for ducks being herded into the rice paddies – they have a valuable role to play in eating algae and insects, and fertilising the fields.
Cemagi is home to two picturesque sea temples that make a wonderful sunset alternative to Tanah Lot. Dramatically perched on black lava rock and reached by land bridge, Pura Gede Luhur Batu Ngaus is a classic 17th century temple. Recently, it's become quite a local sunset spot, and small open-air warungs line the cliffs with their beanbags and colourful parasols. To the east of the main temple, a path winds along the cliff tops to a rocky headland and the small but wonderfully picturesque temple of Pura Dalam Segara.
Where to Stay in Cemagi Beach
Tirtha Bayu Estate
Overlooking this atmospheric temple and blessed with breathtaking 180-degree ocean views, is the stunning Tirtha Bayu Estate – an exciting new edition to the Elite Havens' Signature Collection. Translating loosely as 'where the ocean meets the wind,' the experience here is an elemental one. A place of relaxation and rejuvenation, fully staffed Tirtha Bayu is a chance to connect with the land, ocean and spirit of Bali, while being cocooned in sheer luxury. By day, lap up the luxurious sense of space and the gorgeous views of the glistening Indian Ocean. By evening, be enchanted by a starry sky and lush tropical gardens bathed in the glow of hurricane lamps and spotlights.
Two remarkable villas, each with an infinity pool that can be rented separately or together to sleep up to 22 guests, making Tirtha Bayu an inspired choice for memorable family getaways and restorative retreats. With its rolling lawns, fabulous indoor and outdoor living areas and sumptuous bridal suite, Tirtha Bayu also makes a heavenly wedding destination.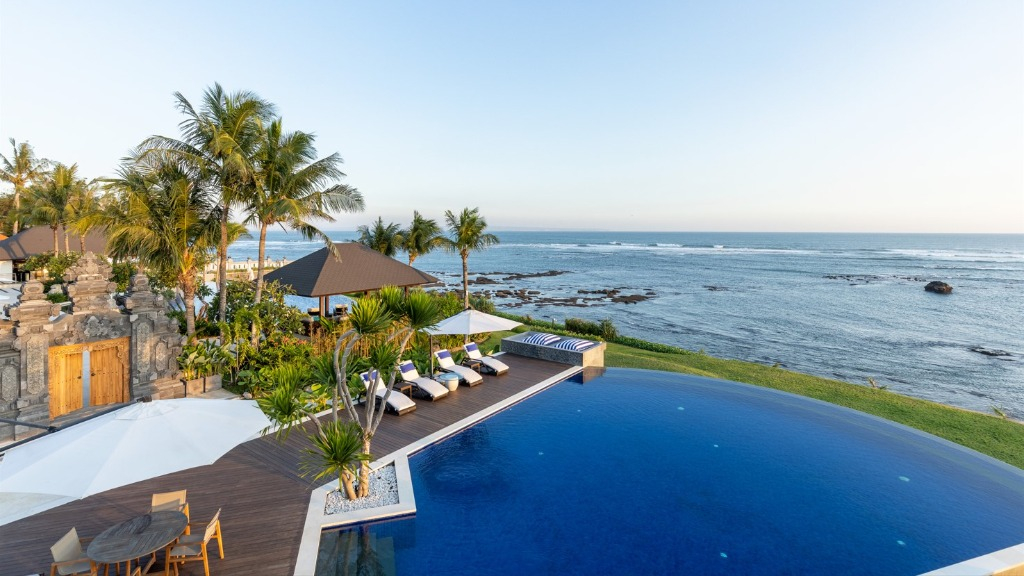 Villa Maridadi
Nearby, overlooking Pura Gede Luhur Batu Ngaus, fully staffed five-bedroom Villa Maridadi is set amidst sweeping lawns and tropical gardens. Bordered by rice fields on one side and the sparkling ocean on the other, this pavilion-style villa with an 18-metre Javanese green stone pool has a wonderfully laid-back vibe, and classic Balinese architecture that gives a distinct sense of place. The traditional style lumbung (hut) is the perfect setting for a sundowner.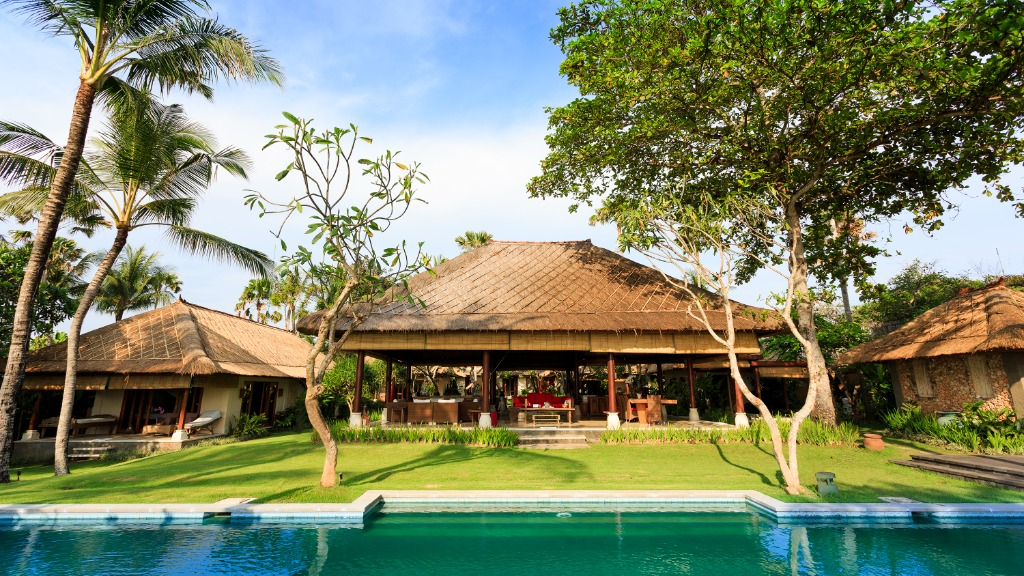 Villa Semarapura
Translated as 'temple of peace,' five-bedroom Villa Semarapura was originally designed as a spacious home for an expat family. The original staff remains and you, too, will be welcomed like family. Set within a coconut grove, this tranquil sanctuary is filled with evocative Indonesian artwork. Enjoy a soothing massage in the dedicated massage pavilion, relax in a garden bale, and admire the extraordinary temple and sea views from the open-sided living area on the top floor of the living pavilion. Travelling with children? The villa is well set up for families, with a shallow wading area in the pool and plenty of pool toys to keep the kids amused.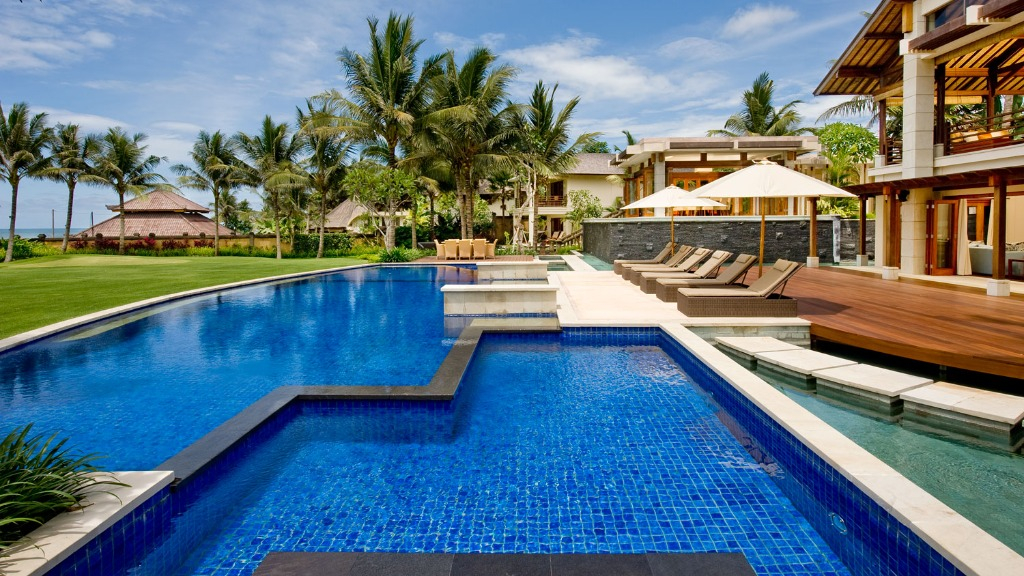 Things to do in Seseh
Neighbouring Seseh, with its exotic black sand beaches and picturesque temples is popular with expats craving a more peaceful side of Bali, while still being in easy reach of the hotspots of Canggu. If life has been feeling a little hectic, this tranquil fishing village is the perfect place to slow down and embrace the feeling of old Bali. Feel the spirit of the island as you stroll through the village and see women armed with incense and flowers making their daily offerings to the family shrines and local temples. The large number of temples here means you will often see vibrant Hindu processions and ceremonies rich in pageantry.
Take a walk along the beach and admire jukung – the colourful wooden fishing boats resting in the shadows of palm trees. Sip a coconut or eat nasi goreng in a laid-back beachside warung and watch the local kids play on the beach. While experienced surfers can ride the waves here, conditions can be rough for swimmers, but no problem, all our luxury villas have private pools. And if you have ever dreamt of riding a horse along the beach, this is the place to do it. Your Elite concierge will be happy to make arrangements.
Where to stay in Seseh
Seseh Beach Villas
The two contemporary, fully staffed villas that make up Seseh Beach Villas sit side by side, just meters from the glistening sand. Each overlooks its own pool and the ocean beyond, and can be rented separately or together to accommodate larger groups of 22. The gorgeous location makes it popular with wedding groups and retreats but it's also a great pick for extended families.
While you relax on a sun lounger, the kids (when they are done playing in the pool) can amuse themselves with PlayStation, Wii and Xbox, games and toys. Indulge in gourmet tropical meals as you dine seaside and drift into deep dreamy sleeps to the soundtrack of crashing waves.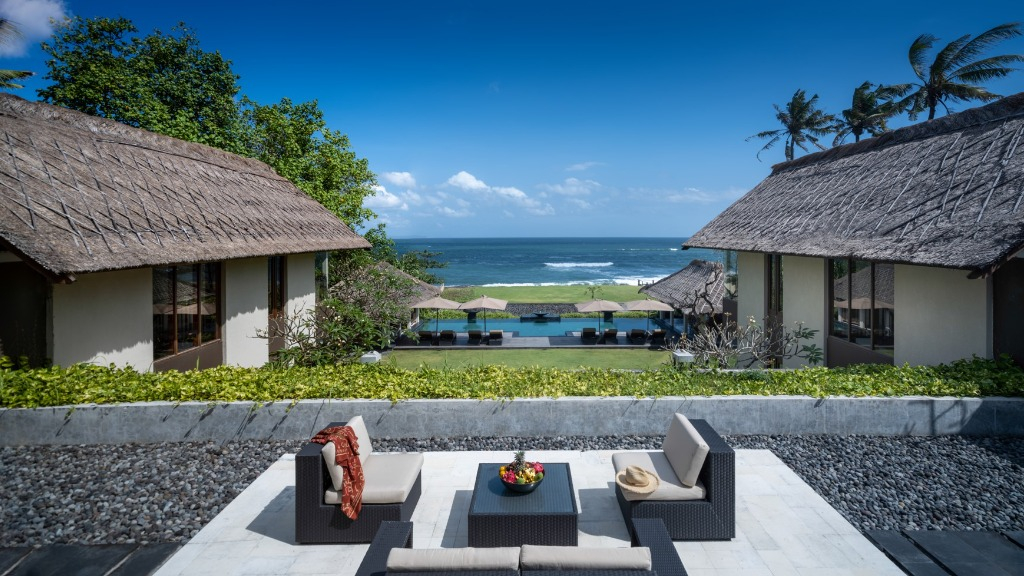 Villa Mandalay
About half way between Seseh and Tanah Lot, Villa Mandalay also offers two contemporary villas. This is a spectacular rural setting, three kilometres from the beach, surrounded by emerald rice paddies. An abundance of fish ponds, gurgling fountains, and two generous infinity pools create a sense of tranquillity and calm. The seven-bedroom villa and the four-bedroom villa can be rented separately or together to sleep 22 in luxury air conditioned comfort, perfect for reunions, family get-togethers, retreats and weddings.
So, why not do something a little different on your next trip to Bali?
Here on this idyllic coast line, you will experience rich culture, timeless traditions and the mystical spirit of the island. Book an elite haven and simultaneously enjoy modern comforts, warm hospitality and delicious cuisine, cooked just for you. Experience the other side of Bali in one of our luxury villas. Contact us now for more details and to start planning.