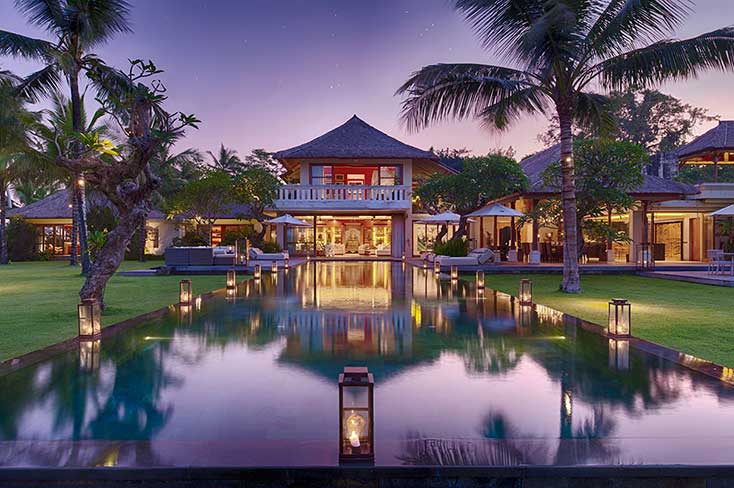 Christine R, Australia
,
22-Aug-2023
-
29-Aug-2023
We have loved our stay at Kaba Kaba and cannot thank all the staff enough, everything was above and beyond all of our expectations. We have been able to creat such beautiful family memories from our stay here. We will always cherish my time, especially Pak Rahmat, the details in which he presented is trully a gift. Our children were very well cared for, especially Morrisey he absulutly adued Pak Rahmat. The food was incredible, beautiful traditional Indonesian and also any cuisine requested was yummy, all fresh and testy. The attention to details during our stay was out of tjis world 10/10. Thank you to all staff for being so kind and loving. We all cannot thank you all enough. All our love. I only hope our paths cross again. Much love Christine
Kate and A, Australia
,
03-Aug-2023
-
07-Aug-2023
Thank you to the wonderful staff of KabaKaba Estate, we all enjoyed our beautiful time at the estate. Thank you for allowing us to host our wedfing and events here, it was the most perfect venue and all guests thoroughly enjoyed their time here. We look forward to coming back again one day. Kind regards Andrew & Kate Mercieca and family
Emma B, Singapore
,
24-Jul-2023
-
31-Jul-2023
Thank you to Rahmat and the entire team at beautiful Kaba Kaba Estate. You have all made our week and our wedding something out of dreams, your kindness, incredible service and smiles will be missed greatly. We hope to come back soon and stay at Kaba Kaba again. Thank you from the bottom of our heart. Much love,Simon,Emma and the entire Beach and Barnett families.
Brenda C, Hong Kong
,
11-Apr-2023
-
15-Apr-2023
A lovely time we've had indeed. A chow family reunion that had taken quite some time. Thank you is not quite enough but what more can we say ? We are grateful for the time we've had. We wish that we could stay. With much gratitude. From all the Chows - Hong Kong - Shanghai - Australia
Melvin T, Singapore
,
20-Jan-2023
-
24-Jan-2023
The staff are very polite and helpful to our needs and meals. The Estate is huge & we loved the lap pool & field, where we could have a bunch at activities together as a family. Rooms were specifics & amenities were available for use. Highly recommended for large group and family. Malvin Tan
Mc M, New Zealand
,
20-Dec-2022
-
30-Dec-2022
What a memorable holiday for our family with beautiful Kaba Kaba ! We felt welcome & comfortable from the first moment, with friendly, caring and accommodating staff. Thank you Kaba Kaba team. McMillan family
Amod M, India
,
24-Sep-2022
-
01-Oct-2022
Rahmat, Trisna and the whole staff for working so hard to make this an amazing vacation. The beauty of the villa and the surrounding property is breathtaking and the facilities like media room,so many outdoor and indoor games and a thoughtfully stocked library make it hard to want to leave the villa. The staff with their warmth and high standards of the service make our stay delightful and refreshing. Our request for vegetarian food was wonderfully accommodated and we enjoyed local as well. Its been an absolute delight and we would surely want to visit again. With love and Thanks Megha,Amod and Pranay
Suzie O, Singapore
,
08-Sep-2022
-
12-Sep-2022
Incredible,amazing,divine, not enough words to describe the people and the place. Thank you so much Pak Rahmat and your colleagues, your team there was nothing that could have added to the experience it was beyond expectations. We shall return !!! Thank you, Suzie O'carroll
Darsh P, United Kingdom
,
01-Aug-2022
-
08-Aug-2022
Wow..what a place !! After 3 years of planning and covid disruption we finally made it. It was worth the wait as we experienced a stunning villa, amazing staff and totally relaxing holiday with our friends. I recommended this place more highly and has been the experience of a life time !. Thank you Kaba Kaba Estate.
Bennett B, Indonesia
,
12-Mar-2021
-
11-Apr-2021
We Stayed in Kaba Kaba for one full month. Thank you for making us feel at home during our stay here. The service by Pak Rahmat and team was absolutely top notch. Our families will miss Kaba Kaba and will always cherish the happy memories of our time here. From : Bennett and Olivia Jap Rizaldi and Alison Tjokrodjojo Edwin and Lilian Oen Jakarta and Surabaya
Maxim K, Spain
,
15-Dec-2020
-
07-Jan-2021
Our stay at Kaba Kaba Estate was a great experience. These memories shall not be forgotten. I would like to thank the staff for their good service. Kadek, Trisna, Made, Gede, Pak Ketut are all very hospitable people. Everyone enjoyed the villa's cosy atmosphere and the food. We pray that you all remain safe. Valerii's Family
Gill & Steve, United Kingdom
,
03-Feb-2020
-
23-Feb-2020
To Rahmat, Trisna, Made, Kadek and everyone else who looked after us during our 3 week stay at this beautiful villa with immaculate gardens. You made us all so welcome and we felt we were at home, you pampered us so well that we did not want to leave. We felt part of your family. We have traveled to many 5 star hotels all around the world but have never experienced such fantastic 5 star service. Thank you all again for making our holiday so enjoyable and memorable. Wishing you all well in the future. Take care of yourselves.
Samuel C, Australia
,
21-Jan-2020
-
29-Jan-2020
Kaba Kaba Estate and its staff gave me an experience that I will never forget and by which all my Asian travel will be measured against. The accommodation and the villa are superb. In fact, the house of my dreams. Rahmat, the Villa Manager is such a dedicated professional and runs the estate seamlessly. Trisna and others staff are like magic elves. Rooms are made up when you aren't looking and service is of the highest standard. Ketut the Chef make a great range of excellent dishes and meal times are an absolute joy. All the staff are friendly, courteous and eager to make your stay at the estate and Bali the best it can possibly be. I only can give my highest recommendation and looking forward to a return visit.
Peter B, Netherlands
,
07-Jan-2020
-
21-Jan-2020
We had the pleasure of staying for two weeks at Kaba Kaba Estate in January 2020, it has been the most relaxing holiday by far for us. From the very first start until the very last minute of our stay the villa staff have been pampering us with the warm and friendly service. The villa has been kept great condition with tasty art, a beautiful pool and very spacious rooms. We would like to thank to Elite Havens and the villa staff for unforgettable Bali holiday. On the behalf of our entire group "Thank you" and wish you all the best!
Ria A, Philippines
,
26-Dec-2019
-
02-Jan-2020
Service was impeccable, Rahmat and the staff were sincere, very friendly and professional, active and the level of service was top notch. We found the staff very accommodating of our requests such as our intimate New Year's Eve celebration that far exceeded our expectations, organizing a special spa day for my husband's birthday, yoga on the bale, a birthday morning set up poolside and special serenade from the staff (with cake!), we also had Balinese dance class and outfits. Food was excellent, the Chef's Balinese, Indonesian dishes were tasty and the kids love the chicken satay. I appreciated the vegetarian dishes at every meal and the opportunity for cooking class, variety was great. Generally, we loved every minutes of our stay, it was like staying in our own private estate but with beyond 5 stars service. My sister really appreciated Rahmat and Trisna taking such good care of her baby and I love how welcoming the whole staff was to our kids, even making homemade mango ice.
Martha W, United Kingdom
,
19-Dec-2019
-
26-Dec-2019
Christmas at Kaba Kaba has been an unforgettable experience. Everything from the food down to the incredible service has not failed to put a smile on our faces. The service from Rahmat and his team has been fantastic, always ready to help. The setting, the bedroom, everything has been truly wonderful. Many many thanks.
Simon S, Australia
,
13-Nov-2019
-
17-Nov-2019
The service are fantastic, the people are very friendly and helpful. I will recommend this villa to my friends because of the great experience I had here. Once again thank you so much.
Lucia M, New Zealand
,
06-Nov-2019
-
11-Nov-2019
We have had the most amazing time at Kaba Kaba Estate! The staff have been incredible and so accommodating. We can't thank you enough! The most beautiful estate and staff. Thank you.
Fang T, China
,
24-Oct-2019
-
27-Oct-2019
I'm so happy to visit here! Very comfortable. Sleeping so well, environment was nice view, air was clear so breathing well, room and toilet, bedroom, swimming pool was amazing feeling from my heart. When I saw green trees and birds make me feel good. Building design was incredible very clean, kitchen was clean and like a home made food was clean and healthy. Waiter and waitress so helpful like a family, good heart, good smile, their smile make me happy, smart, good behaviour, friendly. Have a fitness room and cinema which was great. Hopefully we will see each other again! I love it all! Wonderful time spend time at Kaba Kaba Estate. So amazing. Htet Aung Wai
Camille B, United States
,
08-Sep-2019
-
12-Sep-2019
Service was impeccable and unmatched. The staff worked diligently to cater to our every whim. They were superb, we are pleased and ever so grateful.
Evelyn and Jack, Australia
,
04-Sep-2019
-
07-Sep-2019
We've had the most unforgettable stay at the Kaba Kaba Estate. Rahmat and the entire team were just amazing - nothing was impossible and they just did everything to make us enjoy our stay. Every morning they welcomed us with a big smiles and fulfilled all our wishes. Our families loved meeting Rahmat and the team and we made friends for life - we all did. The Estate is beautiful and everything you could dream of but the amazing team made our time here so special that we will always remember our time here. The beautiful people here also helped to create our very special wedding day and made the whole experience so easy and stress free for us. This place and the beautiful people here will always hold a very special place in our hearts.
Tay E, Indonesia
,
25-Aug-2019
-
27-Aug-2019
It's been a pleasure to celebrate our amazing wedding at Kaba Kaba Estate. The venue is incredible and the staff are amazing. Once again thank you so much for everything.
Mark A, British Virgin Islands
,
28-Jul-2019
-
07-Aug-2019
This has been the most magical time for us, thank you for welcoming us so warmly and caring for us in your home. I can't tell you how well taken care of we have felt and it has simply been spectacular. The attention to details is unrivaled. Rahmat is quite unique, completely relaxed on the surface and yet an incredible Manager ensuring everything and everyone all goes well without a hitch. Everyone from the Security team, Gardener, Engineer, Housekeeping, Butler and Kitchen staff have been lovely, professional and full of smiles and charm. We will miss you all very much.
Alain C, Vietnam
,
28-Apr-2019
-
02-May-2019
This is our family's first visit to Bali and without a doubt this is among our best experiences traveling overseas. The Estate is magnificent. The kids loved their room with the bunk beds. We all enjoyed the arts around the lovely Estate. Very impressed with the views, especially the landscape in the morning. Special thanks to all the staff who were wonderful in making our stay as enjoyable as possible. The foods were awesome and the days were very impressive with all the nature and temple sightseeing. Once again, this has been a very special trip for us. Wish to be back at some day in the future.
Rahul B, Singapore
,
20-Apr-2019
-
27-Apr-2019
Where do we start? What a wonderful stay here in Bali and even more amazing staff. My family and I (14 adults and a baby) were made very welcome and were made to feel so relaxed throughout. Your attention to detail was fantastic and we were always pleasantly surprised everyday with something new. We thank you so much for your hospitality and hope to come back soon (if you will have us). Thank you to all 22 staff here, everyone collectively made my dad's 60th a stay to remember.
Cynthia T, Australia
,
12-Apr-2019
-
19-Apr-2019
It will be difficult to put into words our gratitude to everyone at Kaba Kaba Estate. Hosting a family of 14 aged between 7 and 72, all in desperate need of someone down time is takes dedication and hard work. Having managed our own guesthouse for 5 years, I have experienced it first hand. To turn a stay into a week of magical memories requires a level of care and service that is extremely rare in today's world. Everyone of our family rated this holiday as the top of our list - due to Rahmat, Made, Dayu. Ketut ensured our diverse mix of palettes were all catered for. A big thanks also to the extended team. The magical grounds, entertaining facilities and clean rooms do not just happen. We know many other contributed to our wonderful stay at Kaba Kaba Estate. It is an amazing place by any standards. The beautiful people who run it make it an experience second to none. Suksma.
Jacob M, Australia
,
22-Apr-2018
-
28-Apr-2018
I wanted take this opportunity to thank you and your team for wonderful week. It's a delight to see everyone smiling throughout the day. Nothing was ever too hard and done with smile. The service was as beautiful as the villa, myself and the guests have had an amazing experience, thanks to you.
Melody W, Indonesia
,
10-Jan-2018
-
12-Jan-2018
This villa not only a luxury, there are also such a cultured atmosphere. Thanks Rahmat and villa staff service for making us feel the warmth and happiness. Thanks also for chatting with us about the history of villa's antique and stories. We liked the food of the villa, super delicious! Every details here is why we love it here. After two nights, we are agreed that the owner of the villa had a great taste and personality, to make the villa so perfect. Love the villa and people here.
Samia S, United Kingdom
,
27-Dec-2017
-
03-Jan-2018
We have come to the end of our week staying at the stunning Kaba Kaba Estate. I have to say with all honestly that this family holiday has been far and away the best one we have had, and our whole family (all of us) agree, from the service, to the food and catering, it is unbeatable. The lovely team, led by Rahmat, could not do more for us. Every requested was met with a smile, and they were always there but yet discreet. I can truly say I will be highly recommending Kaba Kaba Estate to everyone.It was our first visit to Bali, but it wont be our last. The beautiful Balinese culture and hospitality shown through every member of the staff, and the gorgeous of the estate made us feel we were in Paradise. With heartfelt thanks to you all.
Aisha A, Indonesia
,
11-Aug-2017
-
28-Aug-2017
This is the most amazing place I have ever been to. The staff are helpful warm heart, kind people who are always there if we needed something. The house is well taken care of and we have been all over the world and we are never been anywhere with such an amazing warm and carrying team, lovely and kind people. Simply a peace of heaven.
Jenny H, Australia
,
16-Jul-2017
-
24-Jul-2017
We come to Bali to celebrate the 30th Birthday of a very special family member. 9 adult and 8 children under 9 years of age. A very ambitious project but such a wise choice in selecting Kaba Kaba Estate. Rahmat and his incredible team ensure the villa was our home for 8 days. Such warm atmosphere where every staff member is attentive and yet unobtrusive. No doubt we brought a lot of noise to the estate but there is always a tranquil corner to be found in the vast home or in the magnificent gardens. It is a credit to Rahmat that under his leadership all staff are so friendly and approachable and wonderful with the children. We are so appreciate of the care taken here to accommodate so many little people, wonderful books, toys, scooters, pool toys,not to forget the magnificent kid-friendly meals provided. Thank you one and all.
Kirk W, Australia
,
07-Jun-2017
-
11-Jun-2017
From the moment we arrived the staff of Kaba Kaba Estate have shown us true genuine and warm Balinese hospitality. Our group of 20 found Kaba Kaba to be an exceptional home away from home. Absolutely anything and everything that we asked for was always met with a smile, grace and a can do attitude. Kaba Kaba Estate is a stunning hidden home away from the hustle and bustle of the better known holiday resorts. It is perfect estate for those like us, who wanted to relax in beautiful and tastefully decorated luxury villa. One of our group owns and manages a hotel in Melbourne wants to take Rahmat Villa Manager home. Half of us work in travel industry, from airlines to cruise ships to managing travel agencies. We all know and understand how difficult it can be for things to seem effortless. We would like to all personally to thank Rahmat for his professionalism, relaxed approach and smile, we acknowledge his job is made easier from all the team members around him including the ones we don't see. Thank you.
Stacey Margaret H, Australia
,
08-Apr-2017
-
14-Apr-2017
Thank you so much for such as wonderful holiday at Estate Kaba Kaba, the service provided by the staff made the 50th Birthday very special and one I will always remember, thank you. The Estate Kaba Kaba is amazing, the grounds, the design of the suites, the peaceful setting. The staff are excellent. The food fabulous, really could not find fault with anything..felt very spoilt. Such a lovely relaxing place, wonderful staff who go above and beyond to make your stay memorable. Rahmat has been incredible.
Jin J, China
,
30-Jan-2017
-
04-Feb-2017
The villa is wonderful, enjoy the stay and everything are perfect, the service is great and planning will coming back.
Joey A, Malaysia
,
18-Dec-2016
-
25-Dec-2016
The kaba kaba estate is simply stunning luxurious living set in countryside natural surrounding. A five star property supported by world class service and support staff make your stay much more special. The attention of details every aspect of the estate is very apparent from the moment you set foot on the estate. Thank you Pak Rahmat and team for looking after us and treating us so well. Hope to return some day in the near future.
Elmar M, Switzerland
,
28-Oct-2016
-
06-Nov-2016
From the deepest bottom of our heart, we would like to thank you for this unforgettable holiday, which was soooo romantic. You made this place our "home away from home" and we are definitely want to come back, come back to the place where I proposed to my future wife! It will forever be in our heart. Rahmat..my brother..thank you for your love and dedication! You make this place unforgettable. Sincere thanks for whole team - you're awesome.
Christian & Yasmeen, Indonesia
,
17-Oct-2016
-
21-Oct-2016
Thank you very much for your time and help, We are very enjoyed our stay in the villa, we will be back again.
Bhavana P, India
,
07-Oct-2016
-
11-Oct-2016
We stayed at Kaba Kaba for our family holiday from June 7th - 11 Oct 2016. We had very high expectations after all the researched we have done. And the experience has surpassed our all expectations. The staff were extremely helpful and warm. They were very patient with our children and took care of all their needs. We had an incredible time and much of it was thanks to you.The villa is beautifully designed and the rooms are spacious and every details has been taken care off. Our experience has been fabulous and we will positively visit again soon.
Liling O, Indonesia
,
12-May-2016
-
15-May-2016
We were recommended to look at Kaba Kaba Estate to celebrate my 30th birthday and recent engagement. Our guests flew from LA, UK, Hong Kong and Singapore. The entire weekend experience was more than we could here asked for. The villa is well maintained and gorgeous. But what truly made our time special was attentive and gentle natural of the staff. No request was too small or too impossible to ask for. The entire staff took the initiative at all times and made our guests feel completely at home. However, two people truly deserve special mention, the first is Kadek, who from the moment we walked in was implacably dressed and ready to attend to every our need. The second is Rahmat, without Rahmat to managing the staff, our holiday would not have resulted in such memorable weekend. Rahmat also was helping me manage a fleet of cars going back and forth between other villas. He is such joy to deal with, he is always on the ball, understands guest needs and clearly goes over and above.
Aisha A, United Kingdom
,
28-Oct-2015
-
14-Dec-2015
This has been the most a magical time for us. Thank you very much for welcoming us so warmly and carrying us into your home. I can't tell how well you have taken good care & we have felt it has simply been spectacular. The attention to detail is unrivaled. Rahmat is quite unique - completely relaxed on surface and yet an incredible manager ensuring everything all goes without mistake, quite incredible. Everyone from the security team, gardeners, engineer, housekeeping, butler, kitchen staff and secretary have been lovely, professional + fully smile + charm. We will miss you all very much. Thank you, Thank you, Thank you for making the memories.