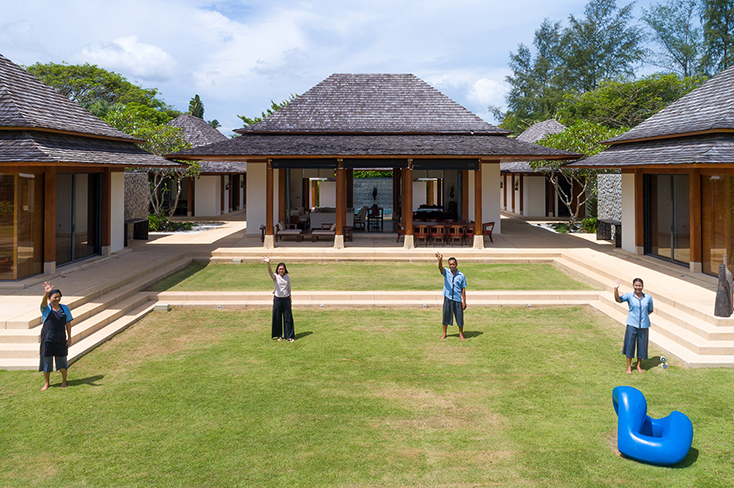 Rochelle T, Singapore
,
16-Oct-2022
-
20-Oct-2022
Dear Villa Jia, thank you so much for all of warm hospitality. you all made our trip enjoyable & relaxing through all the rain. We loved all of the meals & the smiles & flexibility of everyone on staff. Thank you to the brilliant staff for your kindness, flexibility and hospitality. We had great stay despite the rain and thank you for all you did and do to make this great experience. Thank you very much for the exceptional hospitality. We definitely recommend to friends and family in Singapore. Even though the weather is not that great our family had ag great time. Definitely will spread the great word to social media.
Benjamin L, Thailand
,
10-Oct-2022
-
15-Oct-2022
We had an amazing family reunion here with delicious food (curries, pineapple fired rice, fired noodle in gravy and pomelo salad were delicious) and staff were great.
Rebecca B, Singapore
,
06-Oct-2022
-
09-Oct-2022
We and incredible three days celebrating our friend's 40th . The villa was excellent and your staff were absolutely lovely and attentive. Our family intend to come back again.
Saratsanun U, Thailand
,
01-Oct-2022
-
04-Oct-2022
We are really appreciated the service and hospitality the staff supported us during our stay. It was the best three nights and 4 days., will come back again.
Wen Xuan T, Singapore
,
02-Sep-2022
-
04-Sep-2022
Thank you for the great stay for our family holiday. Teo Family
Kanish M, Thailand
,
05-Aug-2022
-
07-Aug-2022
Awesome villa and great service ( esp Khun Oi & team ) Keep it up! We had an amazing time
Wooi Chuan S, Malaysia
,
15-Jul-2022
-
18-Jul-2022
We had a very relaxing and enjoy 5 days. Beautiful villa & Kind staffs Thank you so much
Xiaoye Xuan, China
,
12-Sep-2019
-
15-Sep-2019
Of course the wedding up
Michelle and Danny W, Philippines
,
14-Mar-2019
-
17-Mar-2019
Thank you so much for hosting our wedding. You made the event and our stay very special. Buss and her staff are excellent - they took care of our family and friends with 5 star service. Can't wait to come back.
Kenneth N, Hong Kong
,
08-Mar-2019
-
11-Mar-2019
Lovely sunny place - spectacular sunset, amazing service, great food, our fantasy realized. Thank you so much Buss and your guys. We're all so happy. Keep it up and god's blessing to all.
Humaid A, United Arab Emirates
,
01-Mar-2019
-
06-Mar-2019
You and your team are amazing and polite. We are happy with excellent the services. We will come back again to this villa because of you and your team.
Kitty and Mike, Philippines
,
14-Feb-2019
-
17-Feb-2019
We had one wedding and a lovely 3 nights stay at Jia. It was gorgeous. Khun Buss was a wonderful host/ manager. She helped with everything we needed.
Lennart L, Denmark
,
02-Feb-2019
-
14-Feb-2019
We had a great time here, thank you so much and we will be back. There are so many wonderful things to mention but I don't know where to start. The staff are wonderful - the food, the pool, the beach, the weather, the fruits. This is a place where you can actually relax. All we can say is thank you.
Richard C, Australia
,
16-Jan-2019
-
21-Jan-2019
Phuket and Villa Jia are heavenly. The warm welcome and gracious service are unmatched. Our needs and wishes are done without having to ask. It's like being a guest in a very generous friend's home.
Stephani K, Singapore
,
16-Dec-2018
-
21-Dec-2018
Thank you to Buss and her lovely team. Our family and us had a wonderful stay at Villa Jia. Our wedding was amazing and we can't wait to come back.
Kelly L, Hong Kong
,
07-Dec-2018
-
10-Dec-2018
Thank you to the lovely team at Jivana. We had the most incredible stay and wedding here on the 8th Dec 2018! Cant wait to come back here for another vacation soon.
Roz Alexander, Singapore
,
07-Jul-2010
-
12-Jul-2010
A stunning location that allows for a complete get away but is still close enough to Phuket for a drive in for a few hours of shopping and lunch. We organised fireworks on our private stretch of beach, were treated to a seafood BBQ in the sala, enjoyed the most delicious Thai cuisine all week (and extra things we asked for!) and the staff were exceptional. Headed by Khun Pui, they could not do enough to help make our stay everything we wanted and more - including the french champagne with our freshly caught yellowfin tuna sashimi! Khun Pui organised the sports fishing boat and even brought along the champagne. Our 3 young kids were extremely well catered for and the many entertainment areas, kayaks, private beachfront and enormous pools made it all the more fun. We will be back and are so looking forward to it.