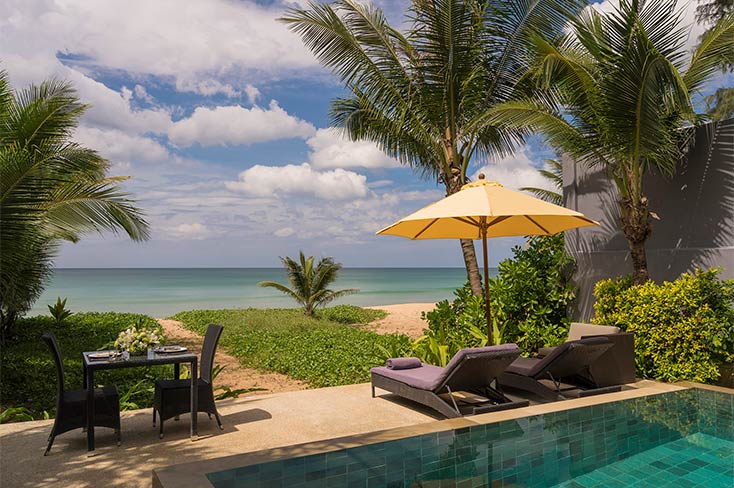 Olivia T, Hong Kong
,
22-Apr-2022
-
29-Apr-2022
Thank you for a wonderful time at Infinity Blue! What a quick 7 nights when you are having such a relaxing time. We were spoiled. Thanks to our housekeeper & also our villa manager, Wow. All the arrangement were well exceptional. Also, our chef of 3 nights, was amazing. Thanks from Olivia & Jack.
Khun Ched C, Thailand
,
12-Nov-2021
-
15-Nov-2021
Infinity Blue is a perfect for getaway, holiday, good location near airport, beautiful beachfront, nice catering service. Thank you so much for having us !
Ross C, Thailand
,
08-Apr-2021
-
15-Apr-2021
We had a beautiful seven-day stay at Infinity Blue. Such a wonderful location with a peaceful beach and really lovely pool. Our children ( aged 4 and 5 years) really really enjoyed the pool which was warm and welcoming at all times in the day. We were well looked after by Khun Sao each day. Breakfast was lovely and she provided us with cold drinks when we were playing in the pool. Thank you for having us.
Krit T, Thailand
,
18-Nov-2020
-
21-Nov-2020
I stayed in this villa for 3 days. It's very good. We love this villa!
Minya H, Thailand
,
17-Oct-2020
-
22-Oct-2020
Our family had a most wonderful stay at Infinity Blue. It was just perfect for our family of 3 young children and four adults. It was cozy and the space is well laid out. The kitchen was well equipped so that we could make easy meals. The beach is lovely with its lovly stretch of sand. Most notable about our experience here at Infinity Blue was the excellent service by the team, especially Khun Sao who made a great deal of effort with great attention to details. She and the whole team made the experience most memorable for us and we will surely be back!
Michelle P, Canada
,
15-May-2020
-
16-May-2020
We had the best time staying at Infinity Blue. The views, the beach, the pool... So many great things The best however was Sao! She is amazing, very talented housekeeper who pays attention to the smallest details. The house was always impeccably clean. She was always alert trying to accommodate our needs and wanting to help our stay perfect - which she did. Sao made our stay outstanding. She cares, is thoughtful in a very professional. I want to take her back to Canada with us!
Christine W, American Samoa
,
25-Feb-2020
-
04-Mar-2020
Had an Amazing 50th B-Day at Infinity Blue. The Chef and staff (Aud, Um and Su) were awesome! They knew what we wanted before we knew what we wanted. The food (Breakfast, Lunch, Dinner) was so delicious! I cannot express how much we were treated like family. We will be back! Thank you
Heidi D, United Kingdom
,
16-Feb-2020
-
21-Feb-2020
What a magical place. We felt like we were in paradise. Lovely family retreat.
Michael R, United Kingdom
,
10-Feb-2020
-
16-Feb-2020
Would this villa be for sale? I am so interested. Magic in a magic place.
Michael Jul B, Denmark
,
19-Nov-2019
-
01-Dec-2019
We have spent fantastic two weeks in this amazing Villa. Our family has enjoyed the fantastic, beautiful and quiet beach. Private pool is just great with kids! The staff here are simply amazing. Sweet Sao has taken so good care of us, not least our two daughters. The most fantastic Birthday Party arranged for our nine-year old. What a feast. We will keep the secret to ourselves- To ensure we come back to the same little spot in Paradise!! I love Thailand
Liu Z, China
,
01-Oct-2019
-
05-Oct-2019
Nice villa with sweet service, swimming pool is very clean and the foods are fresh also. Thanks to the maids who clean our room every day, make us feel staying at home. Expecting next trip to be here again. Thanks all staff.
Dezhi Z, China
,
23-Sep-2019
-
27-Sep-2019
All four days we have spent here are pretty awesome. Especially the super nice service provided by the nice lady Sao and Ying. Love you both, and definitely we will back later.
Irma P, Spain
,
12-Aug-2019
-
17-Aug-2019
We all had a really amazing live in the villa but not only for the incredible house, but also for the amazing team taking care of us! Thank you guys for everything, for your help, your smile and your kindness and take good care of us! Toou, you are a such great chef, amazing dishes! Kisses!
Nataliia F, Ukraine
,
23-Jul-2019
-
05-Aug-2019
We love the villa, everything was perfect. The crew is great. We had a lovey time here. Love.
Suryashi K, India
,
10-Jul-2019
-
14-Jul-2019
We are group of 4 couples from India. We enjoyed a lot. Very very good hospitality. Good crew. Awesome food. I love Thai
Mee Chau W, Hong Kong
,
20-Jun-2019
-
23-Jun-2019
We have a great time in this villa. The chef is so perfect, the seafood is very fresh and taste is very good. The service is wonderful. Our housekeeper is very nice and considerable. Excellent! Perfect! Enjoy! Thank you so much! Cheers, Kimmy
Andrew D, Singapore
,
03-Jun-2019
-
08-Jun-2019
We have had a lovey time this week! We really love this villa and surroundings. Big thanks to Sao and Toon for taking good care of us. We have eaten so much and so well, and we have not had enough exercise :) Hopefully we will be back again to enjoy the pool, the villa and the food! Thank you once again! Andrew, May, Kristian, Celine, Erling
Luis G, Singapore
,
04-May-2019
-
07-May-2019
Thanks so much to the staff for a great stay. Luis, Mexico Omar, Canada
Triana V, Singapore
,
01-May-2019
-
04-May-2019
4-5-19 A perfect little place of paradise! Beautiful memories made with family. Sao was so attentive and kind. Awesome location!! And safe!!Sunset were stunning!!! I love Thailand
Lucienne & John M, Australia
,
13-Apr-2019
-
18-Apr-2019
Songkran, 13.4.2019 Are you looking for lovely and endless beaches? Come here. Are you looking for the most lovely people taking care of you? Come here. But don't tell to others, please!
Marc D, Switzerland
,
31-Mar-2019
-
13-Apr-2019
Are you looking for lonely and endless beach? Are you looking for the most lovely people taking care of you? - come here. But don't tell others please.
Priyanka S, Singapore
,
06-Feb-2019
-
11-Feb-2019
One of the best experiences. Great property location and outstanding staff. Didn't leave the Villa except for the beach. It was a dream vacation. We will definitely return with the rest of our family.
Yuehfen L, Hong Kong
,
01-Feb-2019
-
06-Feb-2019
Beautiful villa with fantastic views topped with excellent food and service from Jitty, Sau and Wow, a big thank you. Tasted some of the best Thai food here - loved the curry, BBQ seafood, salads and heavenly desserts.
Vadym T, Russia
,
18-Jan-2019
-
30-Jan-2019
We spent 10 days in the villa. We want to express gratitude to all the serving staff. Chef is amazing - everyday he cooked us very tasty meals. Everything was kept clean. Very welcoming atmosphere was kept all the time. We would like to send our thanks to all who kept the pool and the garden clean. Just unforgettable days in a wonderful place, surrounded by smiling staff, thank you.
Jason F, Thailand
,
29-Dec-2018
-
07-Jan-2019
Simply wonderful villa and caring staff. Everything was perfect
Daniel H, United Kingdom
,
16-Dec-2018
-
29-Dec-2018
We had a wonderful stay - the team were so accommodating and made everything work perfectly. We are sorry to leave.
Inna R, United States
,
23-Nov-2018
-
27-Nov-2018
We really enjoyed our stay. The staff were very nice and helpful. Over all very comfortable and pleasant. Thank you very much for our amazing stay.