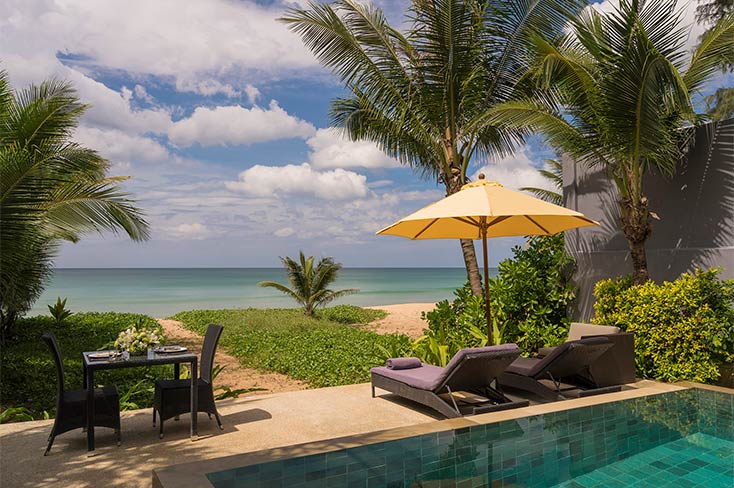 Jj T, Singapore
,
27-Apr-2023
-
01-May-2023
Thank you! Best of staff. Best of chef. JJ
NA W, China
,
07-Apr-2023
-
14-Apr-2023
SA WA DI KA We had the most wonderful stay here!! Everyone from the service team us amazing. Kind/ Considerable/ Funny/ Warm-heart Shout out from Adam, Perfect team and attitude, and always be helpful!! We will definitely come back if we had the chance. Thank you Phuket, Thank you the team! A lot of love....
Gerald B, Germany
,
25-Mar-2023
-
01-Apr-2023
A feeling like home Beautiful sunsets Great service Delicious food Best, cleanest pool Relaxing time A nice garden Empty wonderful beach Great waves and sunshine * We found the treasure = infinity blue - Natai Beach
Florin Laurentiu C, Germany
,
18-Mar-2023
-
23-Mar-2023
We had a great holiday in the villa! Sao was a very nice host, thank you for taking care of us. Greeting from Romania!
Jack G, Singapore
,
09-Mar-2023
-
12-Mar-2023
Lovely villa, hidden away from everything, great place to relax for the long weekend. The staff were fantastic and looked after us so well. Great food. We booked a in villa massage but where we realistic it would be in the floor in the living room canceled.. A suggestion would be to arrange massage tables to be brought at the time otherwise a great weekend.
Robert M, Germany
,
02-Mar-2023
-
09-Mar-2023
We arrived in this paradise one week ago and we had a wonderful time in this beautiful villa with an out standing staff. All the staff members were so nice. sensible, we cannot recommend them highly enough. The beach is the best we ever had, the perfect place for swimming in the ocean. We have looking forward to come back to this amazing place. Thanks for all!!!
Filip D, Czech Republic
,
12-Feb-2023
-
27-Feb-2023
We had the pleasure of staying in a villa with exceptional staff and an amazing chef recently and cannot recommend them highly enough.The staff was incredibly attentive and went about ensuring every need was met. The chef was truly outstanding and the meal she prepared was one of the best we ever had. Each dish was expertly crafted using only the freshest and highest quality ingredients. Overall the staff and the chef in this villa were simply fantastic. It all started 14 days ago...That was the first time we had the best mango here.
William R, Russia
,
04-Feb-2023
-
09-Feb-2023
We arrived from South Korea for a long family holiday. My wife and I, my son, my daughter, her husband and our 3 grand kids. Staffs were fantastic, and the manager Gift was so helpful. We have had a wonderful time, we had a seafood BBQ which was awesome. There are some good places just short walk along the beach for a meal. Sadly the time pass so quickly. We will recommend Infinity Blue to our friends. Thank you,
Dean K, Spain
,
17-Jan-2023
-
31-Jan-2023
Thank you for an amazing stay. We spent 2 weeks here as a family & felt at home Sao was so helpful and kind throughout our stay and helped us work our way around this beautiful part of Thailand. Also thank you to Khunda and the team of gardeners & Pool staff who keep this place looking great! We visited Tims cafe,the thai restaurant outside the front gate t the massage /bar on the beach nearly every day. Delicious food & fantastic massage! Thanks for a great stay hope to come back Harry & Rach
Monisha O, Singapore
,
19-Dec-2022
-
24-Dec-2022
Hello We have had our amazing holiday at villa Infinity Blue. Everything was so clean and well organized. Khun Sao was friendly, helpful and kind. We will be back. Thank you for sharing your home with us!
Steve C, Netherlands
,
12-Dec-2022
-
16-Dec-2022
Thanks to all the team especially to Sao for the stay. Everything was perfect and well organized. I will be back for sure.
Amanda S, Singapore
,
09-Dec-2022
-
12-Dec-2022
Thanks for the stay. We enjoyed and had a relaxing time.
Aida N, United Arab Emirates
,
28-Nov-2022
-
02-Dec-2022
We had a fabulous stay here in this villa. The view was stunning to say the least. The same can be said about the room view that overlooks the pool. Accommodation wise, the rooms were thoroughly cleaned by the cleaners. Furthermore the services related to cleaning were very much exemplary beyond our standards. Lastly, there were no complaints apart from the smell that came from within the toilet. However, that was not much of an issue. Overall, this event catered to all our needs and I'm glad we were given such great service throughout our accommodation. Definitely a place to return to. - Omar Alkindi
Alison H, United Kingdom
,
13-Nov-2022
-
26-Nov-2022
We have had an amazing holiday, made extra special at this fabulous villa. Sao, our housekeeper, was just brilliant - catering to our every need. The villa was very clean and had everything we could need. The pool and the beach were exceptional. Hoping we can return sometime!
Prithvi H, India
,
01-Nov-2022
-
04-Nov-2022
Infinity Blue is the ultimate in a holiday destination. One is always apprehensive about the real quality, as photos and reviews can be misleading many a times. IB was much beyond the photos and reviews. Right from our standing here, being warmly welcomed by Ying and her team, the entire stay was just dreamlike. The chef Toon was simply superb, serving us the fantastic dishes for all our meals. The rooms were absolutely clean, and were wiped through many times a day. The swimming pool was perfect. And the highlight.... the lovely vast, clean Natai beach just a few steps away... you could see the sea and the waves all the time . The several massage sessions were pure Thai magic. The housekeeper Sao, and her assistant Da, were just too good. Taking care of everything so well. 4 days of pure bliss. God bless.
Karsten S, Denmark
,
11-Oct-2022
-
15-Oct-2022
We had a great time at the villa. Loved the beach, the bars, and the amazing BBQ All the best,
Fiona W, Singapore
,
04-Oct-2022
-
07-Oct-2022
Dearest all, Thank you for a wonderful stay and the excellent accommodation. The beautiful doorstep sea view and idyllic private beach. The friendly and attentive staff cater to all our wishes and made this a truly memorable holiday! Hope to come back soon!
Ivo S, United Kingdom
,
31-Jul-2022
-
04-Aug-2022
We had a very relaxing time here at the lovely villa. Our two boys love the pool and beach. The weather has not been to great but we still enjoyed our time here. The food has been incredible! The staffs are very alternative and friendly. We will hopefully be back next year! Thank you for having us!
Anita H, United States
,
23-Jul-2022
-
31-Jul-2022
We had a wonderful time. The amenities were great. The service and response were very prompt. Sao was great. She is athemendous asset Loved in stay.
Joseph F, United States
,
05-Jul-2022
-
15-Jul-2022
I'd like to thank Sao for bring nice and accommodating. Our stay here were amazing through weather is unpredictable because continue rain in the morning and afternoon. The house make it more cozy during raining days.The beach is amazing and quite. I love the place. Thank you!
Jantana W, Thailand
,
27-Jun-2022
-
30-Jun-2022
Thank you so much. We love everything. But the smell from drainage is too strong
Gary L, Singapore
,
19-Jun-2022
-
23-Jun-2022
Beautiful, understated villa along a pristine sandy beach. Gorgeous views of the sunset. Reserving compliments to the staff for their attention and personalized service. Looking forward to our next visit! ( P.S. Shout out to Wow, Sao and Pu for 5* service! )
Khalid Yousef A A, Saudi Arabia
,
07-Jun-2022
-
12-Jun-2022
The only good thing about this place is How nice is the house maid!! Love.
Abdulmajeed A, Saudi Arabia
,
19-May-2022
-
21-May-2022
Very pleased with the experience of staying for 2 days. It was pleasant experience for the children and family , as well as the location and services provided by the chef , serving and perfect assistance. An experience that will be repeated if given the chance. Thank you from Saudi Arabia.
Vlady K, Thailand
,
04-May-2022
-
16-May-2022
Thank you for hospitality and taking care of us Its incredible experience to have such a good people around. Hope to see you soon!
Noon N, Thailand
,
30-Apr-2022
-
03-May-2022
Positive: Private beach, less crowded but Baba Beach Club has been noisy Units are well kept and maintain Maid services are great Chef provided dinner is a great idea Breakfast is good but should be more variety Negative: Pool has to be cleaned regularly and tidy Toilet in the bedroom unpleasant smell Bedroom should be integrated with the main area Far from main attraction in Phuket
Olivia T, Hong Kong
,
22-Apr-2022
-
29-Apr-2022
Thank you for a wonderful time at Infinity Blue! What a quick 7 nights when you are having such a relaxing time. We were spoiled. Thanks to our housekeeper & also our villa manager, Wow. All the arrangement were well exceptional. Also, our chef of 3 nights, was amazing. Thanks from Olivia & Jack.
Nathan S, Singapore
,
17-Apr-2022
-
19-Apr-2022
Thank you for a lovely stay at Infinity Blue It was perfect for our family and we really enjoyed our stay. In addition to the beautiful location, the staff and Khun Sao has been so kind - we are very grateful. Wishing you much blessing!
Villa Finder M, Singapore
,
20-Mar-2022
-
27-Mar-2022
Life is wonderful! The location,the great service,the superb chef, the pool, the wild atmosphere is very unique. This time we enjoyed this haven. Next time for a time holiday. Thank you! Mira, Angelina,... PS: Special thanks to Toon for the wonderful cooking and Sao for always reading every wish from our trip.
Martin L, Russia
,
06-Mar-2022
-
11-Mar-2022
We have had 5 amazing nights here in Infinity Blue Villa. This is truly amazing place. Sao and Toon has taken care of us in the very best way. The beach, food, environment, beds, sea breeze, pool, palm trees and soul of this heaven on earth has been the perfect end of our trip! Thank you! Malin, Martin, Charlotte, Alexander
Khun Ched C, Thailand
,
12-Nov-2021
-
15-Nov-2021
Infinity Blue is a perfect for getaway, holiday, good location near airport, beautiful beachfront, nice catering service. Thank you so much for having us !
Ross C, Thailand
,
08-Apr-2021
-
15-Apr-2021
We had a beautiful seven-day stay at Infinity Blue. Such a wonderful location with a peaceful beach and really lovely pool. Our children ( aged 4 and 5 years) really really enjoyed the pool which was warm and welcoming at all times in the day. We were well looked after by Khun Sao each day. Breakfast was lovely and she provided us with cold drinks when we were playing in the pool. Thank you for having us.
Krit T, Thailand
,
18-Nov-2020
-
21-Nov-2020
I stayed in this villa for 3 days. It's very good. We love this villa!
Minya H, Thailand
,
17-Oct-2020
-
22-Oct-2020
Our family had a most wonderful stay at Infinity Blue. It was just perfect for our family of 3 young children and four adults. It was cozy and the space is well laid out. The kitchen was well equipped so that we could make easy meals. The beach is lovely with its lovly stretch of sand. Most notable about our experience here at Infinity Blue was the excellent service by the team, especially Khun Sao who made a great deal of effort with great attention to details. She and the whole team made the experience most memorable for us and we will surely be back!
Michelle P, Canada
,
15-May-2020
-
16-May-2020
We had the best time staying at Infinity Blue. The views, the beach, the pool... So many great things The best however was Sao! She is amazing, very talented housekeeper who pays attention to the smallest details. The house was always impeccably clean. She was always alert trying to accommodate our needs and wanting to help our stay perfect - which she did. Sao made our stay outstanding. She cares, is thoughtful in a very professional. I want to take her back to Canada with us!
Christine W, American Samoa
,
25-Feb-2020
-
04-Mar-2020
Had an Amazing 50th B-Day at Infinity Blue. The Chef and staff (Aud, Um and Su) were awesome! They knew what we wanted before we knew what we wanted. The food (Breakfast, Lunch, Dinner) was so delicious! I cannot express how much we were treated like family. We will be back! Thank you
Heidi D, United Kingdom
,
16-Feb-2020
-
21-Feb-2020
What a magical place. We felt like we were in paradise. Lovely family retreat.
Michael R, United Kingdom
,
10-Feb-2020
-
16-Feb-2020
Would this villa be for sale? I am so interested. Magic in a magic place.
Michael Jul B, Denmark
,
19-Nov-2019
-
01-Dec-2019
We have spent fantastic two weeks in this amazing Villa. Our family has enjoyed the fantastic, beautiful and quiet beach. Private pool is just great with kids! The staff here are simply amazing. Sweet Sao has taken so good care of us, not least our two daughters. The most fantastic Birthday Party arranged for our nine-year old. What a feast. We will keep the secret to ourselves- To ensure we come back to the same little spot in Paradise!! I love Thailand
Liu Z, China
,
01-Oct-2019
-
05-Oct-2019
Nice villa with sweet service, swimming pool is very clean and the foods are fresh also. Thanks to the maids who clean our room every day, make us feel staying at home. Expecting next trip to be here again. Thanks all staff.
Dezhi Z, China
,
23-Sep-2019
-
27-Sep-2019
All four days we have spent here are pretty awesome. Especially the super nice service provided by the nice lady Sao and Ying. Love you both, and definitely we will back later.
Irma P, Spain
,
12-Aug-2019
-
17-Aug-2019
We all had a really amazing live in the villa but not only for the incredible house, but also for the amazing team taking care of us! Thank you guys for everything, for your help, your smile and your kindness and take good care of us! Toou, you are a such great chef, amazing dishes! Kisses!
Nataliia F, Ukraine
,
23-Jul-2019
-
05-Aug-2019
We love the villa, everything was perfect. The crew is great. We had a lovey time here. Love.
Suryashi K, India
,
10-Jul-2019
-
14-Jul-2019
We are group of 4 couples from India. We enjoyed a lot. Very very good hospitality. Good crew. Awesome food. I love Thai
Mee Chau W, Hong Kong
,
20-Jun-2019
-
23-Jun-2019
We have a great time in this villa. The chef is so perfect, the seafood is very fresh and taste is very good. The service is wonderful. Our housekeeper is very nice and considerable. Excellent! Perfect! Enjoy! Thank you so much! Cheers, Kimmy
Andrew D, Singapore
,
03-Jun-2019
-
08-Jun-2019
We have had a lovey time this week! We really love this villa and surroundings. Big thanks to Sao and Toon for taking good care of us. We have eaten so much and so well, and we have not had enough exercise :) Hopefully we will be back again to enjoy the pool, the villa and the food! Thank you once again! Andrew, May, Kristian, Celine, Erling
Luis G, Singapore
,
04-May-2019
-
07-May-2019
Thanks so much to the staff for a great stay. Luis, Mexico Omar, Canada
Triana V, Singapore
,
01-May-2019
-
04-May-2019
4-5-19 A perfect little place of paradise! Beautiful memories made with family. Sao was so attentive and kind. Awesome location!! And safe!!Sunset were stunning!!! I love Thailand
Lucienne & John M, Australia
,
13-Apr-2019
-
18-Apr-2019
Songkran, 13.4.2019 Are you looking for lovely and endless beaches? Come here. Are you looking for the most lovely people taking care of you? Come here. But don't tell to others, please!
Marc D, Switzerland
,
31-Mar-2019
-
13-Apr-2019
Are you looking for lonely and endless beach? Are you looking for the most lovely people taking care of you? - come here. But don't tell others please.
Priyanka S, Singapore
,
06-Feb-2019
-
11-Feb-2019
One of the best experiences. Great property location and outstanding staff. Didn't leave the Villa except for the beach. It was a dream vacation. We will definitely return with the rest of our family.
Yuehfen L, Hong Kong
,
01-Feb-2019
-
06-Feb-2019
Beautiful villa with fantastic views topped with excellent food and service from Jitty, Sau and Wow, a big thank you. Tasted some of the best Thai food here - loved the curry, BBQ seafood, salads and heavenly desserts.
Vadym T, Russia
,
18-Jan-2019
-
30-Jan-2019
We spent 10 days in the villa. We want to express gratitude to all the serving staff. Chef is amazing - everyday he cooked us very tasty meals. Everything was kept clean. Very welcoming atmosphere was kept all the time. We would like to send our thanks to all who kept the pool and the garden clean. Just unforgettable days in a wonderful place, surrounded by smiling staff, thank you.
Jason F, Thailand
,
29-Dec-2018
-
07-Jan-2019
Simply wonderful villa and caring staff. Everything was perfect
Daniel H, United Kingdom
,
16-Dec-2018
-
29-Dec-2018
We had a wonderful stay - the team were so accommodating and made everything work perfectly. We are sorry to leave.
Inna R, United States
,
23-Nov-2018
-
27-Nov-2018
We really enjoyed our stay. The staff were very nice and helpful. Over all very comfortable and pleasant. Thank you very much for our amazing stay.