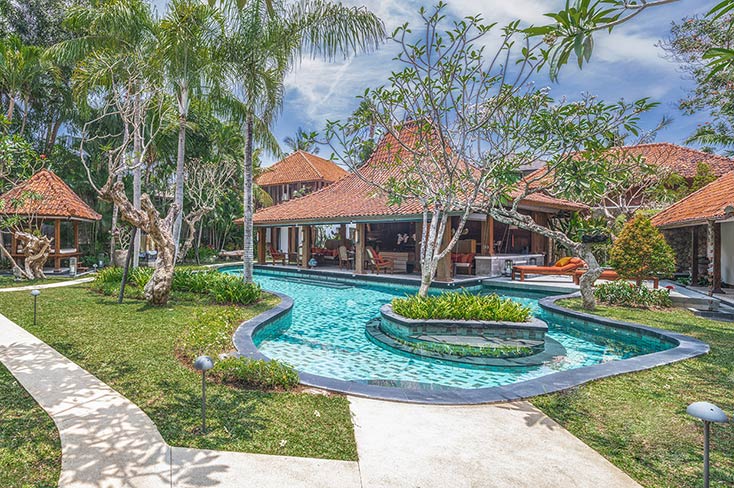 Vivian B, Australia
checked out on
25-May-2019
I would like to say that the team at Villa Des Indes was exceptional and meeting all our needs. The villa is beautifully appointed and truly luxurious. We are all very sad to leave.
Andrey K, United Kingdom
checked out on
29-Apr-2019
Had a wonderful time at Des Indes. The staff are incredibly helpful and attentive to all details. Thank you for making our stay so brilliant.
Gracanin Q, Australia
checked out on
19-Apr-2019
You were all so wonderful. Thank you for a wonderful and amazing stay. Your hospitality, kindest and attentiveness to all of us was really appreciated. Will definitely recommend this villa.
Tim S, Australia
checked out on
01-Apr-2019
What an amazing experience, loved every minute of our stay. Most comfortable bed I have ever slept in, most accommodating staff. Such a fabulous place, so comfortable, so clean and couldn't have asked for more. Thank you to all of the wonderful staff for looking after us.
Khushboo J, Singapore
checked out on
26-Mar-2019
We had an amazing time in this villa. Villa is absolutely beautiful, very tastefully decorated. Thank you for the wonderful service and for making our stay comfortable.
Betty C, Australia
checked out on
12-Jan-2019
Thanks for your hospitality and great service that all the staff have provided to our family holiday. We will endeavor to spread the word about Des Indes I. We have really enjoyed the professional service and we will return.
Anthony H, Hong Kong
checked out on
03-Jan-2019
We just had a wonderful stay and a magical trip here. The villa is utterly breathtaking and beautiful, staff went above and beyond to make us feel welcome and homey. Personal and heart felt service. Thanks to all the staff for making our stay so fabulous and memorable.
Jen L, Hong Kong
checked out on
03-Nov-2018
Thank you so much to all of the Des Indes staff. You have been amazing and made our stay such a pleasure. The service and friendliness has been incredible. Your attention to details and warm friendliness have made our stay so pleasant.
Nitin B, Indonesia
checked out on
22-Oct-2018
We were a group of 5 people and the villa is one of the best places we have ever stayed at. Spotlessly clean, the most hospitable staff, spacious, beautiful. All of your staff kept up with our needs and requirements even at late hours with a smile. Thank you for making our short stay a memorable one. Looking forward to visiting again soon.
Kirsten B, Australia
checked out on
08-Oct-2018
Had enjoyable stay in these beautiful villas. We were very well looked after by the fabulous staff. Thank you for everything.
Ben H, Hong Kong
checked out on
09-Sep-2018
Thank you for looking after us so well during our stay, we love Des Indes Villas and your hospitality was amazing.
Lee M, Australia
checked out on
27-Jul-2018
Many thanks to the wonderful staff at villa Des Indes who were always happy to please a chat. We have loved our stay here and will recommend to family and friends. Cannot wait to visit again soon.
Cordell K, Australia
checked out on
21-Jul-2018
Facilities first class, staff very very good and excellent service. Our family have stayed at villa Des Indes three times and all are excellent.
Belinda S, Australia
checked out on
05-Jun-2018
Des Indes I and II you are amazing. Your attention to detail and your kindness to us all has been awesome. We had a fabulous trip, no request was too much and we can not wait to return. What an amazing place.
Graham C, New Zealand
checked out on
24-Jun-2018
Words can not explain, what a wonderful time we have had. I thoroughly enjoyed Villa Des Indes - clean, beautiful decor and plenty of space to relax. The wonderful staff were kind, attentive and thoughtful. They made us feel like family, always checking on our needs and all done with a smile. Thanks for the experience of a life time.
Manal S, Indonesia
checked out on
16-Jun-2018
Thank you for a great time. Beautiful villa and excellent staff. We will be back.
Yvonne C, Singapore
checked out on
30-Oct-2017
What a magical name for a magical place. Palm trees, sun, water and yoga. We had a taste of paradise for 4 days. Can't wait to come back here again. We experienced the wonderful Bali and the hospitality of the Balinese again.
Ketaki N, Singapore
checked out on
17-Oct-2017
Fantastic villa! Superb service. We had a great time and look forward to come back again. All facilities are good and very well maintained. Lovely interiors, great for kids and nice location. Special mention to the staff who took great care of us.
Chris G, United Arab Emirates
checked out on
08-Oct-2017
I loved the pool and the room and the food was awesome. I loved my stay, thank you for having us.
Mark R, Singapore
checked out on
09-Sep-2017
You have made my 70th birthday holiday the most memorable experience of my 70 years. You have met all our requests with a smile, and your hospitality is second to none. This is my seventh heaven here on earth. I will be back
Chung M, Malaysia
checked out on
03-Sep-2017
Thanks for a great few days. The service and food was excellent. Breakfast was also good, the few dinners we had at home were exceptional.
Gautam V, United Arab Emirates
checked out on
30-Aug-2017
Thank you for amazing stay. You make sure that we all were comfortable and managed to keep all of us happy which is quite a task. Thank you so much for an amazing holiday.
Mark L, China
checked out on
17-Jul-2017
We had such a great time in Des Indes. It's A beautiful villa filled with lovely staff who took care of us so well. Thank you so much for everything.
Peter A, Singapore
checked out on
01-Jul-2017
Fantastic villa and awesome staff took good care of us through our stay. Service was great and our stay was absolutely relaxing. Thank you all and we will back again.
Julian B, Zambia
checked out on
17-Jun-2017
We love this villa so much. Thanks for having us here. The staff are so lovely too.
Bruce A, Australia
checked out on
01-Jun-2017
What a Beautiful Place! Thanks to the wonderful staff for their kindness and friendliness. Such amazingly appointed villas, it was a delight to stay here.