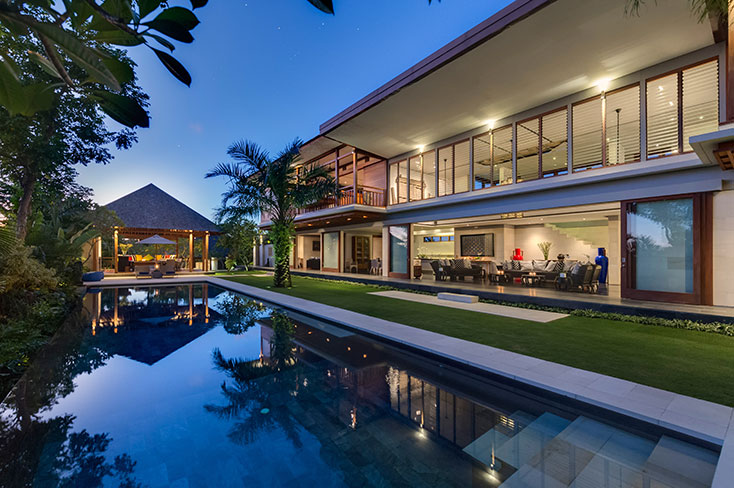 Fify A, Indonesia
,
19-Sep-2022
-
22-Sep-2022
We are happy to stay here. Staff is very good, polite, and very professionals. We enjoyed our stay very much and definetely will come back. Nothing we ask is to much for them! Villa is well planned and very breezy, beautiful too! Bravo to Muliati and Rai!
Olivia K, Australia
,
22-Aug-2022
-
28-Aug-2022
I could not have wished for a more beautiful both birthday. You are all amazing and I feel so lucky. To all the Bendega staff at Bendega Villas, our stay has been amazing, beatiful stay and being so gracious. You have all been wonderful hosts. Thank you for lovely time, thank you Chef for amazing food. we will never forget it.
Sarah H, Australia
,
02-Aug-2022
-
07-Aug-2022
Thank you for being so helpful and friendly, you made our stay so amazing and memorable. We can't recomend enough.I can't wait to come again. Bendega staff inpeccable service & hospitality. Can't reccomend you guys enough. Such a beautiful villa and amazing staff.Thank you so much to making our stay so special. We will definitely be back. Thank you!
Craig W, New Zealand
,
08-Jul-2022
-
18-Jul-2022
Thank you for another incredible holiday our 3rd time here. We will miss you, warm smile faces, amazing food. Look forward to seeing next year. It was great to be able to share this fantastic experience with another group of our friends always a pleasure staying here with the best facilities and staff.
Glenn B, Australia
,
03-Jul-2022
-
07-Jul-2022
Wow!!!! Bendega Villas is amazing. From the moment our group of four families entered the front doors, all 18 of us have had the most amazing, relaxing and enjoyable stay. The staff have been so kind and attentive, with nothing ever being too much trouble. We hope we will be back. We miss Bendega. Bali Blast 2022 crew.
Brad P, Australia
,
25-Jun-2022
-
02-Jul-2022
So good to be back! As always, The Prime Family had an amazing time at Bendega Rato. Thank you to all the wonderful staff! See you soon.
Daniel L, Singapore
,
19-Jun-2022
-
24-Jun-2022
We originally booked our trip to Bendega Villa for Easter holiday in 2020. However we had to cancel due to Covid. It's taken us over two years to make it back and we are so delighted we did. The villa is beautiful, specious and the staff are friendly & helpful. Thank you for memorable holiday on our farewell Southeast Asia fair. We do hope to comeback.
Joshua & Lauren C, Australia
,
11-Jun-2022
-
18-Jun-2022
A beautiful stay! We had a wonderful time with our family. Thank you!
Jonas S, Switzerland
,
02-Jun-2022
-
06-Jun-2022
Great place with a great team. Thank you for your positive vibes during those awaiting days. We were safe, happy, and relaxed. We will recommend this beautiful villa. The next time we come, we will try the 3rd room .
Mark R, Indonesia
,
30-Apr-2022
-
07-May-2022
Thanks for the wonderful experience. Everything exceeded our expectations. Hope we can come back in the future.
Vaishali S, Indonesia
,
01-Dec-2021
-
03-Dec-2021
I had my company leadership meeting for 3 days at Rato and Nui. It was a truly amazing experince. Green villas, awesome service and attention to detail. Very well done. Lovely rooms and all the extra care is very appreciated.
Rieka L, Indonesia
,
12-Nov-2021
-
14-Nov-2021
Thank you for a wonderful time at your villa. all the staff were very welcoming and always ready to serve us. The villa is very well maintained and we love every minute spent here. Thank you again. May we rise again from this pandemic and be stronger!
Bobby D, Indonesia
,
20-Aug-2021
-
22-Aug-2021
Beautiful villa, good service. Thank you.
Augustinus Omar R, Indonesia
,
20-Jul-2021
-
24-Jul-2021
I enjoyed my time at this villa, it has been a nice experience. We liked the pool and the location is nice because it's close to the beach.
Lisa G, Australia
,
04-Jan-2020
-
09-Jan-2020
What amazing villa! Our stay at Bendega Rato has been absolutely amazing. Thank you to all the staff who have looked after us. It is all of you that made the difference. Thank you very much. We hope to be back again soon.
Robert M, Philippines
,
26-Dec-2019
-
01-Jan-2020
Thank you all for a wonderful New Years stay at this beautiful villa. The property is beautifully designed and styled with so many lovely area to sit, rest, and enjoy lovely company. On top of all of this the staff were delightful. They were constantly available to make our stay such a pleasure and the food they cooked for us was all divine. Many thanks to you all, we will be back!
Mao & Gregory, Hong Kong
,
20-Dec-2019
-
26-Dec-2019
Thank you so much for the perfect Christmas holiday in Canggu. Your service was so professional. Make our trip so easy.
Barbara C, Australia
,
03-Nov-2019
-
08-Nov-2019
Thank you so much for your care and attention to our group thus week. You could not have done anything more to ensure that we has the most perfect week. Your service, kindness, amazing cooking was much appreciated. Your ability to keep up with our demand your gin was extraordinary!!
Kristy C, Singapore
,
05-Oct-2019
-
11-Oct-2019
Thank you once again for as amazing holiday in your beautiful villa. We had such a great time in the beautiful surrounding and the hospitality has been second to none. Hopefully we will be back next year.
Ellen U, United States
,
23-Jul-2019
-
18-Aug-2019
Thank you so much for another wonderful stay at Bendega Rato. My family has had an amazing time. We were spoilt and cared for by your friendly staff and my children could not eat enough delicious chicken satay. We treasure this relaxing time that we have spent in your company and hope to do it again.
Ameera B, Australia
,
30-May-2019
-
03-Jun-2019
Thank you for the amazing holiday. This villa is so beautiful. I never want to leave. Amazing trip. Thank you villa family for making our gals trip one to remember.
Nicole T, Hong Kong
,
21-May-2019
-
29-May-2019
Great time, great food,and service. Will return for another great holiday. Thank you for an amazing stay. You made our holiday memorable.
Jane L, United Kingdom
,
10-May-2019
-
17-May-2019
Thank you to everyone at Bendega villas you were all amazing. Can't wait to return.
Laury M, Australia
,
29-Apr-2019
-
06-May-2019
Amazing place, amazing stay and special to Harsana and his staff who give us high level service. Great Congratulations to you all.
Lisha P, Australia
,
12-Apr-2019
-
15-Apr-2019
Amazing villa. The staff was fabulous and I wouldn't charge a thing, best room ever. You guys are amazing and we will be back.
Geordie C, Australia
,
04-Apr-2019
-
11-Apr-2019
We have loved getting to know the staff at Bendega Villas over the past week. Without exception they have made us feel welcome. The washer have been amazing when arriving back from trips in the Bali heat. The pool has been extraordinary and we looked forward to every meal.
Kathryn R, Australia
,
29-Mar-2019
-
03-Apr-2019
This is our first time in Bali and the stay was perfect. Thanks to our beautiful accommodation and wonderful staff. The staff here went over backwards to accommodate our needs. They have been so helpful. Thank you all for making the trip so comfortable, we are all already planning our next visit.
Bear B, United States
,
24-Mar-2019
-
29-Mar-2019
Thank you all so much for your kindness, help and generosity during this time. Your warmth has been lovely. Thank you so much for this beautiful stay. Everything was amazing and you have the kindest and most thoughtful staff here. Thank you for giving us this safe place to explore, play and feel. This place is so special and beautiful. The staff is so kind and helpful! Thank you for such a perfect stay.
Marjoleine D, Netherlands
,
16-Feb-2019
-
23-Feb-2019
This week has been a wonderful experience. We relaxed and enjoyed the area. The staff were very friendly and helpful. We love the house and will come back again. All the best and see you again.
Jessica J, Australia
,
11-Jan-2019
-
16-Jan-2019
Thank you to the team at Bendega Villas, what an amazing time we had. The villa is so well maintained, clean and the staff went out of their way to make sure we always had what we needed. We will definitely be back and are already planning our return. The food was also exceptional and the staff were always looking for ways to improve our time at the villa. Muli was exceptional - always greeting us with drinks and towels. She made us feel extra special and like nothing was a bother. Thank you.
Claudelle M, Australia
,
24-Oct-2018
-
29-Oct-2018
You all went above and beyond to attend to our every request. We were a family of 20 here for a family wedding. We all loved the villa and surrounds. There was a plenty of space for every one - in fact we did not even get the chance to use all the beautiful facilities and space around. A special mention to the villa staff, friendly, polite, respect and beautiful smiles made our stay here most enjoyable. Thank you so much for setting up and decorating the dinning room for special birthday celebrate here - it looked amazing. Thank you for looking after our mother of 82 years old. We are truly grateful for all your help and willingness to help in every way. We loved the villa and our stay.
Rebecca O, New Zealand
,
13-Oct-2018
-
15-Oct-2018
Thank you bendega villas. We have had a wonderful stay. The weather has been amazing and the pool very refreshing. The staff here are second to none, nothing was a problem and always with a smile. A wonderful stay - our family really enjoyed magic time.
Kristy C, Singapore
,
02-Oct-2018
-
05-Oct-2018
Thank you so much for all of your impeccable hospitality during our stay. The villa is wonderful and all of the staff went above and beyond to make our stay as enjoyable as possible. We will definitely be back.
Cathy O, Australia
,
12-Sep-2018
-
17-Sep-2018
Thank you for making our first visit to Bali something to always remember. Your beautiful smiles, calm and patient ways are so appreciated by us. It certainly was special for my daughter to enjoy her birthday with you all. It will certainly not be the last time we will visit.
Patrick R, Australia
,
04-Sep-2018
-
12-Sep-2018
Such a lovely relaxed and enjoyable holiday, the villa has been wonderful, catering for all our needs. No need to leave the villa, everything is here... but if in need of a stroll, the beach just down the road. Perfect location.
Laura B, Australia
,
30-Aug-2018
-
04-Sep-2018
Thank you for amazing stay, delicious food. We have had the absolute best time ever. Best wishes and blessings.
Paul B, Singapore
,
28-Jul-2018
-
04-Aug-2018
Celebrating our lovely family with a week spent together at Bendega Villas in canggu. This luxurious place fulfilled all our wishes the beautiful surroundings and fantastic food. Most of all... the attentive staff. Thank you very much, we hope to be back.
The Gadsdon Family, New Zealand
,
06-Jul-2018
-
14-Jul-2018
We have had such an amazing holiday in perfect Bali setting. Fabulous staff always so friendly and attentive. We will be back and already booked for next year. Best wishes to you all.
Paolo M, Australia
,
29-Jun-2018
-
04-Jul-2018
Thank you so much to all the staff for the most wonderful stay! You have all gone beyond and above to make us feel at home and relaxed on our holiday. We can't wait to come back.
Lincorn L, Indonesia
,
15-Jun-2018
-
18-Jun-2018
Thank you so much for your excellent services, we had wonderful time gathering together with our family members. We felt like at home in this beautiful, spacious, comfy, exotic and cozy villa. Looking forward and wishes we can come again to spend next our holiday in this villa.
Ridwan R, Indonesia
,
12-Jun-2018
-
15-Jun-2018
A very wonderful villa to live in, the best villa in Bali. The villa is quite clean and the staff are very very friendly, villa is very cozy with the music on. Design is very unique than any other villa we have ever stayed. A good deal and price if stay with a large family. We are hoping to come back soon to Bendega Villa - we had a very good time staying here.
William B, New Zealand
,
31-May-2018
-
03-Jun-2018
Our time spent here has been absolute bliss it has been a perfectly luxurious end to our holiday. The staff have been amazing. Harsana has been helpful, funny and very interesting to chat with.
Georgia K, Australia
,
15-May-2018
-
19-May-2018
We had a great stay here at Bendega Villa - everything your need and more. The house and hospitality was amazing. Thank you.
Ian N, Australia
,
21-Apr-2018
-
27-Apr-2018
All of us enjoyed our stay in such a spectacular area in Bali. The staff were stunning and all shared great locations to explore throughout Bali. The food was unlike anything else and we didn't want to go anywhere else. We truly felt welcome and will certainly come here again.
Rita W, Germany
,
06-Feb-2018
-
13-Feb-2018
Thank you so much for everything, looking forward to coming back in November.
Dervis P, Indonesia
,
02-Feb-2016
-
09-Feb-2016
We have loved our stay at this villa, excellent. Every one here is super welcoming and helpful. We have wonderful holiday at Bendega Villa. Kids are so happy been take care of. Food is great here. We feel relaxed here, so much joy with the staff around.
Nick W, Malaysia
,
18-Oct-2015
-
23-Oct-2015
The villa and staff were outstanding we also enjoy the food very much.
Toby S, Singapore
,
03-Oct-2015
-
07-Oct-2015
What an amazing villa - stunning interior design and wonderful service. It was perfect for our mixed-generation group of baby through to grandparent. Nothing was too much trouble for the team and they were very discreet. Also nearby, within easy walking distance, were several good cafes/ restaurants and the beach was less than 10 minutes. Can't wait to return!
Rachana M, United Kingdom
,
27-Sep-2015
-
03-Oct-2015
Your staff are exceptional. Being vegetarian we did not feel without choice or flavors.
Michael Solivan, Indonesia
,
12-Jun-2015
-
15-Jun-2015
Overall the villa is well maintained and all the staffs were very attentive. The only downside would be the location of the villa that is quite far. For a family with toddlers or infant the villa would suit you best. The service was superb and the chef cook is comparable to 5-stars hotel. It was a great experience and would love to come back again for the next holiday.
Feldman A, Singapore
,
24-Apr-2015
-
26-Apr-2015
Staff was so lovely. Very baby/child friendly too! Beautiful villa - we had a great time and loved it!
Mia P, Singapore
,
01-Apr-2015
-
07-Apr-2015
We stayed at Bendega Rato for an extended weekend over Easter and had a wonderful experience. The villa itself is beautifully put together and the layout really worked for us. We were 5 people in a 3 bedroom villa. The master bedroom has its own sitting room and tv den which was great if you wanted to have some quiet time away from the group. Though the villa also has a shared living area, dining room and TV room which are all very comfortable and look out to the pool - very open and fresh. Not that we did any TV watching it was so beautiful and peaceful to just sit by the pool and enjoy the gardens. The staff were available throughout the day and night to assist with any request we might have and left it to us to decide how present they were. There was some construction happening across the road which we had been made aware of beforehand but we didn't find it that disturbing to be honest... Having been to Bali quite a bit and usually staying in Seminyak I've rarely been anywhere where there isn't a little construction in the vicinity. It was a nice change for us to stay in Canggu - discovering a new neighbourhood really showed us another side of Bali. Echo Beach near by has wonderful eateries - though we were equally happy to eat out at our usual haunts in Seminyak only a 20-30 min drive away. All in all - I would highly recommend this villa and in fact we are thinking of booking again for a party in the new year - this time perhaps with all three villas in the complex together. Thanks for looking after us so well!
Lucy Perella, Singapore
,
17-Apr-2014
-
22-Apr-2014
We had the most wonderful time at Bendega Rato. All the staff, without exception, were utterly delightful and went out of their way to ensure we had everything we could possibly need. The food was absolutely superb - it made it hard to go out knowing we would eat like royalty if we stayed at the villa! Thanks again to everyone.