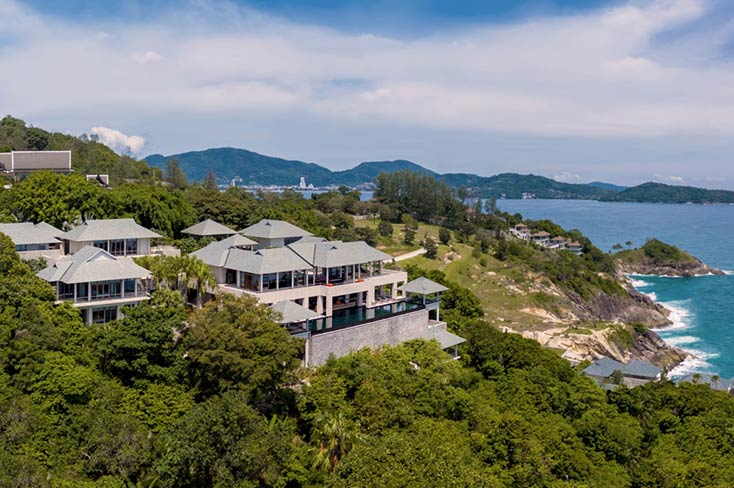 Jatesin L, Thailand
,
14-Apr-2021
-
17-Apr-2021
Dear Baan Paa Talee and team, this place is 5-star fabulous! We loved our stay here so much. Rooms are clean, facilities are fantastic and service is even better. The scenery is AWESOME and super exotic. This was a wonderful experience for our family and we'll definitely visit again. P.S. This enjoyable vacation would not have happened without the amazing service of the manager, chef, staff, and everyone here. Thank you.
Piyata S, Thailand
,
14-Dec-2020
-
17-Dec-2020
Good villa, all staff are service-oriented and they always smile. View dimensions are absolutely stunning and brings different feelings. Room cleaning is always done. Food is impressive, especially freshly squeezed orange juice. Thanks for the service and please keep this standard up in the future. We are happy in all aspects.
Walwisa W, Thailand
,
19-Nov-2020
-
22-Nov-2020
We have had huge happiness and joy here at Baan Paa Talee. We thank you for your warm welcome, your team is very nice and supportive. Hopefully we will have a good chance to stay here again. We all have had a good rest even with our late night party, because of the villa comfort, facilities and fantastic view. Until our paths cross again. With love
JiaLi H, China
,
19-Oct-2020
-
19-Nov-2020
A short month passed. Living in this month allowed us to feel the enthusiasm and sense of responsibility of the service staff. The environment is clean. The night staff is very serious and responsible. Thank you for your hard work. Thank you so much.
Arm P, Thailand
,
17-Oct-2020
-
19-Oct-2020
Baan Paa Talee is really "wow". All area, facilities, people are unforgettable. Beds are truly comfy. food are terrific. Truly in love with the pool, hot tub, onsen, and spectacular view. We do have a wonderful experience here. Thanks to all the staff. You are very service-minded and so professional. Can't miss mentioned Mora. You're super! There is not a single spot to complain. We surely come back again.
Craig A, Thailand
,
22-Aug-2020
-
24-Aug-2020
It's a nice place. This place is over our expectation with good staff, food, and facilities. Everything can be customized. We're looking forward to visit again.
Greg M, Australia
,
04-Mar-2020
-
09-Mar-2020
Wow, what a place! Spectacular villa, magnificent views, the food for every meal was superb, and Mora and all the staff were so polite and attentive. The rooms are so comfortable, with only the two rooms down the hill being a very steep walk back and therefore not ideal. The most relaxing place for a holiday, with nothing but praise for Baan Paa Talee.
Villa Finder L, Singapore
,
27-Feb-2020
-
01-Mar-2020
Villa Baan Paa Talee! What an amazing feeling to arrive to a villa that completely exceeds your expectations at every level. I hosted my 40th birthday for a group of friends and to say we just had the best time that is an understatement. Mora, cannot thank you and the whole team enough for spoiling us! No request went unattended. The rooms, dining areas, pool and of course the view amazing on all accounts. As for the food, well just divine! Thank you all and we will be back!
Neil G, Thailand
,
11-Feb-2020
-
15-Feb-2020
We had the wedding of our dreams at Baan Paa Talee! The villa, facilities, and views are incredible and the service is phenomenal. The staff, led by Khun Mora, is extremely attentive and helpful and most importantly, had a cheerful disposition throughout. The food was delicious and every meal was well plated and presented. Can not wait to renew our vows here someday.
Jing T, China
,
31-Jan-2020
-
03-Feb-2020
Thank you for these days servicing us. Had a nice stay for our holidays.
Andrew C, United States
,
26-Jan-2020
-
31-Jan-2020
Our group of 15 (9 adults and 6 children) had a wonderful stay at the property. The expansive estate was well kept and well serviced during the entire duration. Both parents and children really enjoyed the pool and the beautiful view especially during twilight. The large estate made it feel spacious and allowed adults to enjoyed the evening while kids could play in another zone. The meals were delicious with a wide variety and tasty Thai cuisine. The BBQ at the pool side was a highlight with grilled meats and BBQ squids, tiger prawns, fish and lobsters. Thanks to Mora and all staff for making this a memorable family getaway for all of us to enjoy and cherish for years to come.
Chris B, Australia
,
16-Jan-2020
-
26-Jan-2020
Our stay at Baan Paa Talee has been faultless. The staff have catered to our every need. Mora has been invaluable in helping us with all the logistics which a party of eighteen people invariably requirements. The property has everything to make such a large group happy to be in one villa. Lots of space for activities e.g. swimming pool, TV/games rooms and gym. Our party had lots of fun diving and snorkeling. The food throughout our stay has been delicious and we really appreciate that they were able to cater to our vegetarians.
MINGHAO N, China
,
10-Jan-2020
-
13-Jan-2020
We had friends reunion here to celebrate our twenty years friendship. We had an amazing experience here. The staff are very professional. Food are incredibly excellent. Thank you for giving us the best memories.
Sumit M, India
,
27-Dec-2019
-
02-Jan-2020
Baan Paa Talee is really awesome, the staff is amazing. Special thanks to the villa manager, Mora, it was really nice experience to stay here. Every other aspects was really amazing. The staff is very supportive. Hospitality is at its best. All are very honest, dedicated and helpful. Many many thanks for hosting us.
Norma H, Australia
,
22-Dec-2019
-
27-Dec-2019
Many thanks Baan Paa Talee for giving us trenedous service, we had a fantastic stay. We love the place, the staff are all brilliant, so friendly, so attentive! The food was fantastic. Would love to come back here again. Special thanks to Mora. Thank you Mora, Aoh, and the staff for the excellent service and delicious food! We enjoyed our stay very much and hope to return soon. Wising you all a happy 2020! Never experienced such a good service and the best stay overall. Beautiful views and best sunsets I have seen! Would highly recommend to others and would love to come back. Amazing food, special thanks to the chef and to Mora, Thank you for being ever so welcoming and kind. A great time and really good food, especially tom yum and the breakfasts. Thank you.
Fiam F, Thailand
,
09-Dec-2019
-
13-Dec-2019
Thank you Baan Paa Talee for an unforgettable stay in Phuket. The villa was beyond all expectations, and we thoroughly enjoyed every minute at the estate. The staff was incredibly kind and attentive, the food was phenomenal, and the service could not have been better. We could not have asked for more, and wish we could stay longer. Thank you for a wonderful stay.
Tang / S, China
,
03-Dec-2019
-
07-Dec-2019
Thank you Baan Paa Talee for this great moment we ever had. Everything was good and we really love the meals and pool. A little thing, the way to the ocean rooms is too far, we recommend young guests to stay in those rooms. Lifts are welcome. Wish all of you the best of quality.
Chi Ho T, Hong Kong
,
30-Nov-2019
-
03-Dec-2019
It was a fantastic stay here. Thank you Mora and your team for being so attentive, helpful and hospitable. The facilities were super nice. Would love to return one day.
David O, Australia
,
24-Nov-2019
-
30-Nov-2019
Wow! We have had a wonderful stay at Baan Paa Talee Villa celebrating David's 50th. Huge thanks to Mora and all the team, including Aow, Ya, Chai, for looking after us so well. The service has been wonderful; attentive but understated. We have dined like Kings and Queens; the food was yummy at every meal every day. We have laughed, partied, danced and chatted, swam and slept in this beautiful setting. Watching the sunrises and sunsets, the ever changing sky and sea and enjoying the rain and wind in the heat. It has been a magical break and one we will remember forever. Sincere thanks from the gang
Nandish K, India
,
10-Oct-2019
-
13-Oct-2019
Thank you Khun Care and thank you to your team. We really enjoyed our stay at the villa and everything was perfect. We all had wonderful time, so thank you again.
Enkie C, Hong Kong
,
06-Aug-2019
-
10-Aug-2019
Villa is very clean. Excellent food. Kids and adults had a wonderful time at villa. Staff are very friendly and helpful. Definitely will consider coming back next year. Keep up the good work team! Regards, Chan Family
Felicima R, United States
,
29-Jul-2019
-
03-Aug-2019
The most amazing experience ever! The staff was so accommodating and nice. Attention to every detail. The food was delicious and fresh. The villa is peaceful and quiet. Thank you Care for your awesome hospitality. The Reedus group!
Julia W, United States
,
20-Jun-2019
-
24-Jun-2019
Amazing Villa! Wonderful space for adults & children. Food is incredible. Excellent chef! Service staff extremely attentive. We will definitely be back again. Thank you.
Axel S, Switzerland
,
14-May-2019
-
19-May-2019
What a wonderful villa! The view, the swimming pool and the staff cater for an exceptional stay to celebrate a friend's birthday. Thank you,
Kam S, China
,
25-Aug-2018
-
28-Aug-2018
We had the most amazing stay at the villa. Everything was so perfect, the food, the rooms, the people who worked to make the stay perfect for us. Special thanks for making sure everything was taken care of. Will surely recommend and come back to this villa. Keep up the good work.
Fiona N, Hong Kong
,
27-Jul-2018
-
30-Jul-2018
Thanks for making this lovely trip happen again. All the best to you. The property owner is very lucky to have engaged you to manage his property.
Kaiesha W, United States
,
02-May-2018
-
06-May-2018
Thanks again! You definitely made our trip worth while.
Lei Lei W, China
,
16-Mar-2018
-
19-Mar-2018
So far the best time of our life. Thanks for AJ and everyone here! We are going to come back for sure. The best, thank you.
Mahesh A, Hong Kong
,
05-Mar-2018
-
08-Mar-2018
We had the time of our life at this wonderful place - a true gem! Location, the views, the staff and that 5 star chef - what more can one ask for. Celebrated my 50th with the people I love at this super place. Priceless memories for the rest of our lives. Thanks All.
Blossom L, Hong Kong
,
23-Feb-2018
-
01-Mar-2018
This is just to let you know we had the most terrific time staying at Baan Paa Talee. The villa is spacious and comfortable, the view is spectacular, delicious meals and best of all the service. We would like to thank AJ, the manager and her team. They have been wonderful and we were all very pampered.
Atul B, India
,
25-Jan-2018
-
29-Jan-2018
AJ, I personally wanted to thank you and your colleagues who made our stay comfortable. They pampered us and did it with a smile. You have put together an exceptional team. I look forward to bringing my family for a 10 day holiday and for you and your colleagues to host us in this villa.
David J, Hong Kong
,
11-Jan-2018
-
14-Jan-2018
An Absolutely Wonderful 3 Day 50th Birthday Party at Villa Baan Paa Talee!! Huge Thanks for AJ and all the Staff for a successful fun filled weekend!
Charlotte R, Hong Kong
,
17-Nov-2017
-
20-Nov-2017
What a fabulous Villa! We have thoroughly enjoyed our stay! As has been sweet and awesome in taking care of our needs! Everyone of the staff is very nice. Thank you!
Paolo D, Italy
,
09-Nov-2017
-
13-Nov-2017
AJ I have been singing your praises here in New York City for an incredible job you and your staff did in looking after us. You all were as we say in NYC "On Point' every step of the way!! Special thanks to your head chef and your assistant, Nun. Respect to you AJ for being such a professional.
Kajal K, Thailand
,
25-Oct-2017
-
28-Oct-2017
I want to thank you AJ for your extended support towards me and my guests! Appreciate it! My guests loved the villa, more than anything me and my guest loved the staff of the villa! They were so helpful and so hardworking and always up for servicing the guests requirements!! Thank you once again and I am surely going to recommend the villa to others!
Micky K, Thailand
,
10-Oct-2017
-
15-Oct-2017
Our stay was very good, thank you again for everything! If I have a chance to introduce a private villa to anyone, it will be Baan Paa Talee.
Tao W, China
,
01-Oct-2017
-
04-Oct-2017
Thanks for your good service. We lived here happily, (you're) just like our Family. :)
Zhao X, China
,
07-Sep-2017
-
10-Sep-2017
The villa is excellent. Good services and all enjoyed the stay here. Hope to come again ASAP.
Ashish E, India
,
01-Sep-2017
-
07-Sep-2017
Words fail to describe how beautiful and breathtaking this property is. Baan Paa Talee is a slice of Heaven, perfect for large families who want to relax and enjoy what this luxurious property has to offer. While we were staying here, we were amazed at how well kept and pristine the whole place was. Every single element, from the construction, the furniture, the appliances etc were all top quality. Each room was perfect, one better than the other with unbelievable views. It was hard to tell who had the best view. Every minute detail was carefully designed and crafted to ensure that we were taken care of, whether it be luscious beds, slippers in our room, abundance of towels, room service or mosquito repellent for that matter. That was just one part of it. The staff and house keeping was unparalleled. I do not think even a 5 star hotel comes close to them. The cook was fantastic, whipping up meals that were exotic and so mouth watering.
Bryan Y, Malaysia
,
09-Jul-2017
-
11-Jul-2017
Perfect for events and meetings! Great big villa with a view to die for! Perfect for meetings, plenty of rooms/areas for breakout sessions, gorgeous swimming pool and great staffs. Thanks to AJ for ensuring all our needs were met!
Alice K, United Arab Emirates
,
09-Feb-2017
-
12-Feb-2017
Hi AJ. Thank you so so much for making this trip so great and easy! Please thank the staff from all of us. We are very grateful to all of them.
Timo G, Thailand
,
31-Jan-2017
-
07-Feb-2017
Hi AJ. Everything was perfect! Especially the staff, from security to service to chef was excellent! Such lovely people! I would definitely recommend your place to anyone who asks me for a top notch villa.
Anna C, Singapore
,
26-Jan-2017
-
31-Jan-2017
All my family members enjoyed our stay at Baan Paa Talee. Thanks for your efforts AJ and the rest of the staffs for your effort that made our stay enjoyable. We have recommended to our friends to stay who are coming to Phuket soon.
Tao Z, China
,
18-Jan-2017
-
23-Jan-2017
Hi AJ, we enjoyed our stay at Baan Paa Talee. Staff were nice and helpful. And there's plenty of space for us to explore around the Villa. Thank You!
Chloe S, Singapore
,
02-Dec-2016
-
04-Dec-2016
Thanks AJ for every thing we enjoy our time at Baan Paa Talee!
Bhavesh D, India
,
19-Sep-2016
-
24-Sep-2016
Awesome views and awesome place. Too much awesomeness happening. It's a fabulous place and we are loving it.
Joel L, Norway
,
07-Aug-2016
-
10-Aug-2016
Thank you AJ, our stay with you has been more than we could have wished for. We're so happy that spent our days and had our wedding at Baan Paa Talee. The photos are very beautiful and it was a lot of fun. Thank you!
Dave C, Hong Kong
,
26-Mar-2016
-
30-Mar-2016
I would like to tell you that the villa is so amazing! All 19 of my family members were so happy about it. All staff are very nice, even the drivers. The housekeeping service is top-notch. They clean the room when we have every meal, breakfast, lunch and dinner. Every time when you went back room to grab a thing or change clothes, the room is so tidy! We enjoyed every moment at the villa. The villa manager, AJ, is so nice. She organised everything very well to suit our needs. Thank you very much.
Taewon C, South Korea
,
11-Mar-2016
-
26-Mar-2016
I am more than satisfied with you and your staffs' excellent services. You were always attentive and willing to help us so that we could fully enjoy our stay and so were the other staffs. Your food was great, too. We had all of our meals in house during our 5 nights stay except one dinner and one lunch. I could see all the dishes were carefully prepared and the chef were trying her best to serve as much variety as possible. And I also enjoyed the market tour and cooking class with chef Care. My wife, son and I really miss the time we spent there flashing back to all the activities and all kinds of food we will never experience forever. I have told other families are all really satisfied with the services you provided. Especially the timely and thorough information about restaurant, golf and tour was very helpful.
Martin S, Indonesia
,
27-Dec-2015
-
06-Jan-2016
Thank you for making our stay so fabulous, the villa, you and the team were fantastic!