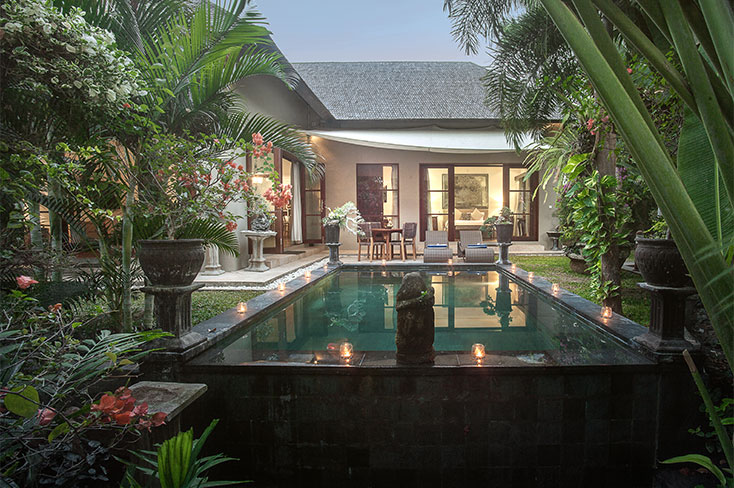 David K, Singapore
,
15-Dec-2019
-
19-Dec-2019
A big 'Thank You' to Andy and everyone at Villa Avalon for everything during our 5 days here. The surroundings are beautiful and peaceful and the staff extremely obliging, hospitable, and helpful at all hours of the day! My family and I cannot wait to come back!
Josie B, Australia
,
27-Sep-2019
-
03-Oct-2019
Thanks to Andy and his very attentive and friendly team. Our second stay (this time wthout kids or grand parents) was very relaxing and luxurious. The villa is gorgeous as we remembered it and the private pool amazing. We hope to be back one day to enjoy the fabulous setting and hospitality again.
Suzanne H, Australia
,
06-Jun-2019
-
11-Jun-2019
We have throughly enjoyed our stay here. Peaceful and relaxing, just what we needed. Staff have been wonderful and helpful. Thanks for having us.
Steve N, Australia
,
13-Apr-2019
-
21-Apr-2019
Thank you so much for your warm hospitality. Avalon villa 3 was the perfect place to spend our honeymoon, such a beautiful oasis. Putu, Dina and the rest of the staff have all been fabulous and very helpful. Everything was wonderful. Thank you.
Chen L, Taiwan
,
06-Apr-2019
-
10-Apr-2019
The staff at Avalon has been nothing short of stellar. Friendly and accommodating. I would highly recommend in the future.
Guillaume P, Turkey
,
22-Feb-2019
-
24-Feb-2019
Thank you so much for a wonderful weekend. The villa staff was so nice.
Lyndal R, Australia
,
23-Dec-2018
-
04-Jan-2019
Thank you so much for looking after us, family of ten people for two weeks. We were thoroughly spoiled. You made our Christmas and New Years very special. The food was absolutely wonderful. The team has been so attentive and kind to us all, we don't want to leave.
Julie C, Canada
,
08-Oct-2018
-
11-Oct-2018
Absolutely wonderful! A definite must in a trip to Bali. Beautifully kept grounds, the villa is simply gorgeous and everything is kept clean. A big thank you to all the staffs for the extraordinary service. Will definitely strongly recommend.
Paula L, Australia
,
09-Aug-2018
-
16-Aug-2018
Our first visit was in May and 3 months later we were back! We think this says it all. The only thing missing in our first stay were stubby holders haha. First thing waiting for us this visit. We had a wonderful week, in a beautiful place with lovely people who made our stay so relaxed. Oh, and we had very cold beer. Thank you Andy and team - see you again soon.
Maxence D, France
,
31-Jul-2018
-
09-Aug-2018
We enjoyed it everyday and will strongly recommend this place to all our friends and family. Thanks a lot to everybody for your immense kindness to us, you'll all be in our heart forever.
Paula L, Australia
,
08-May-2018
-
13-May-2018
Awesome accommodation, staff, food and service. Meticulously maintained gardens. Appetizing menu and beautifully prepared meals. Luxury living delivered with a smile. Our deepest thanks to Andi and all of the Avalon crew for making our stay here such a memorable one. Terima Kasih
Colette H, Australia
,
05-Jan-2018
-
10-Jan-2018
Dear Andy and the fabulous team at Villa Avalon, a HUGE thank you! We have loved every minute of our stay! We will be back!
Peter S, Singapore
,
04-Nov-2017
-
11-Nov-2017
Thanks a lot for your love and care!! All was awesome.
Kine Ø, Norway
,
02-Oct-2017
-
11-Oct-2017
Thank you so much for this amazing time at Avalon Villa, it has been a dream! The staff is so smiling and helpful, and I think they would do everything for us to be comfortable and happy which we were. I am going to recommend this place to everybody I know, best vacation home ever! Next time we will bring our whole family and stay in the biggest villa.
Jennifer B, Australia
,
25-Aug-2017
-
01-Sep-2017
From the moment we arrived you have been so welcoming to us. Your thoughtfulness and kindness has meant we have become so relaxed and happy while staying here. It felt like home, a beautiful and luxurious magical place. We have been so well looked after. Thank you all so much.
Hayley Y, Australia
,
30-Jul-2017
-
08-Aug-2017
Not only this place so beautiful but the staff are so friendly and attentive that we felt so looked after the whole time we were here. We can't wait to come back.
Adam P, Australia
,
11-Oct-2016
-
17-Oct-2016
To Andy, Dina and the rest of the Avalon team. Thanks so much for making our stay for the last week so incredible. It's a wonderful standard of service and the villas are beautiful. From both Jen and myself a big thank you and we hope to be back at some stage.
Jason, Indonesia
,
30-Sep-2016
-
08-Oct-2016
Thank you for being absolutely amazing during our stay! You have been incredible and I cannot thank you enough. Villa Avalon was an amazing holiday to celebrate a great friend's birthday. Would love to come back.
Gaynor T, Australia
,
21-Sep-2016
-
26-Sep-2016
To all the staff at Avalon. Thank you for an amazing stay. The villa is huge and has everything we could need for our holiday - very well appointed and furnished. Great location for us with access to the beach and Canggu, Seminyak easy. The staff have been very friendly and helpful but also respecting our privacy. We will return soon and stay here again for sure.