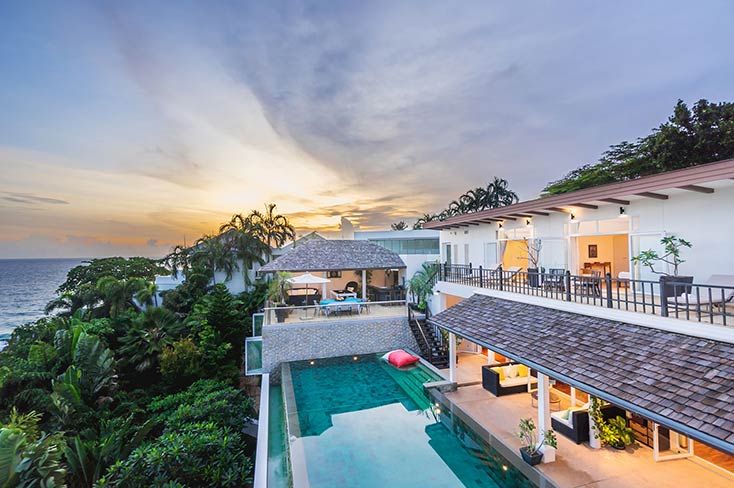 Don M, Australia
,
13-Mar-2022
-
20-Mar-2022
Name : Family Mccredie's Don, Fiona, Kahli, Pippa, May Country : Australia Aussie, Aussis Date : 13 Mar - 20 Mar 2022 Comment : The most beautiful villa. We have enjoyed amazing food, service, pool, rooms and staffs. A few minutes to walk to beach and the best waves (Done loves to body surf !) Thank you for an amazing and relaxing holiday. We are so happy. We definitely will be back. Khob Khun ka. Villa Amanzi Mccredie's
ANDREW P, Australia
,
08-Jan-2022
-
13-Jan-2022
Name : Lachlen Park Country : Australia Date : 13/01.22 Comment : I have stayed here with my family for 5 nights and have been one best experiences ever, I love the swimming pool and the beach nearby
Sern V, Thailand
,
25-Dec-2021
-
30-Dec-2021
Very much enjoyed our stay here. Beautiful, spacious villa with a fantastic view! The staff took excellent care of us during our stay and the cooking was magnificent ! A veal highlight of our trip! The villa was very beautiful & very homey. The chef's cooking was wonderful delicious. The staff was very attractive. Love the view, decorations & how spacious the villa is !
Shayan S, Thailand
,
13-Apr-2021
-
16-Apr-2021
Thanks to K. Sasha and the entire staff team for looking after us during our stay. Happy Songkran!
Paksa V, Thailand
,
03-Apr-2021
-
06-Apr-2021
Thanks for the fantastic place. I really enjoyed these 4 days with my family here. And we will back again for sure.
Surapon C, Thailand
,
20-Mar-2021
-
22-Mar-2021
Nice, spacious and clean villa. We had a pleasant stay here. Staff was great. The grilled seafood dinner was awesome. We will comeback again for sure.
Sunisa A, Thailand
,
05-Nov-2020
-
08-Nov-2020
Nice villa, food were great, staff were nice and helpful. We had quality time here.
Pornphen P.
,
15-Aug-2020
-
17-Aug-2020
This villa is one of the most gorgeous villas I ever stayed in during the holiday with my family. With great staff service, good view of beach and absolutely love the design and interior of the villa. My family looking forward to stay again next year.
Diana D, Australia
,
05-Feb-2020
-
10-Feb-2020
Thank you for an amazing stay! The Villa staff were very attentive and always willing to assist. We had the most amazing time sitting by the pool enjoying the view. The chef, food and service was impeccable. We could not fault one meal, they were all to die for. We look forward to staying again!
Hana K, Slovakia
,
28-Dec-2019
-
07-Jan-2020
This was our first time visiting Thailand and our stay here was amazing. The villa was gorgeous, spacious and always clean. The service and food were excellent too. We loved our staying here. Thank you for everything
Ayesha D, India
,
21-Dec-2019
-
28-Dec-2019
Absolutely gorgeous villa, very modern and spacious. Excellent staff, fantastic cook. Everything is well thought through, kept clean and tidy.Could not ask for more. We celebrated my parents fiftieth wedding anniversary and had three generations staying. We had a memorable time and our vacation was made very special by the staff.
Ronen Z, South Africa
,
11-Dec-2019
-
20-Dec-2019
Absolutely loved staying in this beautiful Villa with all the amazing and kind friendly staff. Thanks for everything. I loved that there is a lift and table tennis and a pool that is warm. Good food and snookers table I love this place. It has everything. My favorite is everything. This place is wonderful.
Daniel G, Australia
,
20-Oct-2019
-
30-Oct-2019
The beautiful villa and wonderful staff. I had a wonderful time. Thank you for all so much Thank you to all staff of Amanzi villa. Beautiful location and great hospitality for my 50th Birthday Thank you
Alkesh P, India
,
19-Sep-2019
-
22-Sep-2019
Amazing Villa! Thank you for your warm welcome and amazing service. The staff here was very friendly and very helpful. The villa looks amazing.
Sin T, Thailand
,
06-Sep-2019
-
11-Sep-2019
Thank you so much for the service and hospitality! We truly love this place. This is the first time we go to trip together as 3 families. We all enjoyed the stay. The villa is nicely maintained with all facilities we need. The staff are always helpful too. Special mention to the cook who is responsible for our breakfast, lunch and dinner. Our family really appreciated the seafood BBQ and dinner. It is basically the best meal we have in Phuket! We are in love with this villa! Already talking about to come back again next year!
Marco C, Hong Kong
,
15-Aug-2019
-
18-Aug-2019
Dear Amanzi Team, Thank you for the warm hospitality and place and the meals are just amazing! Thank you for your help on arranging our meals and transport, pre-stocking, etc. It let us enjoy our trip without any troubles but enjoy. We will remember this place for a very great time, and recommend this to our friends. I look forward to staying here again soon!
John M, Hong Kong
,
11-Jul-2019
-
15-Jul-2019
What a trip. Thanks for a hospitality, great staffs, good food and the time. Lots of chilling! Will be back.
Anthony N, United States
,
09-May-2019
-
13-May-2019
An amazing experience! The villa is beautiful and the staff was beyond fantastic. Many compliments to the chef who made delicious food that made us not want to ever leave the villa. I would recommend this place to anyone and hope to comeback again some day. Thanks so much to the wonderful and hospitable staff.
Joey J, Hong Kong
,
03-May-2019
-
07-May-2019
The villa is so spacious and comfortable and remarkable. The facilities and utilities are in good condition and wide variety, especially the spectacular pool. The hospitality is wonderful in terms of quality of service attitude and professionalism. This is such a stunning experience, will definitely come back again in the future. Special thanks to Sasha for all the arrangements.
Sara L, United States
,
22-Apr-2019
-
24-Apr-2019
This Villa experience was absolutely amazing! It was better than we had ever imagined. We loved the villa, the second we walked in, the architecture and lay out is stunning. The hospitality was also unbelievable, the staff at present at all times but managed to stay out of sight and gave us privacy. They were also so accommodating and helpful. Thank you all so much for the best holiday ever.
Andrew F, Hong Kong
,
10-Apr-2019
-
17-Apr-2019
Great villa, space and location. We all loved the Villa! We had a great time staying here and we will come back again!
Emma T, United Kingdom
,
26-Mar-2019
-
29-Mar-2019
The villa space is fantastic and the staff are so helpful in everything. Food was excellent and the chef was very flexible to dietary requirements. We had a great time and getting to the beach was so easy. Perhaps more sunbeds to the pool would have been better. Thank you so much Sasha, Kai and Leam
Brendan M, Australia
,
14-Mar-2019
-
18-Mar-2019
Thank you for the great food, service and villa. A very relaxing and enjoyable stay. Thank you
Kristal P, Malaysia
,
08-Mar-2019
-
10-Mar-2019
Over all a nice place. Very good service with friendly staff. We had a great time in this amazing villa. Thank you!!
Jingyong Y, Hong Kong
,
25-Feb-2019
-
05-Mar-2019
We had a fantastic vacation here! The villa is very spacious with a very beautiful sea view. Thank all villa staff.
Harry V, France
,
11-Feb-2019
-
18-Feb-2019
It was a great experience, relaxing and fun. Good villa and team. We will definitely come back!
Na L, China
,
03-Feb-2019
-
08-Feb-2019
We came here to celebrate the Chinese new year. And that was a perfect idea! This villa is very nice and staff are sweet also. Hope to come here again!
Peng M, China
,
28-Jan-2019
-
01-Feb-2019
House is beautiful. Service is good, thank you.
James M, Australia
,
13-Jan-2019
-
23-Jan-2019
We had a lovely time at Villa Amanzi. The staff keep the villa perfect and the chef's cooking is great. We loved the Pa-Nang curry, we had it 3 times. Everything was well organized.
Serhii Y, Ukraine
,
23-Dec-2018
-
03-Jan-2019
Thank you so much! Amanzi Villa is amazing, perfect location, design and staff. Here is our first time in Thailand and we really enjoy it.
Mark A, Australia
,
08-Dec-2018
-
12-Dec-2018
The house exceed of expectation. Great service and great food. We felt like royalty with the amazing Thai service. Would recommend to anyone looking for a holiday in Phuket. Our family had a great time and look forward to coming back.
Winston and Tonja, United Kingdom
,
05-Dec-2018
-
08-Dec-2018
This truly amazing place 10 stars - well done Sasha a staff. You took care of us very well. The painting/art work on the wall next to the steamer is an amazing feature, very Special. Everything has been thought out beautifully. We will definitely come back 100%.
Cindy C, Singapore
,
03-Nov-2018
-
06-Nov-2018
Fabulous home. We enjoyed our stayed thoroughly, staff were amazing and took care of all our endless needs and we will be back.
Dean M, Australia
,
26-Oct-2018
-
30-Oct-2018
Great Stay at Villa Amanzi. Gai is an amazing chef, pool, staff and villa was outstanding. We will be back.
Jamie R, United States
,
20-Oct-2018
-
25-Oct-2018
My wife and I had a wonderful time at Villa Amanzi Kata for her 40th Birthday. Excellent service from Sasha and her staff. The villa was beautiful and well cleaned. Excellent rooms and swimming pool. Our first time in Thailand but we will return and bring friends.
Thomas W, Hong Kong
,
28-Sep-2018
-
01-Oct-2018
A fantastic trip for me and all friends. Outstanding for all services, perfect and peaceful villa. All special for a great time. Many thanks to the team for the perfect holiday.
Fan L, China
,
21-Sep-2018
-
26-Sep-2018
Service is very good. I hope to come here again. Thank you for your professional service. Thanks to all the staff of the villa.
Emily, United States
,
06-Mar-2018
-
09-Mar-2018
Our stay at Amanzi was wonderful and a highlight in our tour of Thailand. The villa is gorgeous with amazing ambiance as well as having warm and accommodating staff. We had our meals prepared and our meals were delicious. We couldn't have picked a better place to stay in Phuket. Many thanks to the staff and property manager whom made the stay as relaxing and peaceful as possible.