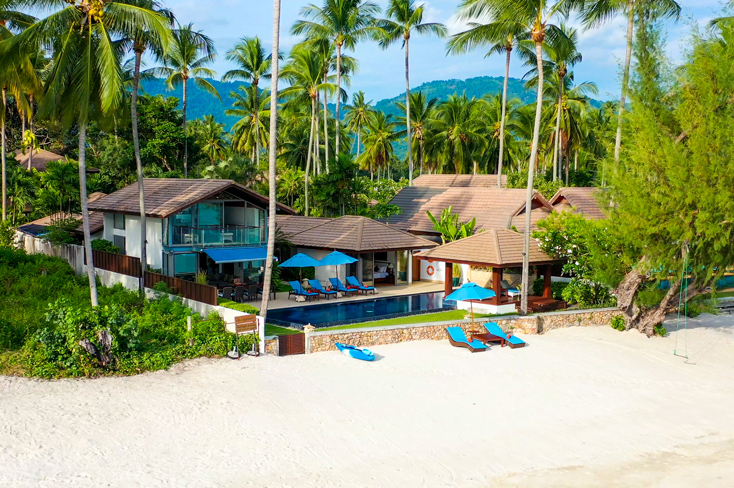 and Richard L, Thailand
,
03-Apr-2023
-
07-Apr-2023
Thank you to Amm and his team for a wonderful week at Akuvara. We will never forget our time here for our wedding and creating memories that will last a lifetime. The best ham and cheese sandwiches ever! Best wishes and hope to back to this special place.
Emily F, United States
,
27-Dec-2022
-
03-Jan-2023
My kids 18 ,24 and 27 . I had the most wonderful vacation of our trip , we have travelled wildly and nowhere matching the beauty of this amazing villa and the warmth , genius of staffs , they were so accommodating , we love this welcoming oasis. we love forward to coming back as soon as we can. This was the best place in Thailand it this villa. Whomever needs the next , enjoy this beauty Namate.
Bobbi O, United States
,
04-Nov-2022
-
11-Nov-2022
We had a wonderful stay family time at Akuvara. Ammy and the staff took very good care of us. The villa was perfect and in the best location. The kids had so much fun in the pool They will remember the Loy Krathong forever Thank you Owen & Pecunia Family Nov 4-11/2022
Matthew A, United Kingdom
,
24-Aug-2022
-
05-Sep-2022
We have had a wonderful stay at Akuvara. Everthing has been amazing, Ammy and the staffs are excellent at localy after us and amazing all our trips and taxi also the restaurant, we waited 2 years for this hollidays due to covid 19 and it did not disappoint, we have had a holiday of a lifetime and love Koh Samui. Anderson family
Tanvir G, Hong Kong
,
04-Aug-2022
-
08-Aug-2022
I have really enjoyed my time in the villa! The view of the sea and beach is gorgeous, and the villa is stunning. The villa staff are extremely caring and helpful. The food was excellent, and they catered to all our special requested. We would love to come back here and enjoy these experiences once again.
Bfw H, Netherlands
,
24-Apr-2022
-
03-May-2022
Thank you Amm and staff. Very friendly, food was delicious , lovely people, we were so happy and greatest family holiday.
Dawn M, United States
,
10-Apr-2022
-
15-Apr-2022
We had such a great vacation at Akuvara. The staff was amazing, very kind, delightful and skiiled at what they do. We are very sad to leave after almost a week here, we have to return to BKK. Thank you.
Ajay K, United States
,
03-Mar-2022
-
12-Mar-2022
Thank you for an extraordinary time at Akuvara. We are grateful for taking such good care of us and keeping things so amazing during our stay. We had amazing dinner and would love to come back again... Thank you.. Kamath Family.
Sergey A, Russia
,
03-Jan-2022
-
17-Jan-2022
Dear Friends, Me and my family thank you very much for our great holidays. The villa is great. Of course but the most is the new team, many special of portions to The chef Max! Your Borch is five stars. Thank you !! Friends.
Vladyslava K, Thailand
,
07-Dec-2021
-
18-Dec-2021
The most incredible holidays we were had its villa s a body , staff is a soul of this place , thank you for taking care of us all the days we'll come back for sure.
P K, Thailand
,
29-Nov-2021
-
01-Dec-2021
The beautiful villa with an amazing view , food so delicious , all staff were friendly, the best service, all good and reasonable price.
Khun A, Thailand
,
21-Nov-2021
-
23-Nov-2021
The food was delicious and the views so beautiful. We got the best service, chef and housekeeping. The staff members were very good and took care of us. The reasonable price made it even sweeter. We would love to come back for sure.
Luis L, Thailand
,
10-Apr-2021
-
15-Apr-2021
To Akuvara crew, You have been the most amazing and welcoming family that took care of us for the most unforgettable vacation we've ever had. From the location of the villa to the beautiful sunset, the delicious food to all the attention to detail and meeting all our needs. Your team did an amazing job, getting to know us day by day and going above and beyond to fulfil our requests. Thank you for reaching out prior to our arrival to ensure we had what we wanted and needed by the time we arrived. Thank you for the flexibility with the menu and food provided every day. Everything was delicious!! Thank you for all the yummy smoothies and for making all the arrangements for massages by the pool, trip to Pig Island and transportation to and from the airport. In one word - Unforgettable. Thank you for making our dream vacation come true. We hope to be back in the not-so-distant future.
Krongsak S, Thailand
,
01-Apr-2021
-
03-Apr-2021
The food was very delicious. Villa was very clean. All staff members were great. Take care. Thank you.
Wikit S, Thailand
,
29-Dec-2020
-
03-Jan-2021
Thank you for the special offer rate. The staff was amazing. They took very good care of us. Friendly, kind; and the Chef was perfect. Food was very delicious, Khun May was very nice and Khun Peaw and Khun Tee were also very efficient. We'll come back again. Everyone loved it!
Khun T, Thailand
,
05-Dec-2020
-
08-Dec-2020
We had a great time here. You guys are amazing and already set new standard for out vacation. Thank you for your service and warm welcome. We definitely come back.
Lisa W, United Kingdom
,
03-Jul-2020
-
12-Jul-2020
Thank you very much for your email. We had a wonderful time at Akuvara with May and her team. They were fantastic and we hated to leave! Also it would have been lovely if the chef had been a bit more forthcoming with what she could cook. Her food was absolutely delicious, towards the end of our stay she was bringing out food we hadn't asked for and it was amazing!
Ruth K, Hong Kong
,
26-Dec-2019
-
01-Jan-2020
Thank you May, Chef Bee, Pat and Nat, for the most wonderful holiday! Everything was perfect. You were all the best hosts. We were seven adults and a seven-months old baby, from three different cities, and it was an amazing time to get together and see in the new year (and new decade)! You all went out of your way to make sure that every details was taken care of: vegetarian, gluten free, dairy free food, etc. all superbly handled by the incredible Chef Bee. And thank you for everything the lovely beach Barbecue for New Year's Eve!. We all loved everything about the service and the Villa. Most of all, we are especially appreciated of your warm hospitality , your attention to detail, and your enthusiastic welcome. Wishing you all a very happy and joyful 2020! (Bee, all the best with your new baby!)
Fiona C, Singapore
,
19-Dec-2019
-
26-Dec-2019
I have enjoyed everything and I enjoyed to make a sand castles on the beach..We have a great family dinner on Christmas Eve on the beach.
Benjamin H, Germany
,
24-Nov-2019
-
01-Dec-2019
Thank you Akuvara Team for the great hospitality experience! We had a wonderful week here on Samui. Thank for all the service and the good food everyday. See you again next time! Thank you too your friendly service.
Shellie P, United Kingdom
,
16-Aug-2019
-
23-Aug-2019
Thank you for a wonderful week. The team here is amazing and looked after our every need. A big thank you go to bee (chef Pueng) outstanding cooking. We have never eaten such a delicious Thai food. We have to visit again and too see the wonderful views again.
Cheung P, Belgium
,
05-Aug-2019
-
10-Aug-2019
Dear Miss May, Miss Nim, Mister Nut and Chef Tom, Thanks a lot for taking good care of us so we could have a fantastic holiday at Koh Samui. We loved your company and your food. Aroi makk! Thanks for teaching me some words in Thai! You were all very helpful with choosing meal, amazing scooters and taxi, recommending place to see and to have lunch. You made sure we have a very nice stay at Akuvara Elite Havens. Thanks a lot! May we meet again!
Jennifer I, Australia
,
13-Jul-2019
-
20-Jul-2019
I wanted to pass on our thanks for enabling us to have the most wonderful holiday. Our accommodation was perfect, there was not one thing we could fault. The cleanliness inside and out was faultless. Our food absolutely delicious and the staff catered to our every need. Both May and Tee were most professional and a pleasure to deal with and advised us on lots of activities and venues to visit. Tee and the staff managed to organize breakfast and showers for us on our last day when the power went out so we were not inconvenienced at all. A credit to them.
Mr. Salikov S, Philippines
,
06-Jun-2019
-
20-Jun-2019
This is the best thing that could happen to us during these 2 weeks. I like it! The villa is just super! Liked the service, very attentive to each of us, good food, special thanks to the cook. Any request was fulfilled immediately. Thank you very much May and to all who have been with us all this time. Hope to come back again! Thank you.
Bernd S, South Africa
,
01-Jun-2019
-
04-Jun-2019
Dear May and Team, Thank you very much for all your attention, smiles, extra wishes. This birthday will be unforgettable for all of us.
Cole A, Canada
,
30-Apr-2019
-
08-May-2019
May and Staff, Thank you so much for taking such a good care of us. Take care, Tidd, Cathy, Cole and Nicole
Kate N, Singapore
,
16-Dec-2018
-
22-Dec-2018
Thank you for such a wonderful stay at Villa Akuvara. The food and service has been outstanding and the villa has been a perfect true beach front location with a fantastic pool. It's not often that the children don't want to go back to their toys.
Lauren C, Philippines
,
07-Dec-2018
-
13-Dec-2018
Thank you so much for this amazing week. We have had an amazing time celebrating two birthdays here at Akuvara. The staff have been so wonderful and we couldn't have dreamed of a more beautiful place to stay. We hope to come back.
Hellen L, Singapore
,
17-Nov-2018
-
23-Nov-2018
Thank you for providing the excellent service during our stay. We truly enjoyed our family vacation very much.
Pranav B, Thailand
,
29-Oct-2018
-
01-Nov-2018
Our stay at Villa Akuvara has been perfect in all aspects. The location with the picturesque view is amazing. The pool overlooking the ocean with the sound of the brids, waves crashing is the perfect combination of a serene tranquil and relaxing break. Add to this the luxurious villa, yummy food and the staff who look after your each little need is the carry on the cake. The warm and friendly Joy made sure we are looked after very well. Our Kids enjoyed their time here and are already looking forward to a second stay here in the future.
Paloma E, China
,
25-Sep-2018
-
04-Oct-2018
Thank you for making our stay love wonderful, we loved every minute of it and surely will be back.
Joanne H, Hong Kong
,
08-Sep-2018
-
15-Sep-2018
What an amazing week in paradise. We had such an awesome, relaxing and fun time at Akuvara. Villa Manager was absolutely a pleasure to deal with - She went above and beyond for our trip here - making sure all stomachs were always full and the kids had endless fun. Would definitely recommend and would come here again for another family vacation. Thank for everything to all wonderful staff.
Sebastien L, France
,
12-Aug-2018
-
18-Aug-2018
What to say after a week in paradise. Great location on an isolated beach watching the waves and the Raja ferry in their daily dance. Nothing to worry nothing to plan - except the menu with our star chef Pueng. We hope to come back as soon as possible!
Anja N, Germany
,
17-Jul-2018
-
31-Jul-2018
We had an amazing holiday at Akuvara. Everything was even much better that expected. The villa, the food and especially the great hospitality. We would love to come back at any time. Unfortunately we have to leave this wonderful place. Thank you for unforgettable memories.
Tobias L, Japan
,
01-May-2018
-
06-May-2018
We had an amazing, relaxing, wonderful and luxurious time here at Akuvara Villa. Thank you so, so much for everything - you made this vacation unforgettable for us and we really appreciate all your effort, support and help. We will recommend this place definitely to our friends and family. We will miss the delicious food that you prepared in a perfect way and to all our needs and preferences, so much. The massage that you arranged for me here in the villa was also amazing. Thank you so much, we will miss you all.
Barry K, United Kingdom
,
17-Apr-2018
-
22-Apr-2018
We would like to thank everyone here at Akuvara villa for such a great holiday. The food has been amazing (Thanks to Chef Max, who is a great chef). The service has been very good and not intrusive at all. We had a family meet up here and it all went perfectly. Would definitely recommend to other people.
Laura D, Philippines
,
02-Apr-2018
-
07-Apr-2018
We had a wonderful stay in Koh Samui! Our first trip to Thailand. From the amazing food - thank you Max and our service - thanks to Joy, our families shared unforgettable memories together. Thank you for an incredible stay at Akuvara. We enjoyed every minute and are so sad to say goodbye to the amazing staff - Joy, Max, Dang, Ning, see you again!
Danni T, China
,
22-Mar-2018
-
27-Mar-2018
Staff here work enthusiastically, meals served were very close to our taste - so we felt as comfortable as if at home and were very happy. Rooms face ocean so we enjoyed a great view. Very suitable for families with kids, as we could play on the beach, look for shells - always entertained. Peaceful surrounding. We will stay here again if we come back to Koh Samui.
Graham M, Philippines
,
23-Feb-2018
-
02-Mar-2018
Thank you for the amazing time in Akuvara. The hospitality was absolutely wonderful. This is truly one of the most beautiful places in the world. This was the best vacation we have ever had and we really want to return someday. The tree swing made the gorgeous beach even more special. We cannot get over how delicious all the food was. I think the best chef in the world resides here. We will miss the food! Thank you for an unforgettable time.
Li F, China
,
11-Feb-2018
-
17-Feb-2018
Service standard was excellent, food taste was quite suitable for Chinese. Location is just great, facing a smooth leveled beach, people can swim, canoe and fish here. If we have another chance visiting Koh Samui in the future, we will come back here.
Mary H, Australia
,
11-Jan-2018
-
23-Jan-2018
Our time at Akuvara was everything we hoped for and more. Tranquil, relaxing in a wonderful location on a peaceful beach. It was the ideal place to just stop and unwind. We read books, swam everyday in the pool and ocean, played tennis, paddled on the kayak and we were so well looked after by the staff. The food each day was a highlight with delicious Thai cuisine. Thanks to chef Max, Joy and her team, all are wonderful.
Julia Yau, Hong Kong
,
30-Jun-2014
-
03-Jul-2014
The costs of the villa definitely worth for what we paid. Loved the decor, the staff, the environment, the atmosphere and especially with the food. Dining outside by the pool with sunset just makes it even more peferct. Specially want to make a special thanks for our main housekeeper, Chart. Very helpful man, and he makes everything happens for us. Our vacation with Akuvara are simply relaxing with no worrieness.
Jhumur Baruah, India
,
31-May-2012
-
08-Jun-2012
We just returned after spending 8 fabulous days at Koh Samui at Villa Akuvara and would like to thank you for meeting our expectations about the quality of the property and the service levels of the staff at the Villa . We loved every minute of our stay there and would like to point out that the SERVICE was of VERY HIGH STANDARDS and we Indians can be very fussy about services . They were at our beck and call and with a smile 24/7 and no matter what we asked for , it was done within no time . The Chef did keep whipping up meal after meal for us and we were very sad to leave and hope to be back with a bigger group soon as we were not able to do a few things due to the weather playing spoilsport .  We really have nothing negative to say about our entire experience right from booking. However, if we wanna criticize, then the only thing we came up with is that there are no telephones in the rooms (even for room-room communication). We realized this only the times when it rained really heavily and was difficult for us to step out since the rooms were not connected. But this wasn't really that big of a deal. looking fwd to renting villas through you for all our vacations in the future . !!