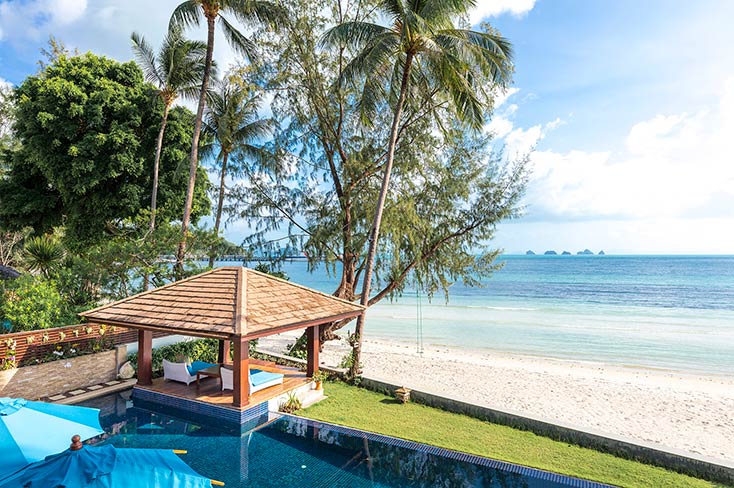 Lauren C, Philippines
checked out on
13-Dec-2018
Thank you so much for this amazing week. We have had an amazing time celebrating two birthdays here at Akuvara. The staff have been so wonderful and we couldn't have dreamed of a more beautiful place to stay. We hope to come back.
Kate N, Singapore
checked out on
22-Dec-2018
Thank you for such a wonderful stay at Villa Akuvara. The food and service has been outstanding and the villa has been a perfect true beach front location with a fantastic pool. It's not often that the children don't want to go back to their toys.
Hellen L, Singapore
checked out on
23-Nov-2018
Thank you for providing the excellent service during our stay. We truly enjoyed our family vacation very much.
Pranav B, Thailand
checked out on
01-Nov-2018
Our stay at Villa Akuvara has been perfect in all aspects. The location with the picturesque view is amazing. The pool overlooking the ocean with the sound of the brids, waves crashing is the perfect combination of a serene tranquil and relaxing break. Add to this the luxurious villa, yummy food and the staff who look after your each little need is the carry on the cake. The warm and friendly Joy made sure we are looked after very well. Our Kids enjoyed their time here and are already looking forward to a second stay here in the future.
Paloma E, China
checked out on
04-Oct-2018
Thank you for making our stay love wonderful, we loved every minute of it and surely will be back.
Joanne H, Hong Kong
checked out on
15-Sep-2018
What an amazing week in paradise. We had such an awesome, relaxing and fun time at Akuvara. Villa Manager was absolutely a pleasure to deal with - She went above and beyond for our trip here - making sure all stomachs were always full and the kids had endless fun. Would definitely recommend and would come here again for another family vacation. Thank for everything to all wonderful staff.
Sebastien L, France
checked out on
18-Aug-2018
What to say after a week in paradise. Great location on an isolated beach watching the waves and the Raja ferry in their daily dance. Nothing to worry nothing to plan - except the menu with our star chef Pueng. We hope to come back as soon as possible!
Anja N, Germany
checked out on
31-Jul-2018
We had an amazing holiday at Akuvara. Everything was even much better that expected. The villa, the food and especially the great hospitality. We would love to come back at any time. Unfortunately we have to leave this wonderful place. Thank you for unforgettable memories.
Barry K, United Kingdom
checked out on
22-Apr-2018
We would like to thank everyone here at Akuvara villa for such a great holiday. The food has been amazing (Thanks to Chef Max, who is a great chef). The service has been very good and not intrusive at all. We had a family meet up here and it all went perfectly. Would definitely recommend to other people.
Tobias L, Japan
checked out on
06-May-2018
We had an amazing, relaxing, wonderful and luxurious time here at Akuvara Villa. Thank you so, so much for everything - you made this vacation unforgettable for us and we really appreciate all your effort, support and help. We will recommend this place definitely to our friends and family. We will miss the delicious food that you prepared in a perfect way and to all our needs and preferences, so much. The massage that you arranged for me here in the villa was also amazing. Thank you so much, we will miss you all.
Mary H, Australia
checked out on
23-Jan-2018
Our time at Akuvara was everything we hoped for and more. Tranquil, relaxing in a wonderful location on a peaceful beach. It was the ideal place to just stop and unwind. We read books, swam everyday in the pool and ocean, played tennis, paddled on the kayak and we were so well looked after by the staff. The food each day was a highlight with delicious Thai cuisine. Thanks to chef Max, Joy and her team, all are wonderful.
Laura D, Philippines
checked out on
07-Apr-2018
We had a wonderful stay in Koh Samui! Our first trip to Thailand. From the amazing food - thank you Max and our service - thanks to Joy, our families shared unforgettable memories together. Thank you for an incredible stay at Akuvara. We enjoyed every minute and are so sad to say goodbye to the amazing staff - Joy, Max, Dang, Ning, see you again!
Danni T, China
checked out on
27-Mar-2018
Staff here work enthusiastically, meals served were very close to our taste - so we felt as comfortable as if at home and were very happy. Rooms face ocean so we enjoyed a great view. Very suitable for families with kids, as we could play on the beach, look for shells - always entertained. Peaceful surrounding. We will stay here again if we come back to Koh Samui.
Graham M, Philippines
checked out on
02-Mar-2018
Thank you for the amazing time in Akuvara. The hospitality was absolutely wonderful. This is truly one of the most beautiful places in the world. This was the best vacation we have ever had and we really want to return someday. The tree swing made the gorgeous beach even more special. We cannot get over how delicious all the food was. I think the best chef in the world resides here. We will miss the food! Thank you for an unforgettable time.
Li F, China
checked out on
17-Feb-2018
Service standard was excellent, food taste was quite suitable for Chinese. Location is just great, facing a smooth leveled beach, people can swim, canoe and fish here. If we have another chance visiting Koh Samui in the future, we will come back here.
Julia Yau, Hong Kong
checked out on
03-Jul-2014
The costs of the villa definitely worth for what we paid. Loved the decor, the staff, the environment, the atmosphere and especially with the food. Dining outside by the pool with sunset just makes it even more peferct. Specially want to make a special thanks for our main housekeeper, Chart. Very helpful man, and he makes everything happens for us. Our vacation with Akuvara are simply relaxing with no worrieness.
Jhumur Baruah, India
checked out on
08-Jun-2012
We just returned after spending 8 fabulous days at Koh Samui at Villa Akuvara and would like to thank you for meeting our expectations about the quality of the property and the service levels of the staff at the Villa . We loved every minute of our stay there and would like to point out that the SERVICE was of VERY HIGH STANDARDS and we Indians can be very fussy about services . They were at our beck and call and with a smile 24/7 and no matter what we asked for , it was done within no time . The Chef did keep whipping up meal after meal for us and we were very sad to leave and hope to be back with a bigger group soon as we were not able to do a few things due to the weather playing spoilsport .  We really have nothing negative to say about our entire experience right from booking. However, if we wanna criticize, then the only thing we came up with is that there are no telephones in the rooms (even for room-room communication). We realized this only the times when it rained really heavily and was difficult for us to step out since the rooms were not connected. But this wasn't really that big of a deal. looking fwd to renting villas through you for all our vacations in the future . !!