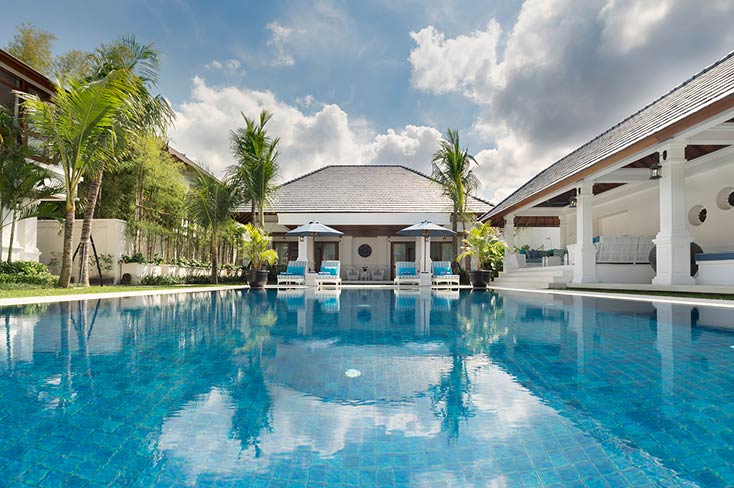 Peta M, Australia
,
07-Jan-2023
-
14-Jan-2023
We had an amazing stay at Villa Windu Asri. The villa is huge and spacious with plenty of room for our 2 families. The staff members are all amazing and made our stay so comfortable. We would highly recommend staying at the villa its also in a great location close to shops and restaurants. All in all, a fantastic villa!
Reza Suganda, Indonesia
,
20-Dec-2015
-
22-Dec-2015
Overall the villa's is very good and all staff is very helpfull.
Chris Nagel, Australia
,
09-Nov-2015
-
13-Nov-2015
Villa Windu Asrii is an elegant new villa designed in the colonial style of the Rafles Hotel, Singapore. There are six self contained, spacious bedrooms with tv, a/c and en suite bathrooms. There are many outdoor areas for guests to congregate, or read and rest alone. The air-conditioned media room with large flat screened tv is good for group movie watching, or, in our case watching the Melbourne Cup together. Even the gym got plenty of use by some of our group. All facilities are excellently maintained. The staff are friendly, helpful, well trained and experienced and computer literate. The beach is in easy walking distance, as are many very good Seminyak restaurants. The site is quiet and secure. Very highly recommended.
Raelene P, Australia
,
12-Oct-2015
-
18-Oct-2015
A beautiful, spacious, tranquil villa where everything from pool area, bedrooms,outdoor pavilion to food and service was faultless. We had an amazing time at Windu Asri and were completely indulged by the wonderful staff.
Rebecca C, Australia
,
17-Sep-2015
-
21-Sep-2015
Beautiful villa and amazing service. We really enjoyed our stay and highly recommend Villa Windu Asri.
Monique W, Australia
,
09-Sep-2015
-
15-Sep-2015
What an incredible holiday. The villa was amazing, every single room was stunning and well finished. The staff were exceptional, friendly and professional. The chef is so delightful and kind, catering for all our allergies and sensitivities. Thank you very much.
Rebecca Gilsenan, Australia
,
29-Jun-2015
-
05-Jul-2015
The villa itself is impeccable. It is very large and easily accommodated 3 families. Having stayed in quite a few high-end villas, I can say that the staff at Windu Asri are the most capable staff that we have come across. Everything is done perfectly, unobtrusively and nothing is a problem.
Bianca M, Australia
,
24-May-2015
-
30-May-2015
Villa Windu Asri and the staff there were a dream, we were a group of 8 girls travelling for my birthday and we couldn't have found a more stunning villa, but here the staff were the Heros, they could not do enough for us. They were gentle natured and so incredibly helpful. We did not want to leave! Thank you to Made, Anik and all the staff for making our trip one we will remember fondly forever!
Porter Group, Indonesia
,
09-May-2015
-
23-May-2015
Vila Asri was beautiful and very well run by wonderful staff who took care of our every need graciously and warmly. The pool are was a dream and with plenty of outside areas to relax in we hardly left the Vila grounds. The food was always delicious and nothing was too much trouble. Beds were changed daily and towels almost too often. Trips and outings were arranged for us by the manager with little notice required. Our elderly companions (79/80 yrs old) found walking to the beach a little testing as the pavements didn't exist in some places but taxis were plentiful and cheap. Restaurants were also wonderful and we enjoyed 4 very different culinary experiences .All in all a fabulous holiday which we will most definitely repeat.
Jon S, Singapore
,
24-Feb-2015
-
25-Feb-2015
What a stunning villa - middle of Seminyak but quiet as anything. The staff were lovely, the food fabulous and the location quite convenient. We will be back.
John M, Australia
,
17-Feb-2015
-
21-Feb-2015
Windu Asri is an absolute gem. It is like living in a 5 star hotel but being the only guests in residence. Everything was perfect - rooms, food, staff, pool, amenities. The staff deserve a special extra mention: they were highly professional, friendly, helpful and discrete. Anie's cooking was the best we have experienced in a villa. We all dream of going back!
Apeksha Dugar , Australia
,
07-Feb-2015
-
12-Feb-2015
The villa is very spacious and perfect for larger groups of 10-15 people. Nicely desiged with enough privacy for the bedrooms and central living areas. The staff is extremely friendly and accomodative.
Vanessa H, Australia
,
21-Jan-2015
-
30-Jan-2015
Absolutely beautiful villa - our family spent 10 wonderful days at Wind Asri and had a fantastic time. Bedrooms were beautiful, outdoor pool and living areas were so relaxing with multiple break-out areas to find your own space if needed. Staff were amazing with all of our requests provided with excellent service. Highly recommend and look forward to going back there again soon.
Melita S, Australia
,
15-Jan-2015
-
21-Jan-2015
What is there to say about Villa Windi Asri - It is absolute perfection. The staff, the villa, the food, the cocktails.... Everything is just perfect - so perfect that we have already booked our return visit for 2016. We love our Villa Windu Asri family - See you all again next year, Love from the Skurray Hamptons xoxo
John Teh Guan Hong, Indonesia
,
13-Sep-2014
-
16-Sep-2014
All the worker are friendly.We are enjoy and have a memorable moment there????
Alex K, Indonesia
,
06-Aug-2014
-
16-Aug-2014
Staff is the best)