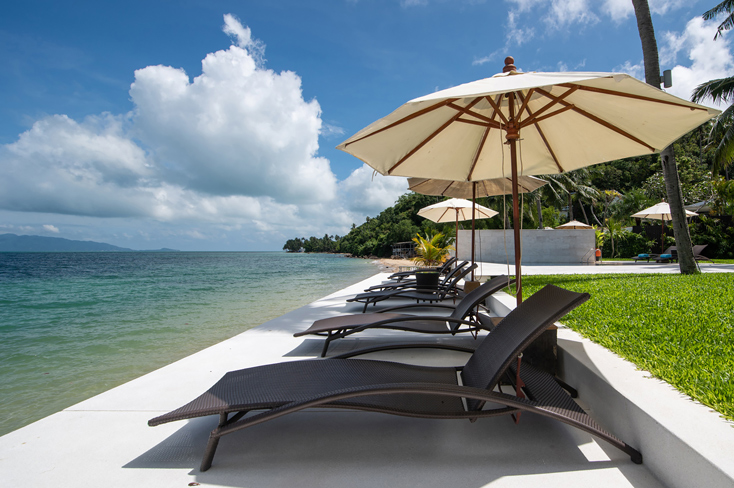 Naren G, Australia
,
26-Dec-2022
-
02-Jan-2023
We had a wonderful stay at Villa Chi Samui last week. The staff were fabulous and the food was excellent quality every time. Thanks to Elite Havens and the team for making our stay so memorable.
Natasha J, Singapore
,
05-Sep-2022
-
11-Sep-2022
We have a great time at Villa Chi Samui. Our family almost have lunch and dinner in the villa only. Because it's so yummy for all menu. And all staff very friendly and service minds. We love so much and definitely come back! Natasha Jemmet - Page 05-11 September 2022
Patrick C, Canada
,
23-Nov-2019
-
27-Nov-2019
I have stayed in Villa Chi several times. We have traveled to Samui a number of times. It is one of our favorite islands to visit. Villa Chi is our favorite holiday home. The villa is right on a beautiful beach. Two pools give you the option of swimming in the ocean or in a pool. The view from the patio out across the pool area on to the beach is magnificent. We spent a good bit of our time on the verandah reading, having sunset drinks, and dining on excellent Thai food. The housekeeper/cook is superb and looked after us in a grand style.
The interiors of the living room and bedrooms are beautifully appointed. Cleanliness was second to none. The kitchen facilities with its ice machines, wine cooler and bar, and dining area were amazing. The location on the popular North Shore was absolutely perfect. I cannot recommend this place highly enough.
Frederique D, France
,
15-Nov-2019
-
18-Nov-2019
I have stayed several times at Villa Chi for a duration of about 3 to 4 days each time. We keep returning because our stay there with my husband was so delightful on many levels. The villa and its location are spectacular! Tastefully appointed. Best amenities ever. Attention to every details was irreproachable! The staff were very nice and polite and discrete. We loved our breakfast on the terrace over looking the sea and enjoying the cool breeze. What a way to start our day! I loved so much walking on the beach at sunset. Swimming in the privacy in our pool. The little spa with its professional massage were a real treat. The Thai cook is truly a pearl and her cooking is delicious. I cannot recommend enough Villa Chi to anyone looking for their own little piece of paradise! This place is ideal for friends or family that want to reconnect and share a very special experience together.
Peter S, Canada
,
06-Oct-2019
-
15-Oct-2019
Villa Chi is a gem! It's surrounded by lush tropical gardens and fronts onto a quiet beach which is perfect for a stroll and a dip in the warm and calm waters.
We took full advantage of the many amenities at the Villa. We enjoyed massages in the spa, swims in the private lap pool and indulged in blissful relaxation in the comfort of the patio.
Dinners were delicious and beautifully presented making each evening special. A big thank you to the gracious staff!
Stumm S, Thailand
,
15-Aug-2019
-
18-Aug-2019
It is a very beautiful villa resort near the sea. The villa is big and comfortable. The staff is very helpful and nice. They even gave us a beautiful birthday cake for our daughter for free. We had a wonderful time!
Abed A, Thailand
,
07-Aug-2019
-
15-Aug-2019
The resort and villas are simply beautiful and luxurious! It is a paradise set on a clean and pretty much private beach. We stayed in a villa which had a master bedroom and four other double rooms. There was a spacious kitchen and dining area, a separate spacious area for the lounge and another outside lounge area. All of this was built alongside a private lap pool equipped with a jacuzzi. The staff were attentive and the chef cooked up amazing meals.
Sophie A, United Kingdom
,
10-May-2019
-
26-May-2019
It was perfect, the privacy, peace and gorgeous presence of the staff made it perfect for us and really made us feel like kings and queens and at the same time, feeling part of a gorgeous Thai family. It truly was the trip of a lifetime which will remain in our hearts for the rest of our lives. From the staff who became like family, to the spectacular food, service, to the opportunity, to the location, and to the happiness we all feel when we think of the magical trip. This experience truly went above and beyond and I stepped away crying I was so sad to leave. I cannot recommend this enough, whether you are looking for a private get away for 2, family holiday, friends get-together or a perfect intimate wedding venue, this is the place.
Lanre G, Thailand
,
03-May-2019
-
09-May-2019
I must say we struggled to re-adjust to normal life after our stay here! We were lucky enough to stay in the villa, which was magnificent. A massive main bedroom, with all the facilities you need, a separate living room and the kitchen was very well appointed. We had our own private paddle pool for toddlers (my baby was nine months old at the time of writing this) and a private pool for adults too, the shared pool was massive and sits right next to a secluded beach. Our private chef cooked breakfast, and dinners (we did not want to go out for dinner as the baby sleeps early) and we over-indulged on Thai food. It was so good! I was a big fan of the Pad Thai and my wife loved the fish. The chef even helped with the baby's food, and the fresh fruit (I am obsessed with mangoes) was amazing! We have stayed in a few villas in our time, but this one really tops the lot. The service is warm and friendly (they loved our baby) and the facilities are more than you could ever need.