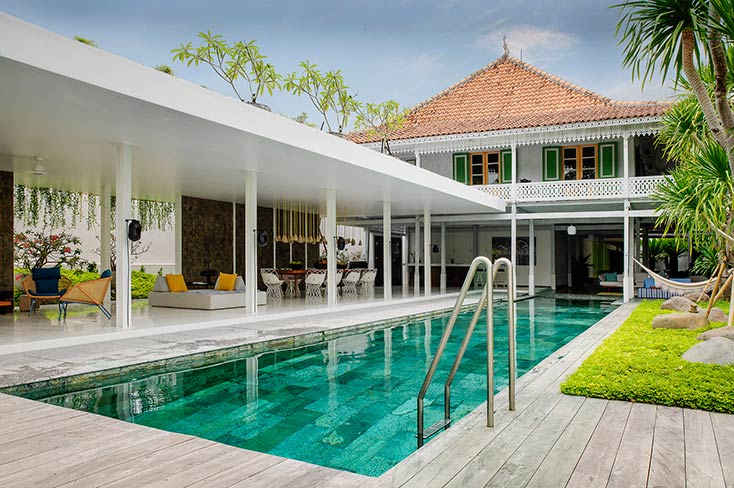 Brian A, Singapore
,
04-Oct-2019
-
09-Oct-2019
We had an excellent stay at the villa. Thank you for all of the love and care. The food was delicious and Felix loved feeding the fish with Widya and Putu. All of the staff are excellent. We will be back soon.
Greer A, Australia
,
23-Sep-2019
-
30-Sep-2019
An outstanding villa. Me and my friends had so much fun. The bathroom is amazing in the kids room. I had the best time ever and I loved the fish and the pool. I wish I got to stay here for longer. The staff was amazing and the chef was great - he made the best food ever.
Deb K, Australia
,
03-Sep-2019
-
12-Sep-2019
Thank you all for fantastic time. The perfect place to celebrate my 60th birthday. Widya, Putu, Gede and the chef were absolutely awesome - nothing ever being too much trouble. The villa is perfection with everything we needed to have the perfect holiday. Hopefully we can return to Bali and Villa 1880 for the holiday of all holidays. Thank you all once again, we loved our stay.
Emerald K, Hong Kong
,
23-Jul-2019
-
28-Jul-2019
Thank you to all for a wonderful time at Villa 1880. The staff are all so nice and helpful. Gede (Villa Manager) was great when my daughter had an accident. We were able to get to a doctor right away and have her taken care of. This villa is gorgeous and perfect for a friends and family vacation. We look forward to coming back soon.
Mukarram F, Philippines
,
11-Jul-2019
-
18-Jul-2019
It has been a really great vacation. All of us greatly enjoyed our stay. Many thanks to the staff for making our stay so special. We hope to come again.
Helen G, Australia
,
04-Jul-2019
-
11-Jul-2019
Wonderful stay, wonderful staff. Fabulous food. Kids and teenagers like that we had lots of space. Highly recommend and thank you so much for the best service in Bali. We hope to stay here again soon and will recommended Villa 1880 to everyone.
Amy S, United States
,
24-Jun-2019
-
03-Jul-2019
What a beautiful place for our family. Room for everyone to feel at home. The meals were wonderful - especially the birthday BBQ complete with decoration. We loved all the staff. We will miss everyone - especially Widya, Nanik and Putu. Many thanks to all the staff for making our stay so special. Lots of happy memories.
Morgan B, Australia
,
31-May-2019
-
03-Jun-2019
A perfect villa for a family. Children love all the spaces and beautiful pool area. Thank you to Putu for making our birthday so special.
Hayley P, Australia
,
29-May-2019
-
31-May-2019
Had an absolutely beautiful stay here. The staff were so lovely and made very welcome. We highly recommend the Villa 1880. Lots of love from all of us.
Sarah G, Malaysia
,
17-May-2019
-
21-May-2019
Thank so much for the amazing love. We had such a great time. Love the size and space in the villa. Wonderful stay with friends, thank you for making our holiday fun.
Narelle A, Australia
,
25-Apr-2019
-
04-May-2019
From the moment we are arriving, everything was wonderful. The team Widya, Gede, Putu and Adi the Chef were so attentive. The spa was so wonderful as well. We have booked again for next year. It was great.
Kelly Truran S, Australia
,
13-Apr-2019
-
23-Apr-2019
We had a beautiful Easter in Bali with our extended family. The property had lots of space to spread out and Putu and Widya were super helpful with all our meals and dinner bookings. Breakfast was fantastic and the chef made us some delicious curries on the first night. We will be back. We love the massage from Ria and her team, they were amazing.
JOY G, United Kingdom
,
31-Mar-2019
-
06-Apr-2019
Wow, what a place. As soon as we walked in, with pineapple juice in hand we knew we had arrived somewhere very special. Forever memories. Putu and Widya you are wonderful. Thank you.
Yu Z, China
,
10-Feb-2019
-
16-Feb-2019
The villa is wonderful and the staff are amazing.
Laura D, France
,
29-Jan-2019
-
30-Jan-2019
Retro, cool but very functional. We had a delightful stay at Villa 1880. The big plus for us was the Seminyak location without all the noise of motorbikes and bustle of being in town. The street is amazingly quiet given the beach and a great selection of restaurants are within walking distance. Watercress is very good. The rooms are very generous with a touch of funky but the other shout out is the staff. We had a superb dinner (such tender beef rendang and a homemade cheese cake to die for). We were served by super friendly staff who really made our stay quite memorable. Would go back in a heartbeat.
Alex H, Australia
,
14-Jan-2019
-
21-Jan-2019
Thank you Villa 1880 for the fun. Thank you to the lovely staff - Putu, Widya and Gede the manager. Thank you for laughter and fun. Villa 1880 is the best.
Domenica M, Australia
,
26-Dec-2018
-
02-Jan-2019
Beautiful villa, the place is incredibly stylish and stunning. Thank you to the beautiful staff Widya, Putu and Gede (Manager) who have made our stay here so welcoming. Nothing was to much trouble. Thank you Villa 1880 for a wonderful holiday.
Geraldine T, Singapore
,
09-Dec-2018
-
14-Dec-2018
Our 1st villa experience and definitely a great one. The staff were amazing and nothing was too much trouble for them. Special thank you to Gede, Widya, Putu, Chef, Security and the quite lady who helped to cleaning our rooms daily. Quality food and great hospitality. Villa 1880 is the best. I love the burger and swimming pool.
Catherine H, Australia
,
12-Oct-2018
-
19-Oct-2018
Thank you for a lovely time. The pool, bed, food and massage were lovely. Thank you very much to everyone for one of the most special holidays we have all ever had. A particular thanks to Widya, Putu and Gede who were the very best and made our stay so wonderful. The villa, staff and everything else made this so fabulous, we will all be back.
Kate M, Australia
,
24-Sep-2018
-
04-Oct-2018
Beautiful villa, loved the eclectic design and layout. Great space for a party 10 plus. Best of all the staff. Gede, Widya, Putu and all the team are so welcoming. Nothing is a problem. Thank you Villa 1880 for a wonderful holiday.
Fajar, Australia
,
17-Aug-2018
-
21-Aug-2018
The villa was amazing, good enough space for kids. The pool was good and we might be back very soon.
Sarah F, Australia
,
08-Aug-2018
-
15-Aug-2018
Villa 1880 is absolute paradise, better than we could could have hoped for. The villa staff were so friendly and we all love them. We are going to miss the villa so much and hope one day we might be back. We absolutely loved Villa 1880 and did not want to leave! The beautiful gardens, gorgeous decor and generous space were just perfect. The friendly and attentive staff were our favorite part. The kids loved the pool and the bunk beds and the extra touches like kids books and movies made life so easy. The villa was wonderful. Usually the reality is not as good as the photos but in this time reality was better! The staff were wonderful and greatly added to the enjoyment of our stay.
Christine L, Australia
,
02-Aug-2018
-
08-Aug-2018
Villa 1880 exceeded our expectation. The villa is excellent and extremely spacious. All the staff were so polite and were an extremely special part of our stay. We look forward to returning.
Phil G, Australia
,
15-Jul-2018
-
25-Jul-2018
Thank you for wonderful stay in your Villa! It was perfect for our group, and very comfortable. We are lucky to have called it home for last ten days. The staff were exception, especially Widya and Putu. Nanik was lovely, and the chef was a fantastic cook. All our meals were excellent and the kids were very happy with the pancakes and fruit, and they loved the pasta and burgers. The adult dinners were delicious and varied. The staff learn your names (and coffee preferences) early and truly made us feel at home. The villa itself is gorgeous, we loved the unique design of old building. The kids bedroom, lounge room and table tennis areas were fantastic and well used. Comfortable beds. We loved Villa 1880 and would definitely recommend it. Thank you all so very, very much!