Request Online Inquiry
If you require any further information please do not hesitate to ask. Our reservation specialists are well versed on all our villas, however in the unlikely event they cannot answer your question immediately they will endeavor to respond as quickly as possible.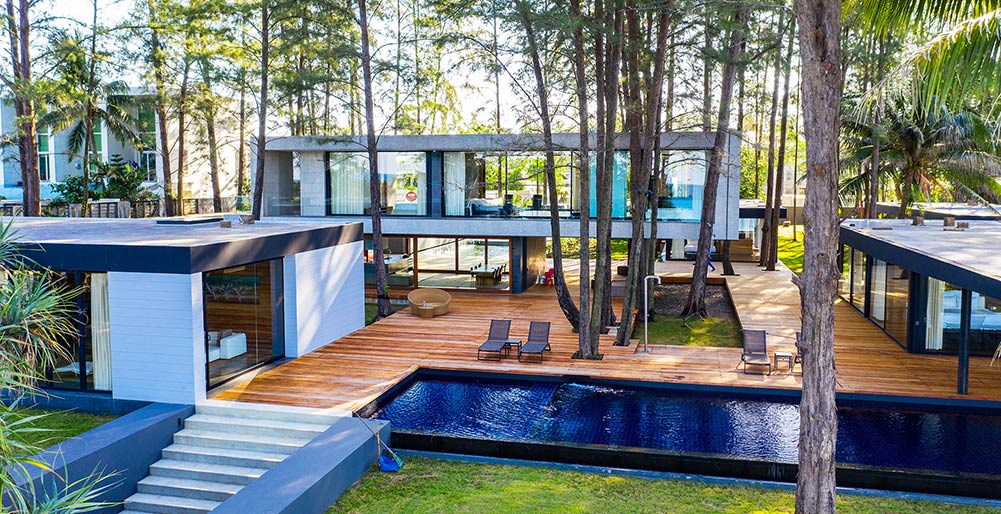 A beachfront holiday home nestled amongst towering Casuarina trees and featuring sweeping views of the Andaman Sea, the contemporary Grand Villa Noi is an architectural masterpiece. The sleek, modern villa offers the utmost privacy in a lush, tropical setting.
The luxurious five-bedroom villa is the perfect holiday retreat for families and groups of friends. The spacious accommodation offers open plan interiors and a wealth of full-services such as private chef, personal butler, driver and on-site 24 hour security.
In this modern five-bedroom villa, floor-to-ceiling glass sliding doors provide exceptional sea views and allow for ample natural light to flood each room of the villa. Minimalist decor enhances the overall openness of the rooms, adding to the contemporary vibe of the accommodation. Comfortable king beds ensure a good night's sleep, and opening the floor-to-ceiling glass doors allows for a light breeze to flow easily through the villa.
Grand Villa Noi has direct access to the soft sands of Natai Beach, an expansive stretch of beach with turquoise waters and a tranquil setting. Once you have splashed in the waves of the Andaman Sea, retreat back to Grand Villa Noi to enjoy the refreshing infinity swimming pool. Set amongst a verdant garden and surrounded by a timber pool deck, the infinity swimming pool provides an idyllic setting to bathe in the sun, take a dip in the pool or enjoy relaxing on one of the sun loungers under the shade of the trees.
With a prime location north of Phuket International Airport, Grand Villa Noi presents the perfect beachfront holiday home escape. This beautiful five-bedroom villa encompasses all of the amenities needed to ensure an exquisite, comfortable stay in a luxurious villa on an unspoilt stretch of beach in southern Thailand.
Read more
Back to top