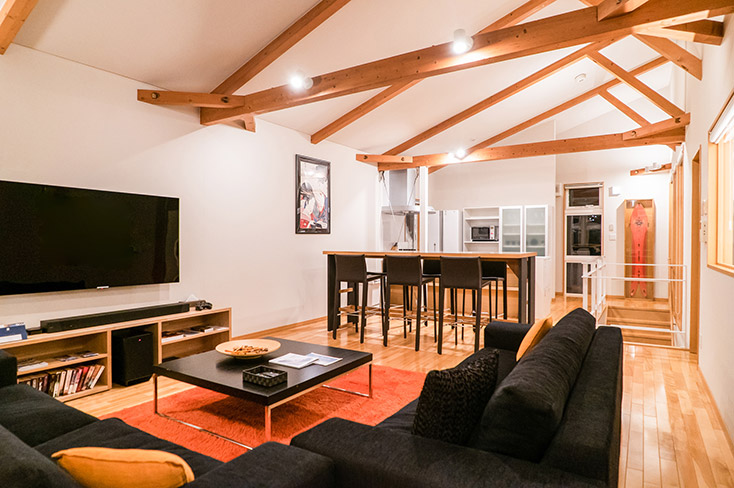 5 Star H, United Kingdom
,
05-Mar-2023
-
14-Mar-2023
Amazing home base for skiing and walking to restaurants and bars! Despite no new snow, we found good spring skiing off G4 and G1. Favourite spots for dinner and drinks: Niseko Sakura, The Barn, Rin, Koharuya, Bar Gyu. Thank you for an incredible stay - cleaning team, hot tub service. A+!!
Sipeng P, China
,
17-Dec-2022
-
20-Dec-2022
The house was very comfortable, however it snowed heavily when we arrived that day. It was close to the ski slopes, free bus for travel, we will come back to ski in the future. Nice room!
Chris R, United States
,
02-Feb-2020
-
08-Feb-2020
Amazing space in Hirafu Village - very airy and located right below one of the best izakayas in town. Get a reservation when you check in as it books out. The space was immaculate and the Elite Havens team had prepared breakfast groceries as well as coffee and cooking oil so we didn't have to make a panicked grocery run to seicomart. Throughout the week we got shuttles to the slopes or to the welcome center, but walked to dinner in Hirafu Village. And the private hot tub was an amazing perk that we took advantage of every evening. Great experience, will look to book again when we come back.
Gary C, Australia
,
30-Dec-2019
-
06-Jan-2020
Thank you for looking after us so well. We have had a great trip. Homeward bound now. Enjoy the rest of the season and see you next year!
The Darley Family, Hong Kong
,
23-Dec-2019
-
30-Dec-2019
Thanks Elite Havens team for an awesome visit. Your care and attention made for a really easy visit and recommendations of where to visit and eat were really superb. To those coming after us - enjoy! Night ski is a must-do.
William S, Hong Kong
,
08-Dec-2019
-
20-Dec-2019
Thanks to everyone for helping make our stay magnificent. You are all awesome. Merry Christmas and we hope to see some of you again next December!