Hollywood may have peddled the traditional idea of a white Christmas, but have you ever dreamt of a Christmas with white sand instead? There's something equally magical about waking up on Christmas morning with the prospect of spending the day surrounded by warm water, swaying palm trees, soft sand between your toes and luxury at every turn. After all, who wants to lift a finger when there's an army of villa staff to pamper you instead?
If this sounds like a dream come true, read on. These places in paradise are just waiting to welcome you and your family for a Christmas with all the (tropical) trimmings.
Bali Hai
Christmas in Bali has become something of a hot topic in recent years, with the Indonesian island stepping up as the Christmas destination of choice for many.
For a start, the island is one of the most welcoming on earth and from the moment you land, you'll feel like all your Christmases have come at once. Smiling locals and the promise of discovering an extra special gift or two at the Sukawati Art Market or in Ubud means you can pack light and pick up a unique present for your loved ones in situ.
If a foodie feast is your main priority while celebrating Christmas, Bali has some showstoppers to rival even the most committed turkey-lover. Famous for its babi guling (whole roast suckling pig) and fresh seafood which you can eat straight off the fishing boats in Seminyak, you'll find a spectacular way to mark December 25 in almost every corner of Bali.
Our favourite though, is celebrating Christmas in an Elite Havens villa. The in-house staff will pull out all the stops to spoil you during your stay and even customise your Christmas dinner menu as per your tastes and preferences. There's a wide range of villas on offer, so take your pick, relax and experience your most chilled-out Christmas ever.
If you're on the island for a few weeks over Christmas and the New Year, make sure you head to one of the many glitzy parties that venues like Ku De Ta and other beach clubs will be holding. Dress to impress – or wear your favourite sarong. Bali is a special place to raise a toast to 2023, and fireworks are almost guaranteed to light up the tropical night skies.
Lazing in Lombok
Swap the snow for some of the most beautiful beaches in the world on Lombok. If you crave a quiet holiday that's more off the grid, this Indonesian island paradise should be on your must-do list. Lombok's laid-back atmosphere is the perfect antidote to the mad rush in the run-up to the festive season, and as you discover the island's pristine natural beauty, you'll wonder why you ever fought your way through the last-minute shopping rush in the city. Instead of jingle bells, discover the twin rainbow waterfall of Tiu Teja, Tiu Kelep and Benang Kelambu, another Insta-perfect sight, which most likely you'll be able to enjoy without the crowds.
Head to Pink Beach (Tangsi Beach) and marvel at Mt Rinjani, Indonesia's second-highest volcano with a lake at its summit. When it's time to hang up your hiking boots, head back to your villa and be pampered by staff who will cater to your every whim. Lobster for Christmas lunch? No problem. Your wish is their command.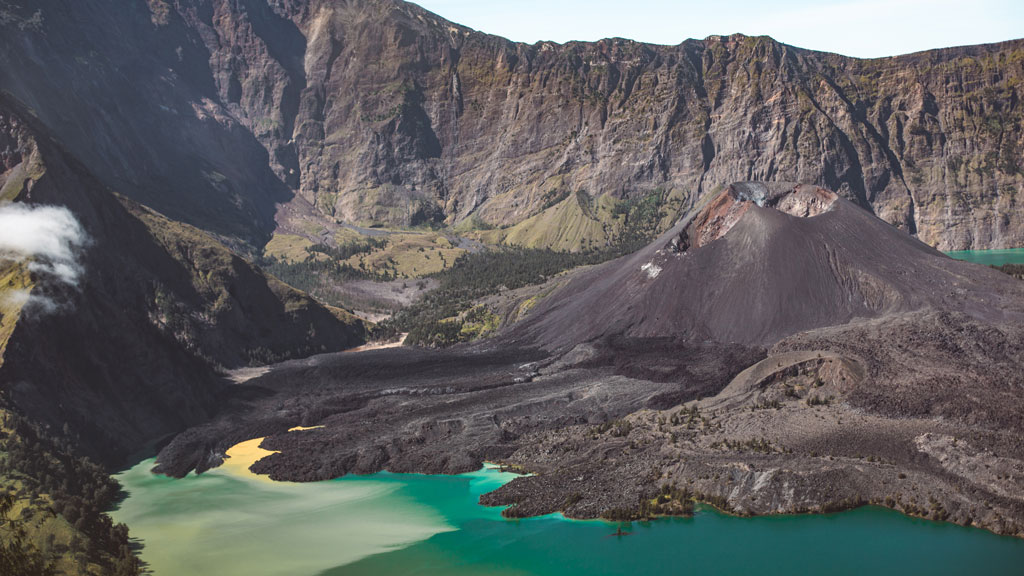 Party in Thailand
Thailand is a party land all year round, but around the festive season, Phuket and Koh Samui beat other options hollow. Make Christmas a fun and memorable family occasion by booking a villa in Phuket or Samui. With plenty of ocean-side activities to keep the kids occupied, there's a carnival-like atmosphere at many beaches during the festive season. This is your chance to try stand-up paddle boarding, sea kayaking and snorkelling while the northern hemisphere shivers in snowshoes and puffer jackets.
There are many options to choose from in terms of festive dining too, with venues laying on special Christmas Eve buffets as well as gala dinners in some of the glitzier resorts. Ask your villa staff for recommendations and help with booking a spot if you would like to attend, though you may prefer staying in and asking the staff to cook up a sumptuous Christmas feast instead. After the kids are asleep, sneak away to attend a tropical beachside party, the perfect opportunity to watch the moon rise on a new year over the Andaman Sea.
Thailand's white sandy beaches will always play a part in your festive holiday but it's truly delightful to retreat to your luxury Elite Havens villa and enjoy the privacy of your slice of paradise.
A nativity in Natai
Cross the bridge just north of Phuket Island and you'll find tranquil Natai Beach, Phuket's best-kept secret. Alongside some of the most stunning luxury villas you're likely to find in the tropics, there are also plenty of activities on offer to make a family festive holiday extra special.
With spacious villas which are ideal to accommodate larger family groups, Natai is an up-and-coming destination for those luxury hunters in the know. If the run-up to this year's Christmas season has been stressful and all-go, put yourself in the hands of your in-house staff and enjoy a Christmas Eve poolside massage and a sunset cocktail or two. Plan an extravagant southern Thai-style festive feast prepared by your own personal chef for Christmas Day and wonder if you'll ever go back to a roast and Brussel sprouts.
When it's time to work off all that over-indulgence, grab some oars and head out for a kayak on the limpid azure blue waters near your villa, or if that's all too hard, just call it a day and watch the sun set on the horizon, as fishermen land the catch of the day.
Natai is a special destination which reminds its visitors of the simple things in life – without sacrificing the chance to spoil loved ones during this special time of the year.
Benefits of a Tropical Christmas
While the classic image of a winter wonderland has its charm, there's something magical about celebrating Christmas under the sun. Here are four reasons why a tropical Christmas might be the perfect way to celebrate the season:
Boost Your Mood with Vitamin D: Spending your Christmas holidays in a tropical destination allows you to soak up the sun and refuel on vitamin D, helping you get through the winter without feeling depressed.

Stress-Free Tropical Christmas: You can avoid the holiday chaos by enjoying a stress-free Christmas on the beach. Spend quality time with family throughout the year, and escape the frantic preparations and cooking of a traditional Christmas meal.

Start the New Year Energised: A tropical vacation can recharge you for the new year, providing relaxation and energy. Don't over-schedule your days; it's a vacation, not a sightseeing marathon.

Unique Christmas Gifts: While travelling, you can find unique and interesting gifts, from handcrafted items to exotic spices, teas, or sweets. Escape the pre-Christmas shopping stress by exploring local markets and bazaars for gifts for your loved ones.
Book your Christmas holiday before it's too late and look forward to a magical festive season in the tropics. Visit www.elitehavens.com/promos/ for special festive offers.