The festive season means something different to all of us. Be it the Christmas dinner, the Christmas markets, the mulled wine, or even the KFC (don't ask…), we all associate the festive period with some of our favourite traditions. Turns out, Niseko knows its Christmas traditions too.
When you decide to celebrate Christmas in Niseko, you get to combine all of your favourite parts of the festive season with the best snow in the world. Perfect for Santa's reindeers, brilliant for your first white Christmas…but even better for skiing.
By the end of this post, you'll be begging Santa for a Niseko Christmas. Here's why.
Start Your Christmas Holiday with the Best Chalets in Niseko
First of all, you need a good base for your festive trip. It needs to be spacious, modern, warm, and well-equipped for a ski holiday. But a roaring fire, super cosy beds, modern interior design, and plenty of space for Santa to store his presents would still be nice, wouldn't it?
You'll find all of that and more in our Niseko chalets. Momiji oozes class and style, with loads of space to get comfy for the Christmas films on Apple TV. Check the view of Mt Yotei either side of the fireplace in Gouka, or build your first snowman on Yuuki Toride's balcony, walking distance from festive Bar Gyu.
Our chalets are close to Kutchan's catholic church for midnight mass, but they couldn't be closer to the slopes – especially with a free shuttle service. Skiing on Christmas day anyone?
Explore the Best of Niseko's Festive Activities
So you've got your base! Stockings are up, presents are wrapped, equipment's been hired…now what?
Hit the slopes! You've got nearly 50km of runs to be exploring and countless gates to daredevil your way down. You can drop the little ones off at ski school, and don't be surprised to discover that Santa's a ski instructor in his spare time.
Soaring through Niseko's fresh powder is a Christmas day you'll never forget. But if skiing's not your thing, then you've got no reason to be worried.
With such perfect snow it's little wonder the reindeer have found a home in Niseko Village. Pose for photos with them and say hello to Santa – he's got a sack full of goodies for all the good boys and girls in town. Niseko Village has a cheery Christmas market where you can pick up a few last-minute presents as well.
And if you missed Santa there, then catch him in Grand Hirafu or Hanazono instead, where there's sledding and even a tube park.
Visit the skiers at the classic mountain shack Boyoso for a catch-up over some mulled wine on Christmas day. Or just leave them to it and explore Grand Hirafu cross with the smell of Takahashi cheese tarts in the air.
Stop into Mick's Wine Bar and pick up a top-quality bottle of red for dinner. Bar Gyu will be playing all the classics, Half Note might even have a live band playing Christmas songs, and you can watch the snow falling outside with Christmas in the air.
But just like skiing on Christmas day, visiting a traditional Japanese onsen will be a memorable experience. Soak into the warm waters, let the purifying minerals do their work, and unwind before catching the Christmas Day fireworks in town.
Then, it's time to head back to the chalet and meet the exhausted skiers for a special Christmas dinner.
Niseko Gourmet and a Christmas Holiday Treat
You've already been to a Japanese onsen and you've skied on some of Japan's best snow on Christmas day. Why not stick to the theme and try a 7-course degustation Japanese dinner, complete with sake and ume plum wine?
Niseko Gourmet brings everything to the Christmas party. One of Hokkaido's most talented chefs will take over your kitchen, and they'll serve up beautiful-presented Japanese food using the freshest local ingredients.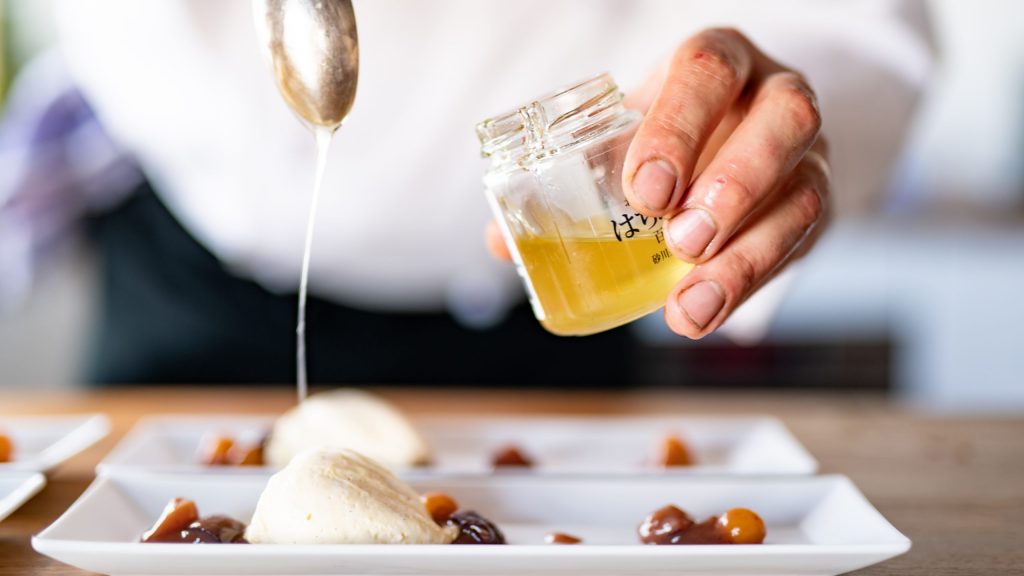 Prefer to stick with tradition? Ah, go on then! The team has you covered there as well. Book in advance for special Christmas hampers – a traditional Christmas dinner that even features a Christmas pudding.
And if you forgot to buy the bubbly, then the Niseko Gourmet team can provide that for you too.
Kick back in front of the fire, get the movies on, fill your glass, let the kids play with their new toys, and spend some quality time together on a Christmas holiday in Niseko.