If glittering, azure water meeting pure white sands of a blissfully remote beach is your holiday desire, then Lombok whispers your name.
Lombok is an exquisite getaway full of local charm, dreamy waterfalls, magnificent luxury villas and some of the region's hottest surfing, diving and trekking spots. Wake up to sunbeams shooting through tropical jungles just moments away from pristine waters of Sira Beach. Villa Sepoi Sepoi is perfectly convenient if you are looking forward to swimming in the crystal–clear shallows, as it is situated alongside the picture-perfect white sands of Sira Beach. Six acres of tropical gardens, an outdoor cinema, and six large themed bedrooms are just a few highlights of this villa.
The Three Magical Gilis
Evenings are made of pink and purple sunsets as the sun drops into the ocean behind Lombok's three gorgeous neighbouring islands known as the Gilis. These three magical Gilis – which is Sasak for 'island' – are a quick boat trip away and a must-do day trip.
Each island is wildly different from the next. Gili Trawangan is a bustling place full of backpackers while Gili Air is laid-back and gorgeous, where push bikes and pony carts rule – no cars here. Dotted with lovely little shops, a cooking school, diving and (plenty of) snorkelling centres, there are a range of restaurants and a beach club or two. It's very family-friendly.
Gili Meno offers Robinson Crusoe panache as a barefoot paradise that has a handful of visitors seeking seclusion. Expect to see your feet through the water and spot turtles in the coral gardens just offshore. While Meno is the remote choice, it does have some great dining and a few shops that sell emergency snorkelling gear, sunblock, fruit and snacks. The local hawkers offer local pearls and other desirable adornments too.
Coral Reef at Gili Meno
Lombok's Fabulous Waterfalls
Back in Lombok, traditional villages, coconut groves and the sea surround the small tourist town of Senggigi. It is the go-to spot for ATMs, pharmacy and a few cafés and restaurants.
Lombok is fabulous for waterfalls that float the imagination. Rent a bike, hire a driver or take a tour to one of the many waterfalls on the island. Don't expect a morning café latte at these stunning places, instead, have a dip in a spring feed pool in absolute privacy.
If you are staying in Villa Anandita, you are guaranteed action-packed stays (if you seek them). The villa's staff offers an almost endless supply of activities – bicycling, kayaking, snorkelling, playing volleyball, catching fish, and wandering through the local market. But if you simply want to sit beside the pool, read a book and swim, that's okay too.
Tiu Kelep waterfall is closest to Sira Beach near the traditional village of Senaru – the trekking gateway village set off on the lower slopes of Mount Rinjani – Indonesia's second-highest volcano at 3276m. Tiu Kelep is fed directly from the volcano and a superb spot for a picnic and swim. Another waterfall can be found if rock scrambling and walking through knee-deep water is on, and for purely aesthetic reasons, it should not be missed.
Tiu Kelep Waterfall
A quick detour to Bayan takes travellers to an ancient 16th-century bamboo mosque and the Balinese Narmada Summer Palace. Further on the island is the Mayura Water Palace, which was built in 1744 for Balinese royalty. It has a Hall of Tranquility and pavilions accessed by a moated causeway.
Lombok is an epic destination for surf beaches and remote breaks that have little, if any, line up. From Kuta in the South – with its Seger Beach righter handers, Senggigi Anjungan breaks in the North and Desert Point Bangko Bangko that was once voted as "the best wave in the world" by an Australian surf magazine. Lombok has awesome waves.
Scuba divers will adore the diversity of dive sites that include underwater pinnacles 50–metres down, plus manta ray points and coral gardens for beginners. Abundant fish, sharks and rays fill the coral with mesmerising forms and colours.
Tanjung, a Sasak Market Village
Lombok – where the Sasak people hail from – has its own unique culture with marriage ceremonies, spicy foods, handicrafts and traditional rites and rituals that will seduce the curious. Villa Sapi is close enough to Tanjung, an attractive Sasak market village. The villa is secluded and lusciously private but by no means isolated.
Traditional markets are brilliant with colours and fragrances. There is no better place to buy fresh and exotic fruits and vegetables, plus arts and crafts ranging from hand-woven fabrics to rattan baskets and hand-hewn clay pots made according to ancient practices that have been passed down families for centuries.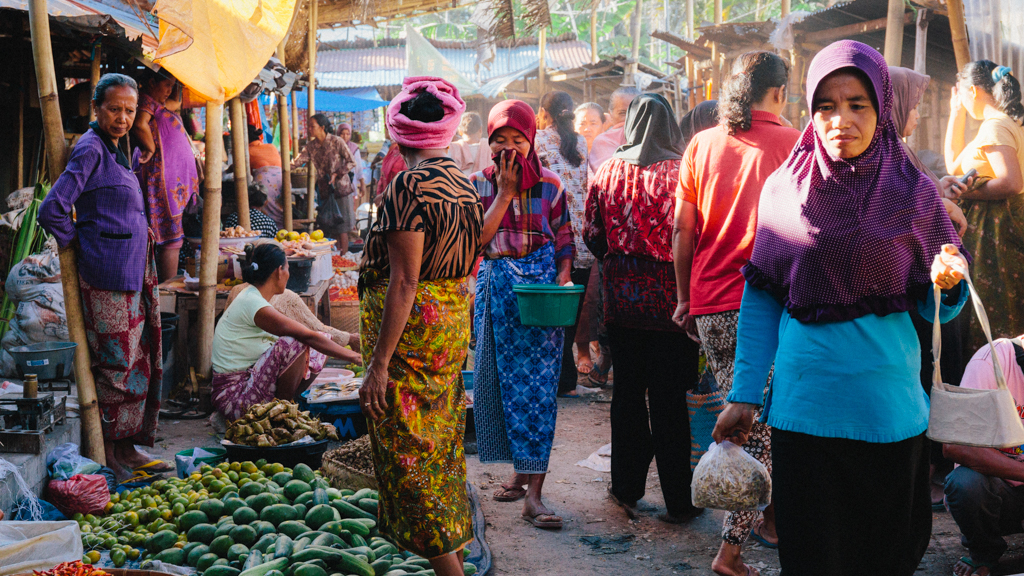 When staying at a luxury villa, the resident chef will shop among these exotic traders for daily supplies. As you would expect, the seafood is extraordinary. Lobsters, prawns, snapper and sweet briny oysters all locally caught from fisherfolk working their wooden outriggers. You can't get seafood fresher than these ones.
Lombok is calling. Are you coming? Book a villa now at charming Lombok.