"It's our special day but I don't want the wedding to only be about me. I want everyone to have fun, for them to say – I had the time of my life. I want them to be happy, and that will make me happy."
11 years ago, when Chontelle met Jack in high school, little did they know that their journey would bring them here. Some things are just meant to be, and for these two high-school sweethearts, finding each other was serendipity.
The Proposal
Thus, it should have come as no surprise to anyone when they decided to tie the knot. But Jack had something up his sleeve. He wanted to make this a memorable moment for both of them. Something that they would look back at and remember fondly.
He left no stone unturned.
Venue – Check. Sydney Harbour. What could be more romantic than that?
Set up – Check.
"Jack did a whole thing," Chontelle recalls with a smile. "There were red roses everywhere, and even a red carpet to make it all the more special. Candles and lanterns adding aesthetic elegance and even large, framed photographs of the two of us. And at the end of it all – a flower-covered sign saying, Marry Me." And there stood Jack, so nervous that he even forgot to bring out the ring despite popping the question!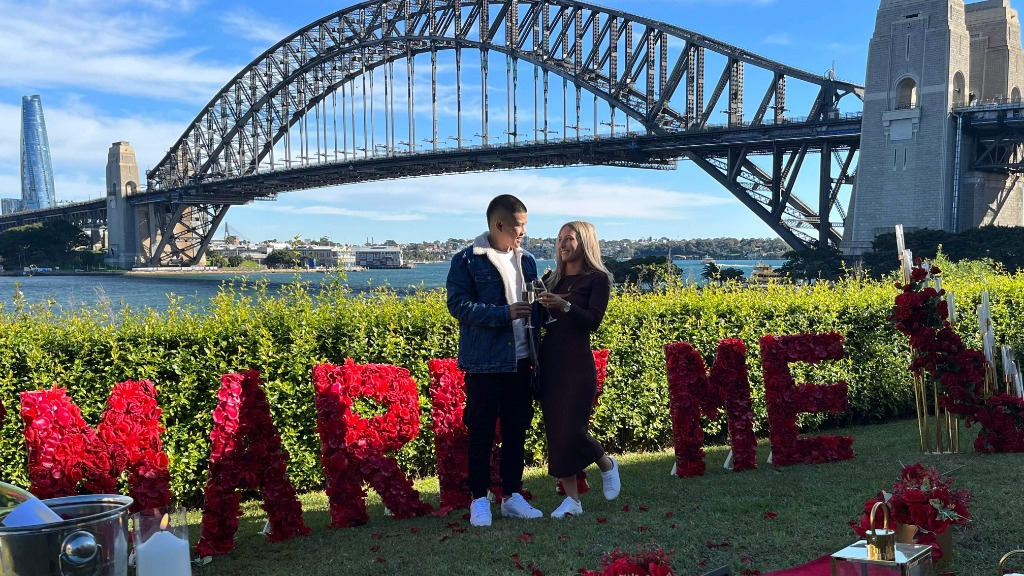 She said yes. Of course, she said yes. But Jack had another surprise planned for his new fiance. Hiding behind the shrubs were her family, the people he knew that she would want to share this moment with. As they came out and felicitations filled the air, there was joy and laughter all around. It was a moment of pure love.
Dream Bali Wedding
Fast forward to wedding planning and the biggest question was – "Where should we get married?". Thailand was an obvious contender, being a stunning destination for weddings as well as the fact that Jack traced his heritage back there. But in the end, the choice came down to Bali or Thailand.
How To Choose a Venue
Though it was a tough choice, Jack and Chontelle finally settled on Bali for their destination wedding and honeymoon.
It was not too far from Australia, and thus convenient for guests to travel
Beaches, tropical scenery, and warm people – what's not to love
Phenomenal venue options, like Villa Kailasha which they finally decided upon for their dream Bali wedding venue
Why Choose a Villa
"A villa is the perfect answer to glamorous meets private". With their close friends and family travelling from all over, just for their wedding, it was important for them to have them close at hand.
Thus, a massive nine-bedroom property like Villa Kailasha was a befitting and exquisite choice. There was room for everyone. "I'm one of the youngest amongst all my cousins," Chontelle shares. "I knew that they would all come to celebrate us. And a large villa with separate bedroom pavilions allowed everyone to have their own space as well as come together to enjoy." A peaceful oceanfront sanctuary, Villa Kailasha allowed the wedding party to luxuriate in comfort. "It was like our own private boutique hotel with just the most hospitable staff ever."
Wedding Preparations
Planning a wedding is always stressful, and doing so remotely can get extremely challenging. Thankfully, Chontelle and Jack had the support of one of Bali's top wedding planners and the Elite Havens team to help them plan the minute details and leave nothing to chance.
"Jack did not know any of the details of the wedding. As he surprised me with the proposal, I wanted to surprise him by planning the wedding. Thus, it all fell upon me, and I loved doing it all."
An elegant white and green colour scheme was chosen to channel modern vibes amidst tropical greenery. Pops of stunning burnt orange colour found voice in the bridesmaid's dress (Chontelle's twin sister) as well as the flowers used in the decor.
"I wanted to involve my entire family in the wedding planning. My mother was helping me make decisions the entire way through and my brothers were in charge of the menu and cocktail list," smiles Chontelle.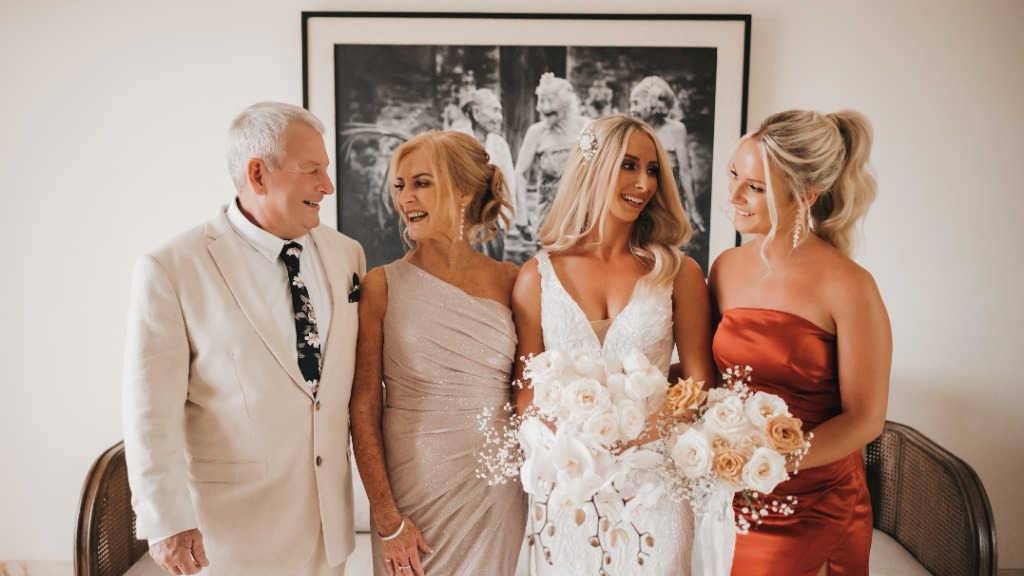 Wedding Day
As the bride always wanted, her dream Bali wedding was not only about her and the groom. Careful thought went into details such as having a kids' table with pillows on the floor. An element of fun was injected with a photo booth and games such as Jenga and Throw the Hoops being played at every table when the others were busy with photo ops. Fire dancers and light-up letters – J & C – completed the picture.
Jack stood, waiting for Chontelle to emerge in her white flowing gown. He couldn't help but feel nervous. This was it. The woman of his dreams would forever be his. And as he caught a glimpse of her walking down on her father's arm, he wiped a tear, his face breaking into a broad smile. She was everything he had ever imagined his partner to be.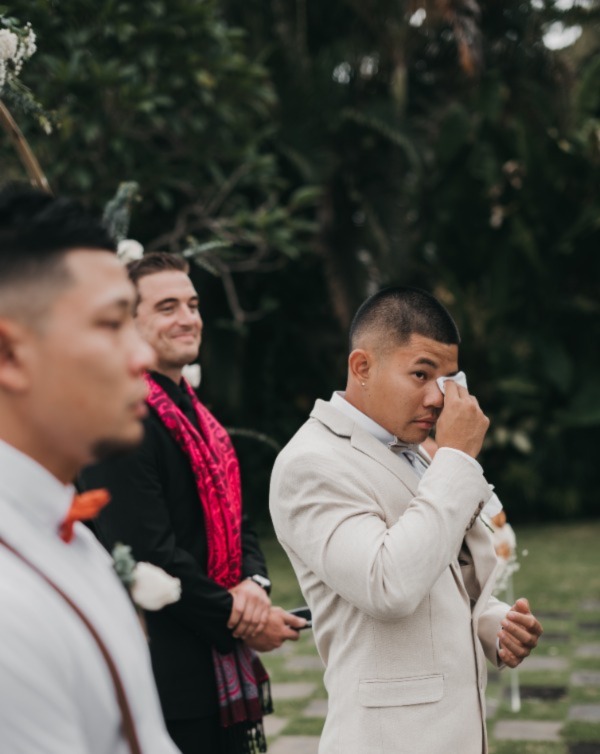 "Though I was nervous about everything going just right, it all settled down once I walked down the aisle," reminisces Chontelle. "My highlight of the day was definitely our first dance as by this stage, I was relaxed. I really felt like it was just Jack and me at that moment, especially when the firework sparklers went off throughout the dance." Dreams are made of this.
Twist in the Tale
There's no movie without a little unexpected drama and the twist in their wedding came in the form of last-minute rain. A quick change of plan was required as it rained just after the sit-down dinner, and the wedding party reconvened under the shelter. But this did not stop them from continuing partying.
"Honestly, it was just the way I had pictured it. Everyone was dancing and having a great time. The photo booth was a big success as were the games. And seeing the joy all around us is what made me and Jack super happy." And seemingly effortlessly, these two lovebirds finally had their dream Bali wedding.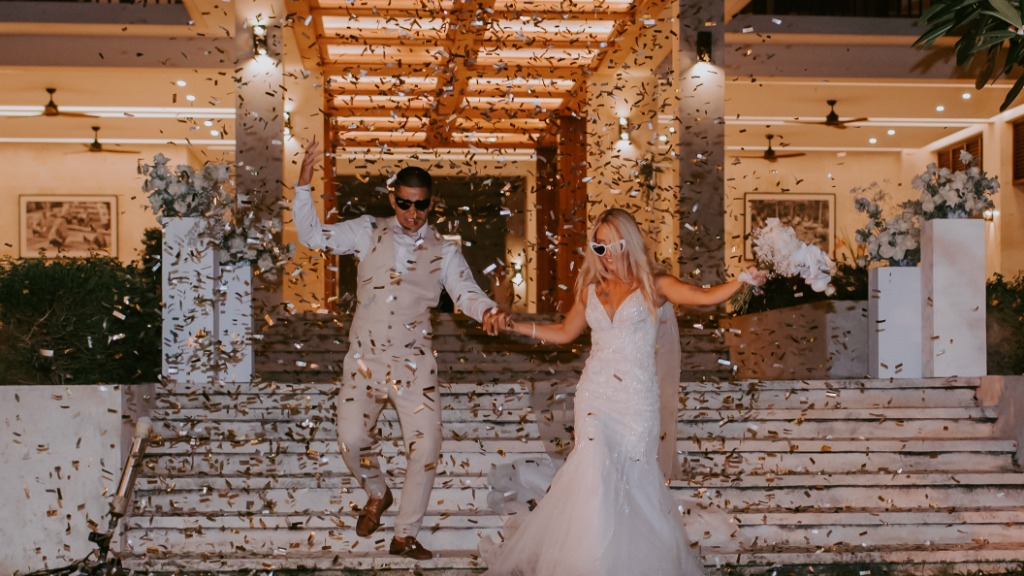 A fairytale wedding, planned miles away from home, surrounded by everyone you love. Dream Bali weddings are all this and more. When you plan a destination wedding with Elite Havens, you not only get to choose a picture-perfect villa venue for your special day and luxurious accommodation for your near and dear ones but also access to the best planners and vendors on the island. What could be an easier way to plan your big day remotely?