Elite Havens proudly welcomed Thai personalities and influencers Pranai Phornprapha, Natapohn "Taew" Tameeruks, Jarinporn "Toey" Joonkiat, Smithi "Ou" Likhitmaskul, Nittha "Mew" Jirayungyurn, Mint Chalida Wijitvongtong, Pupaa Taechanarong, Peranee "Matt" Kongthai, Songkarn Taechanarong and Tharaphut "Saint" Kuhapremkit to Villa Amanzi, a luxury villa in Phuket, for a short yet unforgettable stay.
On September 7th, the charming group spent a midweek stay at the stunning Villa Amanzi, a luxurious designer villa. Located on a hillside overlooking Kamala Beach in Phuket, this villa features a modern design, cutting-edge elegance and breathtaking panoramic views. It is the perfect villa for a group of friends looking to splurge for a short break in the currently quiet, pristine Phuket.
Upon arrival and before entering the villa, each member of the influencer gang had their temperatures checked, and hand sanitisers were distributed. Strict hygiene controls and cleaning procedures were implemented to adhere to the current COVID-19 situation prior to the group's check-in.
Enjoy this sneak peek of how they spent their escape at this magnificent villa in Phuket.
Mint, Matt, Toey and Mew struck a pose with picturesque turquoise ocean views as their backdrop
Silhouette images with sublime sunset views in the background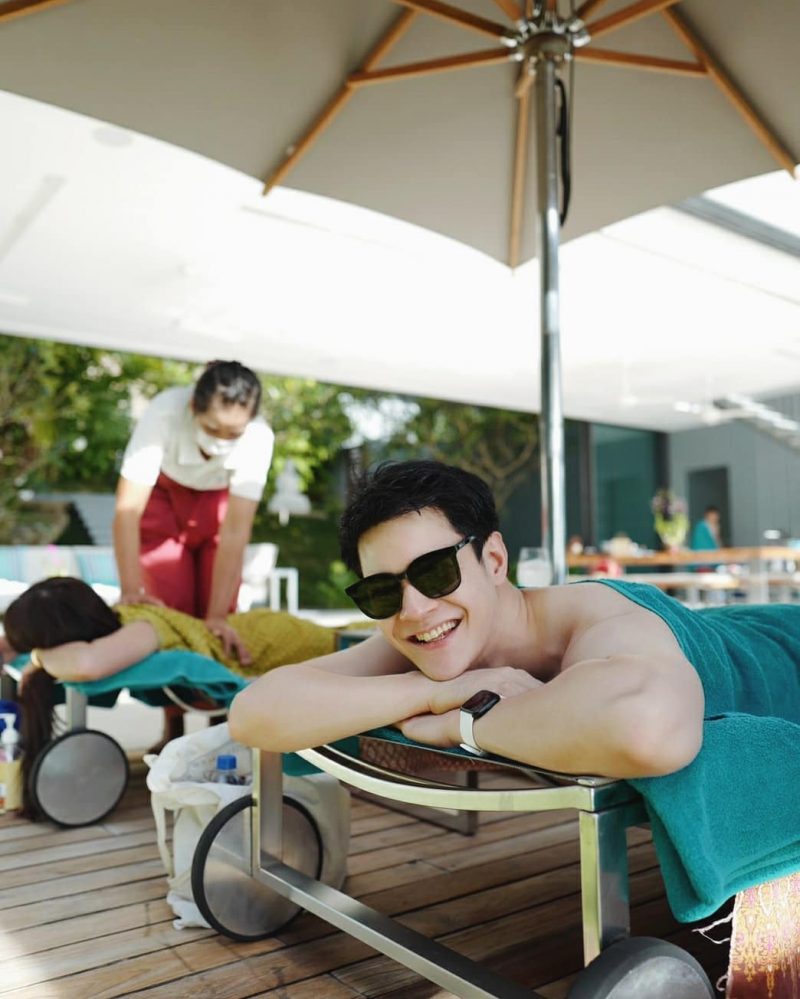 The group enjoyed a 1-hour in-villa massage. Ou loved it!
Our Elite Havens villas offer a wide choice of in-villa options for our guests. For this group of Thai personalities and influencers, in addition to a rejuvenating massage, an in-villa yoga class and karaoke were also arranged. The group feasted on fresh seafood, lush barbecues, and a sumptuous Thai lunch utilizing local produce was also served during their stay.
A whimsical dinner set-up.
The group didn't miss out on capturing enviable Instagram-worthy shots!
The group were out and about on their second day, exploring Phuket and all that the region has to offer. They took advantage of a private yacht charter trip with Simpson Yacht Charter, a prestigious company specialising in yachting services in Asia while providing quality, personalised and unforgettable private yacht charter experiences.
Big smiles and good vibes while luxuriating on the private yacht
The lovely influencers spent their day sailing on the Blue Moon yacht.
The trip started at Ao Po Grand Marina, on Phuket's eastern coast, and the group made their way to the idyllic island of Koh Phanak for a bit of adventurous exploring, swimming, stand up paddle boarding and overall island fun.
"Had an amazing time with the Elite Havens team! Couldn't have asked for better service!" – Pranai Phornprapha
"Lovely time here. Definitely coming back. The staff was amazing and catered to all of our needs. Already missing Villa Amanzi!" – Matt and Karn
Learn more about the other influencers Elite Havens has hosted and catch a glimpse into their stays here. To learn more about the best private yacht experience in Phuket, read here.
An Elite Haven villa offers the luxury of privacy, space and a very personal experience socially distanced from the crowds. We have implemented strict hygiene controls and cleaning procedures to adapt to the new normal in the current COVID-19 situation. Our staff members have undergone extensive training and safety management measures have been executed across our portfolio. Rest assured that the health and wellbeing of our guests and our employees remain our top priority. We appreciate the trust you place in us and are committed to offering you a safe sanctuary for a truly memorable vacation.