"Trust me, it's paradise. This is where the hungry come to feed. For mine is a generation that circles the globe and searches for something we haven't tried before. So never refuse an invitation, never resist the unfamiliar, never fail to be polite and never outstay the welcome. Just keep your mind open and suck in the experience." – The Beach, directed by Danny Boyle
If you have seen the ever popular 2000 film, The Beach, it is easy to understand that the beauty of Thailand is unsurpassed. Phuket especially is an eclectic mix of turquoise water, powdery white sand beaches with palm trees and a hedonistic lifestyle. It truly is heaven on earth.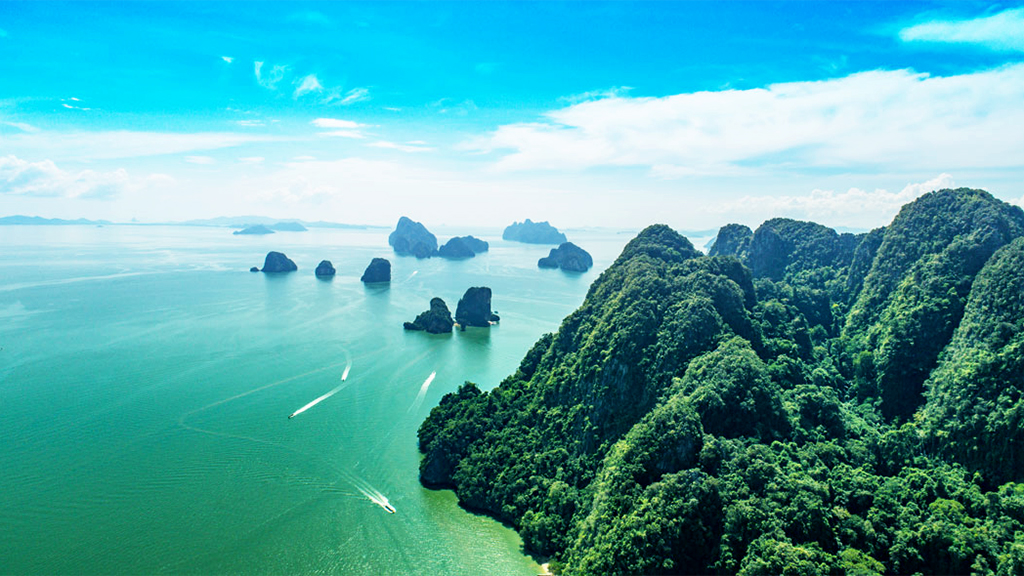 Known as the Pearl of the Andaman Sea, Phuket is one of the many islands within close proximity to Phang Nga Bay. It is also the gateway to over 100 different islands, each one accessible by boat and offering a unique experience. Whether it's perfect dive and snorkelling sites, long white sandy beaches for lazing around or ramshackle beach shacks that serve fresh local seafood, Phuket delivers.
Phang Nga Bay is a stunning bay which is home to gigantic limestone karsts that jut from the water and a diverse ecosystem. Each of the islands in the bay has its own uniqueness. One of the most famous islands in Phang Nga Bay, having been used as the backdrop for the 1974 James Bond film "The Man with the Golden Gun", now due to its popularly, is also one of the busiest islands.
Families and friends enjoying an Elite Havens holiday will love the adventure of island-hopping. Spending time on different beaches, searching for seashells or exploring the caves and jungles looking for hidden treasure chests. If you get bored of one beach, a quick swim or a walk out to where the speed boat is moored will do and you're off to the next adventure. Yachting while in Phuket is a true highlight of holidaying in this fabulous location.
Taking a private charter is your best option. Many of them can be personalised, so you can choose between to see just three islands or a full-on day of visiting 20 islands if you can.
Most Phuket yacht charters will have snacks and drinks on board and offer picnics on the beach under the shade of a palm tree. However, if picnics do not interest you, don't worry as there are many islands with resorts and restaurants. Just talk to the charter staff before you head out and this can be arranged, or try one of the many local shack style restaurants that have popped up on some of the islands. The food is fresh and always delectable.
We've searched far and wide, carefully selecting the best yacht charters in Phuket for the idyllic island hopping experience:
A main division of Simpson Marine and founded in 1984 in Hong Kong. Simpson Yacht Charter specialises in yachting services in Asia and are the experts for quality, personalised and memorable yachting experiences. From superyachts to crewed yachts, they have you covered. Learn more about the experience you can get with Simpson Yacht Charter by reading through A Fabulous Staycation with Lovely Influencers at Majestic Villa Amanzi in Phuket.
Boat in the Bay is a family-owned agency specialising in private yacht cruises in Phuket and Southeast Asia, promising guests that chartering a yacht with them will always be an unforgettable holiday experience. They're not just about the boats but a whole yachting lifestyle. The selection of their yachts is quite vast, with all of them entailing the highest level of comfort and the best-trained captains and crew. Get a glimpse of Boat in the Bay and what they have to offer by reading through A Sumptuous Weekend Retreat with Cindy Bishop, Byron Bishop, Metinee Kingpayome, and Sonia Couling at Naam Sawan.
Island-hopping can be tiring, but coming back into the marina as the sun is going down and the sky oozes red and orange, you will surely have memories that last a lifetime. And when you come back to Phuket and take another boating trip, you will see new islands, enjoy new experiences and new adventures.
From beautiful beaches to the culture to the purpose-built attractions in Phuket, there is plenty here to entertain family and friends. Phuket is an epic destination, with a great choice of exciting attractions and fun surprises. Trust us, it's paradise.
Header image photo credit: Boat in the Bay