A colourful and quirky artists' enclave hidden away in the southern neighbourhood of Rawai, the Phuket Art Village is a hippy chic collection of working art studios; home to some of the island's most outstanding local artists. Both eclectic and charming, the Phuket Art Village oozes artistic flair.
Home to a group of unique studios that were built by their artists (and are in many instances lived in) the Phuket Art Village functions as a creative space for both the artists in residence and the local community travellers included.
As well as selling their wares on-site, the artists host painting classes, sculpture workshops, environmental awareness seminars and jam sessions. A visit to the village makes a good outing for art-lovers and groups of all ages including families (contact the venue in advance to find out about scheduled art workshops and shadow puppet shows for your kids).
There are several studios and galleries to explore the village. Most are open daily, although hours vary depending on the season. Here we introduce two of the artists you might meet:
Niran Art Gallery
A slight, kind and softly-spoken man originally from Chiang Mai in the north of Thailand, artist "Niran Chanhom" relocated to Phuket several years ago because of his love for the sea. And it is the sea that has become his greatest inspiration.
Driftwood in all shapes and sizes collected from Phuket's various beaches are the beating heart of many of his creations. His artistic flair is perhaps best captured in his life-size wooden sculptures of fish and other marine life. These driftwood sea creatures are not only beautiful but also reflect Niran's hopes of protecting the ocean.
While making art from driftwood will always be his favourite medium, in recent years Niran has evolved his craft and taken to large canvases – often depicting a lonely fisherman with his fishing pole or catch of the day – to let his creativity explode. His abstract paintings are both bright and colourful and introduce new characters to his artistic line-up. Niran's latest works are a series of mismatched faces and a few smaller pieces that highlight the bond between mother and child.
A visit to Niran's art gallery in Phuket is an opportunity to admire his work and get up close and personal with the artist himself. Don't be surprised if Niran invites you in and asks how you like your coffee, as he is happy to meet people from all over the world and chat about art, travel and politics.
The Love Art Studio
The driving force behind the village's most colourful studio is Kitipong Ngowsiri. Simply known as Pui, his creative portfolio features an array of characters that come to life through oil on canvas, pastels, sculpture and sketch.
The Love Art Studio is as eclectic as it is functional. Pui has a fine eye for detail, and his gallery-home is decorated with a hodgepodge of modern art and delightful kitsch from his world travels. A lover of aesthetic, Pui marries his displayed artworks with his love of nature and is keen to chat about the Bonsai and cactus plants displayed throughout his studio.
Although Pui is regularly out and about, The Love Art Studio is open daily. When Pui is not around, visitors are welcome to appreciate the studio and take photos. Should you have questions or wish to buy his artwork, one of the other resident artists will help you.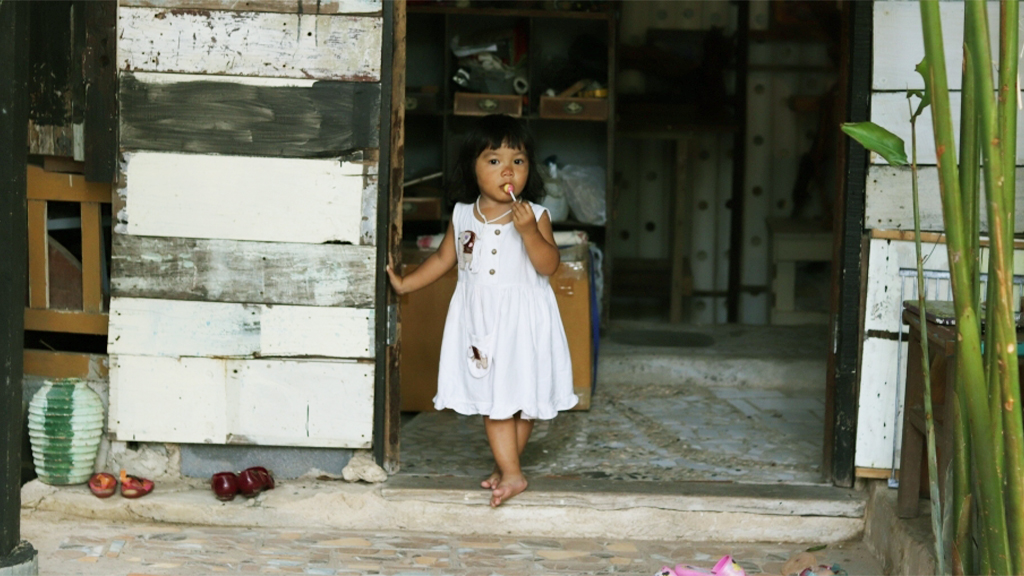 Whether you're after fun things to do in Phuket, seeking artistic inspiration for yourself (or just an enviable Instagram story) or want to purchase art from Thailand to bring back for your home or as souvenir gifts, visiting Phuket Art Village is guaranteed to be a worthwhile memorable experience. Nowhere else will you get an authentic glimpse into the daily life of Thai artists quite like this, and the invitation for your own creative inner child to come out and play in professional artists' studios.
Aside from its dazzling beaches, Phuket holds a unique and delightful charm. Holiday at one of our villas and experience the best Thailand has to offer.