An innovative new dining experience featuring local ingredients cooked over a wood fire and the promise of zero-waste cuisine, Hideaway by Jampa is a culinary pop-up that is truly breaking boundaries as a creative, sustainable dining experience in Phuket.
The brainchild of the luxurious Trisara resort in the northern part of the island, Hideaway by Jampa is located at the Trisara farm, which is home to many of the ingredients used to create the tempting dishes at PRU, Phuket's only Michelin Starred restaurant.
Introducing Hideaway by Jampa
Hailed as one of the most Instagrammable dining locations on the island, Hideaway by Jampa is surrounded by pristine lakes and a shaded canopy of trees. The setting is truly idyllic and compliments the overall experience.
Dining at Hideaway by Jampa is uniquely out-of-the-box. The restaurant's tribe of chefs and purveyors have created an open-kitchen experience with live fires and intense flavours from wood fire. The creative dishes boast only the highest quality locally sourced ingredients and are prepared with zero-waste cooking techniques.
Fresh, delectable meals prepared with zero-waste cooking techniques
Finely curated, the 5-course set menu at Hideaway by Jampa does not disappoint. One of the showstoppers of the menu is Otak-Otak, a boneless mackerel filled with a fish mousse and grilled on a wood fire. The tantalising dish is served with a dip of egg yolk and pickled galangal. Free range duck is also an option as is a premium beef strip loin with black miso, chives and leek ash. For dessert, guests can indulge in a lush apple panna cotta.
Hideaway by Jampa is helmed by Trisara's newest Culinary Creator, Chef Chris Eiting. Formally the Sous-Chef at Bali's leading restaurant Locavore, Chef Chris takes wood fire cooking to a new level with locally sourced meat and seafood and creative vegetable dishes sourced from the garden.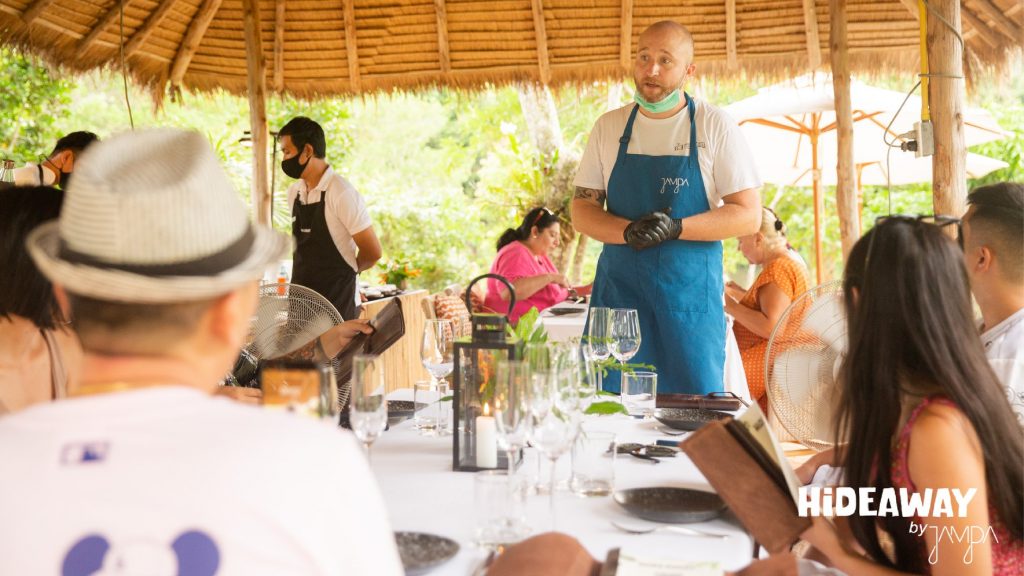 Jampa's Fight Against Food Waste
By necessity, Hideaway by Jampa considers sustainability first and foremost in all of their work and in every decision made at the restaurant. It is Jampa's goal to exert the absolute minimal impact upon earth, including breaking down their waste with zero carbon footprint and creating organic compost that is used on the farm.
Dine Sustainably at Hideaway by Jampa
For Elite Havens guests looking for an extraordinary experience while holidaying with us in Phuket, this truly is a unique dining experience not to be missed. Don't miss the opportunity to indulge in creative farm-to-table specials made by using zero-waste cooking techniques that leave near-zero leftovers.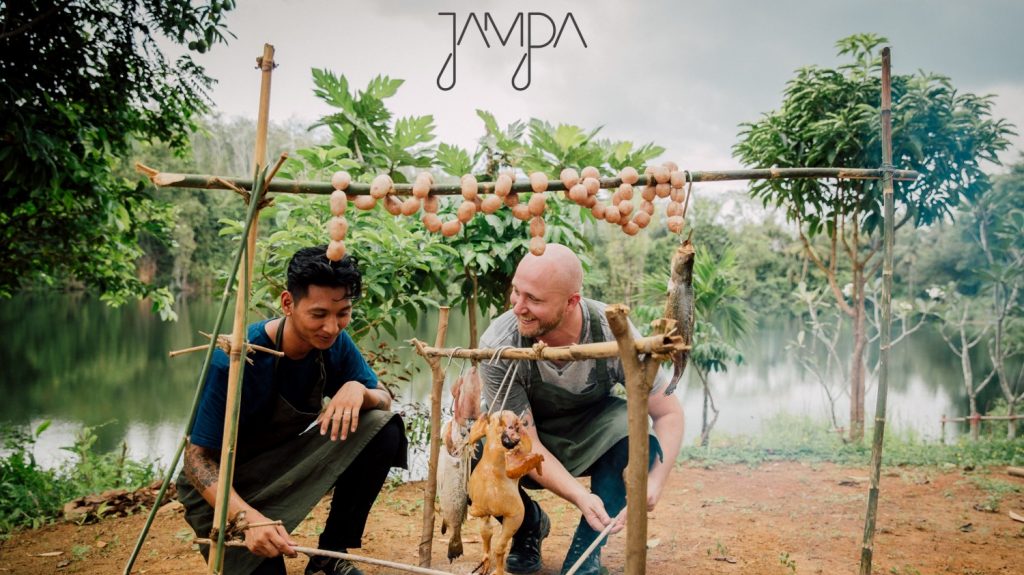 Hideaway by Jampa is family friendly. Children of all ages will be delighted to have the chance to learn about sustainable living with fun, educational activities including planting seeds, feeding the on-site ducks and chickens as well as plants and crafts.
The pop-up culinary experience at Hideaway by Jampa is open on Friday and Saturday only from 12:00pm until 5:00pm. Reservations are required and can be made by contacting fb@trisara.com
All images are from Hideaway by Jampa.
Stay in one of our Phuket villas, and indulge in the many cuisines this idyllic island has to offer.