Elite Havens' Country Manager for Thailand, Femke Beekers fell in love with the country while on vacation. So much so, that in 2000 she decided to move halfway across the world and build a life there. Fast forward to today, she has now been a resident for 19 years, the first 10 of which were spent in Koh Samui, working in the hospitality industry. New job opportunities brought her to Phuket, and for the past three years, Femke has been managing the Thailand operations of Elite Havens as Country Manager. In her free time, Femke likes to practise yoga, hang out at the beach with her family and friends, and experience all the fabulous things Phuket has to offer. We asked her about some of her favourite spots on the island she now calls home, Phuket.
Elite Havens: Please tell us a bit about yourself and what you do for Elite Havens.
Femke: Ever since I finished school, I have been working in the travel and hospitality industry. Come to think of it that amounts to more than 25 years. I worked with travel agencies in Europe and later, moved to Thailand to manage several luxury resorts in Samui and Phuket.
I am currently the Country Head of Thailand for Elite Havens, a position I have held for the past three years, developing our destinations and business in the region, with my colleagues Andy and Milos.
Elite Havens: How difficult was the transition from hotels to luxury villas? Was it very different from your previous role?
Femke: The role itself is quite similar, overseeing the entire operation and the different teams, ensuring the processes run smoothly, which is what I do countrywide for Elite Havens now. However, when you are running a hotel, the rooms and facilities follow a common style and are all contained within one location. With villas, each property and location is unique and caters to a different audience. Moreover, personalised service provided by Elite Concierge to the guests makes every single stay a unique experience.
Elite Havens: What do your daily duties as Thailand Country Head include? Do you deal a lot with the owners? With clients?
Femke: Most of the day goes into day-to-day operations. We need to keep the systems and processes as efficient as possible. Usually, it involves meetings, assisting the teams, and inspecting the villas. We constantly communicate with the operations teams, guest services and concierge team, making sure that our guests are well taken care of. It is important that everyone moves in the same direction, towards a common goal – to ensure that Elite Havens remains the best and only choice in Thailand for high-end villa rentals.
Besides this, there is also the sales aspect of the business. We must make sure that the occupancy numbers are up, which makes the owners happy. My responsibilities also include communicating with the villa owners to make sure they are updated and informed about the villa operations, guest and agent feedback as well as their villa rental financials.
Elite Havens: Are the guests particular about the food in the villas?
Femke: When it comes to food, guests love the fact that we offer private chefs who cook everything fresh for them. Currently, we are trying to expand the menu selection our chefs can whip up. Since we are a part of The Dusit group, we plan to organise special training for our villa chefs at the Dusit Gourmet School. We have come to know that Dusit chefs excel with Japanese food, so that would be a nice additional cuisine for our chefs to learn.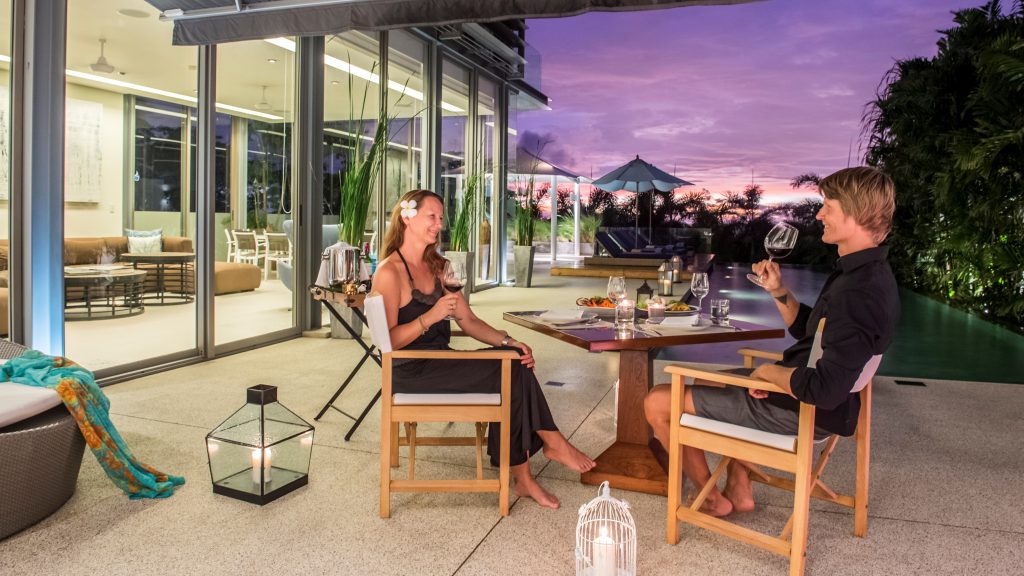 Elite Havens: Can you tell us about some CSR initiatives of the company?
Femke: As a responsible company, we don't only think about revenue, we also think about the community and the environment. We join hands with the villa owners to see what locally-sourced products we can use. We try to be as environmentally friendly as possible, for instance, banning plastic in our villas, which can be challenging at times. We participate in a variety of CSR programs that try to help solve some of the island's unique challenges. For example, one of the schools we regularly visit is affiliated with a well-known university, and they offer very good training programs/scholarships to their children. In addition, they have a fantastic organic farm, where they teach children how to grow vegetables and how to take better care of their own health. It is a very comprehensive program, and we are keen to find ways to support them further. We carefully select the activities we recommend to our guests, not only ensuring they are unique and safe, but also that they do not support animal abuse or other unsustainable malpractices.
Elite Havens: And how about the villa owners? Are they also involved with these initiatives?
Femke: We always try to keep our villa owners involved in the initiatives we to do. When we tell the villa owners about these projects, some of them come along with us, while some even give donations like toys or clothing for the children.
Elite Havens: So, since the villas have their own unique details, can you tell us about some of your favourite villas in Thailand?
Femke: Malaiwana Villa Rodnaya is one of my absolute favourites. I love this villa because it has a combination of Thai uniqueness and stylish modern living and the views are to die for.
Elite Havens: Tell us about the path that brought you from Europe to Thailand.
Femke: I came from the Netherlands and used to work for travel agencies there. I was on the other end, sending clients on holidays such as the ones we host now. About 21 years ago, I sent my parents on holiday to Samui, and they fell in love with the place and the people. Thus, they decided to build their retirement home in Thailand, instead of France, which was their original plan. I decided to move to Thailand to stay in their house until they were ready to retire. So you see, I was quite lucky at the start! I easily fell in love with the country and never left. Every five years, I consider moving to another country, to explore the world, but none of the other potential destinations has topped Thailand yet, so Phuket is still my much-loved home.
Elite Havens: What is it about Thailand that captivates you?
Femke: Well, it is the combination of the lifestyle—the food, the massages, the sun, the beaches. Also, I think that just living in Asia gives me a kind of freedom that is very different from Europe. In Europe, everyone sticks to a schedule dictated by their calendar and appointments, whereas here, you can just call your friends up and ask, "Are you free? Let's meet up!" Life is simpler here.
Elite Havens: What are some of the things that you do when you're not busy working?
Femke: We live in Kamala in a very peaceful quiet home, right next to the mountains. A good place to wind down after a hard day of work. We like to go to the beach, and mostly go to Layan because it is an unspoilt and expansive beach, everyone can just drive up there, park and walk for miles. We bring our dogs—we have three 'Soi Dogs' (rescue dogs)—so they can just run and be free. We like to have barbecues on the beach with friends, and those often end with sitting around a cosy campfire.
Elite Havens: What are some of your favourite dining spots on the island?
Femke: In Phuket, I personally love Tatonka in the Laguna area. I cannot have enough of their fusion-style tapas. The Larb Gai is to die for. Another favourite is Benny's American Bar and Grill, a cosy restaurant with personal touches. He has a new smoker, which is amazing. A few of the dishes are finished right at your table. The cocktails are original too, well presented and refreshing. Project Artisan is great for lunch and dinner. It has a Balinese feel to it – stunning gardens, great for families. They only use organic products.
In Samui, my all-time favourite is Pepenero, an Italian restaurant with food cooked from the heart, using ingredients straight from Italy. Jun's Art Café is amazing for lunch, offering fusion Thai dishes using organic products.
When it comes to Thai food, the best is found in the simplest of restaurants, just around the corner – super cheap, and serving amazing authentic flavours. A dish you must try is Prawns with Tamarind Sauce. Let your Villa Manager know and our chefs will be happy to prepare this for you.
Elite Havens: What else do you do to unwind?
Famke: Besides going to the beach, we love to take day trips off the island on our motorcycle, or jump into our kayak and go exploring. I also love hot yoga, and I find it is perfect for my muscles. And I love diving! I love to go on liveaboards. Similan Island is my favourite spot. It is not far away from home, just northwest of Phuket. It is pure meditation in the sea; no talking under the water, no phone, no internet.
Plan a trip to Thailand to witness first-hand the magic of the country that cast a spell on Femke. Book, one of our Elite Havens in Phuket or Koh Samui now.