Every chef working at an elite haven has a signature creation – something that guests crave and happily come back to. While a lot of us can't travel right now, food is a great way to experience different cultures without moving an inch. Nothing unites the world like a good curry, so we asked our in-villa chefs from Villa Asta and Villa Atas Ombak in Bali to share their favourite curry recipes for our readers to try. Easy to follow and delicious to taste, these recipes are sure to make your family and friends very happy.
The Chefs
Chef Gede Eka Putra Utama who prepares sumptuous food for guests at Villa Asta in Bali has been an Elite Havens in-villa chef for an impressive six years. Emphasizing his love for the job, he said, "I love cooking food because it has always been my passion. It makes me happy when our guests enjoy their meals and are impressed with the homely dishes I create." Chef Komang Hindaryani from Villa Atas Ombak has been an Elite Havens villa chef for four years and feels the same way.
Villas that inspire
Professional chefs draw inspiration from their surroundings and our world-class facilities and amenities go a long way in fueling creativity. Villa Asta, a fully staffed five-bedroom residence is an easy walk from Batubelig Beach on Bali's picturesque south-west coast, and a five-minute drive from Seminyak. It is perfect for families or groups of friends who seek that much-needed escape from routine life with lots of entertainment options. On the other hand, Villa Atas Ombak is an unrivalled wedding venue with five gorgeous bedrooms and myriad outdoor living areas. This fully staffed villa is also ideal for young groups visiting Bali to enjoy its party vibe. Known for its abundance of space and privacy, with some of Bali's coolest beach clubs, restaurants and bars just a short stroll away.
Best-loved dishes
When asked about their best-loved dishes, Chef Gede confessed that he loves making different kinds of curries, while for Chef Komang, Balinese and Indonesian dishes are more up her alley.
Back to the curry love affair. Served best with steaming basmati rice, the aromas and flavours of these curries are a delight to the senses. We hope that you and your family have fun making these!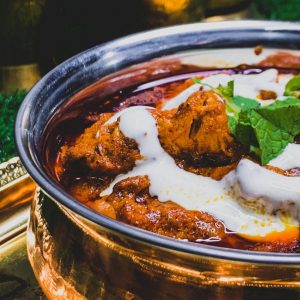 Lamb Curry
Ingredients
500

gm

lamb

2

large onions,

thinly sliced

2

cloves garlic,

chopped

1/2

tsp

turmeric powder

1

ginger,

chopped

2

stalks lemongrass

330

ml

coconut milk

5

fresh red chillies

fresh coriander

1

tsp

Madras curry powder

1

cinnamon stick

1

tbsp

olive oil,

extra virgin

salt and pepper,

to taste
Instructions
Massage 1/2 tsp salt and pepper into the meat. Heat the extra-virgin olive oil in a large, thick-bottomed pot (which has a cover for use later) or Dutch oven on medium-high. Add lamb when the oil is hot and cook the pieces well on all sides until they change colour. Remove from the pan.

Sauté the onions until golden.

Add the chopped ginger to this along with the garlic and cook the mixture until the raw smell disappears.

Stir in the coconut milk, lemongrass, chillies and cinnamon stick. Add the lamb and mix it well. Let it cook for 5 minutes and add water.

Add chopped coriander leaves along with the Madras curry powder. Give it a quick stir.

Cook for another 30 minutes to ensure the lamb is tender and perfectly juicy.

Serve hot with basmati rice.
Green Chicken Curry
Ingredients
For the green curry paste:
Large green chillies,

minced

3

shallots,

minced

4

cloves garlic,

minced

1

tbsp

galangal,

minced

2

tbsp

coriander root,

minced

2

tbsp

coriander stem,

minced

1

tsp

coriander powder

1

tsp

salt

2

fresh lime leaves

2

stems of lemongrass

1

tbsp

vegetable oil
Other ingredients:
1/4

cup

green curry paste,

made using the above ingredients

400

ml

coconut milk

2

tbsp

coconut oil

1

Bay leaf

500

gm

chicken thigh fillet

2

tbsp

fish sauce

2

tbsp

lime juice

2

zucchini

250

gm

green peas

1/4

cup

basil

1/4

cup

fresh coriander

1/2

lime,

juiced

salt,

to taste
Instructions
Green Curry Paste method:
Put all the ingredients with the oil in a spice grinder and blend into a smooth paste. Set aside.
Method for the dish:
Pour the coconut milk into a saucepan and stir in the green curry paste so that there are no lumps.

Cook uncovered, stirring frequently, over medium-low heat until the oil separates and it starts to smell fragrant about 8 to 10 minutes.

Add chicken pieces, coconut milk, bay leaf and fish sauce. Bring to a boil, reduce heat, and simmer for 20 to 25 minutes.

Remove the bay leaf and stir in lemon juice. Add the basil and coriander. Simmer for 5 more minutes. Serve hot with jasmine rice.
Cook up a storm in your kitchen and don't forget to share your final dishes with us on Social Media. We would love to hear how they turned out! Better still, book a vacation to Bali and have our chefs treat you to these delicious curries and more.