While Phuket is known as an idyllic destination for carefree pursuits such as beach club parties, sunset cocktails, luxury yacht cruises, seafood feasts, and the like, a growing number of places for self-care have emerged where travellers can heal their bodies and revive their souls while on holiday. Yoga studios, intensive martial arts training, detox/diet centres, fitness boot camps, and meditation retreats are just some of the therapeutic activities on offer. Still, none is as prevalent in Phuket as the age-old healing art of traditional Thai massage.
Traditional Thai massage
Thai massage also called assisted yoga massage, is a vigorous treatment by which the body is moved and manipulated in a series of bends, stretches, lifts, and acupressure compressions to stimulate energy flow and restore balance.
WHAT TO EXPECT: No massage oils or lotions are used during a Thai massage. Loose-fitting clothing is worn during the treatment, which was traditionally carried out on a low bed or mattress on the floor. These days, however, massage atop a massage table, spa bed or sun lounger is more common throughout Thailand.
TECHNIQUES: Experienced therapists have incredibly strong hands, and they also use their elbows and knees to apply pressure at various points along your body. A Thai massage session can also include cracking of the joints and neck and pulling the limbs.
BENEFITS: By the end of a one or two-hour treatment, you'll feel entirely invigorated from head to toe. Be sure to talk with the specialist first if you have any injuries or chronic pains that need to be handled with extra care.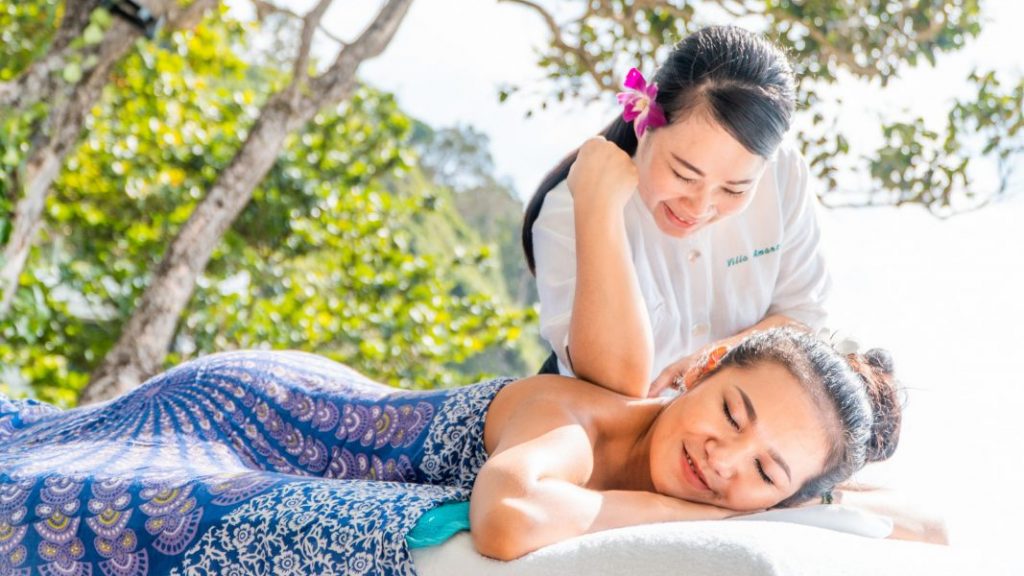 Thai massage is an integral part of traditional Thai medicine with techniques that have been passed down through generations for more than 2,000 years. Ancient texts of Thai medicine have been lost to the ages, but in 1832 King Rama III of Siam commissioned 60 stone etchings to be made using fragments of text found at the royal court. These stone plaques, displaying the treatment points and energy lines of the body, can be seen at Wat Po, the Temple of the Reclining Buddha, in Bangkok, which remains an important learning centre for Thai massage.
Thai massage in Phuket
Phuket has a remarkable variety of places to enjoy a Thai massage. With salons peppered on practically every street corner, in shopping malls, masseuses for hire at the beach, and spas in a range of styles from modest tropical garden settings to sleek havens of luxury with elaborate facilities – or book a massage in the privacy of your villa rental.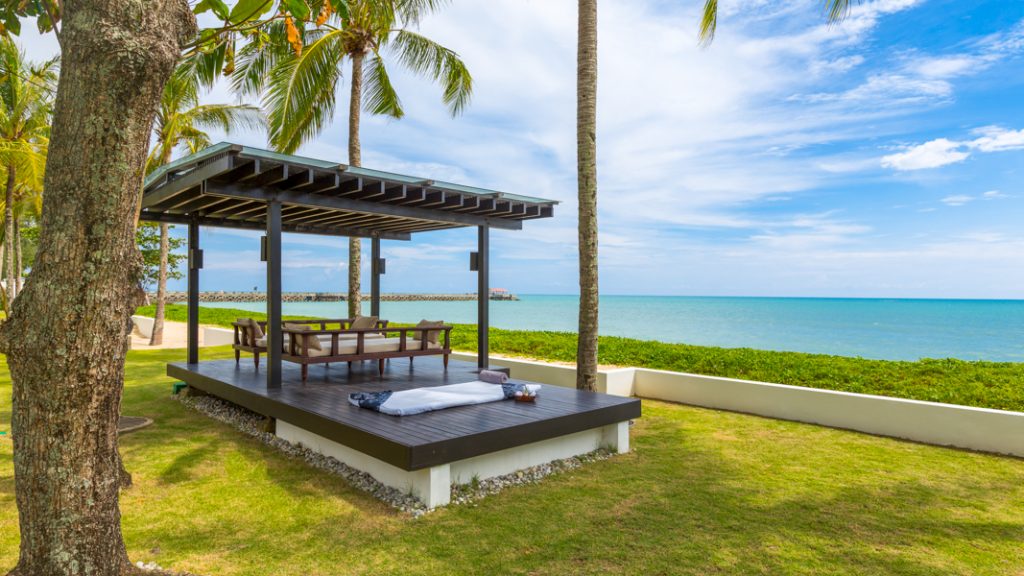 A seaside massage is a must-try experience if you're a beach lover in Phuket, with open-air massage services found along most of the main beaches including Kata, Patong, Kamala, and Bang Tao. Have a stroll along the beach, and you'll soon meet some of the masseuses who work their healing magic on low platforms set under umbrellas on the sand.
Though the set-up is quite simple, these ladies are highly skilled, and getting this kind of treatment to the sound of the waves is the best way to unwind. Oil massage and reflexology foot massages are also available.
Thai massage is just one of many therapeutic services at Phuket spas. With body scrubs, body wraps, facials, and herbal compress sessions among the other treatments on offer, hair styling, manicures and pedicures are highly recommended services as well.
For a complete rejuvenation of the body, mind and soul, Phuket spas have attractive packages as well. Some lasting for four or five hours, or even all day. These packages can combine one or more massage therapies with baths, steam sauna sessions, skin treatments, and holistic treatments such as sound therapy or aromatherapy. The most sought-after include romantic packages for couples (think rose-petal jacuzzi sessions, chocolate body scrubs and champagne), jet lag recovery, detox/purifying and anti-ageing packages.
In-villa Thai massage
Enjoy a healing session in complete privacy and peace in the comfort of your luxury villa. Some Phuket villas have full spa facilities that rival any of the top resorts while others have inviting treatment areas, such as a shaded poolside gazebo, a lavish air-conditioned bedroom suite, a tropical garden with fragrant flowers or an oceanview terrace.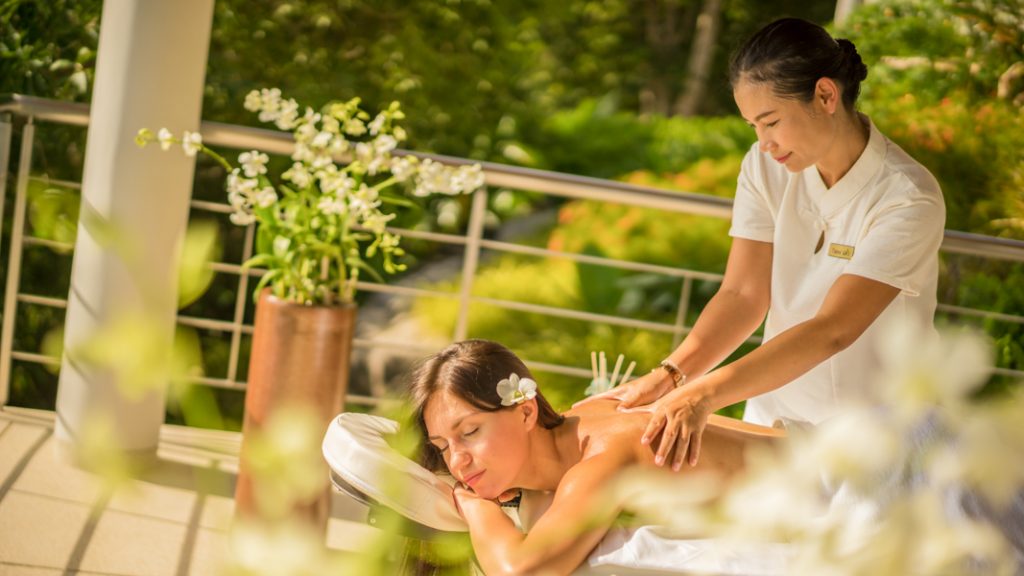 Organising an in-villa Thai massage treatment is easy with the help of your villa manager who can suggest the best therapist for your needs and arrange for them to visit at your convenience. The costs depend on the treatment, but they're usually reasonable in comparison to what you'd pay at a luxury resort spa.
Don't fret as the cleanliness and privacy of an in-villa Thai massage will always be taken care of. All you have to do is relax and unwind and let peace and restfulness take over you. Book any time just as long as it is within business hours.
When staying at a Phuket villa, your wellness program can be personalised by arranging yoga or personal fitness training sessions followed by a Thai massage, and then, of course, a refreshing dip in your villa's private pool. And to make it a truly holistic wellness retreat, be sure to consult with your villa chef to have light and healthy meals prepared throughout your stay.
For those seeking a haven to unblock, unwind and awaken their senses, Phuket is an enticing choice. Check our Phuket villas now and have a renewal of mind, body and soul.