Ready for an adventure? Take to the sea Herman Melville style and visit the Phi Phi Islands to the southeast of Phuket. This beautiful bundle of isles in the Andaman Sea offers some of the most spectacular scenery in the world. Add these must-see islands to your Thailand itinerary.
Koh Phi Phi Leh
Early birds get the worm, or in this case, stunning views of Maya Bay featured in the Hollywood blockbuster, The Beach, starring Leonardo Dicaprio. A privately chartered speedboat departing at sunrise from Royal Phuket Marina near Cape Yamu offers the best chance to witness this remarkable site before the hoards arrive.
The approach to Koh Phi Phi Leh is an experience in itself, as the 100-metre-high limestone cliffs encompassing unbelievably azure water come into view. Silhouetted by dense jungle, the two silky-soft white-sand beaches of Maya Bay are gradually warmed by the rising sun with the allure of lazy lounging. But wait, there's more.
Snorkelers rejoice! This remarkable bay with depths of two to three metres is teeming with marine life in its northern section where coral reefs are more prevalent. Leap from the deck of your private charter boat or dare the 150-metre swim from the beach. Either way, be prepared to see large boulders laden with enormous sea anemones, parrotfish and photogenic giant clams posing with mouths agape.
Before departing to the next destination, venture barefoot into the jungle along a short trail shaded by a lush tropical canopy to a wooden staircase and terrace overlooking Loh Sama, reputed for its snorkelling and diving opportunities. Here you'll see a picturesque tiny islet surrounded by crystal clear waters with traditional long-tail wooden boats moored alongside.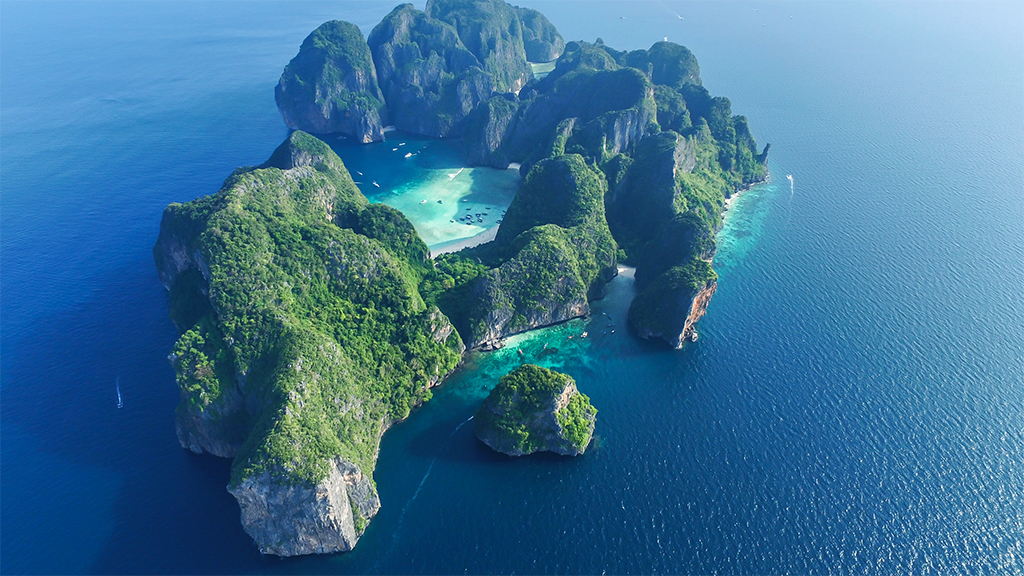 Phi Leh Lagoon
Opposite Maya Bay on the eastern edge of Koh Phi Phi Leh is the unbelievably green Phi Leh Lagoon. Stretching nearly 600-metres, this stunning natural wonder twists and turns down a canyon-like waterway ending in a wide picturesque lagoon with vertical limestone cliffs on all sides. Its full beauty is unveiled around midday, when the sun, like a brush to canvas, brings to life its colours, tones and textures. This is a spot to linger a while and appreciate how nature's artistic hand can create such a glorious sight.
If it weren't for the ripples, you could be forgiven for thinking you were diving into a putting green on a world-class golf course. The mineral-rich saltwater of Phi Leh Lagoon keeps you effortlessly afloat while you gaze up at a blue sky framed by jagged cliff tops hosting the occasional white-bellied sea eagle. This is what Thai holiday dreams are made of.
Historians and geologists alike will enjoy a quick stop just north of Phi Leh Lagoon at 'The Viking Cave', which is rumoured to have been home to sea gipsies and pirates in bygone days. This enormous grotto carved out by the sea now provides shelter to hundreds of swiftlets whose nests made of their hardened saliva are harvested as a primary ingredient in Chinese bird's nest soup – one of the most expensive delicacies consumed by man.
Koh Mai Pai (Bamboo Island)
This tiny, postcard-perfect, heart-shaped island surrounded by a strip of white sand extending inwards towards lush vegetation is the perfect place to break for a relaxing lunch. Go for a stroll amongst the casuarina trees to spy monitor lizards foraging through fallen leaves, or snorkel the wide, though somewhat damaged coral reefs that rest at the north and south end of the main beach. Here you'll find schools of ocellaris clownfish, better known as 'Nemo' from the Disney-Pixar film navigating through the hairs of large sea anemones swaying with the tide.
Koh Phi Phi Don
A trip to Koh Phi Phi Don is not complete without a visit to the golden sands of 'Monkey Bay', where throngs of macaques feast and frolic in their natural habitat. See mothers with young clinging to their bellies while being groomed and fed, or admire their airborne acrobatics as they leap from tree to tree. However tempting it may be to 'make friends' with these cheeky monkeys, do keep in mind that they are wild animals and shouldn't be approached.
If at the end of the day, there's still some energy left in your reserves, the 20-minute hike up to Phi Phi viewpoint is worth the exertion. The views over Tonsai Village, Dalum Bay and across the sea to Phi Phi Leh are incredible and make the perfect end to a full day's excursion in the Phi Phi Islands.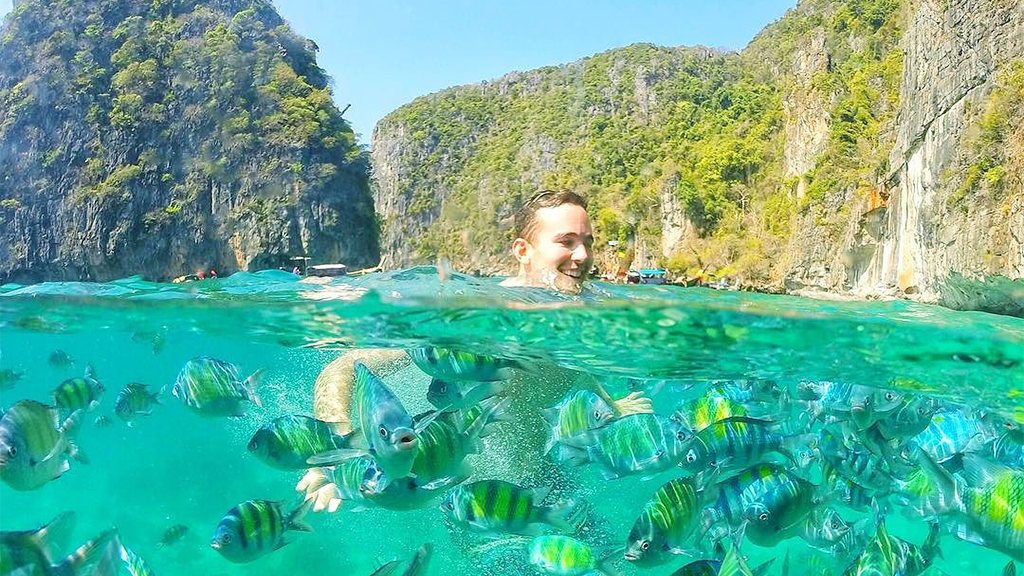 Phi Phi Facts & Tips
Just 46-kilometres from Phuket, the Phi Phi Islands share a very similar climate, with temperatures ranging from 24-32 degrees Celsius year-round. November through March typically experiences drier weather with clear skies and calmer seas, while the monsoon season spanning April to October brings rougher seas and occasional storms interspersed with sunshine.
While the islands can be reached from Phuket by regular ferry (approx. 90 minutes, ferries leave from Ratsada Pier, near Phuket Town) a private speedboat charter is your best option. Consider these recommended Phuket charters keeping in mind that your villa manager will have the best-updated advice for you.
Experience the ultimate island escape when you holiday in Thailand, Scroll through our wide selection of Phuket villas and enter a tropical state of mind.