How does the former First Family handle a holiday in Bali? By touring the island's delights, that's how.
See all the photos of Barack, Michelle, Sasha and Malia – The Obamas – during their recent visit to The Island of the Gods, where they caused quite a stir of excitement and brought about many thumbs-ups.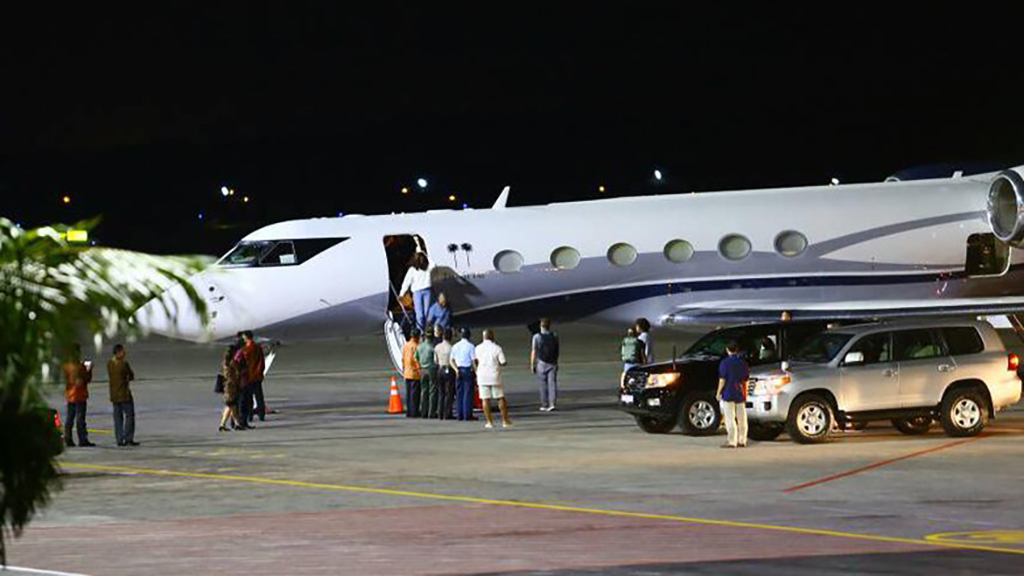 (1) The 44th U.S. President and family arrived in Bali, Indonesia on 23rd June 2017 aboard a private jet and were warmly greeted by a well organised line of people and two large cars.
One of the ladies wore a comfortable-looking white-coloured pull-over as she disembarked the aircraft, which is excellent flight attire.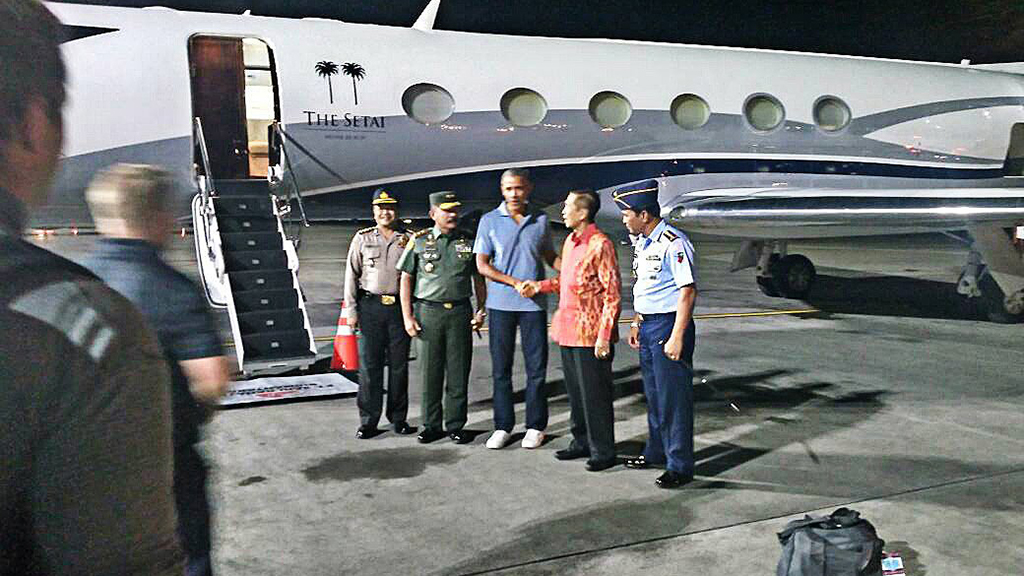 (2) Mr. Obama received a welcome handshake from Bali Governor, Made Mangku Pastika.
It is not known what was in the lonesome bag or why it had such prominence in this blurry photo.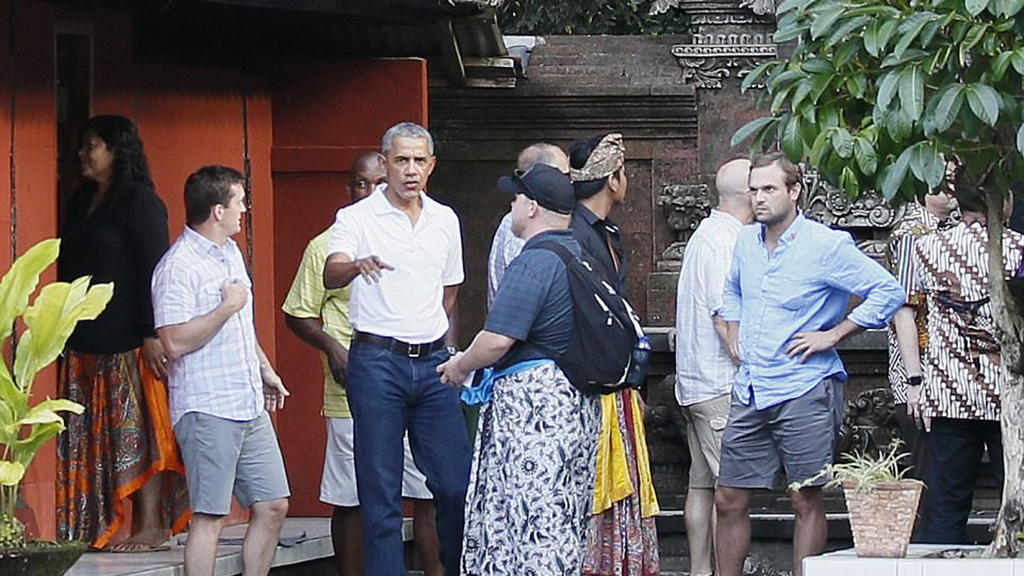 (3) For a visit to the Tirta Empul Temple outside of Ubud, a relaxed and informal Mr. Obama had the "Dad abroad look" nailed as he gestured to something in the distance.
Meanwhile, the man in the light-blue shirt stood with a wonderfully authoritative pose. It's nothing short of majestic.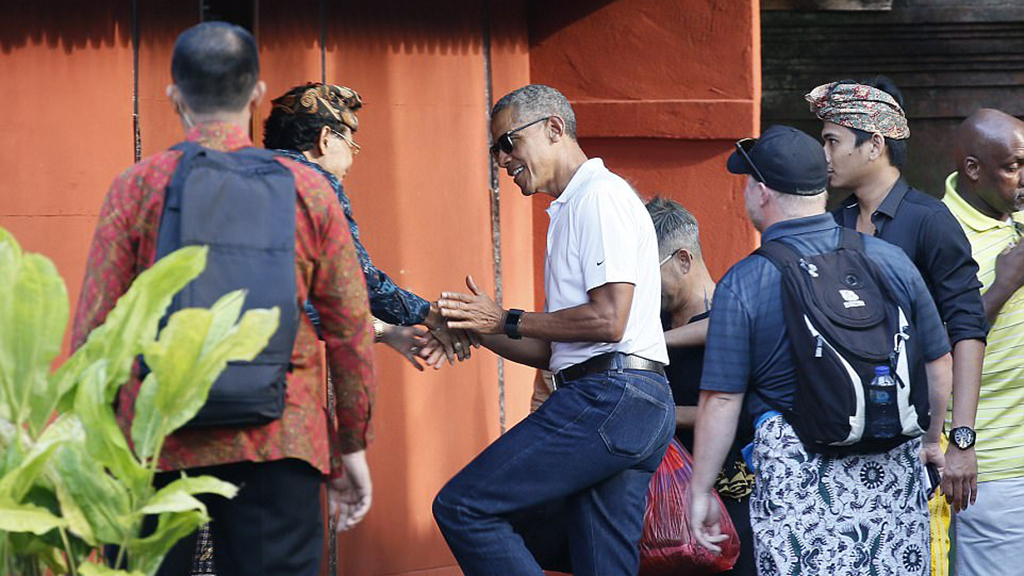 (4) Dressed in his favourite dark blue jeans and conventional white polo, Mr. O warmly greeted hosts with his double-handed handshake and famous golden smile.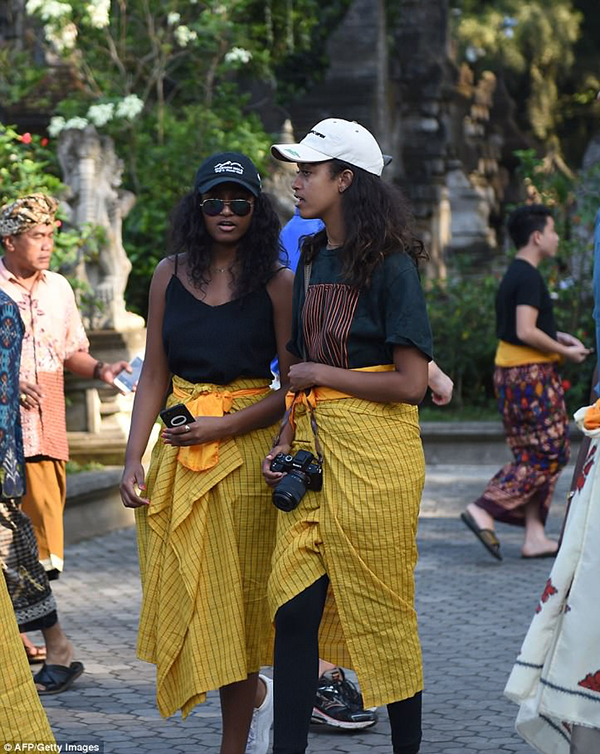 (5) Wearing the traditional garment known as sarong or selendang, Sasha and Malia Obama made sure they didn't miss a shot with both a phone and chunky DSLR on hand.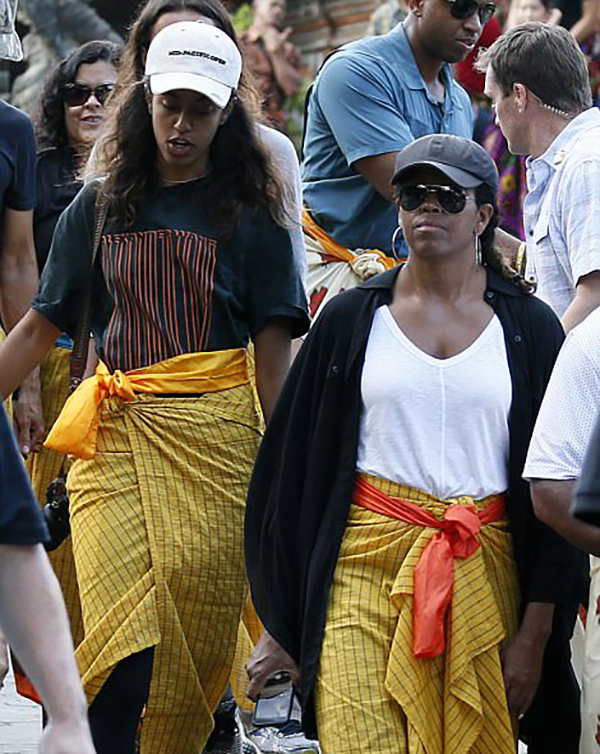 (6) Michelle Obama confidently led the way in her brand-new sneakers as the family explored the site.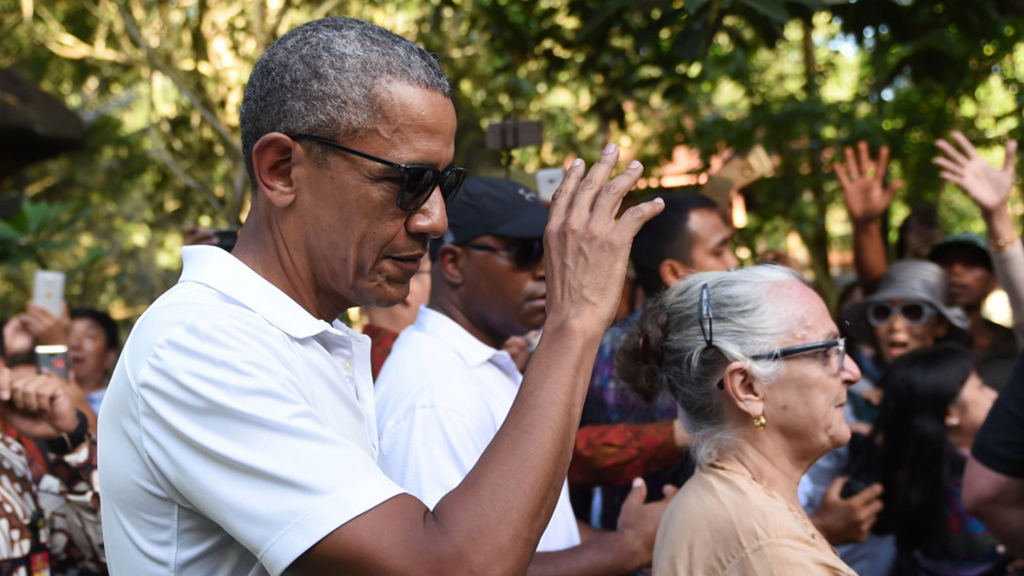 (7) Barack Obama waved to the many onlookers vying for his attention.
Better than nothing.
(8) Apparently it was tricky to get a good photo.
(9) The presence of a shorter man in the posse almost cleared the way for an unobstructed view of Mr. Obama playing tourist.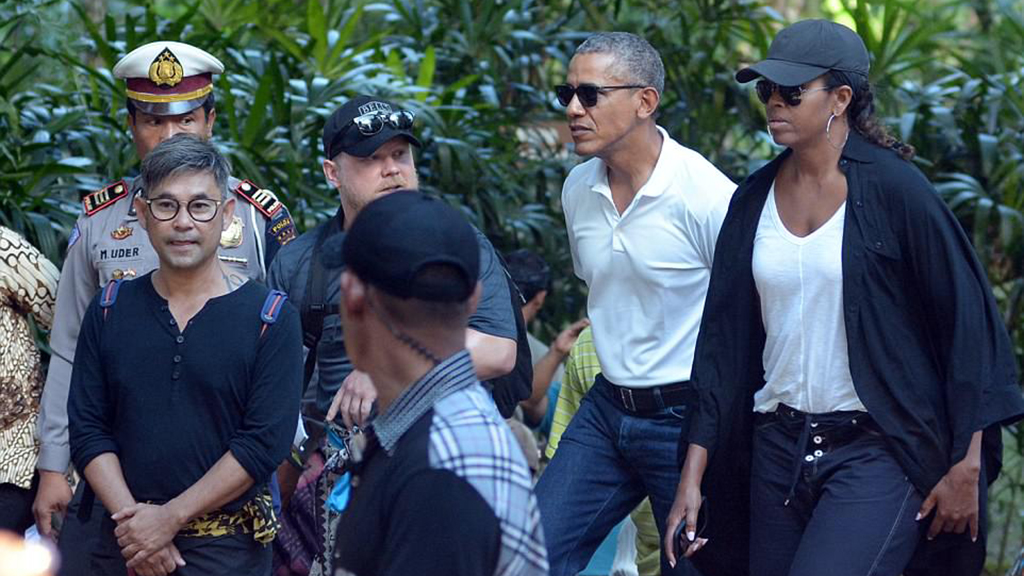 (10) As it turned out, his edgy specs and over-shoulder straps would catch your eye in any photo.
(11) Although here, we're happy to see this woman thoroughly enjoying the spotlight alongside Barack.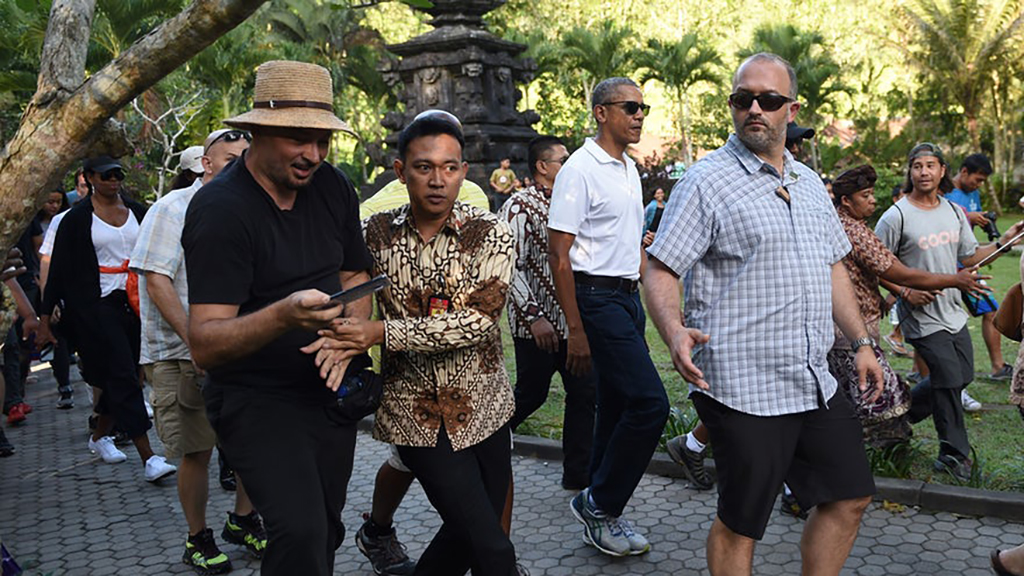 (12) The former POTUS drew in quite the crowd as he took in the sights – so much so that his entourage positioned themselves in the tried and tested formation they call "The Ring of Obama" the effectiveness of which is clear to see as the man in the hat was quickly ferried away.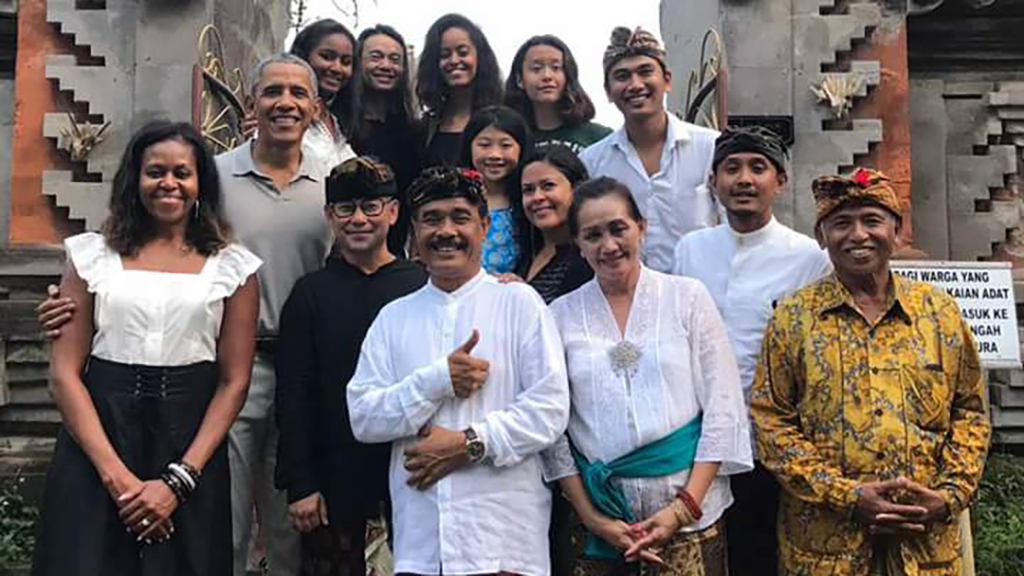 (13) Finally there was a proper photo op at Bali's Agung Rai Museum of Art, when Mr. Obama once again delivered his golden smile and Mrs. Obama a cheeky grin.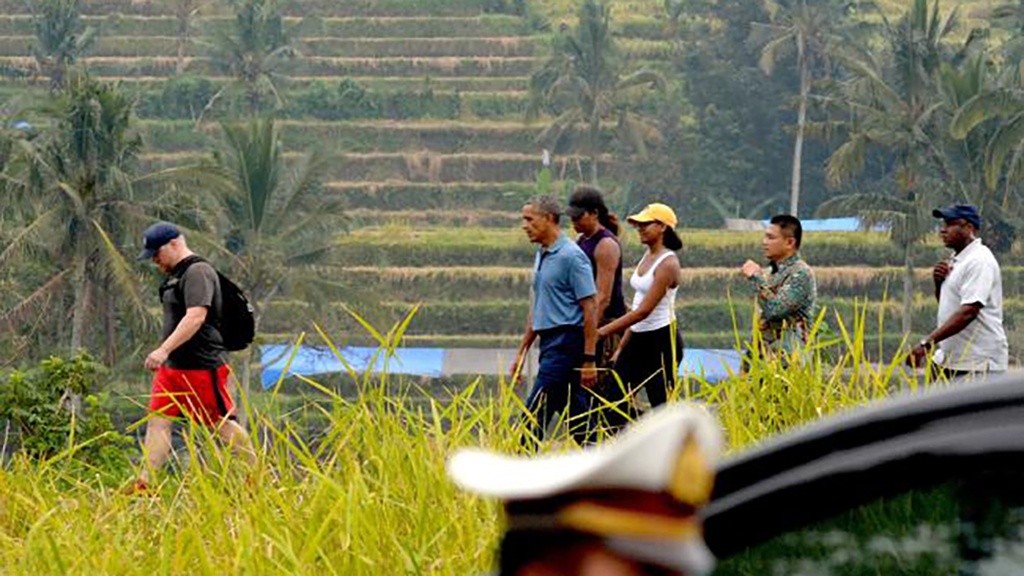 (14) The Obamas were seen walking in the Jatiluwih rice bowl, a UNESCO-vetted tourist attraction fit for a President and a 2-for-1 to-do combining sightseeing with light exercise.
It's a moderate hike for which you could wear your golf slacks or you know, your red gym shorts.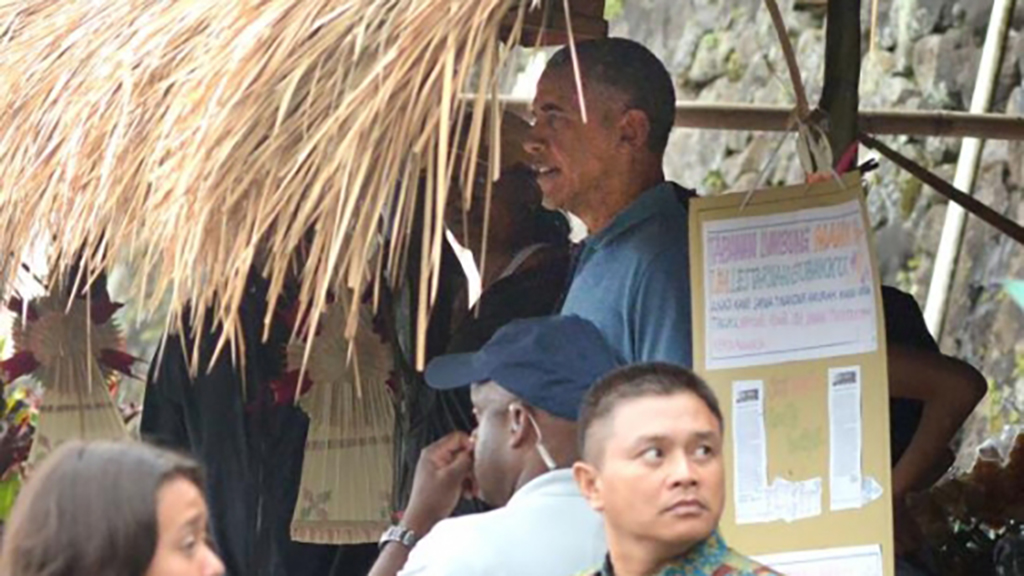 (15) Mr. Obama's security team were always close to hand and nearly all were seen wearing baseball caps.
Obama however preferred the shade of an exceptionally large straw hat which hovered well above his head when needed.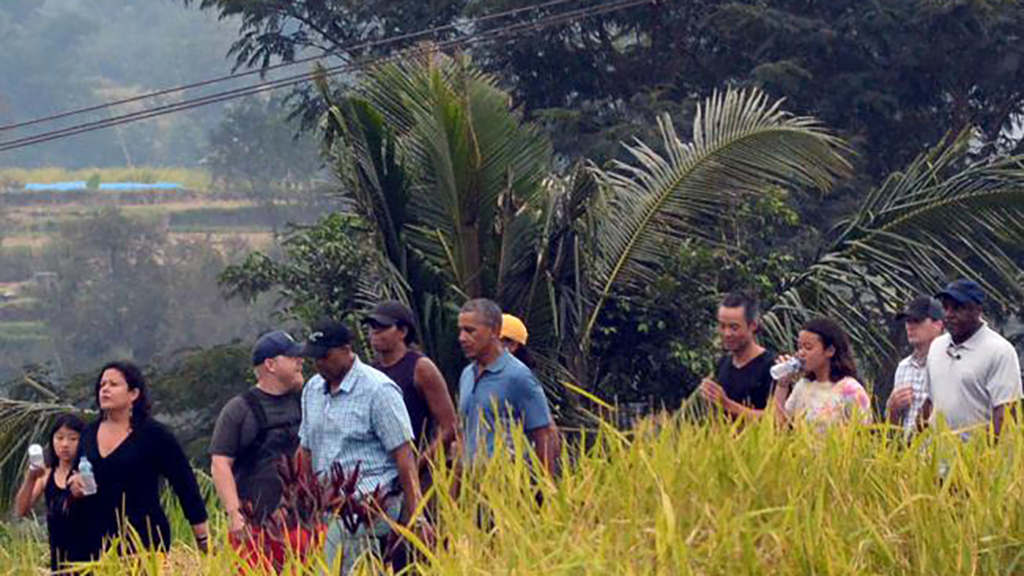 (16) The Obamas and their baseball-capped entourage explored the exquisite rice fields, the man with the red shorts sometimes looking like a member of the group.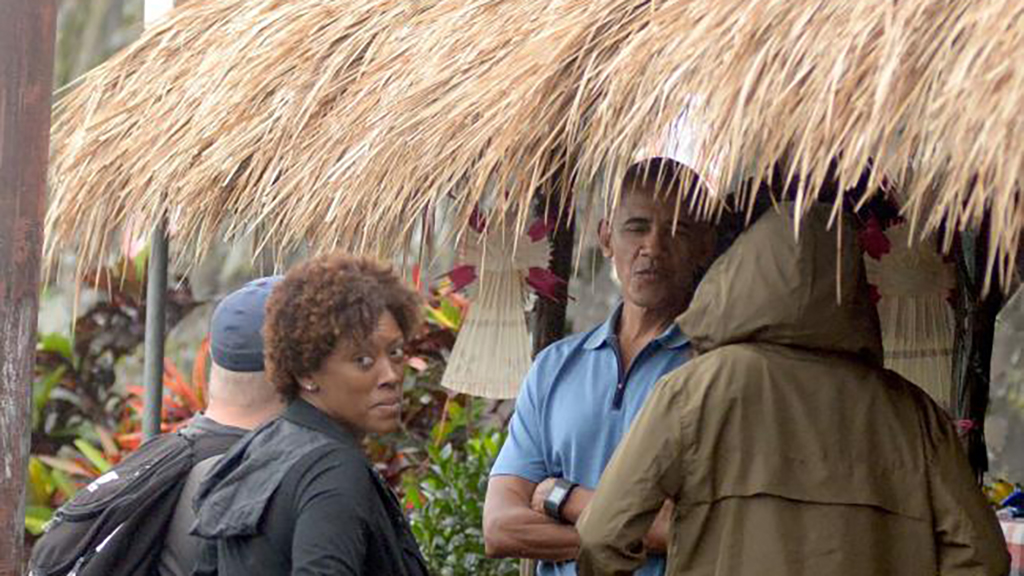 (17) Mr. Obama adopted a stern glare and folded his arms as a mysterious figure in a brown coat approached.
It was most likely his wife.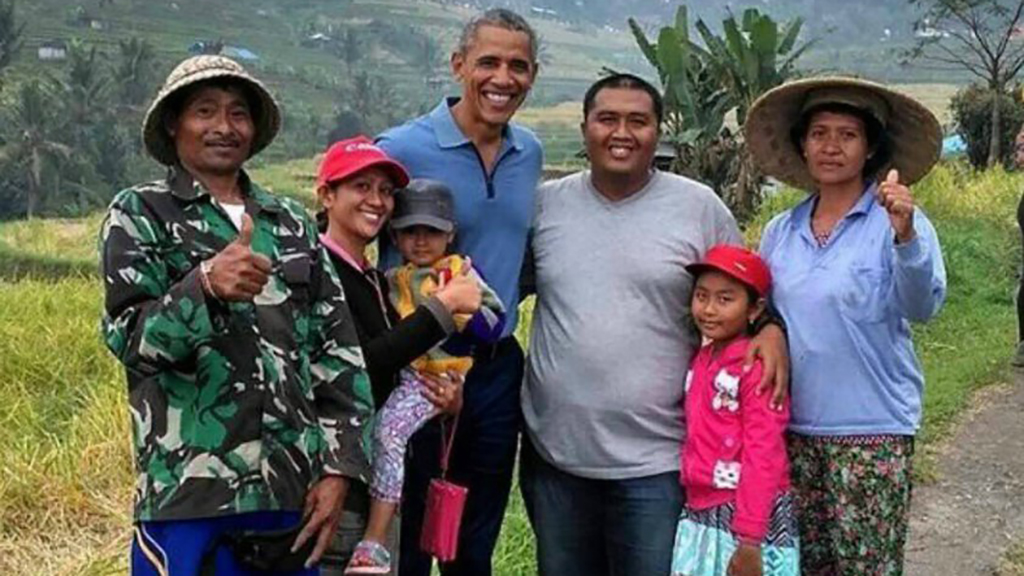 (18) Obama enjoyed meeting some of the local families and posed for a few photographs. He adopted a friendly and welcoming pose, released that winning smile and most likely made someone's day.
We note a real fondness for the "thumbs-up" in photographs with Obama. Seen here on three different hands.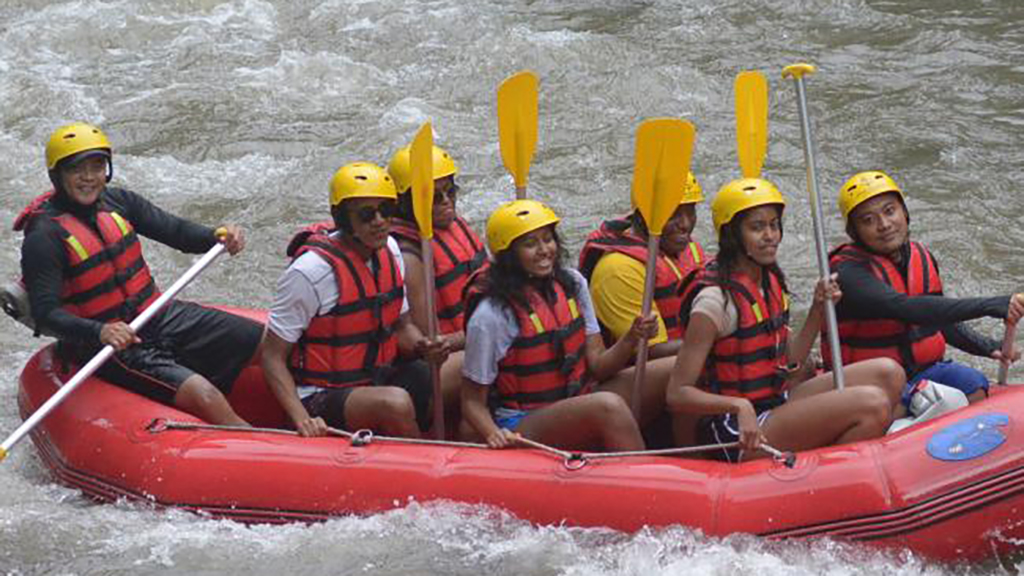 (19) The active family bravely took to the Ayung River in Ubud with their bright yellow paddles all pointing up (well most of them).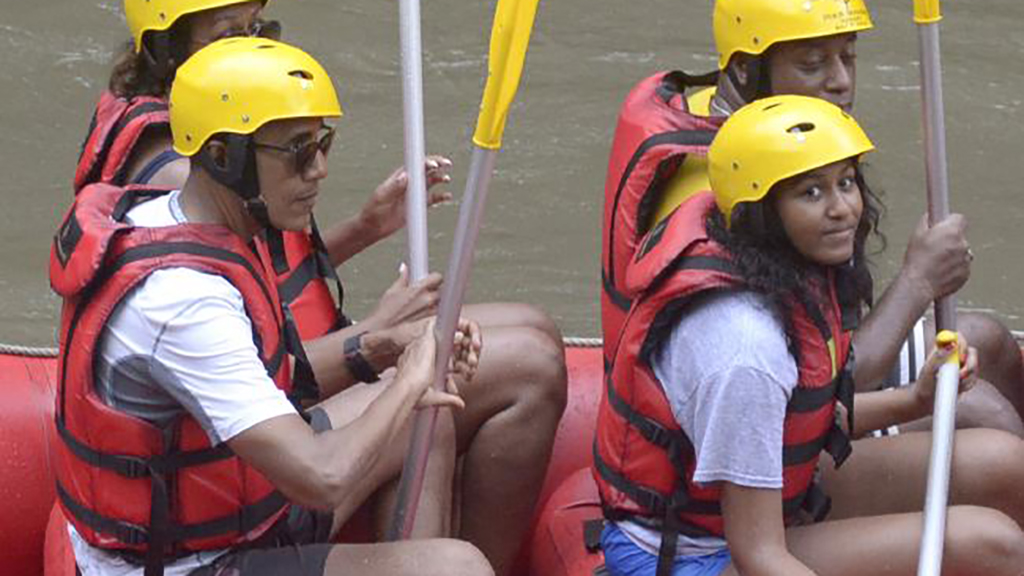 (20) Some may have been more distracted by the paparazzo than others.
(21) Judging by his daughter Malia's expression in this action shot, Mr. Obama likely gave out instructions on 'rowing technique' and 'the correct grip' in that way that only dads can do so well.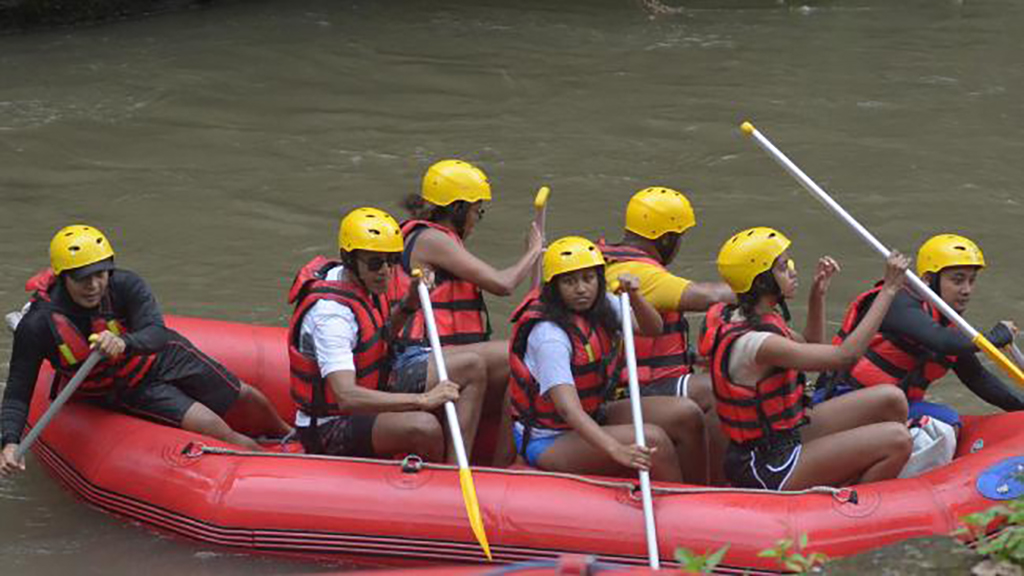 (22) As of yet, there have been no official comments from the rafting guides.
It's possible they are still resting following the undeniable exertion they put in to steer this inflatable boat on course.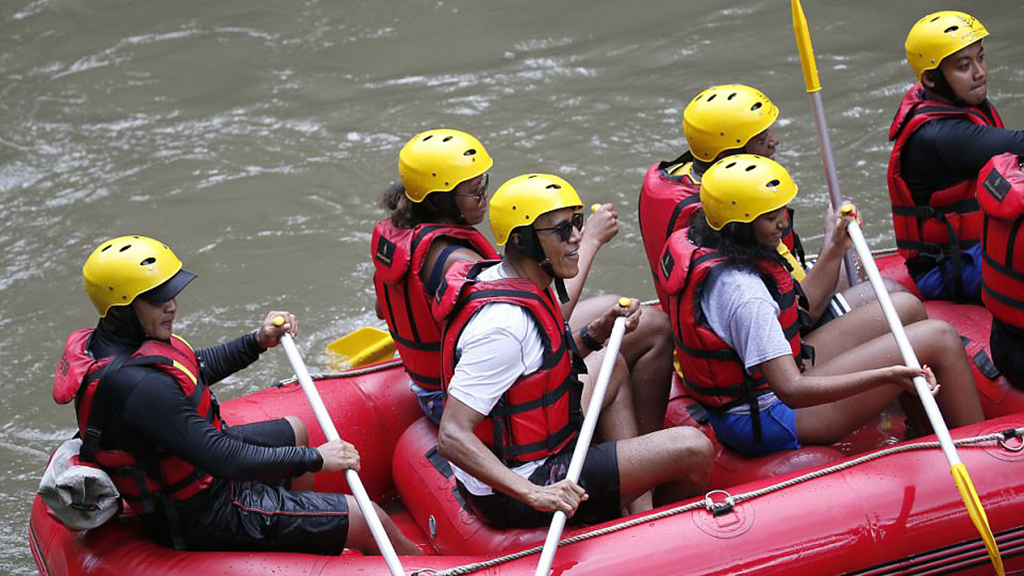 (23) And in the end, water-good-time they all had…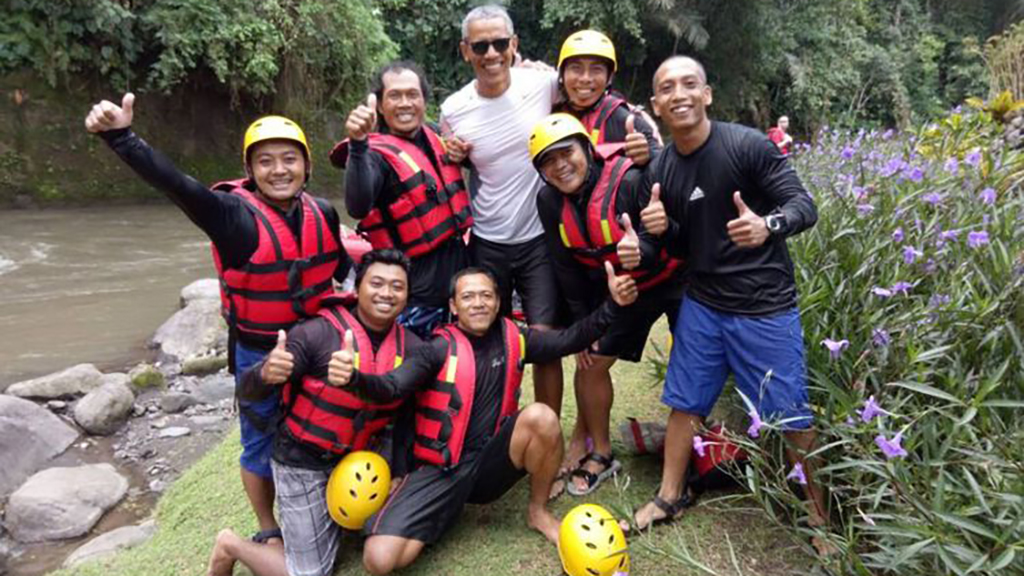 (24) Some of the rafting crew excitedly posed with a damp looking Mr. Obama after their adventure on the water.
And once again the "thumbs-up" were being dutifully held aloft… seen here on 8 hands which could be some sort of record.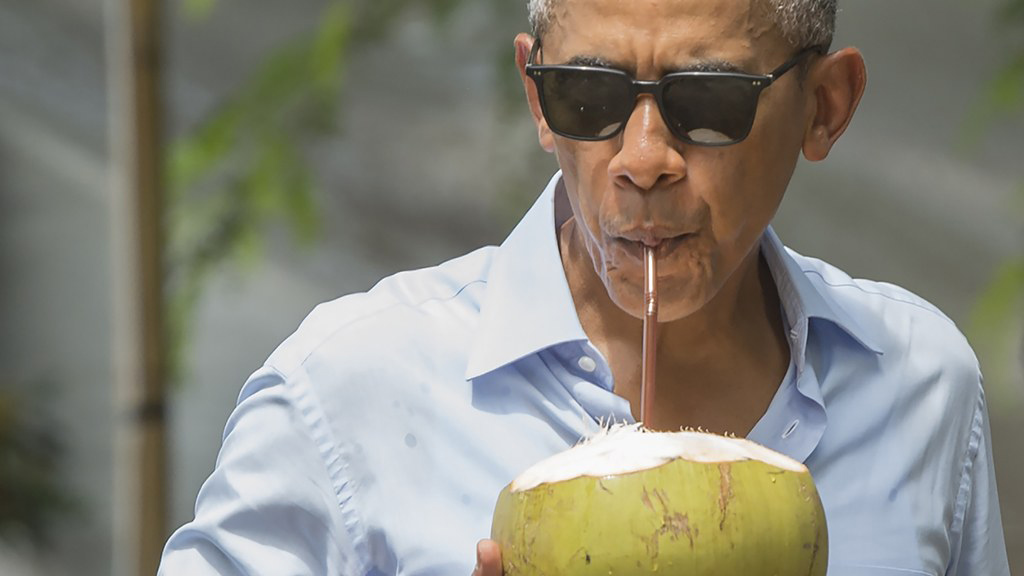 (25) Undoubtedly this photo from Barack Obama's June 2017 holiday in Bali is the one to remember, when the ever-so-charismatic American enjoyed a fresh coconut along with a blatant disregard for the top button.
(26) Suddenly, with a wave of his hand (and professional help from his convoy), he was gone.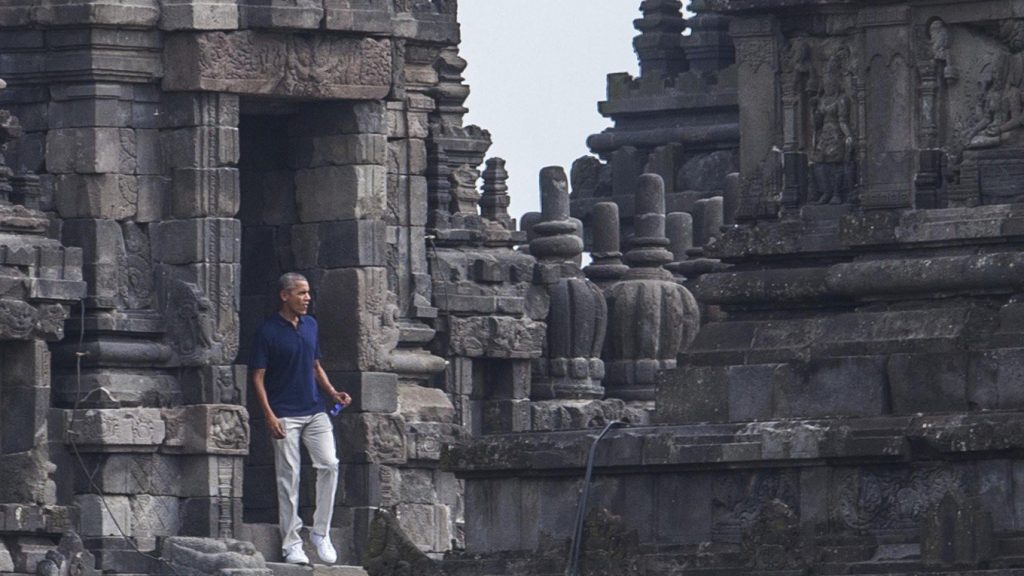 (27) Over in Java, Indonesia, Obama carried what looks like a bottle of Mizone flavoured sport water.
No word on whether the beverage was chosen to match his shirt or replenish electrolytes.
Suave and in control, Mr. Obama effortlessly retained an air of cool (despite the warm weather) for the duration of the vacation.
Bali has something for everyone, from beachside escapes, cliff-top retreats, and scenic hill hideaways. Make your very own vacation in Bali a reality by staying in one of our luxury villas, where you are assured of exquisite hospitality and lavish comfort.
Thanks to those who made these remarkable images available:
(1) Jet arrival, Detik.com (2) Airport, The Jakarta Post (3) Tirta Empul Temple, EPA (4) Double-hand handshake, EPA (5) Obama daughters, AFP/Getty Images (6) Michelle's sneakers, EPA (7) Lackluster wave, Getty Images (8) Long shot, Liputan.com (9) Shorter man, Reuters (10) Edgy specs, Reuters/Antara Photo Agency (11) Eyebrows, Tempoco (12) Ring of Obama, The Guardian (13) Photo op, Refinery29 (14) Red shorts, News AU (15) Straw hut hat, News AU (16) Jatiluwih procession, News AU (17) Mystery figure, News AU (18) Jatiluwih pose, Arah.com (19) Paddles up, News AU (20) Camera eye contact, News AU (21) Eye roll, EPA (22) Rafting outfit, News AU (23) Barack's rafting smile, EPA (24) Thumbs-up record, Kompas.com (25) Coconut, Conde Nast Traveller (26) SUV exit, Reuters (27) Prambanan Temple, The Jakarta Post