One of the highlights of staying at a private villa on your vacation is that you get to sample superb food prepared exclusively for you by skilled in-house chefs – many of whom have trained at internationally renowned restaurants. Elite Havens' villa menus showcase an extensive range of Asian delights to cater to every guest's tastes, but of course, each chef has his or her own particular specialities that shouldn't be missed.
With spectacular sea and sunset views, Villa Baan Bon Khao is an ideal getaway for families or groups. Luxuriating on a hillside estate near Surin Beach, this four-bedroom villa features an infinity pool and stately living and dining pavilions. Guests are well cared for by the villa manager, chef and personal driver.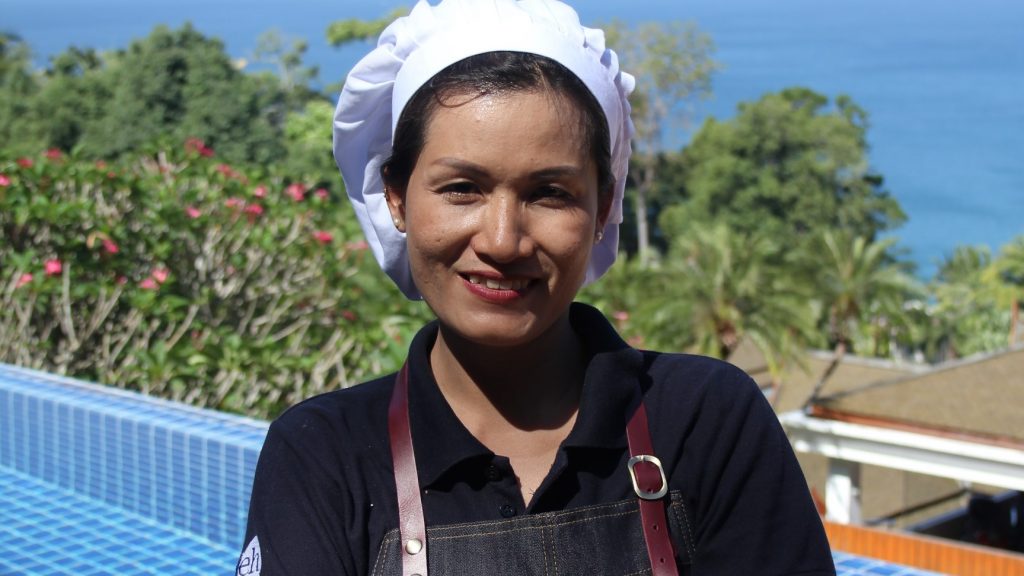 With much coaxing and cajoling, we've persuaded some of our chefs to spill the beans and share their favourite recipes. In the Baan Bon Khao kitchen, Chef Pu cooks up a classic and much-loved Thai dish, Pad Thai with Prawns in an Egg Parcel.
Chef Pu's Egg wrapped Pad Thai with Prawns Recipe

Ingredients :
Pad Thai:
Rice noodles 350 g
Prawns 200 g or as many as you'd like, peeled and deveined
Sliced shallot 3 tbsp
Chopped cloves garlic 2 tbsp
Chopped dried shrimp 1 tbsp
Dice of pressed tofu 50 g
Chilli flakes ½ tbsp
Egg 4: 2 for Pad Thai, 2 beaten for egg parcel
Bean sprouts 200 g
Chives 35 g
Chopped roasted peanuts 35 g
Lime 35 ml
Cooking oil 1-2 tbsp
The sauce:
Palm sugar, finely chopped 35 g
Tamarind concentrate 50 g
Fish sauce 2 tbsp
Water 3 tbsp
Instructions:
The Sauce: Mix all together and set aside.
Soak the rice noodles in room temperature water for 1 hour, until the noodles turn from translucent to completely white and are very pliable. Drain and set aside until ready to use.
Add 1-2 tablespoons of oil and turn the heat to medium. Add the shallots, garlic, dried shrimp, pressed tofu, and chilli flakes and cook for a short time. Add the prawns and cook.
Add the soaked noodles and the sauce, turn the heat up to high, stirring and tossing until the noodles have absorbed all the sauce.
Once all the sauce has been absorbed, push the noodles to one side of the pan and add the eggs to the empty space. Scramble the eggs gently until half set. Put the noodles on top of the eggs and let the eggs set completely for another 15 seconds or so.
Flip everything over (you can toss them or just use a wok spatula) and toss to break up the mixture.
Add the bean sprouts, garlic chives, and half of the peanuts. Turn off the heat, and toss everything to mix, then set aside
To make the egg parcel:
Pour beaten eggs into a hot pan, and spread, to make a thin omelette.
Place Pad Thai in the middle of the egg wrapper.
Fold all 4 sides to cover the filling.
Then place another plate over the pan and turn it over.
Use a knife to cut and open the parcel and garnish with cilantro, peanuts and the 2 whole prawns.
Top tips:
You can replace the prawn with chicken, pork or roasted vegetables. You can also serve with extra bean sprouts, garlic chives, and chilli flakes if desired. Make sure you squeeze that lime over the noodles before you enjoy!
Stay at Villa Baan Bon Khao and enjoy the delicious cuisine.