An idyllic retreat in Koh Samui, Baan Puri has all the trappings of a perfect vacation home.
Its manicured garden houses an inviting pool that stretches out towards the white-sand beach. On one side, find a sunken sala, perfect for unwinding and sipping on cocktails. On the other, in-pool chaise lounges for a bit of water fun. Call dibs on one of the two poolside bedrooms, each with an ensuite that allows you to soak in a luxurious bathtub semi-alfresco if you so wish.
With a total of six lavish bedrooms and terraces with pool and sea views, Baan Puri is designed with comfort and pleasure in mind. Great for large groups, an open-sided living lounge inevitably becomes a favoured spot for most, with cushioned white sofas and a drop-down screen instantly converting it into a home cinema. Coupled with amazing cuisine served by the skilled in-villa chef, Baan Puri is the epitome of holiday luxury.
We sat down with Chef Jaree for a quick chat and even managed to convince her to share one of her sumptuous recipes for you to try at home.
Elite Havens: Hello, chef, can you tell us a little bit about your background?
Chef Jaree: I have been cooking for almost 12 years now. I started my career with hotels and later moved to luxury villas like Baan Puri. In fact, I've been working with Elite Havens for 7 years now. During this time, I've had the pleasure of cooking in several villas. I'm like a roving chef.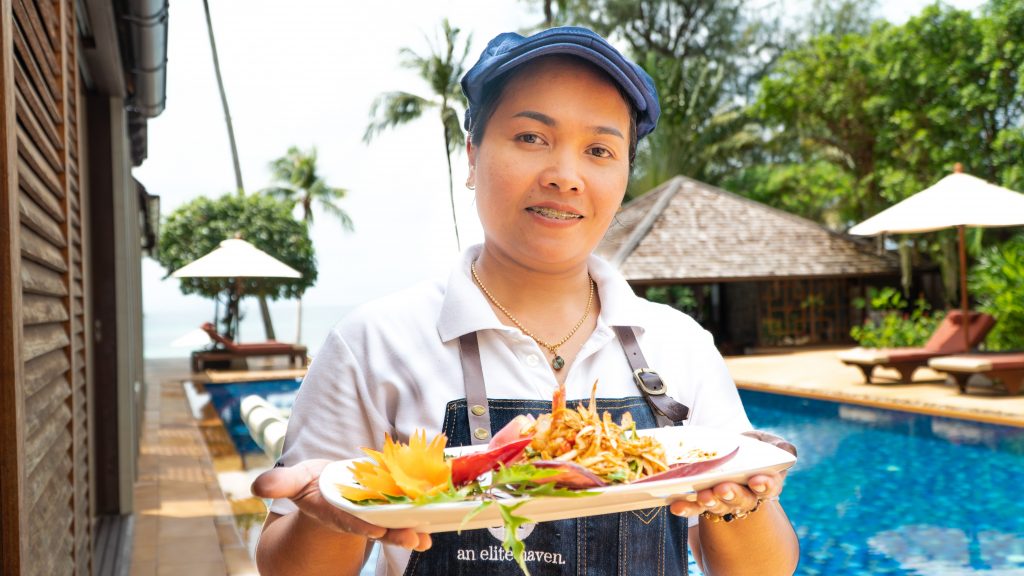 Elite Havens: You've had the chance to see many villas from our portfolio. Which one is your favourite?
Chef Jaree: Villa Baan Puri, of course.
Elite Havens: Do you have any interesting stories to share about your experiences with our guests?
Chef Jaree: Earlier this month, we had guests from Germany who stayed at Baan Puri for 23 days. What was special was the fact that the guests were chefs themselves. They told me to surprise them and serve a menu of my choice. They loved my food so much that they left with a promise to return next year.
Elite Havens: What is the secret behind your delicious food?
Chef Jaree: It starts with fresh ingredients. I always try to use good quality produce. And when I prepare the food, I cook straight from the heart.
Elite Havens: What do you do when you're not busy working in the villa's kitchen?
Chef Jaree: I rarely have free time because we are booked all year round. But when I'm not busy cooking here, I love to cook for my family. I enjoy cooking and am very passionate about it.
Elite Havens: What kind of food do you usually cook at home?
Chef Jaree: Our favourite is Thai Yellow Fish Curry.
Elite Havens: What did you prepare for us today?
Chef Jaree: This is Sanam Puri or Thai Banana Blossom Salad.
Elite Havens: Why did you choose this dish?
Chef Jaree: This is one of my signature dishes. My guests love it.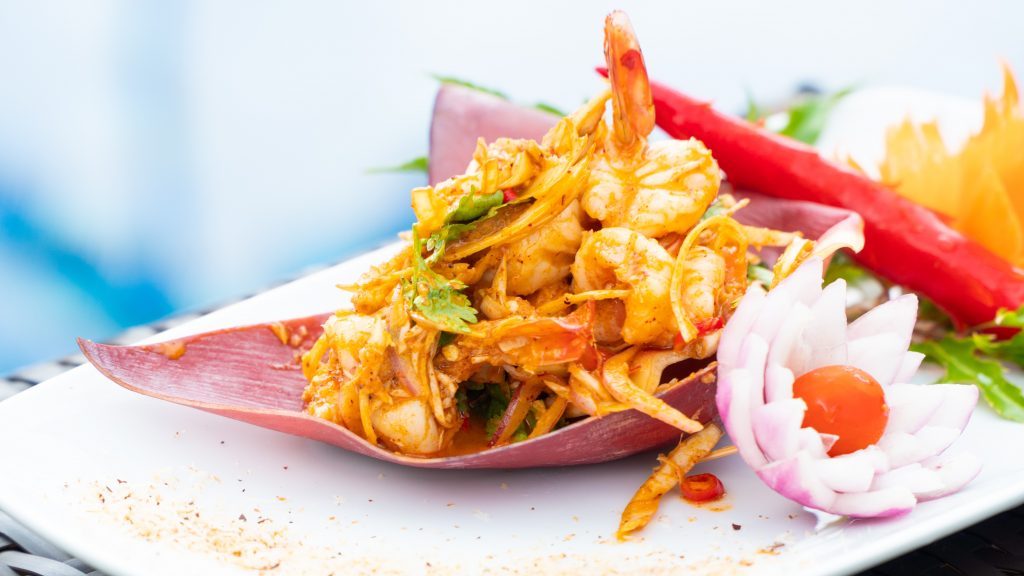 Chef Jaree's Thai Banana Blossom Salad
Ingredients:
Banana blossom, 1 pc (half kg)
Vinegar 4 tbsp
Chilli paste 2 tbsp
Lime juice 4 tbsp
Peanuts 2 tbsp
Coconut milk 2 tbsp
Deep-fried sliced shallots 1 tbsp
Chopped shallots 2 tbsp
Fish sauce 1 tbsp
Tamarind juice 1 tbsp
Sliced kaffir lime leaves 1 tbsp
Chopped spring onions & coriander 2 tbsp
Roasted sliced coconut 3 tbsp
Shrimps 200 grams
Minced pork 200 grams
Instructions:
Slice the banana blossom, using only the white part. Soak in a bowl of water with vinegar and 2tbsp lime juice so it does not oxidise.
To prepare the salad dressing, put chilli paste, fish sauce, remaining lime juice, tamarind juice, coconut milk, chopped shallots, sliced kaffir lime leaves, chopped chillies and blended peanuts in a bowl and mix.
Blanch the shrimps and minced pork for a few minutes and transfer onto a mixing bowl.
Drizzle the dressing over the meat and at the end, add the banana blossom slices. Mix gently.
Topping with deep-fried shallots and roasted coconut. Serve along with fresh vegetables such as cucumbers, long beans and cabbage.
Stay at Baan Puri and enjoy the delicious cuisine.