Not many work-weary mums and dads would dispute the attractions of spending a holiday in a luxury Bali villa where they can indulge in the pleasures afforded by a personal chef, private pool, in-villa massages or yoga sessions, sunset cocktails and stunning tropical surroundings.
But what about the rest of the family? Keeping the kids as happily entertained as their parents is key to every holiday's success. Ondy Sweeting finds that Bali is an epic destination for families, with a great choice of exciting attractions and fun surprises to engage kids of all ages.
Mud, mud, glorious mud!
Mepantigan is a martial art that has a strong spiritual and emotional component and is performed in the luscious Bali mud.
Mud play is a time-honoured tradition where a person becomes one with the mud of the rice paddy and its eternal companion, the duck! Kids can join these amazing Mepantigan sessions that focus on fitness, agility and stress release while developing camaraderie and sportsmanship.
After a sip of some holy water from a bamboo cup, it's off for warm-ups under the coconut trees then into the mud for training in balance and playing traditional mud games such a frog catching, eel trapping, body painting and having an all-around blast while rolling in the mud.
When you're done, all the grime is washed away in the river or under a Balinese shower with a banana-leaf roof. The fun and games are followed by an organic lunch to the sounds of the gamelan. Parents can join in too, or opt for some peaceful mud yoga followed by a massage in the river.
Monkey around in Ubud
Ubud's famous Monkey Forest is the perfect spot for some monkey madness. More than 600 Balinese long-tailed macaques star in this tropical forest that comes complete with ancient mossy temples dedicated to the revered monkey god, Hanuman.
These well-fed rascals have no fear and can be more than a little cheeky, so some safety tips are in order:
Don't dangle anything! Little hands are quick to snatch sunglasses, spectacles, cameras, or anything else they can grab, and swing straight up into a tree with it.
If you buy monkey food from a local vendor – or have a snack in your bag – hand it over quickly as they will sniff it out and make demands that can be a little scary. However, it is fun to watch these little rogues from a distance and enjoy a beautiful walk through the forest at the same time.
In Bali, monkeys hold an important position in the pantheon of gods. The Balinese believe they embody both positive and negative attributes and so have a love/hate relationship with them.
Kids will love the Monkey Forest, even if it's from a safe hiding place behind mum or dad!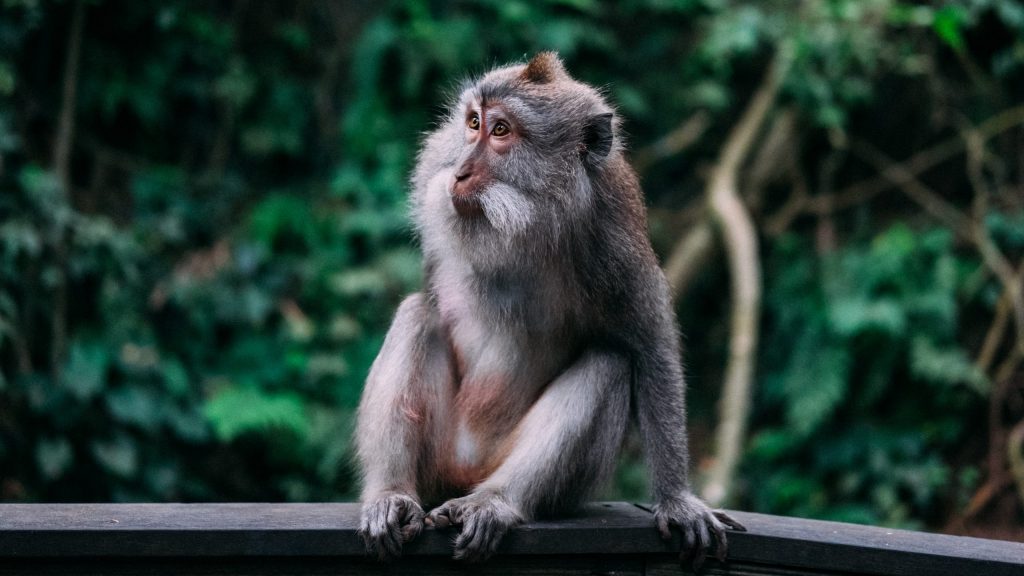 Willy Wonka, Bali-style
Who doesn't love chocolate? A visit to Big Tree Farms bamboo chocolate factory in Ubud is bound to be a popular suggestion with everyone.
Big Tree Farm was built on the principle of JAMU – the Indonesian concept of body, mind and spirit being in harmony and balance. Take the hour-long tour that kicks off with a drink of Coco Mojo before guests are treated to a tasting of the farm's range of cold-pressed cacao products.
Check out the machinery used to make the goodies, which include delicious coconut nectar as well as the chocolate that Bali is rapidly becoming famous for. Stroll through gardens and explore the ecosystem where cacao trees thrive in the shade of towering coconut palms. Take time to look at the main building, which is the world's largest commercial building to be made of bamboo.
Learn the secrets of green living
The Green Village at Abiansemal near Ubud is home to a series of extraordinary houses made entirely out of bamboo. While property viewing is not usually at the top of a kids' list of fun activities, this place – created by leading jewellery designer John Hardy and completed by his equally creative daughter – is a showstopper.
Take a tour of this beautiful corner of Bali to learn about this unique eco-village then visit the bamboo workshop where kids can watch bamboo being treated and crafted into pieces to be used in the construction of the houses and furniture. Learn how to make a bamboo architectural model, take a joinery class, explore the secret powers of the humble coconut, or take part in a Balinese Jegog session – a musical instrument made of bamboo.
The Kul Kul Farm at the nearby Green School also offers courses in permaculture, regenerative farming and sustainable leadership.
Dazzle your senses
The spectacular Devdan Show in Nusa Dua is performance art based on the rich and dramatic culture of Indonesia and it's many islands and ethnic groups from Sumatra to Borneo to Papua.
This fantastic show dishes up tribal and religious dances, colourful costumes, fireballs and rain, plus rhythmic singing performed over 90 minutes that will intoxicate children and adults alike.
Expect a sensorial extravaganza with 'the silk lovers' dance, where skilled acrobats tell the ancient and exotic tale of the diverse islands from which contemporary Indonesia has sprung. It is hardly surprising that the Devdan show has won many major tourist awards and is a constant sell-out. Kids will be enthralled.
Culture kids
The Pondok Pekak Library and Learning Centre in Ubud is a little gem of a place where kids can immerse themselves in the many wonders of Balinese culture.
Learn how to perform a mystical Balinese dance or play the delightful gamelan. Weave a pretty offering basket, try fruit carving, silver jewellery making, wood carving, mask making and many other traditional Balinese crafts. Or take a class to explore the unique style of Balinese painting.
Classes are scheduled to your requirements – just give the learning centre a few hours notice and they will do their best to accommodate you.
Pirate for the day
The Pirates Bay is party central for kids. Rustic dining rooms are built into treetops and there are a great looking ship and some little paddleboats for pirates' playtime. Swings, ropes and games will keep active kids busy for hours.
This fun playground and restaurant is on a big slice of land just back from the beach at Nusa Dua. It's a top lunch spot for families, but there's enough fun stuff here to make a whole day of it. The tree house dining is targeted at kids so be prepared to climb a ladder and pop through hatches to get to your rough-hewn wooden seat or low-slung bench. There are also some tables on terra firma for those not up for the climb.
Kids and adult menus at Pirates Bay feature eastern and western cuisine, and you'll find some very nice desserts here too.
Seeing is believing …. or is it?
At the Trick Art 3D Gallery, nothing is quite what it seems. Ideal for some out-of-the-sun-fun, this gallery has more than 80 amazingly realistic painted scenes that are designed to fool the eye – and the camera.
Fancy being drenched by water shooting from an elephant's trunk? Or chased by a dinosaur? Surprise your friends back home with your trick-art photos. Visitors are free to roam and pose at their leisure, and high-speed WiFi ensures that their amazing 'adventures' can be beamed around the world in moments.
Turn your world upside down
Things get even kookier at the Upside Down House. Expect exactly what the name suggests. This is a typical family home but designed with everything attached to the ceiling instead of the floor.
This will turn your world literally upside down – in a seriously awesome and more than a little disconcerting way. Drop into the kitchen, living room, bedrooms and toilet to experience life with a polar opposite view.
It's quite a surprise to see how different things can look when spun through 180 degrees.
Take a stroll beneath the waves
The Ultimate Seawalker Experience is perfect for those who want to get up close to marine life but aren't quite ready to dive into SCUBA. Be whisked off by boat to a nearby purpose-built dive site, slip into the water and be crowned with a 'space-age' helmet supplied with fresh air from the boat, and then down you go.
Kids will love that they can take home photos of their encounters with a fabulous range of sea creatures, or of them hand-feeding fish as they stand beside brightly coloured coral.
The Ultimate Seawalker is an internationally certified water sports operation that is based in the Grand Mirage at Nusa Dua.
Swing through the treetops in central Bali….
Tucked away in a quiet corner of the Island's beautiful botanic gardens in Bedugul is Bali Treetop Adventure Park. This is a must-do for every active kid, be they four or 40+.
The circuits kick off with the 'yellow squirrel run', which is designed for little bubs and their big person. Challenges here include a fox's hole, fishing net and a mini flying fox. Each of the next six circuits increases in difficulty until you hit the 'adrenaline black' run (definitely not for the faint-hearted) with its Tarzan Jumps, Flying Trapezes and Upside Down Ts – some of it 20m above the ground. Think SAS.
Once you've been kitted out with carabiners, pulleys and ropes and taken through a demonstration and practice run, you are free to try the circuit of your choice and stay as long as you like. Our tip is to buy the fingerless gloves on sale at reception as they offer a lot of protection for soft hands.
Time for lunch
After a busy morning playing Tarzan at Treetops, take a poke around the colourful Candikuning market to pick up some home-grown spices, boxes of sweet strawberries, clothes and souvenirs. Then head across the road to Warung Rekreasi, the best place in the district for a family lunch. Set in huge tropical gardens, this is much more than a local warung (café).
Views take in the mountains and lovely lake Bratan, and there's a playground with a climbing frame, slide, roundabout, trampoline and swings hung from ancient trees. In the mini zoo, bunnies and beautiful birds roam freely. The orchid garden, bamboo farm and small organic coffee plantation are very pretty too.
Food is reliable, with local dishes such as ayam betutu (chicken betutu), plus good burgers. Juices are fresh and delicious, made with fruits from the garden.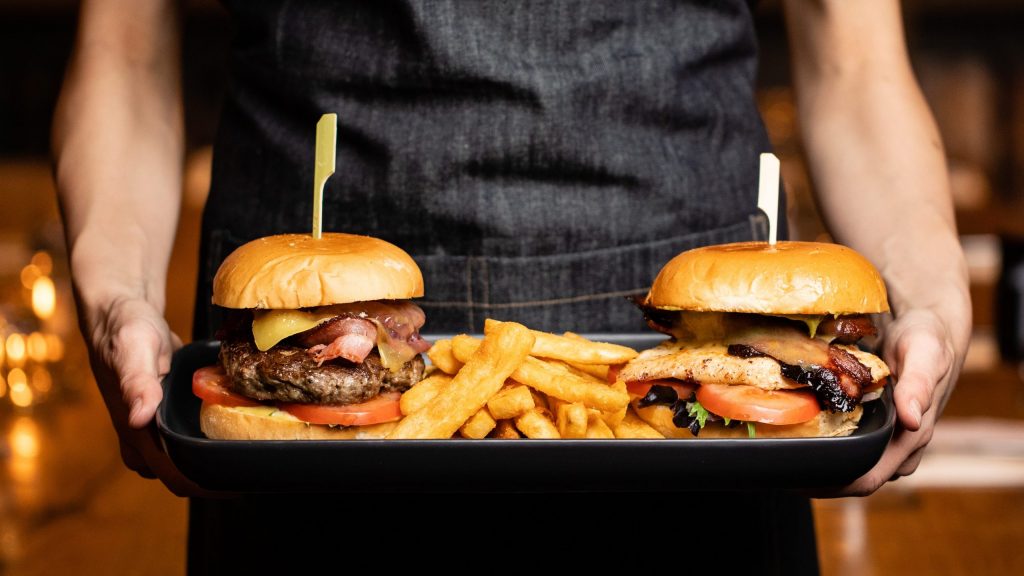 Waterbaby heaven
Waterbom Bali is Asia's #1 water park and is ranked as #2 worldwide, with 22 thrilling experiences to enjoy.
For an adrenaline rush hit the Climax, where riders enter a vertical cylinder before a trap door opens to drop them an almost vertical 16 metres before they fly into the rest of the ride zipping along at speeds of about 70km an hour. Younger kids enjoy the Super Bowl and Python while the toddlers and babies have a specially designed waterpark all to themselves. Laid back types will enjoy lazy river, which is exactly that: bobbing through a gorgeous garden on an inflatable doughnut. A pool with a volleyball net is popular with big groups and the pool with a swim up bar is a hot ticket.
Waterbom Bali has many cafés and food stands, selling everything from vegan ice-cream to churros, no loud music blares across the hectares of Balinese gardens so it is easy to forget that you are in such a high-energy place. Other fun activities include a water balloon fight game, bungee trampoline, a nail salon, hair braiding stall and a fish spa where marine life nibble old skin off human feet. This is a whole day activity and this expertly operated outfit offers multiple day packages for the super keen.
And there's more …
Bali has a multitude of professional surfing schools and tours that take beginners to the gentle waves of Kuta and pros to the world-class breaks at Uluwatu. Rip Curl is an established and reliable operator.
Bali Wake Park is a new water sports destination for cable wakeboarding over a five-hectare lake.
Treat the family to a bird's eye view of Bali from a helicopter ride. Take in the amazing island scenery from the spectacular coast to lush rice terraces, ancient temples and the dramatic crater of Mount Batur.
Go white water rafting on the sacred Ayung River.
Cycle through the peaceful rice fields and back lanes of rural Bali or rev it up a bit on an ATV.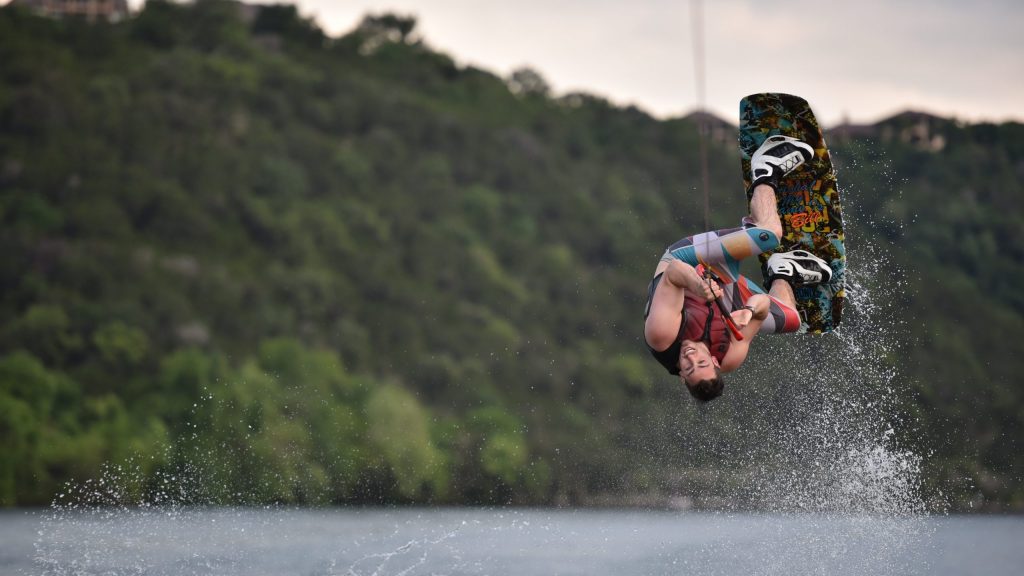 Paint a pot at ceramics factory Jenggala in Jimbaran. Pick from a pre-made collection of cups, mugs, bowls, animal figures and plates. Sketch a design and paint your piece, which will be fired and ready to collect in five days.
Kids get to have a lesson on how to make the perfect pizza while the grown-ups ups sip delicious cocktails and dine at the hippest restaurant in Petitenget – Da Maria. Note that the pizza making only happens when the restaurant is quiet in the early stages in the evening.
When you think Bali, you probably think of a romantic vacation with your spouse, not a family vacation, but Bali with kids is purely magical.